Gift custom plush toys this Valentine: Spread Love, Joy & comfort
|
Feb, 08 , 22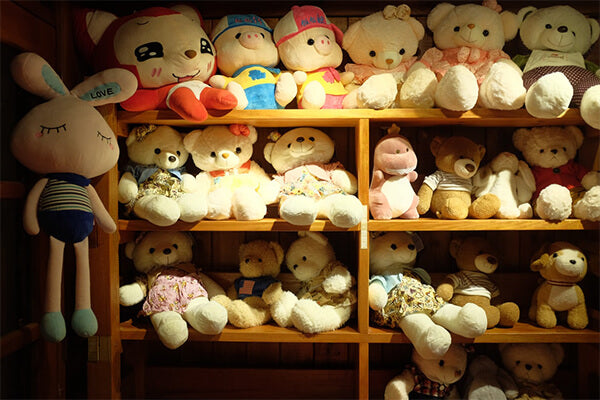 The atmosphere is filled with love and all things red & pink with Valentine's day around the corner. It's the time of the year to let that special someone know how much they mean to you. Everyone feels the pressure of searching for the perfect Valentine's day gift because your loved one deserves the best. The stress increases with imagining the trouble you can get into when your special one does not like the present. Whether it's your first Valentine or you have spent many Valentines' together, one of the classical gifts that everyone loves is a plush toy. But, gifting the same old teddy bear just like everybody is quite dull; you need to be unique, you need to personalize - you need custom plush toys.
When it comes to Valentine's day gifts, a plush toy is one of the best ones out there; you don't need to think twice because they are a safe bet, unlike other gifts. Answer these questions - Don't you want your partner to cuddle the plush toy you gifted? Wouldn't the gift remind them of you? And, to all the women out there - don't feel embarrassed to gift plush toys to your man. Everyone needs a soft, cuddly thing to provide comfort. That's not all; you can design the custom plush toys to look like their favorite superhero, movies characters, sports mascot, or anything special to them. If you are still not convinced, we present to you a list of reasons to gift custom plush toys:
Express Love and affection: Custom plush toys are soft, cuddly, and cute; they exude love, respect, and warmth. It reminded us of our childhood when we used to play with stuffed toys. We love the feeling it generates when we hug them.
Better than other gifts: When you are looking for Valentine's, it can be challenging to find the ideal gift, especially if you are new to the relationship. Plush toys can never go wrong for most people; they are the perfect gift for the V-week. You can give them on teddy day or other days as well.
Long-lasting: Unlike other gifts like roses and chocolates, perfumes, or dresses, high-quality custom plush toys are pretty durable gifts that can last years. They don't break when they fall, and you can wash them when they get dirty.
Highly customizable: You can customize plush toys to any shape, size, design according to your loved one's likings. Surprise them with a character they are fond of, like a cartoon character from their childhood or a pet they don't have anymore. You will get so much love and respect from the receiver you can't even imagine.
Budget-friendly

: Custom plush toys are budget-friendly when comparing all the benefits and other Valentine's gifts. With a manufacturer like EverLighten, you don't have to worry about the minimum quantity; you can order any number of toys you need - even one.
Shows your lighter side: While there is nothing wrong with handing out a bunch of usual stuff, at times, they become tedious. It would help display your fun and lighter side; plush toys help show the same.
One day is not enough to express love to our special ones, so people started celebrating an entire week, each day with a unique theme. One day is dedicated to teddy bears; your loved one will be expecting a teddy bear. You can make the day extra special - surprise them with a custom teddy bear filled with love messages. Here are a few ideas for designing a custom teddy bear to take your love to the next level:
The couple - teddy bear: Cute, soft, cuddly - this is ideal for cupid-struck lovers. Two beautiful and fluffy bears represent you as the cute couple. When you present this adorable plushie to your partner, they will pour loads of love on you.
Rose teddy bear: Made with flowers and decorated to the fullest, you can customize this type of teddy bear to show how much you love your partner. One of those lovely gifts will undoubtedly make them fall in love with you.
Big size teddy bear: Valentine's week is incomplete without a giant teddy bear. The big teddy will melt your dear one's heart and make for an extra special valentines day.
Custom teddy bear: When it comes to gifts, nothing beats the custom gift; for your heartthrob, a custom-made teddy with your initial name written on it will be an ecstatic sight.

 


Other custom plush toys suitable for Valentine's gift
Although teddy bear is the most popular type of Valentine's plush toy, if you or your partner are not into teddies, there are other options to make the day special.
 


Essential things to keep in mind when you are looking for custom plush toys
Materials: The type of fabric you choose will impact the texture of toys; you don't want to select a rough cloth. You want something

smooth

and fluffy like cotton, terrycloth, felt - these are ideal for custom plushies.
Safety: Some manufacturers don't have safety certification and use harmful chemicals to shine the toys. Choose a manufacturer like EverLighten that is entirely transparent with its processes.
Minimum order: Some manufacturers need a minimum order quantity to accept your order. Also, some materials and colors are difficult to manufacture; it's better to confirm beforehand.
Delivery time: Valentine's week is mostly hectic for custom plush toys manufacturers because of the high demand. It would help if you had a few days for successfully manufacturing.
You are ready to order - you need a particular company for your special one, a company with expertise, reliability, and willingness to work on customers' satisfaction with high-quality custom plush toys - EverLighten fits every checklist.
Fast turnaround: They have direct ownership of a factory, ensuring delivery in the quickest time possible.
100% quality check: The manufacturing experts check every toy for its quality.
Free design help: Customers get free design help from in-house design experts.
Order tracking: You can track the order using an online tracking tool.
Dedicated account manager: Every customer receives their dedicated account manager.
Worldwide shipping: They provide worldwide free shipping. 
When love is in the air, you want to do something extra for your loved ones. Valintine's doesn't mean you have to break a bank for romantic gifts; you can get cute custom plush toys for your sweetheart; reminding them of your love. Additionally, these toys are ideal for family and friends. Visit EverLighten.com to start designing now.