Stitch your brand name in people's minds with Embroidery Digitizing
|
Feb, 08 , 22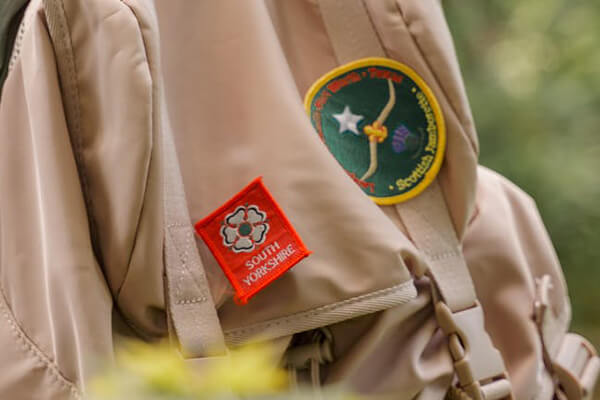 The world is going digital, clearly visible everywhere around us. Adopting and adapting these digital technologies is critical for businesses to stay competitive and relevant in today's market. Success will come to the companies leveraging it. Something as traditional as embroidery and patches are going down the digital route. One of the significant factors contributing to its growth is the demand for custom embroidery patches by businesses worldwide. Let's dive in deep at digitizing embroidery working and its importance. But, first, you need to understand: 
What is custom embroidery?
Custom embroidery process where the logo/ design is stitched onto the fabric using needles and threads; you can do it manually or with machines. People embroider the logo on custom hats, jackets, hoodies, golf shirts, backpacks, and more. 


What is embroidery digitizing?
Embroidery digitizing is a process of converting embroidery forms into machine-readable stitch files. The manufacturing machine deciphers various patterns and stitching; it is a multi-step process. 
Before we get down to the process, let's point out the benefits of using custom embroidery and custom patches for your business. 
Custom embroidery patches are an effective branding strategy you can include in your business. You can apply it in various ways to promote your business and make your brand stand out from the competition. Organizations worldwide use them to show their business identity. 
Cost-effective
Custom embroidered patches are more cost-effective than traditional methods; you need extra raw material and sewing costs with conventional processes. Businesses running on a small budget provide high-quality, fast work with fewer efforts. 
Helps to distinguish
It is suitable for businesses who want a better brand representation. Customers need to know the company behind the product; it is easier to get publicity if they see the business logo on products. 
Achieve the professional look
Custom embroidery patches work well for every organization looking to achieve a professional look. You can use it for schools, offices, corporate, NGOs, sports teams, etc. Customers can quickly identify by looking at the logo. 

Available in various shapes and sizes
Custom patches are versatile; they come in every shape and size imaginable. You can patch to brand every product and raise awareness among your potential buyers. They are also easy to remove without ruining the garment/ apparel. 

Long-lasting
One thing you don't want to have is the patches coming off when performing heavy-duty professional work. It can be a place like an office or hospital, no matter how many times you wash the clothes. Embroidered patches are durable and don't become dull, lose colors, or stitch. 

Budget-friendly advertising
Any product with custom embroidered patches represents your brand, ensuring people are noticing your business name when using the product. It helps in brand repetition in customers' minds, thus trusting your business. 
Now that you know the benefits, you might think of getting embroidery patches for your business. Let's break down the entire process into simple language. The method of embroidery digitizing begins with:

The design
The process begins with the designer understanding your requirements. They need to know the ideal size of the digitized patches, materials, textures, and embroidery attachment clothing. Afterward, they plan out the entire design like the regions need to be in a thread or the base & background appear on the other side of clothing. The designer must understand whether a particular digitizing process is required; should they use it with the current design or change it? Every little detail is necessary before the function begins. After the designer knows your requirements, the second step starts, i.e.,
Artwork preparation
Here, the designer breaks down the artwork into smaller pieces to know whether they are editable for the embroidery process. The price of the process relies on this stage. Not every logo is suitable for embroidery; a logo might look different on a business card than on an embroidery patch. You need to adjust the design and make changes at this stage. Changing the text size or image size can do wonders in most cases. 

Entering the design
After making the needed changes, the designer enters the design into the digitizing software, comprising different stitches. To start with, the designer chooses how the stitching pathing will run in the logo. Pathing is the stitching sequence in a design from start to finish, and it influences the look of the design when the process completes. 
If the design is not embroidered correctly, you will have unwanted fabric or uneven text. The pathing determines the duration of stitching on the machine, and it also affects the pricing; a lighter and smoother design costs less than a heavier and complex design. 

Choosing the embroidery stitch types
The designer then allocates stitch types to each part of the patch according to the stitch working best for the particular artwork. Afterward, the addition of underlying stitches begins; although you can't see them, they are essential for creating a high-quality logo design. It balances the texture to the back of the fabric, smoothening out and providing thickness to the plan. The stitches can sink into the surface if you don't use the correct underlay. The clothing can also bleed through the design, making it look unpleasant.  
There are three types of stitches: run, satin stitches, and fill stitches. We use run stitches to assemble light fabrics, hold the fabric layers, and waddle in place. Satin stitches are ideal for creating letters, borders, and areas of the design requiring columns of stitches. As the name suggests, fill stitches help fill more significant regions in the design. They are helpful for lettering the large column areas that you can't cover with satin stitches. Different stitches work well with various textures; a logo digitized for denim will not look great on a pique net where the lines sink into the surface. 

Embroidery sewing
Some logos are simple to digitize while adding more delicate details, like texts, shading degrees, and other minor changes; they also take more time to set up and create. Embroidery digitizing is a sophisticated process that takes time and experience to perform correctly. It takes careful searching to find the proper manufacturer like EverLighten to make the perfect embroidery patches for your needs. The digitization process will upgrade your logo quality, but you should do it correctly. 

What to look out for in an embroidery manufacturer? 
Check out these six qualities when you want high-quality custom patches for your business: 

Expertise: You need to determine the manufacturer's knowledge and the organization's capabilities. It is essential to have the in-house expertise to execute better. 

Quality: We can achieve quality by engineering design, experience, and resources. As you decide between various manufacturers, look into their quality standards using samples. 

Track record: The manufacturer's track record will provide you with insight into their quality and efficiency. Ask for previous references and look closely at the testimonials. 

Communication: Anytime you think of hiring a custom manufacturer, open communication needs to be top of your mind. You might employ the most talented manufacturers, but you could not get your dream patches if they are not excellent communicators. 

Pricing: Pricing is one of the most critical factors for designing patches, especially when tight budgets. Some charge more for smaller batches; thankfully, companies like EverLighten are pretty consistent with their pricing even for small orders - they accept every order without a minimum quantity limit.
 
Flexibility: In the world of custom designing, many things can change; no matter how much you plan, some unexpected challenges can occur. Even your original design can strengthen with time, so choosing a manufacturer willing to provide you with changes is vital. It is also helpful in building long-term relationships. 

Benefits of working with EverLighten
EverLighten works closely with customers, understanding their requirements and providing complete satisfaction. 

Custom patches, no minimum: You can order patches without considering the minimum quantity restrictions. 
100% quality check: Our experts check each patch for quality during manufacturing. 
Fast turnaround: We have ownership of a factory, making it possible to complete the order in the least time possible. 
Free design help: You can upload the design in a sketch or image; our experts will help complete the design.
Order tracking: Customers can track their order with a tracking tool anytime. 
Dedicated account manager: We provide every customer with a dedicated account manager, no matter the order size. 
Free worldwide shipping: Our company provides worldwide shipment for free. 
We understand that the embroidery digitizing process can be tricky, the time and pricing can vary, but you will get your dream patches with our expertise. For designing custom patches and purchasing high-quality custom merch, visit EverLighten.com. We put our heart and soul into creating every product.