Get ahead in the custom merch business with Marvel designs
|
Mar, 02 , 22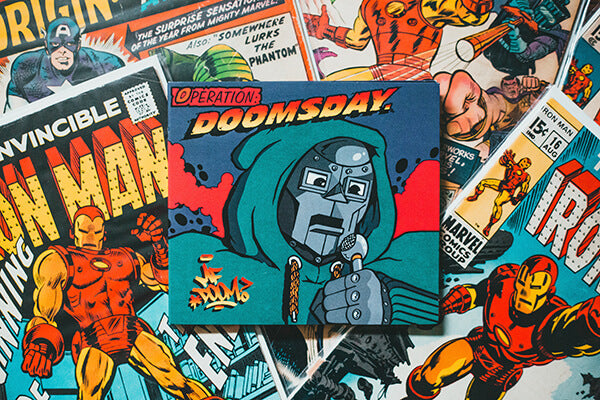 Marvel is the world's most successful cinema franchise of all time, with a nearly $11 billion worldwide box office collection. And, they have earned $10 billion from licensing revenue since 2010 - that's colossal! So, you can understand how much people are buying the stuff, and it's pretty lucrative to start selling custom Marvel merch like custom t-shirts, hoodies, socks, backpacks, and more. This blog will provide all the information you need, whether you have an original design idea for your merch business or want to acquire Marvel licenses. 
The fundamental of business remains the same, whether you are selling custom merch or anything else. The first step starts with knowing what you are looking to do with the product. In this case: will you use the merch personally, or are you looking to gift to family, friends, or customers? Answering these questions will help you get started; designing for different purposes would result in various designs and approaches. When you think of gifting merch, you will likely keep the event's theme in mind while designing promotional activities; you will emphasize branding. You will choose themes, styles, logos according to the business image you want to create. Do you want to have a serious image or a playful one? 
One of the most critical things to keep in mind is keeping your personal preferences away and relying on data of people's likes and dislikes. Keep the following points in mind for designing custom items:
Personal gifts:
Keep the theme in mind when designing merch for personal gifts like weddings, anniversaries, or Christmas. You can be creative and use some funny messages or images. 
Employee gifts:
You need to keep the organizations' logo, occasion, and receivers in mind - for extra personalization, you can use employees' names on
custom gifts
.
Promotional handouts:
The emphasis should be on branding; you can hand out the custom merch to clients, customers, vendors after meetings or public gatherings. 
Selling Merch:
Here, the goal is to sell custom products and run your business - you need to look into trends, styles, marketability, likes, dislikes, and more. Rely on market research and actual data. 
Marvel is a part of the Walt Disney corporation with a worth of $60 billion. One of their primary sources of revenue is earning license fees. In most countries, they have a team of attorneys protecting their copyrights and trademarks. So, if you are contemplating to start selling their merch, you need to keep these points in mind for acquiring licenses: 
Your business revenue must be a minimum of $1.5 million. It varies slightly from country to country - check your country's listing. 
You need to submit financial aspects and future projections proposals. 
If successful, there would be a contract stating the do's and don'ts. 
They keep a royalty fee between 9% to 15% of the total custom merch sale. 
You will get designs from the company, and you can't change them. 
You have to follow all the specifications and MOUs. 
They keep their royalty revenue-generating businesses for stable companies, and it is pretty difficult for start-ups to use their characters on merch. But, don't get disheartened; you can start small and work towards it by creating original custom merch - you can use inspirations. Even if you are not a designer, you can create unique custom merch using these points: 
Rely on your imagination for designing the image and avoid using any extraneous designs. Some custom products manufacturers like EverLighten have in-house designers who help develop the final design by looking at your sketch or picture. It will ensure you are not hit by copyrights, trademarks, or law infringement notices. Copyright law protects your original creative work, while trademarks are for logo, name, and terms of business protection. 
Let's first start with what you can't do:
When creating a design for your custom merch, you can't use characters, images, or figures resembling anything from Marvel comic books, cartoons, television, movies, and video games. 
You can't use names, logos, and images of institutions/ organizations, teams, musical clubs, and artists. 
You can't use any pictures, artwork, or caricature of a living public celebrity. 
You can't use images or graphics from the Internet - not listed as commercial or free use. 
It's better to keep away from viral images or memes because they can contain celebrities' pictures and might be someone else's intellectual property. 
Avoid using images or graphics from social media posts. 
You can't use quotes from a living author.
Don't use company slogans or literary artwork.
Here is a list of things you can do while creating your custom merch design:
You can use designs, images, graphics, quotes, slogans from the public domain. Those creative materials are either donated, forfeited, or have licenses expired. But, you would like to check those with local laws. You can check it by visiting copyright websites and performing a reverse image search on search engines like Google and Bing. 
You can use royalty-free images for your custom merch design. 
You can use quotes from the public domain and authors who expired 70 years ago. 
You can use famous characters for parody design. 
Some websites offer free designs/ images for commercial use - you have to credit the owner. 
Now that you know the do's and don'ts of, let's get started with the process of creating designs for custom merch. One of the foremost things you need is to protect your design, so others can't copy and use it. In this day and age, it's pretty easy for anyone to access information, including your design. Contact an attorney and apply for copyrights, patents, and trademarks if you don't want your hard work to go in vain. 
Budget
Before manufacturing custom merch, you need to decide the quantity and budget. It will determine things like colors, materials, and printing methods. More colors generally mean more money for the merch. 
Manufacturing options
You need to look at the cost, turnaround time, and more when searching manufacturing options. Some processes are suitable for small orders, while others are ideal for bulk orders. 
Custom merch
You need to figure out the custom merch you want to create - if you haven't done it yet. Take your time with this step; you can manufacture many common and pretty uncommon items. Here is a list of merch you can create: 
Custom socks: When most people design custom merch, they ignore socks, but they are an item everyone uses in their daily lives. With the rise of superhero films, custom printed socks will be a huge hit, especially with youngsters. You can go more niche with superhero printed custom athletic socks. Who doesn't want to look like Thor while working out in the gym or cool as Ironman? 
Custom t-shirts: T-shirts are one merch that is perfect for custom designs. With witty quotes and great design, they will sell like hotcakes. Although the most popular styles are round-neck or v-neck, you can also use other types, like polo and henley. 
Custom hoodies: With hoodies, you get all the same benefits as t-shirts, and they are slightly durable because of the thicker materials. However, they are also a bit more expensive to manufacture, and you will have to also experiment with various colors. 
Custom facemasks: With the Covid still around, facemasks are useful merch. You can design it with superheroes as a standalone item or use a theme to complement t-shirts and hoodies. 
Custom backpacks: Backpacks with marvel characters are a big hit with college and school-going students. But, don't discount other fans - they come in every age group. The process of custom backpacks manufacturing is different from other items and a bit costlier. 
Custom hats: You can design custom hats using various styles like baseball style, trucker hat, beanies, and many more. They are a popular piece of item which people use year-round. 
Custom patches: Patches help show your individuality, style, and belonging to a group. You can create patches for different materials and backings for easy use on jackets, t-shirts, hoodies, hats, and backpacks. 
Custom plush toys: If you think only children love plush toys, think again. Custom plush toys are one of the fastest-growing product categories out there. They are adorable and durable. 
Custom drinkware: People enjoy their beverage more in custom drinkware, whether coffee mugs, water bottles, beer mugs, or koozie. It is a chance for you to sell merch by connecting with people emotionally with superhero designs. 
You can design many more products, but you need a reliable manufacturer for your items. EverLighten has over eighteen years of custom merch manufacturing experience. They have helped many people, including sports teams, influencers, institutions, companies, colleges, and universities, create their custom items. With their in-house designers, they take care of the design. 
Factory pricing: They have their dedicated factory; removing the middleman makes it possible for customers to get merch at the factory price. 
Fast turnaround with on-time delivery: They complete every order quickly; customers always get their delivery on time. 
No minimum order limit: The company accepts every order without restrictions on the minimum order quantity. 
Free design help: Customers can upload their design ideas in sketches or images; experts help finish the design for free. 
Quality check: The manufacturing experts check every item for its quality, ensuring only the items passing stringent quality standards reach customers. 
Guaranteed money back: Customers can return the product with guaranteed money back if they are unsatisfied with the quality. 
Free shipping: The company delivers to every part of the world for free. 
Dedicated account manager: A dedicated account manager is provided to each customer to help resolve queries and communicate between different teams. 
Real-time supply chain visibility: Customers can track their orders in real-time with an online order tracking tool.
You are ready to design and sell custom merchandise with all this information. To get started with your journey, queries, and help, visit EverLighten.com.