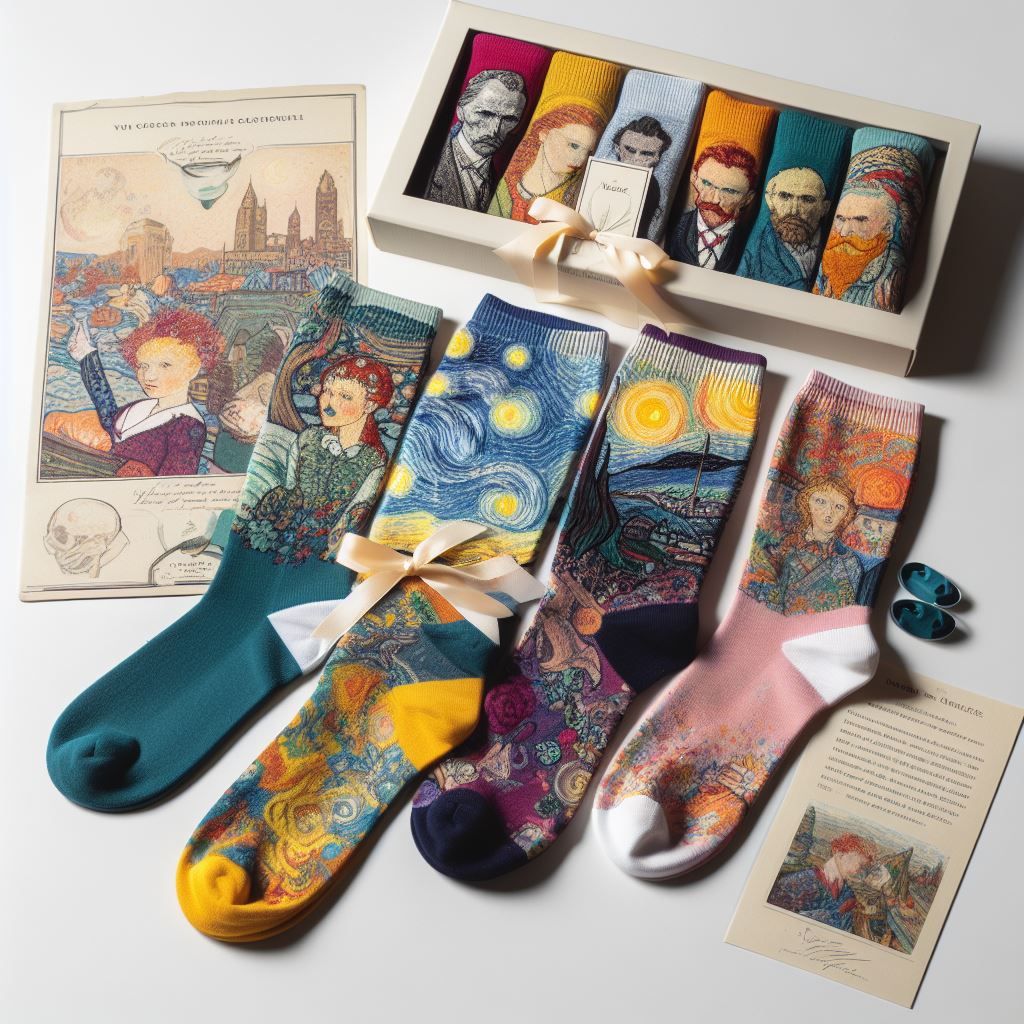 Vintage Designs to Explore for Your Sock Business 
Are you ready to witness a transformative shift in your sock business that could skyrocket your sales? Imagine tapping into the allure of vintage art and watching your product fly off the shelves like never before. In a world constantly craving nostalgia, the power of vintage artwork is undeniable, and the numbers echo this sentiment. A staggering 67% of consumers have confessed their heightened inclination to purchase products adorned with vintage art, while an impressive 63% are willing to invest more in these evocative designs. 
It is even more compelling that 59% of consumers actively endorse products featuring vintage artwork to their friends and family. It's not just about socks; it's about crafting an experience that resonates with the essence of timeless beauty and creativity. Join us in uncovering the captivating world of vintage art styles perfectly tailored to breathe new life into your sock business.
Why vintage-artwork is perfect for socks, and how can it help differentiate your products and brand?
Vintage artwork possesses a unique charm that transcends time and trends, making it an ideal choice for incorporating into sock designs. 
Emotional Appeal:

Vintage artwork often carries a sense of nostalgia, evoking sentimental feelings and a connection to the past. This emotional resonance can create a strong bond between consumers and your products, fostering loyalty and a sense of belonging to your brand.

Distinctive Aesthetic:

In a market saturated with modern and generic designs, vintage artwork can set your socks apart, offering a distinct aesthetic that captures attention and stands out. By infusing your socks with classic motifs, colors, and patterns, you can create a unique selling proposition that attracts customers seeking something different and authentic.

Storytelling Element:

Vintage art frequently comes with stories, history, and cultural significance, enabling you to infuse your products with depth and meaning. By leveraging the narratives behind the artwork, you can engage customers on a journey, giving them more than just a product but an experience that resonates with their narratives.

Timeless Elegance:

Vintage designs have stood the test of time, showcasing enduring elegance and sophistication. By integrating such elements into your socks, you can convey a sense of timeless quality and craftsmanship, appealing to customers who appreciate enduring style and lasting value.

Niche Market Appeal:

Vintage artwork has a dedicated following among consumers who appreciate aesthetics and cultural significance. By catering to this niche market, you can carve out a unique space for your brand, attracting customers who share a passion for heritage, art, and timeless beauty.
Top vintage artwork for custom socks:
Art nouveau:
Art Nouveau, a prominent art movement that emerged in the late 19th century, is characterized by its intricate and organic designs, often inspired by natural forms and structures.
Main elements: 
Art Nouveau is renowned for its intricate, flowing, and organic motifs, often derived from natural elements such as flowers, plants, and animals. Implementing these graceful and curvilinear designs on custom socks can add a touch of sophistication and elegance, appealing to individuals with a penchant for refined aesthetics and artistic intricacy.
Design Inspiration: Explore incorporating delicate floral patterns winding around the ankles or intricate vine-like motifs weaving across the fabric. Consider incorporating elements such as lilies, irises, and peacock feathers, quintessential to the Art Nouveau style.
Art deco
Art Deco, a popular design movement that flourished during the 1920s and 1930s, is renowned for its lavish ornamentation, geometric patterns, and sleek, streamlined forms. 
Main Elements: 
Geometric Patterns and Shapes: Art Deco uses geometric shapes such as triangles, circles, and rectangles. Incorporate these bold and angular patterns into your sock designs to create a sense of modernity and sophistication. Utilize repetitive geometric motifs to add a dynamic and visually striking appeal to the socks.
Design Inspiration: Experiment with incorporating zigzag patterns, chevrons, sunbursts, and stepped forms emblematic of the Art Deco era. Integrate geometric lines and shapes in contrasting colors to create a visually impactful design on the socks.
The Bauhaus
The Bauhaus movement, originating in Germany during the early 20th century, is known for its emphasis on functionality, minimalism, and technology. 
Main Elements:
Geometric Abstraction and Simplified Forms: Bauhaus design uses geometric abstraction and simplified forms. Incorporate clean lines, basic geometric shapes, and abstract patterns into your sock designs to convey a sense of modernism and functionality. Focus on minimalistic yet visually impactful compositions that prioritize simplicity and clarity.
Design Inspiration: Experiment with incorporating squares, circles, and triangles arranged in a balanced and harmonious manner. Explore primary colors and their combinations and simple yet striking geometric patterns to create a visually engaging and modern design on the socks.
Mid-century modern
Mid-century modern design, prevalent from the 1930s to the 1960s, is characterized by its integration of sleek lines, organic curves, and a focus on functionality.
Main Elements:
Sleek and Organic Shapes: Mid-century modern design uses smooth shapes emphasizing simplicity and functionality. Integrate clean lines, gentle curves, and smooth contours into your sock designs to create a sense of understated elegance and modern sophistication. Focus on minimalistic yet visually captivating forms that reflect the streamlined aesthetics of the era.
Design Inspiration: Experiment with incorporating organic shapes inspired by nature, such as abstract leaf patterns and gentle curves resembling mid-century furniture silhouettes. Consider incorporating smooth lines and minimalist detailing that evoke timeless elegance and simplicity.
Pop art
Pop art, a movement that emerged in the mid-1950s, is known for its bold and vibrant aesthetic, drawing inspiration from popular and mass culture. 
Main Elements:
Bold Colors and Contrasting Combinations: Pop art uses bold and contrasting colors, often featuring vibrant hues that create a visually striking impact. Infuse your sock designs with a dynamic color palette, incorporating bold contrasts and lively combinations to capture an energetic and playful spirit.
Design Inspiration: Experiment with incorporating primary colors and their combinations, such as vibrant reds, blues, yellows, and greens, to create a visually stimulating and lively design aesthetic. Consider integrating color-blocked patterns and contrasting elements that reflect bold and dynamic nature.
Psychedelic art
Psychedelic art, which gained prominence in the 1960s, is known for its vibrant, hallucinatory, and mind-altering visual expressions.
Main Elements:
Vivid and Surreal Colors: Psychedelic art uses vivid and surreal colors, often featuring intense and vibrant hues that create a visually immersive experience. Infuse your sock designs with a kaleidoscope of colors, incorporating bright and contrasting shades to evoke a sense of visual intensity and sensory stimulation.
Design Inspiration: Experiment with incorporating neon and fluorescent colors, incorporating intense shades of pink, orange, purple, and green to create a visually dynamic and immersive design aesthetic. Consider integrating color gradients, swirling patterns, and vibrant contrasts reflecting hallucinatory and mind-altering art.
Op art
Op art, short for optical art, is a style that emerged in the 1960s, characterized by its use of optical illusions, geometric patterns, and perceptual tricks that create a sense of movement and visual dynamism.
Main Elements:
Contrasting and Dynamic Patterns: Op art uses opposite and dynamic patterns that create visual illusions and effects, playing with perception and depth. Infuse your sock designs with bold and contrasting patterns, emphasizing the interplay of shapes and colors to evoke a sense of optical movement and visual intrigue.
Design Inspiration: Experiment with incorporating contrasting black and white patterns, creating mesmerizing visual effects such as moiré patterns, grids, and pulsating shapes. Consider integrating dynamic and repetitive motifs that create the illusion of movement and depth, reflecting the engaging and perceptual nature.
Memphis style
The Memphis Group, an influential design collective that emerged in the 1980s, is known for its bold colors, geometric patterns, and unconventional forms that challenge traditional design norms.
Main Elements:
Vibrant and Playful Colors: Memphis style uses vibrant and playful colors, often featuring bold and contrasting hues that create a sense of visual excitement and dynamism. Infuse your sock designs with a vivid color palette, incorporating eclectic and unconventional combinations to evoke a sense of whimsy and creativity.
Design Inspiration: Experiment with incorporating bold primary colors and their contrasting combinations, such as vibrant yellows, pinks, blues, and greens, to create a visually stimulating and playful design aesthetic. Consider integrating color-blocking techniques and unconventional color pairings that reflect the lively and spirited nature of the Memphis style.
Tips for an engaging vintage sock collection
Choose High-Quality Vintage Artwork Relevant to Your Target Audience:

Select vintage artwork that resonates with the interests and preferences of your target audience. Research the historical significance and cultural relevance to ensure it aligns with the aesthetic sensibilities of your customers.

Use Vintage Artwork Creatively and Uniquely:

Integrate vintage artwork into your sock designs with creativity and uniqueness. Experiment with innovative approaches such as combining different vintage elements, creating custom patterns, or incorporating intricate details that breathe new life into classic designs.

Promote Your Products with High-Quality Images and Videos:

Showcase your vintage-style socks through high-quality images and engaging videos highlighting the intricate details and unique features of the vintage artwork. Create visual narratives that resonate with your audience, emphasizing the timeless appeal and cultural significance.

Offer a Variety of Products with Vintage Artwork:

Diversify your product range by offering a variety of socks featuring different vintage artwork. Cater to various preferences within your target audience by providing options showcasing a range of historical periods, artistic styles, and cultural influences, allowing customers to find designs that resonate with their tastes.

Partner with Other Businesses Selling Complementary Products:

Collaborate with other businesses selling complementary products featuring vintage artwork. Explore partnerships with clothing retailers, accessory brands, or home decor companies that share a similar aesthetic, enabling you to cross-promote products and expand your reach within the vintage enthusiast community.
How do you choose the materials and construction methods for your custom socks?
Choosing the materials and construction methods for custom socks is crucial to ensuring quality, comfort, and durability. 
Evaluate Material Options:
Consider natural fibers like cotton, wool, or bamboo for their breathability, moisture-wicking properties, and soft texture.

Explore synthetic materials such as polyester or nylon for their durability, elasticity, and quick-drying capabilities.

Assess the blend of materials for comfort, performance, and longevity for your specific sock designs.
Assess Construction Techniques:
Evaluate different knitting techniques like flat knitting, circular knitting, or seamless knitting, depending on the complexity and design requirements of your custom socks.

Explore cushioning and reinforcement options for heel, toe, and sole to enhance comfort, support, and durability.

Consider specialized construction methods like terry loops, mesh knitting, or compression zones to cater to specific functionalities and customer preferences.
Prioritize Comfort and Performance:
Focus on selecting materials and construction methods for comfort, breathability, and moisture management to ensure a pleasant wearing experience.

Emphasize performance-driven features like arch support, cushioning, and seamless toe closures to enhance the functionality and overall performance.
Account for Durability and Longevity:
Opt for high-quality materials and robust construction techniques that ensure long-lasting wear, resistance to wear and tear, and colorfastness to maintain the integrity of your sock designs over time.

Consider reinforced stitching, high-density knitting, and quality yarns to create durable and resilient socks that withstand regular use and washing.
Factor in Aesthetics and Design Requirements:
Align material choices and construction methods with your desired aesthetic appeal, ensuring they complement the visual elements and design motifs.

Customize the weight, texture, and stretch to accommodate specific design requirements, allowing intricate patterns, vibrant colors, and detailed artwork.
How does Soxieco differentiate itself with unique artwork for customizing socks? 
SOXIE CO produces vibrant socks celebrating life's moments and nature's beauty. Natalie Morrow approached EverLighten for intricate custom-printed socks. Despite the complexity, small orders, and phased manufacturing, EverLighten accepted the challenge. Initially using thermal sublimation printing, switched to the 360 printing method later, ensuring top-notch quality. Addressing issues during bulk production, we remade 400 pairs at no extra cost, maintaining high standards. 
EverLighten's commitment and adaptability led to Soxieco receiving top-quality custom socks that surpassed their expectations.
Elevate Your Style with EverLighten's Premium Custom Socks
In a world where fashion is a canvas for self-expression, custom socks offer a unique opportunity to showcase individuality and creativity. By harnessing the timeless appeal of vintage artwork and embracing a spectrum of design styles, you can curate a sock collection that resonates with the nostalgia-seeking and style-conscious consumer.
At EverLighten, we understand the significance of crafting custom socks that not only exude style but also prioritize quality and comfort. 
100% customization tailored to your unique design preferences.

Stringent 100% quality checks ensure that every pair meets our high standards.

Free design assistance to bring your creative vision to life seamlessly.

Worldwide delivery, enabling you to access our premium custom socks from any corner of the globe.

24*7 customer support, ensuring prompt solutions for your concerns and queries.
Connect with us today to embark on unparalleled style and sophistication.
FAQs: 
What is the All-Over-Print method for socks?
All-over-print (AOP) is a printing technique that allows you to print designs on the entire surface of a sock, including the toe, heel, and cuff. It contrasts the traditional sock printing methods, which can only print on specific areas of the sock.
AOP prints the design onto a large piece of fabric. It is then cut and sewn into the desired sock shape. This process allows for more complex and intricate designs than traditional sock printing methods.
What are the types of printing for socks?
There are two main types of printing for socks:
Direct-to-garment (DTG) printing

Sublimation printing
Which format is better for printing on socks?
The best format for printing socks depends on the type of design you want to print and the desired results.
If you want to print a simple design, such as a logo or text, then DTG printing is a good option. It makes a design on a specific area of the sock.
Sublimation printing is a lovely option to print a complex or intricate design, such as a full-color image or pattern. It is also a good option if you want to print a design on the entire surface of the sock.