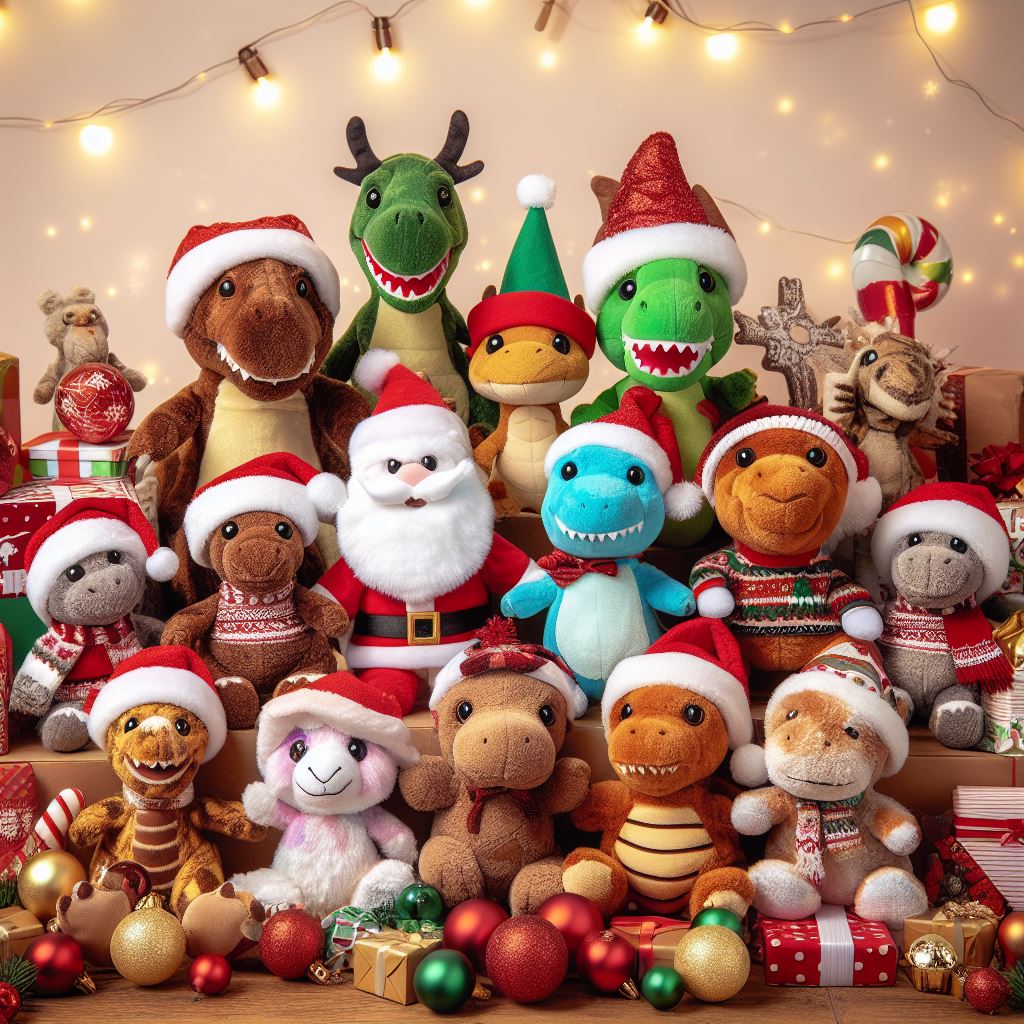 Unwrapping the Global Plush Toy Phenomenon: Insights and Trends
Prepare to elevate your gifting game this Christmas with the ultimate dose of coziness and charm. Get ready to meet a lineup of custom plush toys that will transform your holiday season into a delightful wonderland of joy and warmth. From whimsical characters to personalized cuddle companions, these 15 top custom plushies are here to sprinkle magic and merriment into your festivities.
The popularity of Custom Plush Toys in the Global Market
The global plush toy market has demonstrated robust growth, with estimations suggesting its worth was $40 billion in 2022. It will reach $55 billion by 2028. Plush toys hold a significant share of the global toy market, accounting for over 20% of toy sales worldwide. This enduring popularity speaks to the timeless appeal and widespread demand for these cuddly and versatile playthings.
Custom Plush Toys as Christmas Gifts
Custom plush toys have secured their position as perennial favorites during the festive season, captivating the hearts of children and adults. In 2022, they claimed the spot as the third most sought-after Christmas gift for children in the United States, following closely behind dolls and video games. Adults often exchange plush toys as thoughtful and personalized, tailored to the recipient's favorite characters or interests.
Reasons Behind Custom Plush Toy Popularity
We can attribute the enduring charm of custom plush toys to many factors. Their soft and huggable nature makes them ideal companions for children, encouraging imaginative play and offering a comforting source of cuddly warmth. Moreover, their versatility as playthings and decorative items contributes to their widespread appeal. 
Additionally, their accessibility and affordability in various retail outlets, including department stores, toy shops, and online platforms, further contribute to their popularity as beloved staples in toys and collectibles.
1. Cat plush 
Cat plush toys are beloved for children and adults, often sought after for their undeniable charm and cuddly appeal. These plushies come in various shapes, sizes, and designs, ranging from lifelike replicas of specific cat breeds to whimsical, cartoonish interpretations that capture the essence of feline grace and playfulness.
Some cat plush toys mirror the intricate details of real cats, featuring realistic fur textures, vibrant eyes, and even carefully embroidered whiskers. These lifelike renditions are particularly popular among cat enthusiasts and collectors who seek to showcase their adoration for these graceful animals.
On the other hand, stylized and imaginative cat plushies incorporate creative elements such as colorful patterns, oversized eyes, and unique poses, appealing to a more playful and imaginative audience. These variations often cater to a broader demographic, including children who like their vibrant and cheerful appearances.
Additionally, cat plush toys frequently serve as comforting companions for children, providing a sense of security and warmth during bedtime or moments of solitude. Their soft textures and gentle forms make them ideal cuddle buddies, fostering a sense of emotional support and companionship.
2. Teddies: 
Teddy bears, the quintessential plush toy, have captured the hearts of generations with their timeless appeal and enduring charm. Inspired by former U.S. President Theodore Roosevelt, these cuddly companions have become synonymous with comfort, companionship, and childhood innocence.
Crafted with soft, huggable materials and often adorned with friendly expressions, teddy bears are now a symbol of love and affection, making them a go-to gift for various occasions. These iconic plush toys come in many designs, catering to diverse preferences, ranging from classic brown bears to vibrantly colored and whimsically patterned variations.
With their universal appeal and nostalgic allure, teddy bears hold a special place in the hearts of people of all ages. These enduring toys provide comfort and solace and serve as cherished mementos, preserving cherished memories and serving as loyal companions throughout life's journey. 
3. Stuffed Dinosaurs: 
Stuffed dinosaurs, a delightful fusion of prehistoric fascination and cuddly charm, have carved a special place in the hearts of children and adults. These plush creatures bring the captivating world of dinosaurs to life, allowing enthusiasts to embark on imaginative adventures while experiencing the comfort and joy of a soft, huggable companion.
From the towering T-Rex to the gentle Brachiosaurus, stuffed dinosaur toys come in many species, each meticulously crafted to reflect unique characteristics and features. These plush renditions often boast intricate details, such as textured scales, realistic colors, and carefully designed features, creating an immersive and engaging play experience.
Beyond serving as playful companions, stuffed dinosaurs also play a crucial role in fostering a love for paleontology and natural history among young minds. By sparking curiosity and imagination, these toys serve as educational tools, encouraging children to explore the mysteries of the ancient world and develop a deeper understanding of Earth's rich history.
Furthermore, stuffed dinosaur toys often serve as comforting allies during bedtime, offering security and warmth. Their soft textures and friendly appearances provide reassurance, fostering a sense of protection and companionship during moments of solitude.
4. Plush bunnies
Plush bunnies, with their endearing charm and soft, cuddly appeal, have hopped into the hearts of many, becoming beloved companions for children and adults alike. These adorable creatures, often associated with the joy and renewal of springtime, exude a sense of innocence and playfulness that transcends seasons, making them a perennial favorite in the world of plush toys.
Crafted with velvety fur and adorned with floppy ears and delicate features, plush bunnies come in many sizes and designs, catering to various preferences and tastes. From lifelike replicas that capture the intricate details of real rabbits to stylized interpretations that radiate whimsy and cheer, these plush toys offer something for everyone, appealing to collectors and young enthusiasts.
Beyond their aesthetic appeal, plush bunnies serve as comforting confidants, providing a source of solace and reassurance during moments of solitude or uncertainty. Their gentle demeanor and soft textures make them ideal companions for bedtime cuddles, fostering a sense of security and warmth that transcends material comfort.
Moreover, plush bunnies often symbolize the spirit of new beginnings and hope, making them popular gifts for occasions such as Easter, baby showers, or as tokens of affection for loved ones. Their timeless charm and heartwarming presence make them a thoughtful and enduring expression of love, joy, and simple pleasures.
5. Christmas Polar Bears: 
The Christmas polar bear, a symbol of wintry enchantment and seasonal cheer, embodies the magic and beauty of the holiday season. These plush companions, adorned with cozy scarves, twinkling accessories, and a heartwarming spirit, have become an iconic embodiment of the joy and wonder of wintertime festivities.
Crafted with soft, snow-white fur and often embellished with festive accents, Christmas polar bear plush toys evoke a sense of warmth and comfort, bringing a touch of the Arctic wonderland into homes and hearts. Their friendly demeanor and lovable expressions make them perfect additions to holiday decorations, spreading a message of peace, love, and goodwill to all.
Christmas polar bear plushies serve as delightful gifts, conveying messages of joy and togetherness during the season of giving. Whether as tokens of affection for friends and family or as festive adornments for children's bedrooms, these cuddly companions radiate a sense of festive merriment and invoke the spirit of sharing and celebration.
Beyond their decorative charm, Christmas polar bear plush toys often serve as comforting allies, providing a source of solace and joy during the chilly winter months. Their soft, huggable forms offer companionship and warmth, making them perfect snuggle buddies during cozy evenings by the fireplace or while gazing at the softly falling snow outside.
6. Vegetable Plushies
Vegetable plushies, an unexpected and whimsical addition to the world of plush toys, offer a playful and educational twist to the realm of cuddly companions. These plush renditions of vegetables bring a touch of whimsy to the usually mundane and healthy world of produce, making them popular choices for a wide range of enthusiasts, from children to food lovers and gardeners.
These vegetable plushies come in colorful designs, replicating the characteristics and textures of vegetables with a charming twist. From smiling carrots and grinning peas to adorable broccoli and plush tomatoes, these soft, huggable renditions are as diverse as the vegetables they represent. Their playful appearances often serve as conversation starters and spark curiosity about healthy eating and gardening.
For children, vegetable plushies can be powerful educational tools, making learning about nutrition and gardening fun and engaging. They offer a unique opportunity to teach kids about the importance of eating their greens and understanding where their food comes from. These plushies can foster an appreciation for vegetables at a young age, helping to promote healthy eating habits.
Gardeners and food enthusiasts often find joy in vegetable plushies, appreciating the whimsical connection to their passion for growing and cooking. They can be a fun and decorative addition to kitchen decor or a delightful gift for someone with a green thumb.
7. Bunny Pillow Plush
Bunny pillow plush toys, the epitome of comfort and cuteness, blend the coziness of a pillow with the adorable charm of a cuddly bunny. These versatile and huggable companions are delightful playmates and functional and comforting additions to any living space, bedroom, or playroom.
Designed with soft, plush materials and often featuring floppy ears and friendly expressions, bunny pillow plush toys soothe, making them perfect for snuggling during naptime or relaxing moments. Their dual functionality as a pillow and a plush toy makes them ideal for children and adults seeking comfort and companionship.
Beyond their cuddly appeal, bunny pillow plush toys often add a touch of whimsy charm to the interior decor as decorative accents that infuse spaces with a sense of playfulness and warmth. Their fluffy forms and lovable expressions bring joy and lightheartedness to any room, making them a delightful addition to bedrooms, reading nooks, or living areas.
Furthermore, bunny pillow plush toys frequently serve as thoughtful gifts for individuals of all ages, offering a heartfelt token of comfort and affection. Whether given to celebrate a special occasion, to provide solace during challenging times, or to bring a smile to someone's face, these cuddly companions carry an inherent sense of warmth and love, making them a cherished and versatile gift option.
8. Tiger Plushies: 
Tiger plushies, the epitome of wild beauty and cuddly charm, capture the majestic allure of these awe-inspiring big cats in a soft and huggable form. These plush toys bring the spirit of the jungle into the comfort of homes, enchanting animal lovers and wildlife enthusiasts with their lifelike details and playful designs.
Crafted with velvety, soft materials and often featuring intricate patterns and vibrant colors, tiger plushies mirror the grace and power of their real-life counterparts. From their piercing eyes to distinctive stripes, these plush renditions evoke a sense of wonder and admiration for these magnificent creatures, fostering a deeper connection to the natural world.
Beyond their aesthetic appeal, tiger plushies often serve as educational tools, helping to cultivate an appreciation for wildlife conservation and the importance of protecting endangered species. They serve as gentle reminders of the beauty and diversity of the animal kingdom, sparking curiosity and empathy for the preservation of tigers and their natural habitats.
9. Koala Plushies: 
Koala plushies, the embodiment of cuddly charm and endearing innocence, bring the enchanting spirit of the Australian wilderness into the hearts and homes of animal enthusiasts worldwide. These adorable, soft companions capture the essence of these beloved marsupials, known for their distinctive appearance, gentle nature, and affectionate demeanor.
Crafted with velvety, plush materials and often featuring detailed designs that mimic the koala's fluffy ears, distinctive nose, and soulful eyes, these exude warmth and comfort, making them irresistible to children and adults. Their lifelike representations and liftable limbs evoke a sense of playfulness and curiosity, encouraging imaginative play and fostering a deeper connection to the natural world. 
In addition to their cuddly appeal, koala plushies often serve as ambassadors for wildlife conservation, raising awareness about the conservation efforts needed to protect these cherished creatures and their natural habitats. They symbolize the importance of preserving the delicate balance of ecosystems and inspire a sense of responsibility and empathy for the preservation.
10. Teriyaki with Cat Inside Plush Toys
Teriyaki with a cat inside plush toys, a delightful fusion of Japanese culinary art and whimsical design, offers a playful and charming twist to plush collectibles. These unique creations pay homage to the traditional Japanese fish-shaped pastry, the teriyaki incorporating the joyous surprise of a hidden cat companion nestled within its cuddly confines.
Crafted with soft, plush materials and adorned with intricate details that mimic the golden, crispy texture of a teriyaki, these plush toys evoke a sense of culinary delight and imaginative play. Their playful design appeals to food enthusiasts and captures the hearts of cat lovers and collectors, making them a delightful addition to any plush toy collection or culinary-themed decor.
Beyond their aesthetic appeal, teriyaki with cat inside plush toys often serves as quirky conversation starters, sparking curiosity and playfulness among individuals of all ages. Whether displayed as decorative pieces or used as snuggle buddies, these plush toys offer a unique and charming way to infuse a touch of Japanese culture and whimsy into everyday life.
11. Squishy Pig Plushies: 
Squishy pig plushies, the epitome of adorable charm and tactile delight, combine the irresistible cuteness of a pig with a squeezable, squishy texture, creating a playful and comforting companion for children and pig enthusiasts alike. These plush toys offer a unique sensory experience, inviting individuals to explore the joy of tactile play and the sensation of a soft embrace.
Crafted with ultra-soft, pliable materials, squishy pig plushies are designed to be irresistibly squeezable, allowing individuals to experience the satisfying sensation of squeezing and shaping the plush toy to their liking. Their delightful pig designs, complete with floppy ears, rosy cheeks, and endearing expressions, evoke a sense of joy and playfulness, making them an instant favorite among children and collectors alike.
Beyond their tactile appeal, squishy pig plushies often serve as stress-relief companions, providing comfort and relaxation during tension or anxiety. Their squishy, pliable texture can help alleviate stress and promote a sense of calm, offering a simple and enjoyable way to unwind and de-stress.
12. Banana Body Pillow
The banana body pillow, a whimsical and unconventional addition to the world of comfort and relaxation, offers a playful and lighthearted twist to the traditional body pillow. Resembling a life-sized banana, this plush and huggable companion serves as a unique and comforting addition to bedrooms, living spaces, and playrooms, infusing a touch of fun and creativity into everyday living.
Crafted with soft, plush materials and designed to mimic curved shapes and vibrant colors, this body pillow provides a cozy and supportive surface for lounging, resting, or simply snuggling up for a comfortable night's sleep. Its playful and unconventional design adds a dash of whimsy to interior decor and invites individuals to embrace the joy of imaginative relaxation and comfort.
13. Food Plushies
Food plushies, the delightful and whimsical creations inspired by delectable culinary delights, offer a playful and imaginative twist to the world of plush toys. These charming and often lifelike renditions of favorite foods bring joy and comfort, appealing to individuals of all ages with their adorable designs and soft, huggable forms.
Crafted with attention to detail and designed to replicate the textures, colors, and shapes. These plushies serve as delightful companions and decorative accents that infuse spaces with culinary charm and whimsy. From smiling donuts and cheerful ice cream cones to cuddly slices of pizza and plush tacos, these food-inspired plush toys evoke a sense of playfulness and joy, inviting individuals to embrace the magic of imaginative play and creative expression.
14. Surprise Inside Plushies
Surprise inside plushies, the enchanting and whimsical creations that hide delightful secrets within their cuddly forms, offer a playful and interactive twist to the world of plush toys. These innovative and imaginative designs provide excitement and anticipation, inviting individuals to discover hidden treasures and surprises nestled within the embrace of a soft and huggable companion.
Crafted with meticulous attention to detail and often featuring a variety of interactive elements, surprise-inside plushies serve as delightful and engaging companions that spark curiosity and imaginative play. From hidden pockets containing miniature toys to plushies that unfold into larger, multifunctional playsets, these innovative creations encourage exploration, storytelling, and adventures, fostering a sense of wonder and creativity among children and adults alike.
15. Jumbo Elephant Plushie
The jumbo elephant plushie, a majestic and endearing addition to the world of cuddly companions, embodies the grandeur and gentle nature. These oversized and huggable renditions capture the essence with their lifelike features, soft textures, and lovable designs, offering a delightful and comforting embrace for elephant enthusiasts of all ages.
Crafted with soft, plush materials and often featuring intricate details that mimic the majestic appearance of real elephants, the jumbo elephant plushie serves as a charming and heartwarming tribute to these magnificent creatures. From their gentle eyes to their swaying trunks and oversized ears, these plush toys evoke a sense of wonder and admiration for the natural world, inviting individuals to embrace the magic of wildlife and animal conservation.
EverLighten: The Art of Custom Plush Toy Creation
The global popularity of custom plush toys is a testament to their universal appeal, offering comfort, joy, and imaginative play for individuals of all ages. As the market expands, the demand for high-quality custom plush toys remains steadfast.
For those seeking to bring their unique plush toy visions to life, EverLighten stands ready to turn imagination into tangible reality. With a commitment to 100% customization and a stringent 100% quality check, EverLighten ensures that every plush creation meets the highest standards of excellence.
Take advantage of EverLighten's free design assistance, ensuring your custom plush toy reflects your precise specifications and desired aesthetic. With worldwide delivery options and round-the-clock customer support, EverLighten has a seamless and enjoyable experience from concept to creation.
Contact EverLighten today to craft personalized plush toys that will captivate hearts and spark joy for years.
FAQs: 
Why are custom plushies so expensive?
Custom plushies are more expensive than mass-produced plushies for many reasons:
Lower volume:

We manufacture custom plushies in smaller quantities than mass-produced plushies.

Higher quality materials:

They use higher quality materials than mass-produced plushies. 

More complex construction:

Custom plushies may have more complex construction than mass-produced plushies. 

Personalization:

You can personalize custom plushies with embroidery, monogramming, or an image. This process adds to the cost of production.
How to make custom plush toys?
There are a few different ways to make custom plush toys:
DIY

Commission

Order from a company
How can you sell plushies online?
There are a few different ways to sell plushies online:
Create your website

Sell on a marketplace

Sell on social media