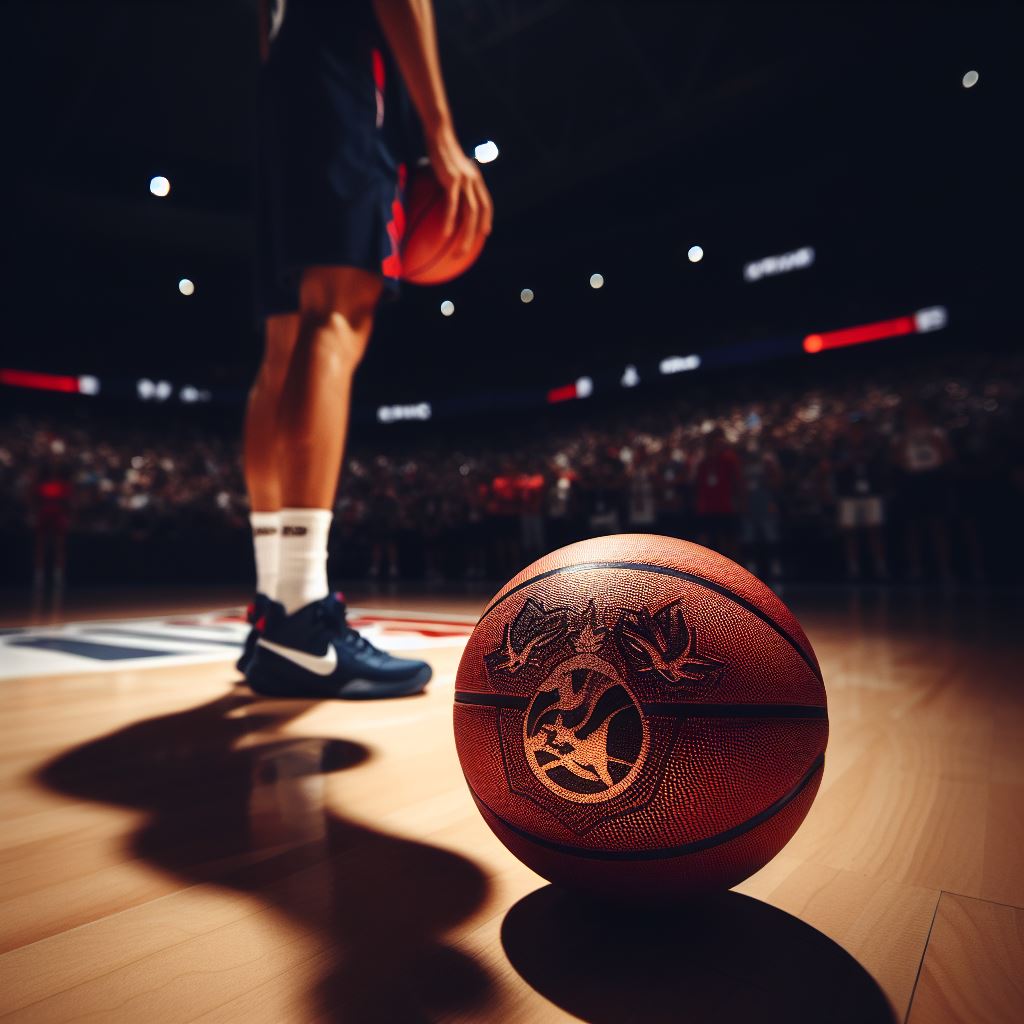 A Valuable Addition to Your Marketing Arsenal
Are you tired of giving and receiving the same promotional items, like t-shirts, coffee mugs, pens, or calendars? People take the items and forget who gave them because everybody is presenting the same. Well, you don't have to be like everybody else. Give something unique and fun so people remember you for a long time.
Consider this: 7% of consumers say they have shared a promotional product with a friend or family member. 43% of consumers say they have posted a photo of a promotional product on social media. 
Moreover, 61% of consumers say they are more likely to research a brand that gave them a customized promotional item.
Basketball, a sport with a massive global following, captures the attention of millions. With over 450 million players worldwide, and as the second most popular sport in the United States, boasting more than 25 million players, its influence is undeniable. The NBA alone boasts a staggering 1 billion viewers, while college basketball, especially the NCAA March Madness tournament, draws over 40 million viewers annually.
Further, Promotional Products Association International revealed that 82% of consumers are more inclined to keep a promotional product received during the holidays.
These compelling statistics underscore the potential of using basketballs as promotional items to capture the attention of a vast audience and create a lasting impression. It's time to delve into a fresh take on promotional branding around the timeless appeal of the beloved basketball.
How are custom basketballs different from regular gifts and promotional items? 
Custom basketballs differ significantly from regular promotional items due to their unique and engaging nature. While standard promotional items like t-shirts, pens, or mugs have their place, custom basketballs offer a distinctive approach to brand promotion. 
Novelty and Memorability:

Custom basketballs offer a sense of novelty and excitement beyond conventional promotional items. They create a memorable experience for recipients, fostering a deeper connection with the brand.

Interactive Branding:

Unlike passive promotional products, custom basketballs encourage active engagement. Recipients can physically interact with the product, fostering a sense of involvement and building positive associations with the brand.

Long-Term Visibility:

Basketball, as a durable and long-lasting sports equipment, can continue to represent the brand for an extended period. Whether used for casual play or displayed as a collector's item, custom basketballs can serve as a constant reminder of the brand's message and values.

Audience Reach:

Basketball's popularity on a global scale ensures that custom basketballs have the potential to reach a diverse and widespread audience. It broadens the scope of brand visibility and recognition, enabling companies to connect with a larger demographic.

Symbol of Team Spirit:

Basketball, known for its team-oriented nature, represents unity and collaboration. By associating their brand with the spirit of teamwork, companies can effectively communicate their values and foster a sense of community among their audience.

Creative Customization:

Custom basketballs allow for creative and unique branding opportunities, enabling businesses to showcase their logos, designs, and messages in an innovative and visually appealing manner. This level of customization helps in creating a distinct and recognizable brand identity.

Associations with Health and Fitness:

Basketball promotes an active and healthy lifestyle, making it an ideal medium for brands that wish to align themselves with wellness and fitness. Custom basketballs signify the brand's commitment to promoting physical well-being and a balanced lifestyle.
What are the processes of putting your logo and design on custom basketballs?
Putting logos and designs on custom basketballs typically involves several methods, each with unique benefits and considerations. 
Screen Printing:

This method involves pressing ink through a stenciled mesh screen to create the desired design on the surface of the basketball. It is a popular and cost-effective option for simple designs and logos, offering good durability and vibrant colors. However, it may not produce the intricate details accurately through screen printing.

Heat Transfer Printing:

Heat transfer printing involves applying heat to a specialized transfer paper with the desired design. The heat causes the ink to transfer onto the basketball's surface. This method is suitable for complex designs and allows for a high level of detail. However, the longevity of the print may not be as robust as other methods.

Pad Printing:

Pad printing involves transferring a 2D image onto a 3D surface, such as a basketball, using a silicone pad. The pad picks up the ink from an etched plate and transfers it directly onto the ball. This method creates detailed and intricate designs on curved surfaces, providing high precision and accuracy.

Custom Decals or Stickers:

Custom decals or stickers are pre-printed designs for the surface of the basketball. This method is suitable for intricate designs and allows for high customization. However, the durability of the decals may vary depending on the quality of the materials.

Engraving:

Engraving involves etching the design or logo directly onto the surface of the basketball. This method provides a durable and long-lasting customization option, as the design becomes a permanent part of the ball. However, engraving is limited to simple designs and does not allow intricate color variations.

Airbrushing:

Airbrushing involves using an airbrush tool to apply paint to the surface of the basketball, allowing for detailed and customizable designs. This method is particularly suitable for creating intricate artwork and complex color gradients. However, it may require the expertise of a skilled artist and can be relatively time-consuming.
What are the different types of custom-engraved basketballs available?
Custom-engraved basketballs come in various types, each offering unique features and catering to different preferences and needs.
Standard Synthetic Leather Basketballs:

These are commonly used for promotional purposes and come in standard sizes and weights. They are durable, affordable, and suitable for custom engraving with logos or simple designs.

Premium Composite Leather Basketballs:

These are made from high-quality composite leather, offering a better grip, feel, and durability than standard synthetic leather balls. They are for professional events,

corporate gifts

, or special times, and you can customize them with intricate designs and detailed engravings.

Indoor Basketballs:

These basketballs offer superior grip and control. Custom-engraved indoor basketballs are often for corporate events, tournaments, and promotional activities targeting basketball enthusiasts and players.

Outdoor Basketballs:

These basketballs are durable and resilient. They are ideal for promotional giveaways, outdoor events, and sports-related marketing campaigns, and you can customize them with logos, designs, or branding messages.

Mini Basketballs:

Smaller than regular basketballs, mini basketballs are for promotional purposes, gifts, or as souvenirs. They are suitable for custom engraving with

company logos

, event details, or personalized messages and are popular choices for marketing at sports events, trade shows, or corporate gatherings.

Replica Basketballs:

These basketballs replicate the look and feel of official league or team basketballs. Custom-engraved replica basketballs are collectibles, memorabilia, or promotional items for sports fans, teams, and organizations.

Specialty Basketballs:

Specialty basketballs are for specific events, tournaments, or commemorative purposes. They can be customized to commemorate special occasions, championship victories, or milestone celebrations, making them ideal for creating lasting mementos and building brand recognition.
What are the different engraving methods used for custom-engraved basketballs?
Several engraving methods create custom-engraved basketballs, each offering unique benefits and results. 
Laser Engraving:

Laser engraving involves using a laser to etch designs, logos, or text onto the surface of the basketball. It provides precise and detailed results, allowing intricate and complex designs to be engraved accurately. Laser engraving offers a permanent and durable customization solution that is resistant to wear and tear.

Hand Engraving:

Hand engraving is a meticulous process where skilled artisans manually carve designs into the surface of the basketball using specialized tools. This method allows for intricate and artistic engravings, providing a unique and personalized touch. Hand engraving can create highly detailed and customized designs, making each basketball a one-of-a-kind piece.

Mechanical Engraving:

Mechanical engraving involves computer-controlled machinery to carve designs onto the surface of the basketball. This method allows for precise and consistent engravings, making it suitable for creating detailed and complex designs with high accuracy. Mechanical engraving is efficient and can be helpful for simple and intricate customizations.

Chemical Etching:

Chemical etching is a process that involves applying a chemical solution to the surface of the basketball to create the desired design. The chemical reaction creates an engraved pattern that is permanent and precise. This method is suitable for detailed engravings, offering a durable customization option resistant to fading or wear.

Rotary Engraving:

Rotary engraving utilizes a rotating cutting tool to carve designs onto the surface of the basketball. It is a versatile method for various design styles, including simple and intricate patterns. Rotary engraving offers consistent and uniform results, making it an option for creating custom-engraved basketballs with precise and detailed designs.
What are the different materials used for custom-engraved basketballs?
Custom-engraved basketballs can use various materials, each offering unique characteristics and suitability for different purposes. 
Genuine Leather:

High-quality custom-engraved basketballs use genuine leather, which provides superior durability, exceptional grip, and a premium feel. These basketballs are for professional games, special events, and corporate gifting due to their quality and performance.

Composite Leather:

Composite leather is a synthetic material designed to replicate the look and feel of genuine leather while offering enhanced durability and consistency. Custom-engraved basketballs made from composite leather are for recreational play, promotional purposes, and

branded merchandise

due to their cost-effectiveness and long-lasting performance.

Rubber:

Rubber is a durable and resilient material commonly used for affordable custom-engraved basketballs. Rubber basketballs are ideal for outdoor play, training sessions, and promotional giveaways due to their ability to withstand rough surfaces and varying weather conditions.

Synthetic Leather:

Synthetic leather is an artificial material designed to mimic the appearance and texture of genuine leather while offering increased durability and resistance to abrasion. Custom-engraved basketballs made from synthetic leather are suitable for indoor and outdoor use, making them versatile for promotional events, team activities, and recreational play.

Microfiber Composite:

Microfiber composite materials offer durability, softness, and enhanced grip, making them suitable for custom-engraved basketballs for professional training, indoor play, and high-performance sports activities. Microfiber composite basketballs provide superior ball control and a comfortable feel, making them popular for customized branding and corporate gifts.
What are the different colors and finishes available for custom-engraved basketballs?
Custom-engraved basketballs can come in many colors and finishes, allowing for diverse and personalized branding options. 
Classic Colors:

Basketball manufacturers often produce basketballs in classic colors like traditional orange. It is the standard color for basketballs. However, custom-engraved basketballs can be found in various standard colors like brown, black, and white, providing a timeless and professional aesthetic.

Vibrant Colors:

Custom-engraved basketballs can be vibrant and eye-catching colors like red, blue, green, and yellow. These colors can create bold and attention-grabbing designs, making the basketballs stand out during promotional events, sports activities, and marketing campaigns.

Metallic Finishes:

Some custom-engraved basketballs may feature metallic finishes, adding a touch of sophistication and elegance to the design. Metallic finishes such as gold, silver, and bronze can enhance the visual appeal of the basketballs, making them suitable for special occasions, awards, and commemorative purposes.

Matte Finishes:

Matte finishes offer a non-glossy, smooth surface that can provide a modern and understated look to custom-engraved basketballs. Matte finishes are often available in various colors and can create a sleek and contemporary design that aligns with a brand's aesthetic and messaging.

Glossy Finishes:

Glossy finishes provide a shiny and reflective surface. It can make custom-engraved basketballs appear vibrant and polished. These finishes are available in different colors and can create a bold design that captures attention and highlights the engraved logos, text, or artwork.

Customized Team Colors:

Custom-engraved basketballs can match specific team colors or corporate branding colors, allowing organizations to create a cohesive and unified look for their promotional items, corporate gifts, or sports merchandise.
What is the average cost of custom-engraved basketballs?
The average cost of custom-engraved basketballs can vary significantly based on several factors, including the type of basketball, the quality of the materials used, the complexity of the customization, the quantity ordered, and the specific requirements of the customization project. Generally, the cost of custom-engraved basketballs can range from approximately $20 to $100 or more per unit.
Type of Basketball:

Different types of basketballs, such as standard synthetic leather, premium composite leather, or specialty basketballs, may vary in cost due to materials, construction, and performance features.

Customization Complexity:

The intricacy of the design, artwork size, and the customization method used can impact the overall cost. More intricate and detailed engravings or designs may require specialized equipment or additional labor, leading to higher customization costs.

Quantity Ordered:

The quantity of custom-engraved basketballs ordered can affect the per-unit cost, with bulk orders often resulting in lower unit prices due to economies of scale and reduced production costs.

Quality and Branding Standards:

Basketball brands or manufacturers known for their high-quality products and reputable branding may offer custom-engraved basketballs at a premium cost to reflect their brand value and quality assurance.

Additional Features or Packaging:

Additional features such as customized packaging, branded accessories, or supplementary promotional materials may increase the cost of custom-engraved basketballs.
How long does it typically take to get custom-engraved basketballs made?
The time it takes to produce custom-engraved basketballs can vary depending on several factors, including the complexity of the customization, the quantity of the order, the chosen customization method, and the production capabilities. Typically, the process can take a few days to several weeks. 
Design Complexity:

More intricate and detailed engravings or designs may require additional time for the preparation and execution of the customization process.

Order Quantity:

Larger orders may require more time for production, as the manufacturer needs to ensure that each custom-engraved basketball meets the specified design and quality standards.

Customization Method:

Different engraving methods may have varying production times. Methods such as laser engraving and hand engraving may require more time for precise detailing, while mechanical or chemical etching methods could have faster production timelines.

Supplier's Workload:

The workload of the supplier or manufacturer can affect the lead time, especially during peak seasons or when handling multiple orders simultaneously.

Shipping and Delivery:

Consider the time required for shipping and delivery when estimating the overall production timeline, especially if the custom-engraved basketballs need to be for a specific location or event venue.
How do you care for custom-engraved basketballs?
Caring for custom-engraved basketballs is essential to maintain their appearance, performance, and longevity. Proper maintenance can help preserve the engraved designs and ensure the basketballs remain in good condition over time. 
Regular Cleaning:

Clean the basketballs regularly using a soft cloth or sponge dampened with mild soap and water. Gently wipe the surface to remove dirt, dust, or any residue that may accumulate during play or storage.

Avoid Harsh Chemicals:

Avoid using harsh chemicals, abrasive cleaners, or solvents on the surface of the basketballs, as these substances can damage the material and potentially affect the engraved designs.

Proper Storage:

Store the custom-engraved basketballs in a cool, dry place away from direct sunlight, moisture, or extreme temperatures. Use a suitable basketball rack or storage container to prevent the basketballs from getting damaged or deformed.

Handle with Care:

Handle the custom-engraved basketballs with care to prevent scratches, dents, or other forms of physical damage. Avoid dropping the basketballs on hard surfaces or exposing them to sharp objects that could compromise the integrity of the engraved designs.

Maintenance of Inflation:

Monitor the inflation level of the basketballs regularly according to the manufacturer's recommendations. Use a suitable air pump and pressure gauge to maintain the optimal air pressure for the best performance.

Indoor vs. Outdoor Use:

Consider the type of basketball and its intended use when caring for it. Outdoor basketballs may require more frequent cleaning and inspection due to exposure to rough surfaces and varying weather conditions, while indoor basketballs may need protection from excessive moisture and humidity.

Periodic Inspections:

Conduct inspections of the custom-engraved basketballs to check for any signs of wear, tear, or damage. Address any issues promptly to prevent further deterioration and preserve the quality of the engraved designs.
How can you find a reliable manufacturer for custom-engraved basketballs? 
Finding a reliable manufacturer for custom-engraved basketballs is crucial to ensure the production of high-quality products that meet your specific customization requirements. 
Research Online:

Conduct thorough research to identify manufacturers with a strong reputation, like

EverLighten

, for producing custom-engraved basketballs. Look for companies with positive reviews, testimonials, and a proven track record of delivering high-quality products and reliable services.

Seek Referrals and Recommendations:

Ask for referrals and recommendations from colleagues, industry professionals, or business contacts who have previously worked with custom-engraved basketball manufacturers. Personal recommendations can provide valuable insights and help you identify reputable manufacturers more efficiently.

Attend Trade Shows and Exhibitions:

Attend industry-specific

trade shows

, exhibitions, and conferences where you can connect with manufacturers, view product samples, and discuss your customization needs directly. These events offer opportunities to evaluate the quality of products and services and establish direct contacts with potential manufacturers.

Check Manufacturing Capabilities:

Assess the manufacturing capabilities of potential manufacturers, including their production facilities, equipment, technology, and quality control processes. Verify they have the necessary resources and expertise to handle the specific customization requirements for custom-engraved basketballs.

Request Samples and Portfolios:

Request samples and portfolios from manufacturers to evaluate the quality of their custom-engraved basketballs, the precision of their engravings, and the overall craftsmanship. Reviewing samples and portfolios can help you assess the manufacturer's attention to detail and ability to meet your customization standards.

Evaluate Customer Service and Communication:

Assess customer service, responsiveness, and communication. Choose a manufacturer that demonstrates a commitment to understanding your customization needs, addressing your concerns, and providing transparent and timely communication throughout the production.
Conclusion: 
Elevate your brand's visibility and make a lasting impression with our exceptional custom-engraved basketballs. If you're ready to take your brand promotion to the next level with custom-engraved basketballs, look no further than EverLighten. Our commitment to excellence and customer satisfaction sets us apart as a premier provider of customized sports equipment. With EverLighten, you can expect:
100% Customization:

Tailor your basketballs to reflect your brand's unique identity and message.

Complete Quality Check:

Rest assured that every custom-engraved basketball undergoes rigorous quality checks to ensure top-notch standards.

Free Design Help:

Our experienced design team is ready to assist you in creating the perfect custom design for your basketballs.

Global Delivery:

No matter where you are, we ensure timely and reliable delivery of your custom-engraved basketballs worldwide.

24*7 Support:

Our dedicated customer service team is available round the clock to address any queries or concerns you may have.

Low MOQs (Minimum Order Quantities):

Whether you need a small batch or a large order, we accommodate your requirements with flexible and competitive minimum order quantities.
Contact EverLighten today to discuss your customization needs and bring your branding vision to life!
FAQs: 
Can you get a basketball engraved?
Yes, you can get a basketball engraved. Many different companies offer custom engraving services for basketballs. You can have text, logos, images, or even 3D designs.
How do you permanently mark a basketball?
There are a few different ways. One way is to use a permanent marker or paint pen. Another way is to engrave the basketball. Engraving is the most permanent way to mark a basketball as sweat, water, or wear and tear does not affect it.
Can you get a picture engraved on a basketball?
Yes, you can get a picture engraved on a basketball. Many different companies offer custom engraving services for basketballs. You can have any image, including photos, logos, and drawings.