Custom Socks
Custom socks and dance studios_ A perfect match to promote your business
|
Oct, 06 , 22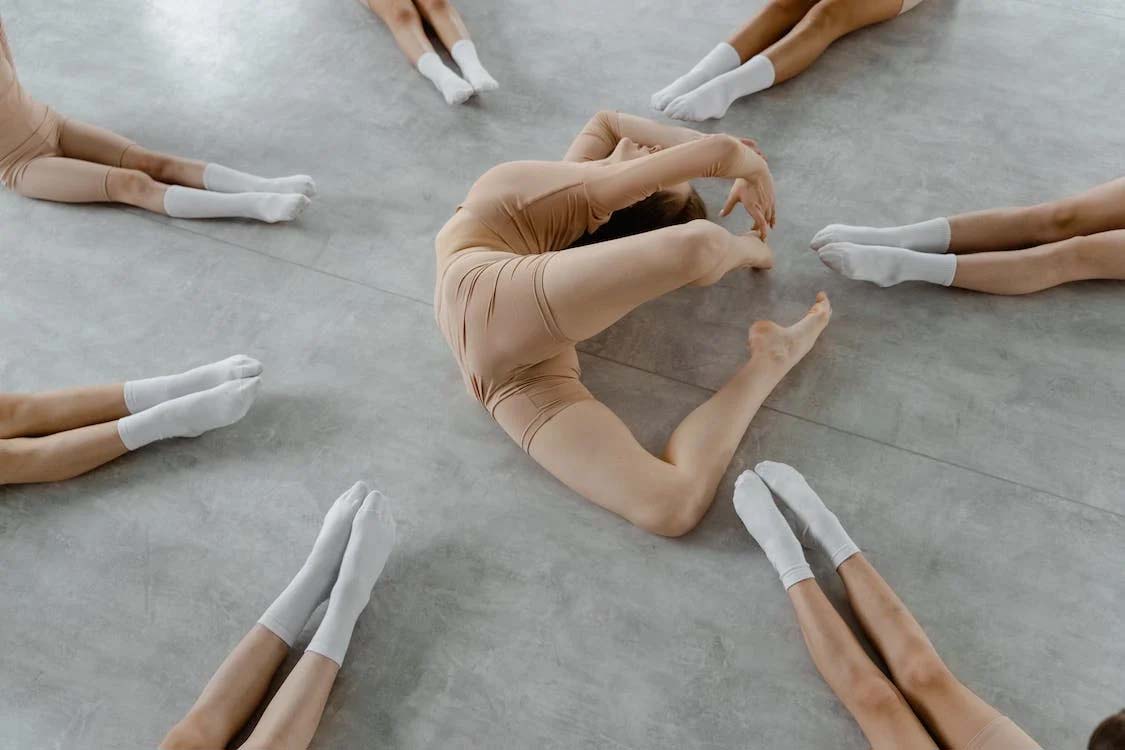 Dancing has been an integral part of human culture, like celebrations and rituals. It is about recreation, self-expression, health reasons, competitions, etc. There are various places to enjoy and learn to dance, like dance schools, studios, clubs, etc. It is also a profession for many, with social media fueling the growth. Dance professionals are passionate people who want to pass the love down to others. But, running a dance studio takes more than passion; you need to promote it. Even if you have a lovely dance studio with excellent faculty, facilities, and quality classes, you are unlikely to grow without a marketing plan. Some people dread the thought of marketing, thinking that it is boring. However, it can be creative and fun, like your dance form. One of the most imaginative, relevant, and helpful ways is to use custom socks. You might think, how can they help? Don't worry the blog will provide you with all the answers. Without further ado, let's start.
Is the dance studio worth the effort?
It is one of the most common questions asked by many who want to turn their passion into a profession. Look at the stats:
The market size of the dance studio industry is $3.8 billion.
We expect it to grow at 3% for the next five years.
People are spending more on recreational activities, including dance classes.
You can understand that the industry is growing and worth the effort.
Why are custom socks ideal for marketing dance studios?
It can help your dance studio stand out and get noticed: Think about all the marketing emails you never opened or promotional items you never used. We are bombarded with so many promotions and marketing throughout the day that we have become immune to it. Custom socks can bypass the blockage. If you do it right, they can motivate people to join your dance studio.
Other forms of marketing, like print, digital, etc., are passive and intangible: you can not interact with them. But, promotional socks are different; people use them and can not ignore them.
Millennials respond well to novel marketing: Millennials are the group most likely to become a member of your dance studio. You might think they respond to digital promotions, but market research shows otherwise. A whopping 82% of them accepted they like unique promotional products. Maybe it is the novelty of receiving a physical item or something they can use in their lives - you don't have to worry about the reasons and focus on creating high-quality custom socks to promote your studio.
Promotional socks get more response: People are more likely to respond to custom socks because it familiarizes them with your studio's name. The longer they stay with them, the more likelihood of ingraining the name. According to the DMA response rate report of 2018, the response rate is 5%-9% higher than other marketing methods. These numbers might not seem huge, but all those extra people enrolling will also increase referrals. It is like a snowball effect, small at first and getting bigger with time.
It encourages team spirit among your dancers: Promotional socks are not only for prospects; you can also use them for your members to build team spirit. Place the studio logo, colors, and slogan on them, and members will feel a sense of belonging. It goes into our primal instinct of the need to belong to a tribe. You can use it for competition and branding as well.
Here are a few dance studio easy and effective marketing ideas:
Host an open house to see prospects of what your dance studio is about; people will meet your instructors, check out the space, feel the vibes, and ask vital questions. Hold various short performances so people can join in the fun. Offer custom socks for students who signed up; it will encourage others.
Connect locally:check your local coffee shops, schools, gyms, etc., for prospects. Hand out brochures to people; give out socks to people who share their contact numbers as an incentive.
Leverage social media to make a name for your dance studio. It does not cost a dime and provides many benefits. Build a community by sharing your dance moves. Use branding with merch and accessories. Hold contests and offer custom socks as prizes.
Host events to get the attention your dance studio deserves. For example, consider hosting a show under the stars during warm summer nights or holiday-themed shows. It will attract interested people from all over your community. If the budget permits, hand out custom socks to attendees as a goodwill gesture.
Target unique audiences like students, children, pregnant women, etc., with custom socks designed for them. It will open your dance studio to a whole new group of people. The experience is rewarding and fulfilling.
Partner with other businesses: in your community to build your network. One example is dance supply stores, musical instruments shops, etc. However, do not be afraid to be daring. Wellness spas, grocery, local symphony, etc., are all good fits for your business. Connect with their owners and palace the custom socks in their stores. Interested people will buy them; it will provide you with some funds for other endeavors.

Volunteer in your community

 to get more visibility. Is a community event coming up in the local park or farmer's market? Perform at the events wearing your dance studio merch and socks. Bring out plenty of business cards and socks to distribute. People love when businesses are involved in the community.
Build a solid client base to get more referrals. Reach out to your existing and former members during holidays with promotional socks. It will display that you are interested in their lives and are not into making money only.
Sponsorships: Look into options for sponsoring civic clubs, sports teams, charity events, nonprofits, and other activities in your area. It helps you to accomplish several goals simultaneously and position your dance studio as a brand name. Distribute custom socks, t-shirts, keychains, etc., at these events.  
Fundraisers:Dance studios look for new ways to raise money for fees, props, etc., for competitions. You can start a fundraiser with custom socks; it is a fun and effective way to generate funds.
Conclusion: 
We hope a few ideas on the list jumped out and inspired you to think about custom socks for your dance studio. We recommend combining various mentioned tips to balance your marketing efforts. One last thing: create high-quality custom socks worthy of your brand. It will yield the most results by helping you make an impression and attract new members. After you have decided, all you need is a reliable supplier like EverLighten. They have helped startups, large companies, sports teams, schools, universities, specialized stores, etc., for eighteen years.
Hummingbyrd is a specialized store that offers a unique collection of luxurious sports apparel and accessories for women athletes and runners. They reached out to EverLighten for custom socks, face masks, neck gaiters, woven patches, etc., and shared their entrepreneurial story and values. Our team connected with them instantly and helped them understand the design, manufacturing, and quality check. Working together, we made five samples and created the best to reflect their brand. Our dedication, teamwork, and quality impressed Hummingbyrd. They told us they were lucky to find and work with us.
Benefits of working with EverLighten:
Best pricing: We are a factory producing custom socks, not intermediaries, ensuring customers always get the best prices.
Quality in every product: We use high-quality materials and the latest techniques to produce socks.
Fast turnaround time: We manufacture every order in the quickest time possible.
24*7 support: Customers can contact us 24*7 for their query resolution; we reply within half an hour.
Real people, fantastic service: EverLighten loves helping; we offer various options for every product.
Designs to impress: Your socks will look as you imagined with help from in-house designers.  
No minimum order requirement: You can order any number of items you need; we accept every order without a minimum limit.
Worldwide shipping: we deliver worldwide, and customers can track their orders online with an order tracking tool.