#CustomProducts, Best Custom Socks, Brand, custom apparel, custom drinkware, custom koozie, custom logo socks, custom manufacturing, Custom Plush toys, custom printed socks, custom products, Custom Sock, Custom Socks, Custom Socks Bulk, Custom Stuffed Animals, Custom Sweaters, Custom T-shirts, custom tambourine, custom water bottles, Customized Socks, Personalized Stuffed Animals
Company Swag Ideas to Make Your Brand Stand Out During Holidays
|
Sep, 30 , 23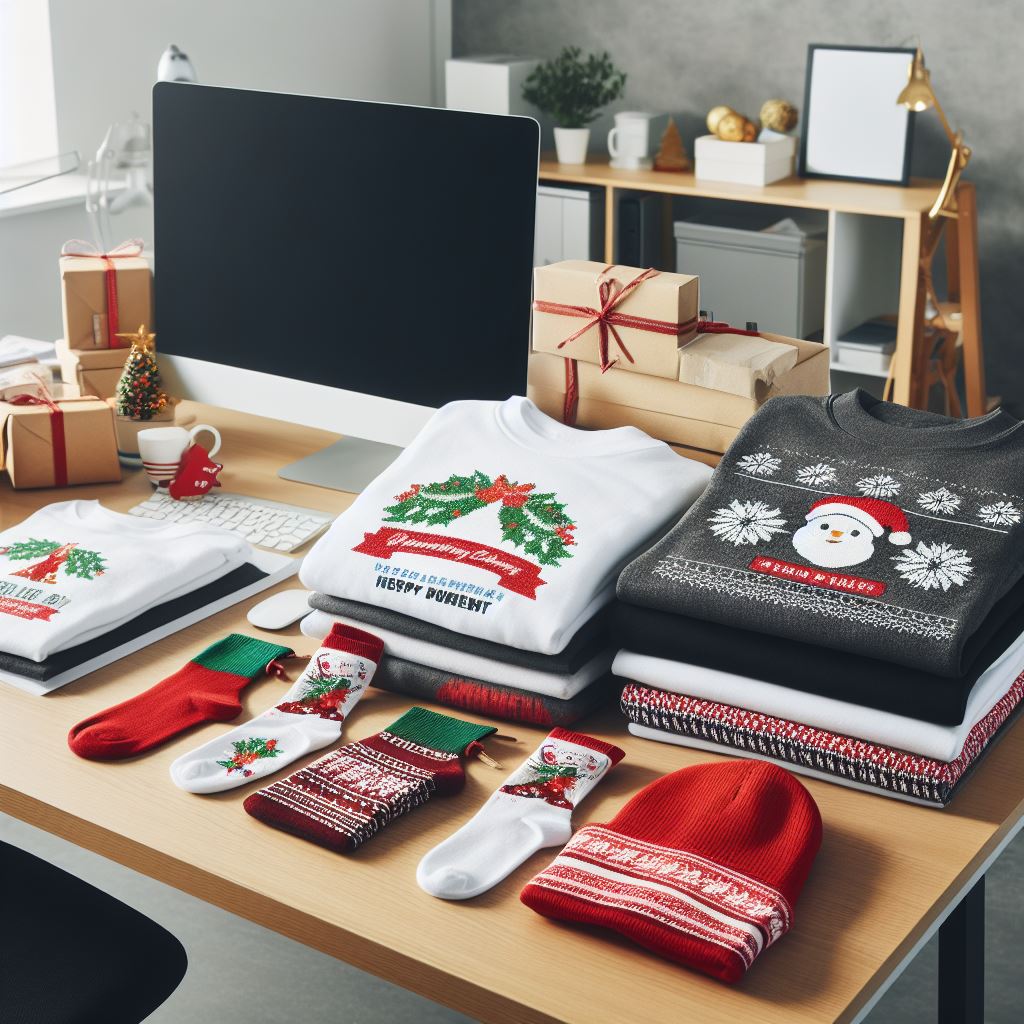 Why company swag are important during holidays? 
The holiday season is upon us, and businesses deck the halls and don their virtual sleighs. One thing that should be on every marketer's wish is company swag. But why, you ask, should your brand invest in these festive freebies during this time of year? Well, that's what we're here to unwrap.
Picture this: The scent of freshly baked cookies wafting through the air, carolers harmonizing their hearts out, and the warmth of a crackling fire by your side. Emotions run high during holidays, and people are in the mood to connect, celebrate, and receive gifts.
It is where company swag becomes a magical ingredient in your marketing mix. It is not just about giving away free stuff. It is about crafting memorable experiences and leaving a lasting impression that twinkles like a holiday light long after the decorations. In this blog, we'll dive into the enchanting world of holiday-themed company swag and explore why it's an absolute must for your brand during this festive season.
Keep reading if you're ready to discover how to make your brand shine as bright as Rudolph's nose amidst the holiday marketing frenzy. 

What is company swag?
Company swag, short for "company swag items" or "swag merchandise," refers to promotional products or merchandise that a company creates and distributes as part of its marketing and branding efforts. These items typically feature the company's logo, name, or branding elements and are given away or sold to employees, customers, clients, partners, or the general public.
Company swag serves several purposes:
Brand Awareness:

It helps increase brand visibility and recognition as people use or display swag items.

Marketing:

Swag items are also marketing tools to promote a company's products or services.

Employee Morale:

Swag is often given to employees as a form of appreciation, helping boost morale and foster a sense of belonging.

Customer Loyalty:

Swag can reward loyal customers or incentivize new ones.

Events and Trade Shows:

Companies often distribute swag at events,

trade shows

, and conferences to attract attendees and leave a lasting impression.
Why is company swag important during the holidays?
Company swag during the holidays serves as a powerful and strategic tool for businesses for several compelling reasons:
Building and Strengthening Relationships:

The holiday season is about connections and goodwill. Gifting company swag to employees, customers, clients, and partners demonstrates appreciation and fosters relationships. It shows that your company values its stakeholders beyond just business transactions.

Brand Visibility:

Your branded swag becomes more visible as people gather and socialize during the holidays. Whether it's a cozy company-branded sweater or a festive mug, the more people see your logo, the more your brand stays top-of-mind.

Positive Associations:

By associating your brand with the positive emotions and sentiments of the holidays, you can create a warm and favorable impression. Recipients often feel a sense of gratitude, which can translate into increased brand loyalty.

Promotional Opportunities:

Company swag can be a promotional tool during holiday sales and marketing campaigns. Offering swag as a promotion can incentivize purchases and attract more customers to your business during the holiday shopping rush.

Employee Morale:

Distributing holiday-themed swag to employees can boost morale and team spirit. It makes them feel valued and appreciated, contributing to a positive work atmosphere and potentially increasing productivity.

Word-of-mouth Marketing:

When recipients use or wear your company swag, they become brand ambassadors. They may share their positive experiences with others, indirectly promoting your business through word-of-mouth marketing.

Differentiation:

Personalized swag sets your brand apart in a crowded marketplace with holiday promotions. Unique and thoughtful swag items can create a memorable impression, making your business stand out from competitors.

Long-lasting Impressions:

Quality swag items can have a longer shelf life than traditional holiday cards or

gifts

. A branded sweater or calendar may continue to be used throughout the year, providing ongoing exposure for your brand.

Customization and Personalization:

Company swag can be customized to suit the preferences and interests of your recipients. Personalized gifts show that you've put thought into the gesture, making it more meaningful.

Fostering Goodwill:

Giving back during the holidays, whether through charitable donations or eco-friendly swag choices, can improve your company's reputation and create goodwill in the community.
Types of company swag
Apparel (e.g., t-shirts, hoodies, sweaters, socks, hats):
Warmth and Comfort:

People appreciate apparel items like

t-shirts

,

hoodies

,

sweaters

,

socks

,

hats

, etc., during the colder months of the holiday season. They provide warmth and comfort, making them practical gifts.

Fashionable Branding:

Branded clothing items are like wearable billboards for your company. When recipients wear them, they promote your brand wherever they go, from holiday gatherings to shopping trips.

Gifts for All Ages:

Apparel swag can suit various age groups and styles, ensuring something for everyone on your gift list.
Drinkware (e.g., mugs, water bottles, tumblers):
Warm Beverages:

Mugs are perfect for sipping hot cocoa, coffee, or tea during the chilly holiday season. They evoke a sense of coziness and relaxation.

Everyday Use:

People can use

drinkware items

regularly, ensuring your brand is in front of recipients daily. This consistent exposure reinforces brand recognition.

Eco-Friendly Options:

Offering reusable, eco-friendly drinkware aligns with the growing sustainability trend, showcasing your company's environmental commitment.
Tech Accessories (e.g., phone chargers, power banks, earbuds, laptop cases):
Practicality:

Tech accessories are practical gifts in our digital age. They help recipients stay connected and powered up during holiday travels and activities.

Tech-Savvy Brand Image:

Providing tech-related swag items can help position your company as forward-thinking and tech-savvy, which resonates with a broad audience.

Customization:

Many tech accessories can be customized with your company's logo or a holiday-themed design, adding a personal touch.
Food and Drinks (e.g., coffee, snacks, gift baskets):
Indulgence:

Food and drink swag items, such as gourmet coffee or holiday snacks, allow recipients to indulge in the festive season's culinary delights.

Sharing Joy:

Sharing edible swag with friends and family is a common holiday tradition. Your branded treats can become part of holiday gatherings, spreading joy and cheer.

Personalization:

You can create custom gift baskets or packages that align with the holiday spirit, adding a personalized touch that recipients will appreciate.
Other (e.g., plush toys, basketballs, yoga mats, tambourines, etc.):
Entertainment:

Games and toys entertain holiday downtime. They can bring families and friends together for festive fun.

Outdoor Adventures:

If your swag includes outdoor gear like blankets or thermoses, it encourages recipients to venture outdoors for activities like picnics or stargazing, creating memorable moments.

Variety:

The "Other" category encompasses a wide range of possibilities, allowing you to get creative with your swag choices and cater to the unique interests of your audience.
How to choose the right company swag for your brand? 
Choosing the right company swag for your brand is a crucial decision that can impact your marketing efforts during the holidays and beyond. 
Consider Your Target Audience:
Demographics:

Think about the age, gender, and interests of your target audience. What would resonate with them? For example, tech accessories might be a hit with a younger, tech-savvy crowd, while cozy blankets could appeal to a broader demographic.

Lifestyle:

Consider the lifestyles of your audience. Are they more likely to appreciate items for home use, like drinkware or decor, or would they prefer outdoor gear for adventurous activities during the holidays?

Profession:

If your audience includes professionals, high-quality pens, laptop bags, or tech gadgets may be well-received for their practicality.

Location:

The climate and location of your audience matter. People in colder regions might appreciate warm apparel, while those in warmer areas might prefer items like sunglasses or outdoor accessories.

Hobbies and Interests:

Tailor your swag to align with the hobbies and interests of your audience. If they are fitness enthusiasts, consider fitness-related items. If they love cooking, gourmet food or kitchen gadgets could be appealing.
Think About Your Brand Image:
Consistency:

Ensure your chosen swag items align with your brand's identity, values, and messaging. The swag should reinforce your brand's image and not create confusion.

Quality vs. Budget:

Consider whether your brand is associated with luxury, quality, or affordability. High-quality swag items can reflect a premium brand image, while budget-friendly options might appeal to a broad audience.

Brand Colors and Logo:

Incorporate your brand's colors and logo into the swag design. These elements should be prominent but not overwhelming.

Message:

If you have a specific holiday message or theme, incorporate it into the swag design to create a cohesive holiday branding strategy.
Choose High-Quality Items that Will Last:
Durability:

Opt for swag items that last. High-quality products are less likely to break or wear out quickly, ensuring that your brand remains associated with quality.

Usefulness:

Consider the practicality of the swag. Items that serve a purpose in recipients' daily lives are more likely to be retained and used, increasing your brand's exposure.

Perceived Value:

Swag with a higher perceived value tends to make a stronger impression. Invest in items that recipients view as valuable gifts rather than cheap giveaways.

Eco-Friendly Options:

If environmental sustainability aligns with your brand values, explore eco-friendly swag options, such as reusable drinkware or recycled materials.

Safety and Compliance:

Ensure the chosen swag items comply with safety standards and regulations. Safety is paramount, especially when distributing products to a broad audience.
Tips for making your company swag stand out
Making your company swag stand out is essential to capture the attention of your target audience and leave a lasting impression. 
Be Creative and Unique:
Think Outside the Box:

Don't limit yourself to conventional swag items. Explore unique, unexpected, and creative ideas that align with your brand and resonate with your audience.

Custom Designs:

Consider creating custom swag items specifically for the holiday season. Unique designs and concepts can set your swag apart from generic options.

Themed Swag:

Incorporate holiday themes or seasonal elements into your swag to make it more relevant and memorable during the holiday season.
Use High-Quality Materials and Printing:
Quality Matters:

Invest in swag items made from durable, high-quality materials. Quality conveys value and ensures the swag lasts, reinforcing your brand's positive image.

Impeccable Printing:

Pay attention to the printing or branding quality. Ensure the logo, messaging, and designs are clear, sharp, and well-executed. Professional printing enhances the overall look and feel of the swag.

Texture and Finish:

Consider the texture and finish of the swag items. Matte or glossy finishes, embossed logos, or textured materials can add a tactile dimension that makes the swag more appealing.
Personalize the Swag with Your Brand's Logo and Messaging:
Brand Consistency:

Integrate your brand's logo, colors, and messaging consistently across all swag items. It reinforces brand recognition and consistency.

Personalization:

Personalize the swag with the recipient's name or a custom message. Personal touches can create a stronger emotional connection with the recipient.

Custom Packaging:

Pay attention to the presentation of your swag. Custom packaging or gift wrapping can elevate the perceived value and make them more visually appealing.
Consider Practicality and Utility:
Functional Swag:

Choose swag items that serve a practical purpose in the recipient's life. Products that are useful and solve an issue tend to be retained and used more frequently.

Multi-Use Items:

Opt for versatile swag for various settings. For example, people can use a high-quality water bottle at the gym, at work, or during outdoor activities.
Tell a Story:
Narrative Marketing:

Use your swag to tell a story or convey a message that aligns with your brand values. Share the story or how it relates to your company's mission.

Emotional Appeal:

Appeal to the emotions and sentiments of the holiday season. Create swag that evokes feelings of joy, gratitude, or nostalgia.
Distribution Strategy:
Timing:

Consider the timing of your swag distribution. Sending swag during pivotal moments of the holiday season, such as Thanksgiving or Christmas, can have a more significant impact.

Events and Campaigns:

Tie your swag distribution to specific events or marketing campaigns. It can help amplify your brand's message and create a sense of excitement.
Real-life examples of companies providing company swag during holidays:
Google:

Google is known for giving its employees generous holiday gifts, including company swag such as custom-branded hoodies, hats, and mugs.

Netflix:

Netflix employees also receive generous holiday gifts, including company swag such as custom-branded water bottles, tote bags, and socks.

Amazon:

Amazon employees receive a variety of company swag during the holidays, including custom-branded t-shirts, jackets, and gift cards.

Spotify:

Spotify employees receive custom-branded company swag during the holidays, such as headphones, speakers, and water bottles.

Airbnb:

Airbnb employees receive a variety of company swag during the holidays, including custom-branded blankets, travel mugs, and luggage tags.
Make Your Brand Shine with EverLighten: 
As we wrap up our exploration of the art of company swag, one thing stands clear: the proper item, executed with precision and creativity, can make your brand shine brighter than ever. It's not just about giving away items; it's about creating memorable experiences and forging lasting connections.
At EverLighten, we understand the magic that customized swag can bring to your brand during the holiday season and beyond. We've got your back with:
100% Customization:

Your brand deserves to stand out. We offer complete customization. Your swag will be unique to your brand's personality and message.

100% Quality Check:

Quality is our promise. We check every swag item to ensure it meets the highest standards.

Worldwide Delivery:

No matter where your audience is, we can deliver your swag to their doorstep. Our worldwide delivery network ensures your brand's reach knows no bounds.

Free Design Help:

Crafting the perfect swag can be daunting, but our team of experts is here to help. We offer free design assistance to ensure it aligns seamlessly with your vision.

24*7 Customer Support:

Questions, concerns, or ideas? Our dedicated customer support team is available around the clock to assist you.
Ready to make a lasting impression? Connect with EverLighten today, and let's create swag that leaves a mark in the hearts and minds of your audience. 
FAQs: 
How do I promote my company's swag?
Here are a few tips on how to promote your company swag:
Make it visible. 

Encourage employees to wear and use them. 

Use social media to promote. 

Partner with other businesses. 
What kind of company swag do employees like?
Employees appreciate company swag that is useful, high-quality and reflects the company's culture. Some famous company swag items include:
Clothing:

T-shirts, hoodies, sweaters, socks, hats, etc. 

Drinkware:

Mugs, water bottles, and tumblers. 

Tech accessories:

Phone chargers, power banks, earbuds, and laptop cases. 

Food and drinks:

Coffee, snacks, and gift baskets. 

Other items:

Games, plush toys, outdoor gear, like basketballs, yoga mats, etc.
What kind of swag does Gen Z like?
Gen Z is known for being socially conscious and environmentally friendly. They also appreciate swag that is unique and authentic. 
Sustainable products

Tech gadgets

Personalized items

Experiences
Tags:
#CustomProducts
,
Best Custom Socks
,
Brand
,
custom apparel
,
custom drinkware
,
custom koozie
,
custom logo socks
,
custom manufacturing
,
Custom Plush toys
,
custom printed socks
,
custom products
,
Custom Sock
,
Custom Socks
,
Custom Socks Bulk
,
Custom Stuffed Animals
,
Custom Sweaters
,
Custom T-shirts
,
custom tambourine
,
custom water bottles
,
Customized Socks
,
Personalized Stuffed Animals