Best Custom Socks, custom casual knit socks, Custom Design Socks, custom dress socks, Custom Fuzzy socks, custom logo socks, Custom Made Socks, custom pet socks, custom printed socks, Custom Sock, Custom Socks, Custom Socks Bulk, Custom Socks Wholesale, Customized Socks, Design Your Own Socks, pet socks, Premier Sock
20 Custom Sock Designs to Boost Your Christmas Sales
|
Oct, 03 , 23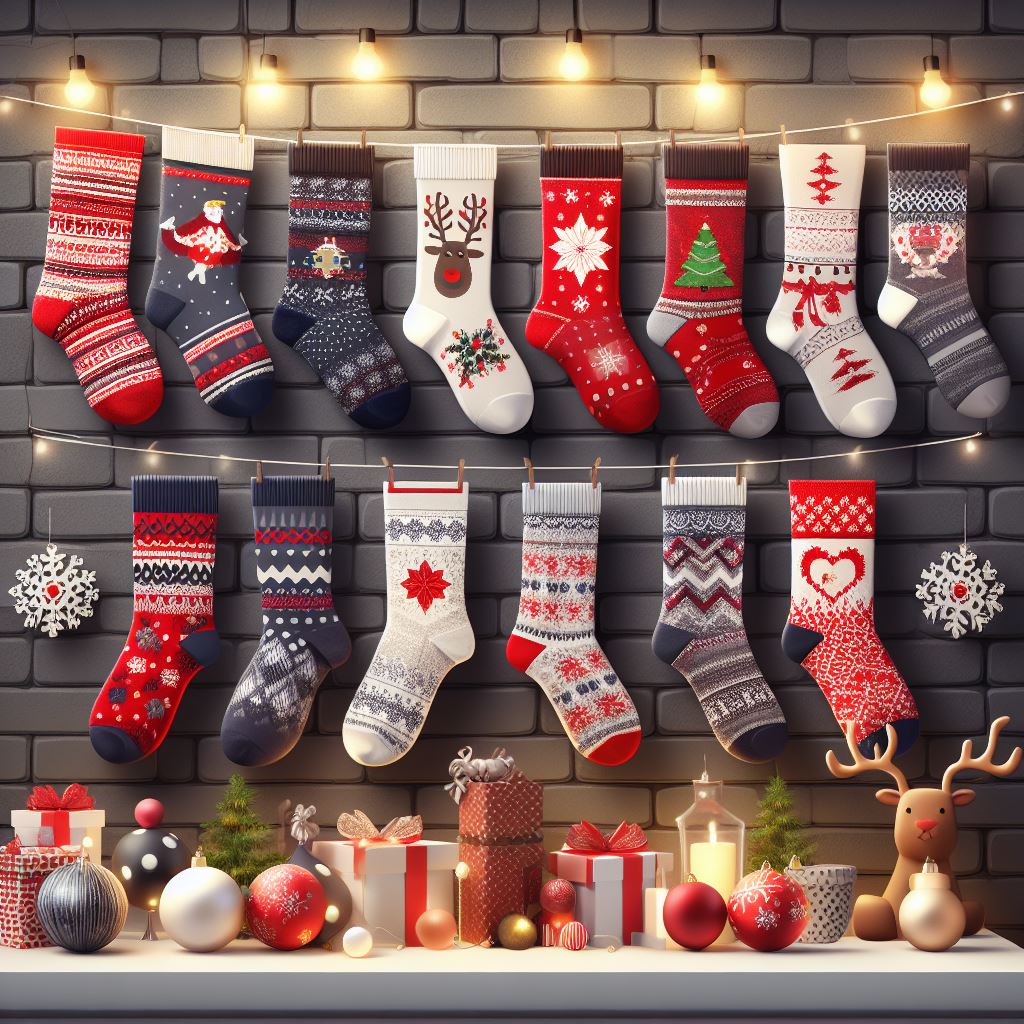 Unleash Your Festive Creativity with Custom Socks. 
Are you tired of selling the same old boring socks on Christmas? What if you could sell more socks this Christmas than ever before? It's time to mix things up with custom socks. Custom socks are a fun and unique way to add personality to your holiday sales. Custom socks are a unique and thoughtful gift that people of all ages will love. And they're a great way to boost your sales during the Christmas.
Custom socks aren't just an accessory. They represent festive fun and a unique way to infuse personality into your holiday sales strategy. Whether you're a business owner looking to boost profits or someone eager to give extraordinary gifts, custom socks hold the key to your Christmas success. It is time to trade in the mundane for magnificent and memorable. You can do just that with custom socks. We're here to show you how. 
Why do sellers need to focus on the sale of socks and unique gifts for Christmas:
Socks are among the most popular gifts to give and receive during the holiday season. A recent survey found that over 70% of people would love to receive socks as a gift.

Unique gifts are also popular during the holiday season. A recent study found that 60% of consumers are willing to pay more for an uncommon item.

The Christmas holiday is the most profitable time of year, with sales accounting for up to 30% of annual revenue.

Online sales would account for over 50% of all retail sales during the 2023 holiday season.
The data shows that the Christmas holiday is significant for retailers. It accounts for up to 30% of their annual revenue. It is likely due to many factors, including the fact that people are more likely to spend money on gifts during the holidays and that there are more shopping days during the holiday season. Retailers should focus on holiday marketing campaigns to attract customers and boost sales.
Why unique sock designs are crucial for attracting customers during the Christmas season?
Unique sock designs play a pivotal role in attracting customers during the Christmas season for several compelling reasons:
Capturing the Holiday Spirit

: Unique sock designs allow customers to connect with the holiday spirit. They evoke feelings of joy, nostalgia, and warmth associated with Christmas. When people see festive, one-of-a-kind designs, they are more likely to feel that holiday magic, making them more inclined to purchase.

Gift-Giving Appeal

: Christmas is a season of gift-giving, and people are on the lookout for presents that are not only practical but also thoughtful and memorable. Unique sock designs transform a simple accessory into a personalized, heartfelt gift. Customers love socks that reflect the recipient's interests. It makes them ideal for stocking stuffers or thoughtful gifts for loved ones.

Stand Out in the Crowd

: During the holiday season, the marketplace becomes crowded with various products and gift options. Unique sock designs help your offerings stand out in a sea of generic choices. When customers encounter socks unlike anything they've seen, it piques their curiosity and makes them more likely to explore your products further.

Social Media Buzz

: In the age of social media, visually appealing and unique products are more likely to go viral. Customers are not only looking for products to gift but also to share. When they discover socks with innovative designs, they are more inclined to share them on their social platforms, creating organic marketing buzz for your brand.

Matching Outfits and Themes

: Families and groups often coordinate their outfits during the holiday season for special events or holiday photos. Unique sock designs that follow a particular theme or complement holiday attire become a sought-after accessory. Customers love socks that can be part of their holiday ensemble, fostering a sense of togetherness and tradition.

Expressing Individuality

: Beyond gift-giving, Christmas is a time for self-expression and embracing individuality. Unique sock designs offer an opportunity to express their personality and style, even in a traditional holiday setting. Whether it's a quirky pattern, a beloved holiday movie reference, or a design that reflects their hobbies, customers appreciate socks that align with their interests.

Collector's Items

: Some customers are passionate sock collectors, like unique holiday-themed socks. These customers actively seek out limited edition and exclusive designs to add to their collections. Offering such artwork can create a loyal customer base that eagerly anticipates your holiday releases.
20 Christmas Designs for Customizing Socks 
Snowman Socks:
Snowman socks feature adorable snowman designs, often with carrot noses, top hats, and scarves. They capture the playfulness of building snowmen during the winter, evoking feelings of nostalgia and joy.
Funny Christmas Socks:
Funny Christmas socks with humorous and playful designs can include puns, cheeky messages, or comical holiday characters, adding a touch of laughter and lightheartedness to the season.
Photo Christmas Socks:
Photo Christmas socks allow customers to personalize with photos, such as family portraits or beloved holiday memories. They make for unique and sentimental gifts, preserving cherished moments on a wearable canvas.
Paw Christmas Socks:
Paw Christmas socks with cute paw prints or pet-themed motifs are perfect for pet lovers who want to include their furry family members in holiday celebrations.
Reindeer Socks:
Reindeer socks often feature Rudolph and his reindeer friends. They capture the enchantment of Santa's sleigh and add a classic touch to holiday outfits.
Santa Socks:
Santa socks showcase jolly old Saint Nick himself. These socks can range from subtle Santa hat motifs to full Santa Claus designs, embodying the spirit of gift-giving and merriment.
Announcement Socks:
Announcement socks are a creative way to share special news, such as engagements or pregnancies. These socks can feature custom messages or graphics to make important announcements during the holiday season. 
Invitation Christmas Socks:
Invitation socks are festive invites to holiday parties or gatherings. They include playful graphics and text with a warm welcome to guests, setting the tone for a fun celebration.
Rustic Christmas Socks:
Rustic Christmas socks embrace a cozy and country-inspired aesthetic. These socks often feature plaid patterns, woodsy elements, or earthy color palettes, creating a warm and inviting feel.
Monogram Christmas Socks:
Monogram Christmas socks can have names, initials, or custom text. They add a personal touch to gift-giving. It allows wearers to showcase their individuality.
Couples Christmas Socks:
Couples Christmas socks come in pairs designed for two people. They often include complementary or matching designs, making them a delightful gift for couples to celebrate the season together.
Religious Christmas Socks:
Religious Christmas socks feature Christian symbols and themes, such as nativity scenes, angels, or crosses. These socks allow wearers to express their faith during the holiday season.
Merry Christmas Socks:
Merry Christmas socks exude festive cheer with simple yet joyful messages. These socks are a perfect way to spread holiday greetings wherever you go.
Snowflake Christmas Socks:
Snowflake socks showcase intricate snowflake patterns. These designs capture the delicate beauty of snowflakes and the wonder of a winter wonderland.
Gnome Christmas Socks:
Gnome Christmas socks feature cute and whimsical gnome characters, often associated with Scandinavian folklore. These socks add a touch of charm to holiday outfits.
Nutcracker Christmas Socks:
Nutcracker socks pay homage to the classic holiday ballet. They depict characters from the Nutcracker story, like toy soldiers and the Sugar Plum Fairy, adding a touch of elegance and nostalgia.
Angel Christmas Socks:
Angel socks showcase angelic figures with wings and halos. They celebrate the spiritual and heavenly aspects of the Christmas season, often associated with peace and goodwill.
Gingerbread Christmas Socks:
Gingerbread socks feature delightful cookie designs, including gingerbread men, houses, and festive icing. They evoke the aroma and taste of holiday baking.
Bird Christmas Socks:
Bird socks often showcase charming winter birds like cardinals or chickadees. These socks capture the beauty of nature during the colder months and add a touch of elegance to holiday ensembles.
Cute Christmas Socks:
Cute Christmas socks encompass a range of adorable designs, from timeless symbols like hearts, bells, and stars to creative patterns and lovable animals. These socks spread cheer with their charming and endearing aesthetics.
3 Collaborations and Limited Editions Tips Elevating Your Christmas Sock Game
Collaborating with local artists, influencers, or charities for limited-edition Christmas sock designs is a strategic move that can work wonders for your holiday sales. 
Local Artist Collaborations:
Unique Artistry

: Partnering with local artists helps to infuse your Christmas sock collection with distinctive, handcrafted designs that stand out from mass-produced socks.

Community Connection

: Collaborations with local artists foster a sense of community engagement and support. Customers often appreciate products with a local touch.

Artist Spotlight

: Collaborations offer exposure to talented artists, giving them a platform to showcase their work to a broader audience.
Influencer Collaborations:
Leveraging Influence

: Partnering with influencers in your niche or industry can significantly expand your brand's reach. Influencers bring their dedicated followers' attention to your limited-edition Christmas socks.

Authentic Recommendations

: Influencers provide genuine recommendations. It can boost customer trust and confidence in your product. Their endorsement can translate into higher sales.
Charity Collaborations:
Giving Back

: Collaborating with charities allows your brand to give back during the season of giving. A portion of the proceeds can go to a charitable cause, demonstrating your commitment to social responsibility.

Emotional Appeal

: Customers like products associated with a charitable cause. Knowing their purchase contributes to a greater good can make them feel good about their holiday shopping choices.
How to Source Custom Christmas Socks: 
When sourcing custom Christmas socks, consider reliable suppliers, like EverLighten, that specialize in custom socks. Look for reputable manufacturers, both local and international, that offer quality materials, customization options, and competitive pricing. Additionally, explore online marketplaces and wholesale platforms for sock styles and customization services.
Marketing Strategies of Custom Socks for Christmas Sales
Effective marketing during the Christmas season is crucial because it's a highly competitive and lucrative time for businesses. Well-executed strategies can help you stand out, attract customers, and maximize sales.
Tips for Leveraging Marketing Channels:
Social Media

: Create festive, shareable content, run holiday-themed campaigns, and engage with your audience actively. Use holiday-specific hashtags and collaborate with influencers for broad reach.

Email Marketing

: Send personalized holiday emails with exclusive offers, gift ideas, and reminders of upcoming sales or deadlines. Segment your email list for tailored messaging.

Online Marketplaces

: Optimize your presence on popular e-commerce platforms like Amazon, eBay, or Etsy. Use eye-catching product listings, competitive pricing, and timely shipping options.
Product Presentation Matters:
Captivating Photography

: High-quality, well-lit images that showcase your Christmas socks in festive settings or being worn can significantly boost interest and conversions.

Persuasive Descriptions

: Create product descriptions focusing on what makes your products different and better than the competition. Provide information on how the socks can enhance the holiday experience. Use persuasive language and emphasize value.
Elevate Your Christmas Sock Game with EverLighten
As the holiday season approaches, the magic of Christmas is in the air, and what better way to embrace it than with custom Christmas socks that truly stand out? At EverLighten, we've perfected the art of crafting high-quality custom socks that celebrate the spirit of the season in every stitch.
With 100% customization, we empower you to bring your unique Christmas sock designs to life. But we don't stop there! Our team offers free design assistance. It ensures your visions into cozy, festive socks that delight your customers or loved ones.

No matter where you are, we've covered with our global shipping options. And because we understand that questions can arise at any hour, our 24*7 customer support is here to assist you, ensuring a seamless experience from design to delivery.

With 18 years of experience in the industry, we've honed our craft, delivering premium quality socks that exceed expectations. This holiday season, make your Christmas sock collection truly exceptional with EverLighten.
Connect with us today to get started on your journey to custom Christmas socks. 
FAQs: 
Why are socks the best gift?
Socks are the best gift because they are practical, versatile, and fun. They are helpful for everyone, regardless of age, gender, or lifestyle. Socks can also be a way to express your personality or to show someone that you care.
They are practical, and everyone needs them.

They are versatile and can be for any occasion.

They are relatively inexpensive, making them a lovely gift for any budget.

They are a way to show someone you care and are thinking of them.

They can be a fun and unique gift, especially if you choose socks with a fun design or pattern.
Why are socks given at Christmas?
People give socks at Christmas for a variety of reasons. One reason is that they are a practical and affordable gift. Socks are also a symbol of warmth and comfort. It is fitting for the holiday season. Additionally, people see them as a symbol of good luck, so some people believe that giving someone socks at Christmas will bring them good fortune in the year to come.
Why do people buy socks for Christmas?
People buy socks for Christmas for many of the same reasons they give socks as gifts. Socks are practical, versatile, and affordable gifts. Additionally, socks are a popular choice for Christmas gifts because they are often associated with the holiday season.
How do you gift socks for Christmas?
There are many ways to gift socks for Christmas. One way is to put them in a gift bag or box. However, you can also get more creative with your gift presentation. For example, you could put the socks in a Christmas stocking, festively wrap them, or create a custom sock gift basket.
Choose socks that are high-quality and comfortable.

Consider the recipient's personality and style when choosing socks.

For a child, choose socks with a fun design or pattern.

Get creative with your gift presentation.
Tags:
Best Custom Socks
,
custom casual knit socks
,
Custom Design Socks
,
custom dress socks
,
Custom Fuzzy socks
,
custom logo socks
,
Custom Made Socks
,
custom pet socks
,
custom printed socks
,
Custom Sock
,
Custom Socks
,
Custom Socks Bulk
,
Custom Socks Wholesale
,
Customized Socks
,
Design Your Own Socks
,
pet socks
,
Premier Sock