Custom Socks
An ultimate guide to recycled polyester custom socks
|
Oct, 19 , 22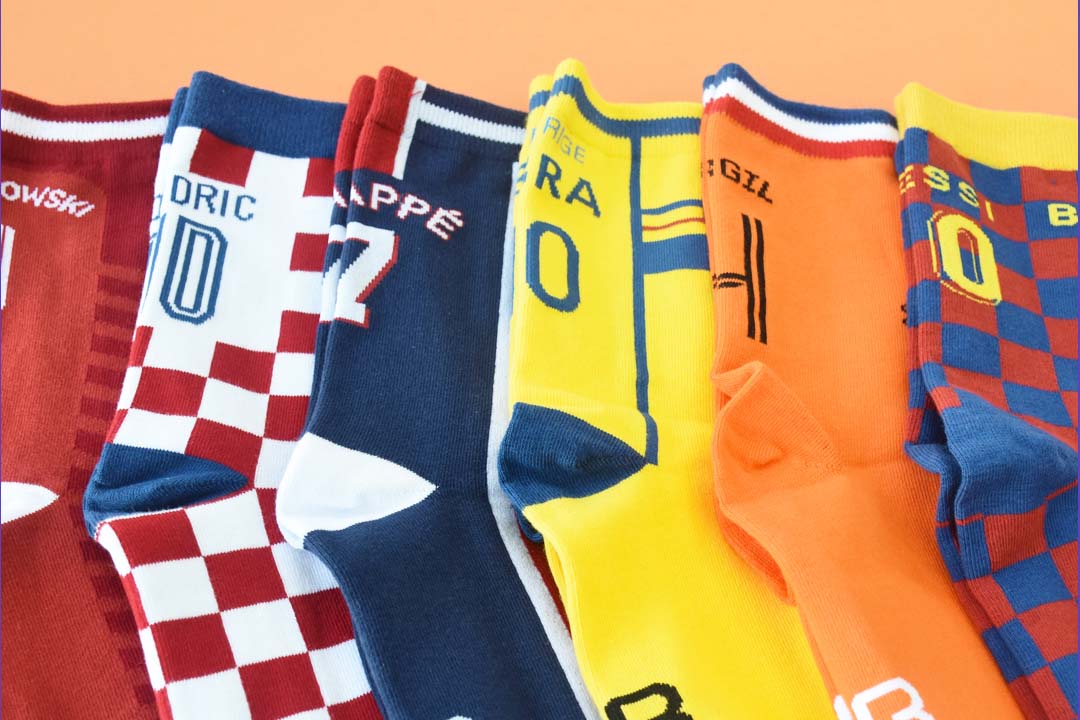 Polyester rules the world of fibers - we use it in most outdoor clothes and accessories. In 2021, it outranked every other fiber with a whopping margin; over 52% of the globally produced fibers were polyester. The same is true in the world of
custom socks
. While people have been using natural fibers for thousands of years, they dominated every yarn after its invention. The custom sock industry loves it because of its versatility, pocket-friendliness, and ease of use. Other reasons include its exceptional elasticity, durability, moisture-wicking, etc. However, not everything is rosy about it. Polyester is one of the most unsustainable and contaminating materials on the planet. With the growing concern about environmental issues, it is getting a lot of bad press. However, there is a solution: recycled polyester. You can use it for custom socks and other apparel without compromising the quality. It provides you with the full benefits of polyester without sustainability concerns. The blog will explore the reasons to use it and how it compares to polyester, especially for custom socks.
To understand recycled polyester, you have to first know about polyester.
Polyester is an artificial fiber formed from a chemical reaction between petroleum, water, and air. The most common one is polyethylene terephthalate (PET) which is helpful for clothes and accessories, including socks. Since its invention in 1940, people have used it in various industries.
Advantages of polyester socks over natural yarn socks:
Natural yarn comes from natural sources like cotton, linen, jute, wool, cashmere, bamboo, silk, etc. Each has specific properties that make them ideal for
custom socks
. But, there are a few limitations to each of them. Like, cashmere, bamboo, and silk are expensive. These materials might cost a lot if you want custom socks for giveaways. Polyester is easy to produce on a mass scale.
Sturdy and versatile

:Polyester socks are durable; they do not tear or lose shape or pill compared to natural yarns. They are also lightweight, absorb dyes better, and dry faster. The versatility is incomparable; no organic material comes close to it. Custom athletic socks tower over the rest. You can blend it with other fibers to strengthen them. The soft and tactile surface is helpful for printing designs; it works with most printing methods like DTG, screen-printing, 3D printing, etc.

Easy to maintain & cheaper

:Polyester socks are more pocket-friendly than natural yarn socks because of mass production. They are easy to maintain because there is no special washing or care instructions to follow. A few custom socks, like merino wool, bamboo, silk, etc., are challenging to maintain. They also do not form creases like natural materials.
Customization per need:There is an endless customization possibility that makes them helpful for manufacturers and customers. You can create the exact design, texture, and look you want. Manufacturers can pre-treat the yarn for making anti-bacterial, anti-static, UV, fire, and waterproof custom socks. Natural yarns have inherent properties that limit them in a few scenarios. But, you can weave the sock fabric tightly or change it so it can withstand elements like wind, rain, or cold better than natural ones.
Why should you use recycled polyester for custom socks?
One of the primary concerns about polyester is its negative impact on the Earth. Many organizations want to create environmentally friendly products. It does not fit their image to use harmful items. They make recycled polyester from plastic waste like plastic bottles, fishnets, and other things.
They offer the same elasticity, consistency, moisture-wicking, abrasion resistance, colorfastness, etc. Because of its manufacturing process, it is much more environmentally friendly and sustainable. You are saving natural resources and the planet by using it.
The process is non-toxic: Polyester socks and yarn manufacturing chain contains many toxic chemicals. They end up in the fabric, local water sources, or atmosphere. Using recycled polyester for socks eliminates the use of harmful chemicals.
It is non-carcinogenic:Recent scientific literature shows that polyester has various carcinogens, i.e., cancer-causing chemicals. There is no harm in taking precautions and using recycled polyester instead.
Same properties as polyester:Many think recycled polyester is not as good as regular. However, it is not true; they have the same properties. The custom socks will have all the same features as you get from polyester.
Eco-friendly:recycled polyester is more eco-friendly than people think. A 2kg batch of custom sock fabric can save 120 bottles, 1 gallon of gasoline, and water for an individual to last five days.
Process of making recycled polyester custom sock yarn:
They pick up the bottles and other materials from various places and send them to the recycling facilities.
They sanitize, clean, dry, and remove the labels.
They use color coding like clear bottles for white, green bottles for green yarns, etc., and separate them.
They place the plastic in a grinder and pulverize it into tiny pieces.
It is heated and dried to eliminate moisture.
It is turned into a liquid by pushing through heated pipes.
A dye plate with minute holes filters through the slime.
It is pooled and stiffened before passing via air rollers.
A machine spools and stretches the yarn.
It is colored, bundled, and woven for custom socks.
The latest materials for custom socks:
Recycled polyester is only one of many new sustainable materials for socks. With technological advancements, there is a bunch of new fibers.
Coffee yarn: It is the latest groundbreaking technological advancement. They collect the coffee waste from coffee shops and blend it with recycled yarn; it makes the sock yarn stronger and odor free by clearing the aromatic compounds like oils. Custom socks made from coffee yarn provide UV protection and dry faster - useful for outdoor activities.
They make glass bottle yarns from various glasses, including bottles, vehicle windshields, windows, etc. They form thin, light, and stretchy yarns that help manufacture custom socks. Many big brands are using it.
Recycled nylon yarn is made from fish nets, abandoned carpets, and similar things and requires much less water, and causes less carbon emission. It also lessens reliance on petroleum for fiber manufacturing.
They make Polypropylene by combining hydrogen and carbon molecules. The yarn is biodegradable and helpful in mitigating environmental concerns. The socks are anti-bacterial, fast-drying, durable, lightweight, abrasion-resistance, anti-static, etc.
Lyocell or Tencel is made from cellulose fiber from eucalyptus pulp and is biodegradable. It requires half the amount of water as cotton and fewer pesticides. The process is a closed loop, i.e., you can recycle 99% of solvents and chemicals. Lyocell custom socks have high moisture absorption and breathability than cotton. They are durable, anti-bacterial, and smooth - perfect for sports socks.
Conclusion:
As environmental concerns grow, people are turning towards more eco-friendly alternatives. Recycled polyester is one such material that provides the same benefits as polyester without disadvantages. It is the perfect opportunity for you to offer the solution to your customers. EverLighten provides many sustainable options, follows all the environmental safety standards, and has helped startups, large companies, schools, universities, sports teams, nonprofits, hotels, hospitals, etc., for over eighteen years.
The Canadian sock company is famous for its colorful, fun, and crazy socks. Their target market is young people, particularly millennials and Gen Z. They contacted EverLighten after they could not find a reliable manufacturer for high-quality custom socks in a small batch and fast time. We worked closely to understand their needs and to design the sample. They were 100% satisfied with the quality and wanted to expand the project to custom athletic socks. After receiving the prototype, they sought to compare socks with and without terry. We created the prototype and sent it to them. EverLighten built comfortable, breathable, and durable custom socks per their standards and requirements.
Benefits of partnering with EverLighten:
Best pricing: EverLighten creates every sock in their factory, which helps customers to get the best prices.
High-quality: Customers get the highest-quality custom socks with the best materials and the latest processes.
Fast delivery: The dedicated factory helps every order in the least time.
Customer service: Customers can contact us anytime for their queries; we provide 24*7 service.
Customer-centric: They love to help every customer create their dream socks.
100% customization: Customers can customize every aspect of their socks.
MOQ: you can order as many custom socks as you want; we have the lowest minimum limit in the industry.
Worldwide delivery: They deliver to every part of the world, and customers can track orders with the online tool.