Custom Socks
7-advantages of mass-production of Custom socks
|
Oct, 17 , 22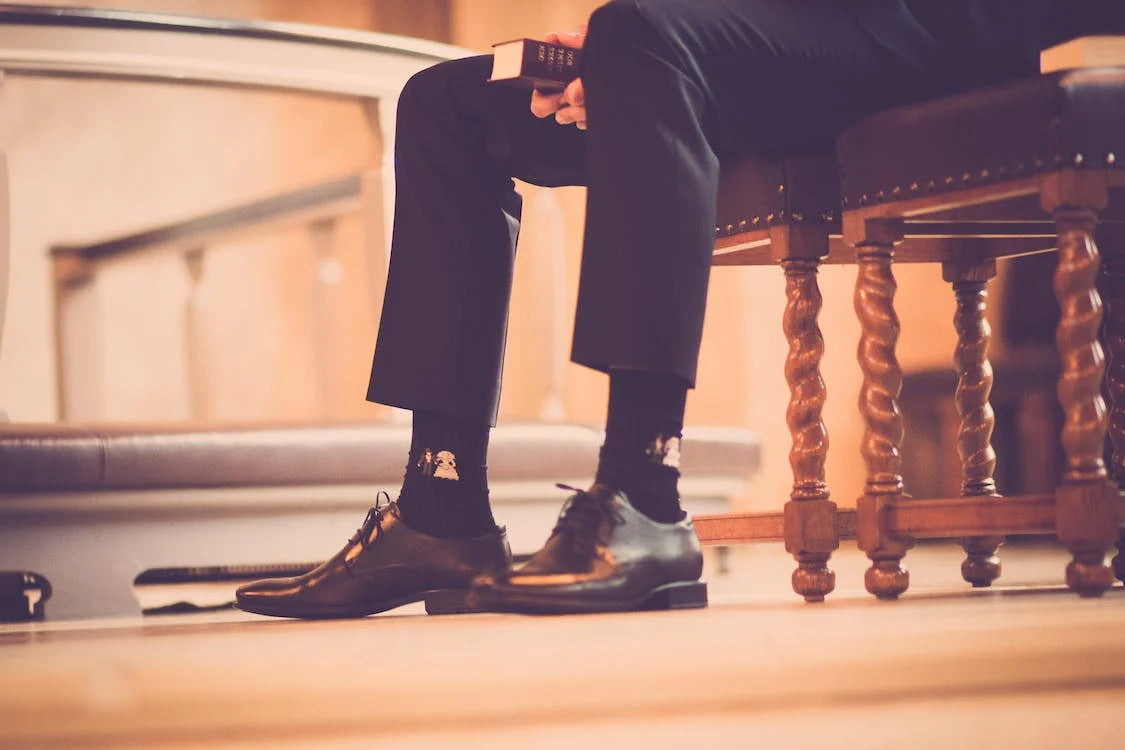 Every business is challenging, and you should be adaptive and think on your feet to be competitive. As the sock industry is nearing a saturation point and people are looking for other options, it presents you with a unique opportunity. The demand for
custom sock
s is growing. Businesses are waking up to the fact, but it is a window of opportunity for you. You can grab and stand out by giving your customers the products they want; it will also help create/ keep your identity. According to market research by top retail companies, 25-30 percent of customers show a high-level interest in purchasing custom socks. The stats also show that three out of every ten customers have preferred designs. Customers who have not shown a preference for custom socks are likely to do so. We will cover the advantages and disadvantages of mass-produced custom socks.
What are mass-produced custom socks?
To deliver
custom socks
 to the market to satisfy specific needs. The modern business concept is also known as built-to-order or made-to-order, and many businesses use it. The concept combines the personalization and flexibility of custom products with the low per-unit item cost. It gives the advantages of integration, flexibility, and personalization to meet the needs of individual customers. It adds a higher value to the market while keeping the costs in check. Customers can mix and match the various options of the product specifications to make unique socks as final products.
Advantages:
Customer satisfaction: It allows to manufacture of one-of-a-kind socks with unique features. It attracts more customers since customers can buy the exact products they want. It helps to achieve a competitive advantage in the target market. For example, a customer searching bamboo printed Christmas socks to celebrate the holiday. They can not find these easily in most retail shops; the only option is to reach a supplier, but the price will be much higher than usual. You can be ready for such socks by predicting the trend.
Better profits:With mass-produced custom socks, your cost will be lower, and you can charge higher prices. The nominal increase in the cost per sock with the production strategy will allow your business to make much higher profits. Keep the prices slightly higher, and not so much that they do not mind paying instead of charging a premium. For example, various companies charge a premium price for bamboo or merino wool socks because they make them in fewer numbers. You can undercut the competition with the strategy.
Increased custom loyalty: The possibility of recurring business from a customer is much higher with the method. Since they are satisfied with the products, the freedom to choose, and higher quality, they want to return to your business. You remember it is five to seven times more expensive to get a new customer than to keep the old one. Custom socks will create a returning customer base that will give you an edge over the competition.
Improved inventory management will decrease the storage and inventory management requirements, thus reducing the overall cost. Businesses produce generic socks on a much bigger scale than custom ones. They know the demand and production. Since they do customization per order, most orders are in small batches; they need less space.
Less wastage: Offering custom socks reduces waste during the production process. For generic socks, companies make different socks in various sizes, colors, styles, etc., with minor consideration for research. It results in much more waste production. But, for custom socks, businesses do much more research than usual. Since they focus on trends, small batches, and a fast turnaround time, they are more prepared. It results in less wastage and environmental impact.
Creating better brand identity:Every business wants to distinguish itself from the competition and goes to great lengths to achieve the same. But, it is much more challenging than it seems, especially in the world of apparel and accessories - filled with competition. Mass-production of custom socks allows for items tailored to the consumers' tastes. They can get their favorite colors, designs, materials, etc. It feels like a form of premiumization with specific requirements. It affects the brand value positively.
Giving customers the freedom to choose: We already have talked about the autonomy of choice customers get for materials, styles, designs, and packaging. They feel the company is listening to them and not pushing products they don't want.
Now that you understand the benefits of mass customization, you are likely to think that everything is rosy. However, it is not the case and has its disadvantages. Let's discuss them.  
Disadvantages:
Challenges in product return:Businesses make the products per a particular customer. When they return the products, they may suffer heavy losses. Depending on the level of customization, there is a high possibility that the business might not sell the products. For example, if an organization wants custom Christmas socks for their employees, and there is a delay in production. Do you think anyone would want those customized socks after the holidays? Probably not - that's why you don't see many companies that accept returns because they won't be able to resell the products to another customer.
The cost involved:Since there is a semi or complete customization with every sock, there is a specific cost involved with manufacturing each sock order separately. It is much higher and considered unnecessary compared to mass production costs. When implementing the method, it is vital to check whether the overall cost outweighs the additional cost that comes with customization.
Additional stocks: Compared to mass production, mass customization requires extra inventory stocks because of various add-ons to the socks. It involves ordering and holding costs. For example, if a customer wants to add embroidery to the socks - the supplier has to look for unique threads and colors. It is not common to get such orders, so there is no point in buying the materials beforehand.
Impact on the turnaround time:The production time varies depending upon each sock order and customization type. For custom-printed socks, it takes much less time compared to embroidery socks.
Supply chain management issue: Unless the business takes a strategic approach to minimize disruptions and streamline production, the mass customization process affects the supply chain. If not handled properly, it can adversely affect the complete production process.
Need to be highly adaptable:Implementing the customization process in the production line can be prolonged and expensive. It requires the business to implement systems with resources and knowledge.
How to choose the right manufacturing partner for mass custom socks?
Choosing the right supplier for the mass customization of socks can help you.
They should give you the leeway for unlimited customization with little hassle and involvement.
Ideally, they should not sell their products. If they do, they can become your competitor; they must be your silent and reliable partner.
The ease of customization during production will fix design, colors, textures, printing methods, etc.
Conclusion:
These are a few advantages we feel mass customization of socks can provide you. It can be a pathway to augmenting sales and creating a much stronger connection with your customer base. But, we strongly recommend trying out with the right manufacturing partner. EverLighten has over eighteen years of experience in mass customization for startups, large companies, hotels, sports teams, schools, universities, celebrities, etc.
Trendylake is an online retail company specializing in making apparel and accessories related to the latest trending topics like BLM, LGBTQ+, etc. Their business requires understanding the trends and creating products like socks, neck gaiters, custom embroidered patches, etc., using mass custom production. Since the business model is all about the correct timing, they find it challenging to partner with a reliable manufacturer that could make the products fast. They connected with us, and our partnership has grown ever since. Now, they can focus all their energy on understanding trends and leave manufacturing to EverLigthen.
Advantages of working with EverLighten:
Best pricing: EverLighten has a factory manufacturing custom socks, so customers always get the best price.
Premium-quality: We use only high-quality materials and the latest production methods.
Fast delivery time: We produce every order in the least time possible.
Customer service: Customers can contact us anytime for their queries; we provide round-the-clock service.
Accept every order: We love to help and accept every order.  
100% customization: Customers can customize every aspect of their socks.
Low MOQ: you can order as many socks as you want; we have the lowest minimum limit in the industry.
Worldwide shipping: We deliver worldwide, and you can track orders with the online tool.