A guide to designing Super Bowl custom merch
|
Feb, 11 , 22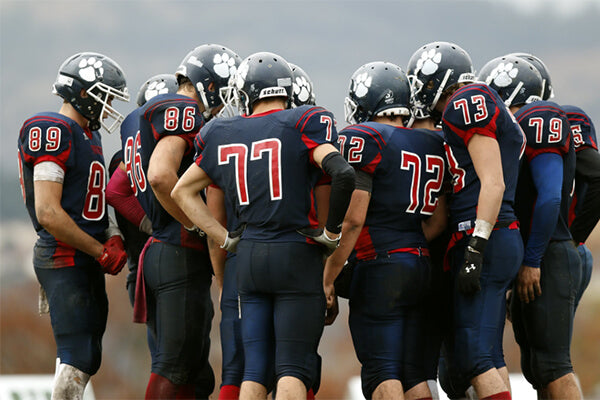 Whether you are a football fan or not, you can't miss the excitement of the Super Bowl weekend. It is one day of the year when people want to see TV commercials - February 13 is all about football, spending time with family, friends, or coworkers. There is something for everyone, from trays of delicious appetizers to party games and football merch. Over 105 million people watched last year's Super Bowl, and the number will go up by 2.6% this year. It represents an enormous opportunity for businesses, including food, beverages, and merch. It is also a chance to connect to your employees to strengthen the team while connecting with customers to generate more sales - by giving away super bowl custom merch.
But, as you may have found out, making Super Bowl merch is a bit tricky because of the copyrights, trademarks, and other limitations around teams, events, brands. Don't worry; there is always a way; read these tips to create your merch for promoting your brand or connect with family and friends.
Do extensive research: Before you decide to create Super Bowl custom merch, you need to get the facts straight. Research to find out who is the fan of which team. You don't want to send the wrong merch to the wrong supporter. It will provide valuable insights into how much merch you need to design. Take a look at the games' predictions and trends; it would help you create better designs offering more value to receivers. 
Be careful with Copyrights: Making Super Bowl merch like custom t-shirts, custom hoodies, custom socks comes with design limitations. You can't go around printing the team logo on your merch; take a look at these restrictions: 
You can't use the Super Bowl logo or name on the merch.
You can't use the team name or logo.
You can't use it with minor modifications 
Now, you must be thinking - what is left then? Well, you need to be creative; you can design merch with SuperBowl facts, or you can use football quotes like "don't keep calm, it's football season," "11 Players, one heartbeat", "get your game face on" etc. You can use the playing cities, with team colors and similar ideas. 
Use the right images: For choosing the right photos, we suggest you think about the ideas with which people can feel a connection. Think about typical gatherings, foods, excitement; use all these to recreate the scenes. However, don't take up any images from the Internet - you may face copyright issues. Search for relevant copyright-free pictures, or the best idea is to design your photos. Now, you might be thinking I am not a designer? The next point will solve the issue. 
Choosing the proper manufacturer: Everything aside, it is the most critical step of designing Super Bowl custom merch. The industry is full of manufacturers claiming to be the best, but for attention-grabbing merch, you need a reliable manufacturer with experience designing custom merch for sports teams. EverLighten has helped NBA, college & university teams create their custom merch, and they have in-house designers to help you develop solutions to your not being a designer. 
Custom Super Bowl merch ideas
There are endless possibilities with Super Bowl custom merch. You don't have to stop at t-shirts or hoodies only. You can make custom drinkware like beer koozies to enjoy the game more, or you can design embroidered patches supporting your team. A wide range of products shows your support while connecting with customers, employees, and vendors. 
You can't be a true sports fan if you don't wear the team jersey during the game. It is the fan's identity; you need to show the team's colors. Custom jerseys allow you to choose the event's materials, size, and theme; giving team jerseys helps connect with people. 
It is one of the most versatile pieces of clothing to represent your true spirit. Custom t-shirts allow you to show your passions, interests, social message, slogans along with your team colors. It is easy to generate curiosity with t-shirts. 
You can't wear t-shirts in colder temperatures, so how will you show support to your team? The answer is custom hoodies; the material is thicker, providing warmth while you cheer for your favorite team. 
Nothing looks classy and shouts support for your team like custom sweaters, and they are suitable to warm the team spirit in cold weather. 
Scarves and sports have been closely related for several decades. You can put on a custom scarf even when you don't have a t-shirt or jersey to show your support to your team. It is multipurpose, too; you can use it to protect yourself from cold weather. 
Neck gaiters offer protection from cold and sun; you can wear them during games to let the world know who you are supporting. 
With the covid, you don't want to risk your and others' safety when cheering for your favorite team. Custom face masks in the team colors are helpful to accomplish the same. 
Socks are one piece of an item that helps to complete the fan look. You can design custom socks in team colors using a wide variety of materials and styles. 
No-show socks

: A true fan doesn't need to show off; they cheer for their team deep down. People can use them in their daily lives. 

Ankle-length socks

: These socks are ideal for wearing loafers and low-cut shoes while also letting the world know about your favorite team. 

Calf-length socks

: Add more team colors to your wardrobe; these socks look amazing with boots, dresses, shorts. They also provide extra protection during cold temperatures. 
Over the calf length: These socks offer compression and don't fall during strenuous activities. You can play a football game before the Super Bowl starts wearing them. 

Knee-length socks

: For extra protection to your legs while playing sports. They also provide compression to help with the blood flow. 
Whether it is hot or cold, hats are suitable for every season; there are many styles. You can choose from caps, beanies, and much more. Designing them is easy; it shows off support to your team. 
As fan custom patches are a must for your sports collection; it shows support and go with most merch. You can use them on caps, t-shirts, hoodies, jackets, backpacks, and more. They are affordable, look classy, and easy to take off; many materials are available. 
Whether you are going outside or watching the game at home with your family and friends, a custom koozie comes in handy. You can keep your favorite beverage nearby; you don't have to leave the game in the middle whenever you feel thirsty. With your team colors, they are ideal for showing support. 
For us Americans, watching sports and beer go hand in hand. You can increase the fun of watching the game with friends or coworkers by pouring some in custom mugs while loudly cheering for the team. 
You have a beer or a soda, and you don't have an opener, custom keychains in bottle opener style come in handy. For more fun, you can design them in your favorite team colors. The best part is you can use them to carry your keys all year round. 
These pins are amazing to indicate your team or affiliation to a fan group. Everyone can wear these while watching the game; it's easy to use and take off. Designing custom lapel pins is an effective way to show your support. 
Playing music at sports events is a traditional way of showing your support, and people have been using them for hundreds of years. But, how will others know which team you are supporting? Designing custom tambourines in the team colors solves the issue. Don't forget the fun when you play with friends with some beer. 
Nothing comes close to the custom plush mascot when you want to show support. Everyone loves them, they are easy to carry in games, and you can keep them on your work desk as well. 
For the most passionate fans, Super Bowl Sunday is a way to show your team pride to the fullest. It would help if you had a custom merch manufacturer matching your passion for high-quality products. EverLighten has over eighteen years of experience in manufacturing custom products for teams, universities, colleges, influencers, NGOs, and individuals. 
Custom merch, no minimum: You can order any number of items as you need - they don't place any restriction on the minimum order. 
Fast turnaround: They have a dedicated factory to ensure you get the best price and quickest delivery. 
100% quality check: The manufacturing experts check each product's quality during and before shipping. 
Free design help: You can upload the sketch or picture; the in-house experts help in design completion. 
Dedicated account manager: Every customer gets a dedicated account manager, no matter the order size. 
Order tracking: You can track your order anytime with an order tracking tool. 
Worldwide shipping: They deliver worldwide for free
Without a doubt, the Super Bowl is one of the most significant opportunities for people and businesses to connect using custom merch. With the country going frenetic, it is the right time to order custom products by visiting EverLighten.com.