Brand, Charity, Create Your Own Plush, custom manufacturing, custom plush high-quality, Custom Plush Toy Manufacturer, Custom Plush toys, Custom Plushies, Custom Stuffed Animals, Personalized Stuffed Animals
7 Key Factors to Consider When Customizing Plush Toys for Your Brand or Organization
|
Oct, 14 , 23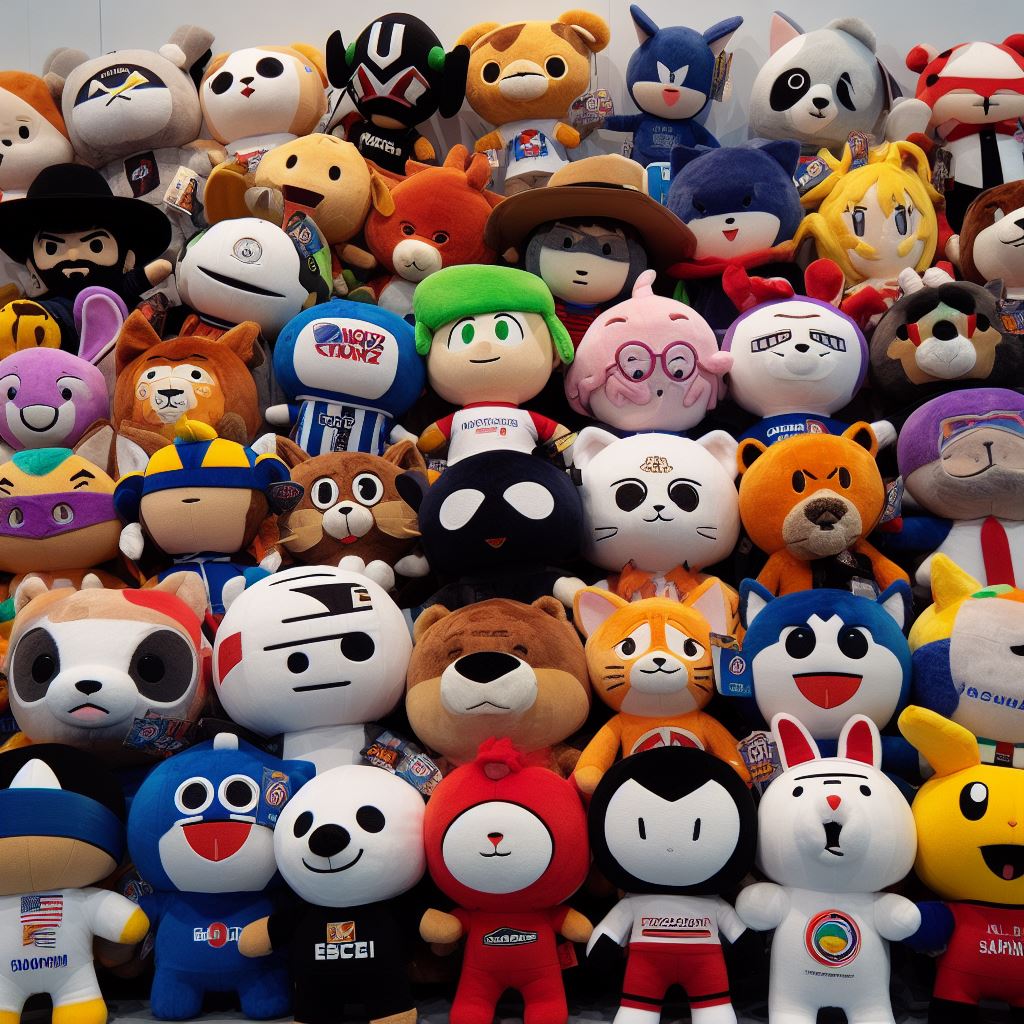 In today's competitive market, standing out and leaving a lasting impression is crucial for any brand or organization. Custom plush toys are a great option if you're looking for a unique and effective way to connect with your audience. Custom plush toys offer a creative and memorable way to promote your brand while fostering a strong connection with your target audience. These cuddly and customizable items have the potential to not only enhance brand visibility but also evoke a sense of warmth and familiarity, making them powerful tools in brand marketing. We will discuss the key factors when customizing plush toys for your brand or organization.
1. Target Audience 
Understanding your target audience is fundamental before customizing plush toys for your brand or organization. This step is the cornerstone of your marketing strategy and ensures that the customized plush toys resonate effectively with the intended recipients.
Relevance and Appeal

: A thorough understanding of your target audience enables you to customize plush toys that align with their preferences, tastes, and interests. This relevance is crucial in ensuring the plush toys resonate with your audience and impact their perception.

Tailored Design

: Knowing your audience allows you to create designs and characters that appeal specifically to their demographics and psychographics. Whether it's understanding their age group, cultural background, or specific interests, this knowledge helps with the design elements to match their preferences, making the plush toys more relatable and engaging.

Effective Messaging

: Understanding your target audience enables you to incorporate appropriate messaging that speaks directly to their needs and desires. By crafting messaging that resonates with their values and aspirations, you can establish an emotional connection through the plush toys, creating a deeper bond between your brand and the audience.

Market Differentiation

: Analyzing your target audience helps identify gaps or unmet needs in the market. This understanding allows you to customize plush toys that stand out from competitors. It provides a unique selling proposition that sets your brand apart and positions it as the preferred choice among your target audience.

Consumer Behavior Insights

: Understanding your target audience involves delving into their buying behavior, preferences, and consumption patterns. This insight can guide decisions on factors such as plush toy sizes, colors, and additional features, ensuring that the customization aligns with the audience's preferences and encourages a positive response.

Long-term Brand Loyalty

: You build brand loyalty by customizing plush toys according to your target audience's preferences. Creating a positive and memorable experience through the plush toys can establish an emotional connection, fostering a sense of loyalty and affinity towards your brand among your target audience. 
2. Brand Representation
Ensuring that the plush toys effectively represent your brand's image and values is crucial for maintaining brand consistency and fostering a strong brand identity. 
Brand Identity Assessment

: Begin by conducting a comprehensive assessment of your brand's identity, including its core values, mission, and unique selling propositions. Understand the essence of your brand and the message it aims to convey to the audience.

Consistent Design Elements

: Incorporate consistent design elements from your brand's logo, color palette, and visual identity into the plush toy design. Ensure that the chosen colors, patterns, and textual elements on the plush toys reflect the brand's aesthetic, creating a seamless visual connection between the plush toys and your brand's identity.

Storytelling through Design

: Use the plush toy design as a storytelling medium to communicate your brand's narrative and values. Infuse elements that reflect your brand's story, values, and unique selling propositions, enabling the plush toys to serve as tangible ambassadors of your brand's journey and philosophy.

Quality and Craftsmanship

: Maintain high standards of quality and craftsmanship during the customization process. Reflect your brand's commitment to excellence through premium materials, meticulous detailing, and superior finishing, ensuring that the plush toys exude the same level of quality and professionalism associated with your brand.

Customized Packaging

: Extend your brand's image to the packaging of the plush toys. Design packaging that resonates with your brand's aesthetics, messaging, and values. Incorporate brand-specific elements such as logos, taglines, and graphics, ensuring that the packaging extends your brand's identity and enhances the overall perception of the plush toys.

Brand Messaging Integration

: Seamlessly integrate your brand's messaging and values into the plush toy's design. Incorporate messages, taglines, or quotes that resonate with your brand's ethos and target audience. This integration helps reinforce your brand's values and fosters a deeper emotional connection with the recipients.

Feedback and Iteration

: Seek feedback from your brand's loyal customers and stakeholders to ensure that the plush toys effectively represent your brand's image and values. Incorporate any constructive feedback into the customization process, allowing for continuous improvement and refinement to align the plush toys more closely with your brand's identity and values.
Material Selection:
When customizing plush toys for your brand or organization, selecting the materials is crucial for ensuring durability, safety, and overall customer satisfaction. 
Polyester Fabric:
Pros:

Polyester is common in plush toys due to its durability and affordability. It is easy to clean, retains its shape well, and offers a soft and plush texture, making it ideal for huggable toys.

Cons:

In some cases, low-quality polyester can feel less soft and plush than other materials. It may also be less environmentally friendly compared to natural fibers.
Cotton Fabric:
Pros:

Cotton is a natural fiber that is soft, breathable, and hypoallergenic, making it suitable for sensitive skin. It's also easy to dye, allowing for a wide range of vibrant color options for customization.

Cons:

While cotton is comfortable and safe, it may not be as durable as synthetic fibers and could require more maintenance to retain its quality over time.
Faux Fur:
Pros:

Faux fur provides a luxurious and realistic feel, making it a popular choice for creating high-end plush toys. It is also versatile in terms of design, allowing for the creation of various textures and patterns.

Cons:

Quality faux fur can be more expensive than other materials. Some synthetic fur may shed over time and require special care to maintain its appearance.
Plush Velvet:
Pros:

Plush velvet offers a smooth and luxurious feel, making it suitable for creating premium and sophisticated plush toys. It's known for its rich texture and elegant appearance.

Cons:

Velvet may be more delicate and require gentle handling and care to prevent damage or distortion. It can also be more expensive compared to other fabric options.
Filling Materials (Polyester Fiberfill or Wool):
Pros:

Polyester fiberfill provides a floaty hypoallergenic stuffing option that maintains its shape well, while wool offers a natural and eco-friendly alternative.

Cons:

Poor quality polyester fiberfill may clump or flatten over time, affecting the plush toy's overall appearance and huggability. Wool may be more expensive and require careful sourcing to ensure ethical and sustainable practices.
Sustainable Materials (Organic Cotton, Recycled Fabrics):
Pros:

Using sustainable materials aligns with eco-friendly and socially responsible initiatives, appealing to environmentally conscious consumers. Organic cotton and recycled fabrics can offer a more sustainable option for plush toy customization.

Cons:

Sustainable materials may come at a higher cost and have limited availability compared to traditional synthetic materials. Additionally, ensuring consistent quality and sourcing sustainable materials may require careful oversight.
Customization Options:
Customizing plush toys offers several options to make your brand or organization's products stand out and resonate with your target audience. 
Colors:
Diverse Color Palette:

Opt for a color palette that aligns with your brand's identity and resonates with your target audience. Choose colors that evoke emotions or reflect your brand's personality and values. Consider bold and vibrant hues for a playful appeal or softer tones for a soothing and comforting effect.
Sizes:
Range of Sizes:

Customize plush toys in various sizes to cater to different preferences and purposes. Consider creating smaller plush toys for promotional giveaways or larger ones for retail sale. Offering various sizes can accommodate different consumer needs and preferences, enhancing the versatility and appeal of your plush toy collection.
Accessories:
Clothing and Outfits:

Personalize plush toys with branded clothing or outfits that reflect your brand's style or current marketing campaigns. It can include T-shirts, hats, scarves, or other accessories that carry your brand's logo or messaging.

Customized Tags and Labels:

Attach customized tags or labels featuring your brand's logo, a special message, or information about your organization. These tags are a subtle branding tool and provide additional information about your brand or product.

Additional Props:

Enhance the appeal of your plush toys by adding accessories or props that complement your brand's image or message. These can include miniature branded products, miniature versions of your

company's

signature products, or other relevant items that visually connect the plush toys and your brand.
Custom Embroidery or Printing:
Logo and Branding:

Incorporate your brand's logo, tagline, or other branding elements through custom embroidery or printing on the plush toys. This customization option can significantly increase brand visibility and recognition.

Personalization:

Offer personalized embroidery or printing, such as adding the recipient's name or a special message. It can create a more intimate and memorable experience for the recipient, fostering a stronger emotional connection with your brand.
Texture and Material Variations:
Mix of Textures:

Experiment with different textures and material combinations to create a unique sensory experience. Incorporate soft fabrics, faux fur, or textured details to add depth and dimension to the plush toys, making them more visually appealing and tactilely engaging. 
5. Compliance and Safety Standards:
Adhering to safety standards and regulations is paramount when customizing plush toys for your brand or organization. Ensuring the custom plush toys meet the necessary compliance requirements establishes your brand's credibility and trustworthiness. It also safeguards the well-being of your customers. 
Consumer Safety:

Compliance with safety standards is essential for protecting the health and safety of your consumers when your custom plush toys are for children or individuals with specific sensitivities. By adhering to safety regulations, you demonstrate your commitment to delivering products free from potential hazards or harmful substances, building trust and confidence among your customer base.

Legal Obligations:

Non-compliance with safety standards can result in legal implications, including penalties, fines, or even product recalls. By ensuring that your plush toys meet the necessary safety requirements, you mitigate the risk of facing legal consequences and protect your brand's reputation from potential damage associated with product-related legal disputes.

Quality Assurance:

Conforming to safety standards guarantees consumer safety and reflects your brand's dedication to maintaining high-quality standards. Compliant plush toys undergo rigorous testing procedures, ensuring they meet specific quality benchmarks and are free from potential defects or hazards that could compromise their integrity or functionality.

Industry Credibility:

Adhering to safety standards enhances your brand's credibility within the industry and among consumers. Demonstrating a commitment to product safety and quality differentiates your brand from competitors and positions your organization as a responsible and trustworthy player in the market, strengthening consumer loyalty and fostering long-term brand relationships.

Reputation Management:

Non-compliance with safety standards can significantly tarnish your brand's reputation and erode consumer trust. Negative publicity surrounding safety-related incidents can have far-reaching implications, leading to diminished customer confidence, decreased sales, and lasting reputational damage. Adhering to safety standards proactively safeguards your brand's reputation and fosters positive brand associations among consumers.

International Market Access:

Complying with global safety standards is crucial to expanding your market internationally. Adherence to international safety regulations facilitates smoother market entry, and your plush toys meet the requisite safety benchmarks across various jurisdictions, enabling seamless distribution and sales in diverse global markets.
Budget Considerations:
Balancing customization options with budget constraints is essential when creating customized plush toys for your brand or organization. While visually appealing and unique plush toys are crucial, you must manage costs effectively. 
Prioritize Customization Elements:

Identify the customization elements that align closely with your brand's identity and marketing objectives. Focus on integrating these essential elements into the plush toy design while considering the associated costs. This approach allows you to maintain a consistent brand message and visual appeal without overspending on unnecessary customizations.

Bulk Ordering and Manufacturing:

Opt for bulk ordering and manufacturing to take advantage of cost savings offered by economies of scale. Partnering with manufacturers that offer discounts for larger orders can help you reduce per-unit costs, allowing you to allocate more of your budget to essential customization features without significantly exceeding your overall budget.

Material Selection Optimization:

Explore cost-effective yet high-quality material options for your plush toys. Compare the pricing and durability of different materials to identify the most suitable options that meet your customization requirements while staying within your budgetary constraints. Consider working with suppliers who offer competitive pricing without compromising on material quality.

Simplify Customization Designs:

Streamline the complexity of customization designs to manage costs more effectively. Focus on incorporating simple yet impactful design elements that effectively convey your brand's message and identity. This approach helps control manufacturing costs and ensures that the customization process remains efficient and cost-effective.

Negotiate with Suppliers:

Engage in open communication and negotiation with suppliers to secure favorable pricing and terms. Discuss your budget constraints and customization needs with suppliers to explore potential cost-saving options, such as discounts, flexible payment arrangements, or value-added services that can help you optimize your budget while achieving your desired customization goals.

Cost-Effective Packaging Solutions:

Explore cost-effective packaging solutions that maintain the visual appeal of your customized plush toys without significantly increasing production costs. Consider using eco-friendly or recyclable packaging materials that align with your brand's sustainability initiatives. Opt for packaging designs that effectively showcase your brand's identity and message without adding unnecessary expenses to your overall budget.

Regular Cost Reviews and Adjustments:

Conduct reviews of your customization and manufacturing costs to identify areas where you can make adjustments to optimize budget allocation. Continuously evaluate the effectiveness of your customization strategy and assess the return on investment for each customization element to ensure you allocate the budget most efficiently and cost-effectively.
Packaging and Presentation:
Attractive packaging plays a crucial role in the appeal of customized plush toys. It can significantly impact how customers perceive your brand. 
First Impression:
Attractive packaging creates a positive first impression. It sets the stage for a memorable unboxing experience. It piques the recipient's interest and anticipation, building excitement and fostering a sense of delight even before the reveal.
Brand Recognition:
Packaging is a powerful branding tool, allowing you to showcase your brand's logo, colors, and visual identity. Consistent branding across the packaging reinforces brand recognition and helps customers associate the plush toy with your brand, enhancing brand recall and awareness.
Differentiation in the Market:
In a competitive market, attractive and unique packaging sets your plush toys apart. Thoughtfully designed packaging that reflects your brand's personality and values can serve as a differentiator, capturing the attention of potential customers and influencing their purchasing decisions.
Perceived Value:
High-quality and visually appealing packaging can elevate the perceived value of your plush toys. Customers often equate well-designed and sturdy packaging with a premium product, which can justify a higher price point and encourage customers to perceive your plush toys as valuable and desirable.
Unforgettable Unboxing Experience:
A well-designed packaging contributes to an unforgettable unboxing experience, creating joy and excitement for the recipient. Incorporating unique elements, such as personalized messages, interactive components, or surprise elements within the packaging, can leave a lasting impression and foster a strong emotional connection with your brand.
Protection and Presentation:
Besides aesthetics, packaging is critical in protecting the plush toys during transit and storage. Durable and secure packaging ensures that the plush toys remain pristine, enhancing the overall presentation and ensuring that customers receive the products in perfect shape. It further enhances customer satisfaction and brand perception.
Storytelling and Messaging:
Packaging provides an opportunity to convey your brand's story and messaging effectively. Utilize the packaging space to share information about your brand's mission, values, and the inspiration behind the plush toy's design, enabling customers to connect with your brand on a deeper level and fostering a sense of emotional engagement and loyalty.
Conclusion: 
You cannot underestimate the power of customized plush toys for effective brand marketing. When bringing your brand's vision to life through premium custom plush toys, EverLighten stands as your trusted partner. With a commitment to 100% customization and a stringent 100% quality check, EverLighten guarantees that every plush toy reflects your unique identity. Additionally, get the advantage of our free design assistance, 24/7 customer support, and global delivery services, ensuring a seamless and hassle-free experience throughout the customization process. Connect with EverLighten today and witness how our expertise can elevate your brand's presence with captivating, tailor-made plush toys that leave a lasting impression.
FAQs: 
What makes a good plush toy?
The following characteristics make the good plush toy:
Soft and cuddly

Durable

Safe

Well-designed
How do you make a plushie marketable?
Remember these four tips to make custom plush toys marketable:
Target audience

Brand identity

Uniqueness

Price
What is the difference between plush and soft toys?
Plush toys use soft and cuddly materials, such as faux fur or plush fabric. Soft toys, on the other hand, can be made from cloth, plastic, and vinyl.
Another difference between plush toys and soft toys is that plush toys are often more detailed and realistic than soft toys. Soft toys, on the other hand, are often more uncomplicated and stylized.