Best Custom Socks, Custom Design Socks, custom logo socks, Custom Made Socks, custom manufacturing, custom printed socks, Custom Sock, Custom Socks, Custom Socks Bulk, Custom Socks Wholesale
5 Winning Traits of Custom Socks as Merchandise
|
Oct, 13 , 23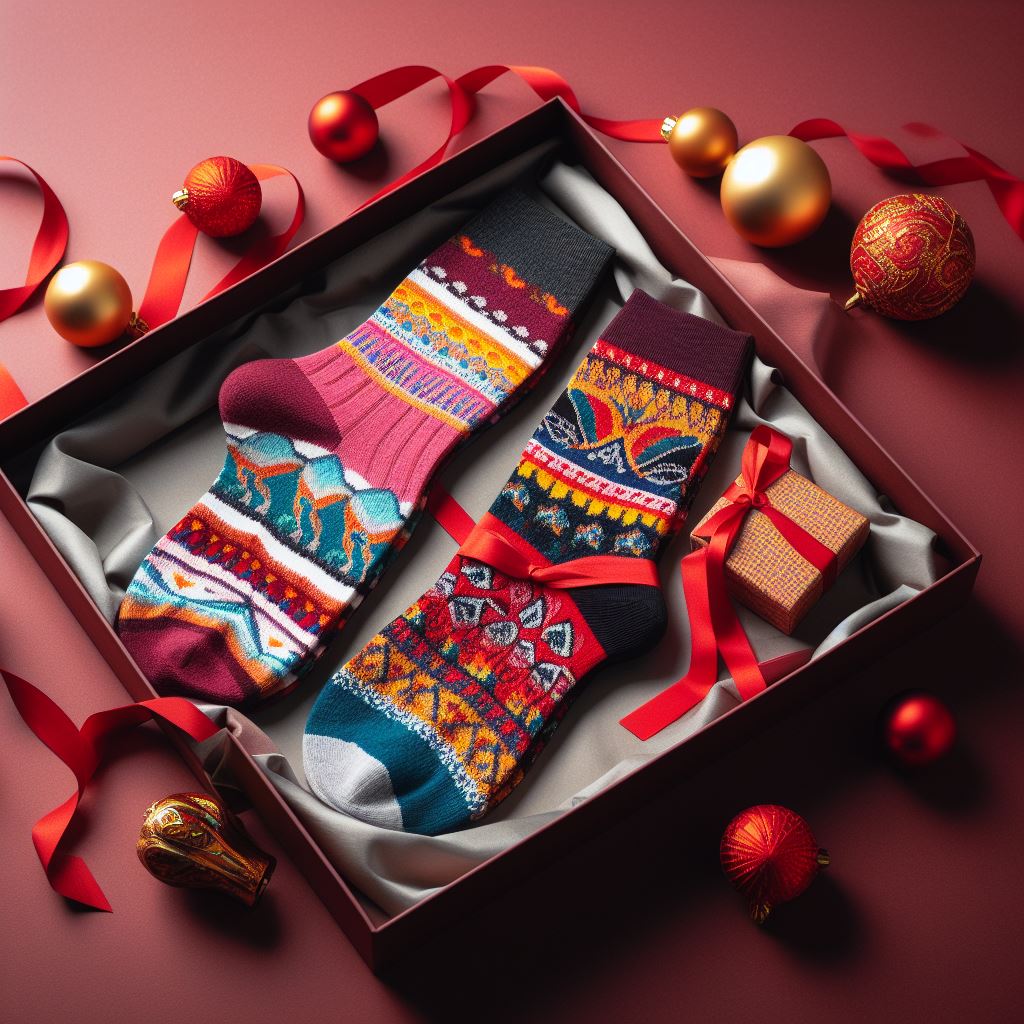 Did you know that custom socks are one of the most popular types of promotional merchandise? Or you can use them to achieve many marketing goals, such as increasing brand awareness, generating leads, and boosting sales. Custom socks are a lovely option if you want a unique and effective way to promote your business. 
According to the Promotional Products Association International, a study found that custom socks are indeed one of the most sought-after types of promotional merchandise, with a staggering 73% of recipients expressing their intention to keep and actively use custom socks. Moreover, another study by the Advertising Specialty Institute highlighted that custom socks boast an impressive recall rate of 85%. This statistic underscores the remarkable ability of custom socks to etch the brand into the memory.
The soaring popularity and high retention rates of custom socks as promotional merchandise indicate their potential to leave a lasting impression and significantly contribute to an effective marketing strategy. In this article, we discuss the winning traits of custom socks as merchandise, examining their uniqueness, brand representation, comfort, versatility, and emotional appeal in detail. Let us start. 
1: Uniqueness and Personalization
In today's retail landscape, standing out is pivotal for brands seeking a lasting impression. The significance of uniqueness lies in its ability to differentiate products and services, enabling businesses to carve out their niche in an increasingly competitive market. With the ever-evolving consumer preferences and growing demand for personalized experiences, the retail industry has witnessed a pronounced shift towards catering to individualistic tastes and preferences.
Custom socks have emerged as a beacon of personalization. It offers to infuse their distinctive style into their everyday wardrobe choices. These socks act as a canvas for self-expression, allowing individuals to showcase their personality, interests, and affiliations through unique designs and custom prints. The ability to add a personal touch to an otherwise mundane accessory like socks has garnered significant attention and interest among consumers seeking products that reflect their individuality.
From incorporating intricate patterns and favorite motifs to imprinting names, quotes, or illustrations, custom socks allow customers to curate a truly bespoke and tailored experience. Whether it's a fashion statement that echoes one's vibrant personality or a sentimental gift that captures shared memories, the personalized touch offered by custom socks transcends the boundaries of traditional retail offerings.
Examples of customized designs:
Sports Enthusiasts:

Custom socks designed with team logos or colors, allowing fans to showcase their unwavering support for their favorite sports teams.

Artistic Expressions:

Socks with unique artwork, ranging from abstract designs to intricate illustrations, reflect the wearer's artistic inclinations and aesthetic sensibilities.

Personalized Messages:

Socks featuring personalized messages, initials, or significant dates serve as heartfelt gifts or keepsakes that hold sentimental value for the wearer.

Niche Interests:

Socks tailored to specific hobbies or interests, such as music, gaming, or nature, catering to the diverse passions and inclinations of individuals.
2: Brand Representation and Marketing
Custom socks represent a brand's identity, serving as a canvas to communicate its ethos, values, and unique selling propositions. These socks are more than just a piece of clothing; they become an extension of a brand's narrative, allowing companies to create a tangible and memorable brand experience for their customers.
By integrating logos, taglines, or brand colors into the design, businesses can effectively reinforce their visual identity and foster brand recall. This strategic use of custom socks establishes a consistent brand image but also helps in loyalty and affiliation among consumers, who can readily identify with the brand through its distinct merchandise.
Companies leverage custom socks as a powerful tool for promotional marketing, capitalizing on their universal appeal and practical utility. Custom socks are a unique and innovative promotional option that leaves a lasting impression on recipients. From trade shows and corporate events to customer loyalty programs and product launches, custom socks are effective for brand visibility and customer engagement.
3: Comfort and Quality
In the dynamic and competitive landscape of the sock industry, we cannot overstate the importance of prioritizing comfort and quality. Socks, being a staple accessory for daily wear, serve the fundamental purpose of providing comfort and support to the feet. 
Optimal comfort with durable and high-quality materials ensures customer satisfaction and fosters long-term brand loyalty.
Custom socks and their personalized designs and unique features adhere to stringent quality standards to ensure that they not only serve as an aesthetic expression but also offer unparalleled comfort. These socks use advanced manufacturing techniques and premium materials, underscoring the brands' commitment to delivering a superior product that meets diverse needs and preferences.
Ways in which custom socks maintain high-quality standards:
Material Selection:

Custom sock manufacturers prioritize high-quality materials, such as combed cotton, merino wool, or specialized synthetic blends, known for their softness, durability, and moisture-wicking properties. These materials contribute to the overall comfort and performance of the socks, ensuring that they remain breathable and gentle on the skin.

Precision Knitting Techniques:

Advanced knitting techniques, including seamless toe closures and reinforced cushioning, are employed during manufacturing to enhance the structural integrity of custom socks. This meticulous approach minimizes friction and discomfort and ensures a snug and contoured fit, preventing slippage or bunching during wear.

Quality Assurance Protocols:

Custom sock manufacturers implement rigorous quality assurance protocols, conducting thorough inspections and performance tests to verify the durability, colorfastness, and overall wearability of the products. These stringent quality checks guarantee that each pair of custom socks meets the highest industry standards, adhering to the brand's commitment to excellence and customer satisfaction.
Materials and manufacturing processes contributing to comfort:
Breathable Fabrics:

Custom socks often incorporate breathable fabrics like organic cotton, bamboo, or specialized moisture-wicking blends, ensuring optimal ventilation and sweat absorption, thereby minimizing the risk of discomfort or odor accumulation.

Seamless Construction:

Custom socks are crafted with seamless construction techniques, eliminating irritating seams that may cause friction or pressure points. It enhances overall comfort and wearability.

Elasticity and Support:

Incorporating elastic fibers and

strategic compression

zones in custom socks ensures a snug yet flexible fit, providing adequate arches and ankle support and promoting better blood circulation and comfort during prolonged wear.
4: Versatility and Style
Custom socks epitomize versatility in fashion, seamlessly blending functionality with expressive style. These personalized accessories have transcended their conventional utility, becoming diverse fashion trends and various occasions, from casual outings to formal events.
Versatility in Fashion Trends:
Custom socks have proven to be adaptable to an array of fashion trends, including:
Athleisure Wear:

Custom socks, characterized by their vibrant designs and comfortable fabrics, seamlessly complement the popular athleisure trend, serving as an expressive yet practical accessory for individuals seeking a balance between style and comfort in their everyday active wear.

Streetwear Aesthetics:

With their bold patterns, unique graphics, and eye-catching designs, custom socks seamlessly integrate into the dynamic realm of streetwear fashion, allowing enthusiasts to experiment with eclectic and unconventional styles that reflect their individuality and contemporary sensibilities.

Formal and Business Attire:

Custom socks, subtly incorporating sophisticated patterns or discreet monograms, offer personalization to formal and business attire, elevating the overall sartorial statement without compromising professionalism or elegance.
Incorporation into Different Styles and Occasions:
Custom socks are not only for specific styles or occasions; instead, they effortlessly enhance various fashion sensibilities and settings, including:
Casual Wear:

Custom socks add a playful and personalized touch to casual outfits, effortlessly elevating the overall aesthetic appeal while infusing a sense of individuality and character into everyday ensembles, such as jeans, shorts, or skirts.

Sporting Events:

Custom socks featuring team logos, colors, or

motivational messages

are spirited accessories for sports enthusiasts, fostering a sense of camaraderie and team spirit during sporting events, marathons, or athletic competitions.

Celebratory Occasions:

Custom socks, customized to commemorate special events, celebrations, or milestones, serve as thoughtful and memorable accessories, adding a touch of sentimentality and festivity to weddings, anniversaries, or festive gatherings.
Examples of Custom Socks in Fashion Statements:
Patterned Statement Socks:

Custom socks featuring vibrant and intricate patterns, such as geometric designs, abstract motifs, or nature-inspired graphics, serve as a bold fashion statement, adding an element of visual interest and dynamism to an otherwise understated outfit.

Monogrammed Dress Socks:

Custom dress socks

embroidered with monograms, initials, or subtle logos lend a sophisticated and refined touch to formal attire, accentuating the wearer's attention to detail and impeccable sense of style.

Collaborative Designer Socks:

Custom socks from collaborations between renowned designers and sock brands offer a fusion of high fashion and practical utility, merging avant-garde aesthetics with everyday wearability, thereby redefining the boundaries between art and fashion.
5: Emotional Connection and Gifting
Gifting goes beyond material possessions; it is a profound expression of thoughtfulness, appreciation, and affection. Personalized gifts, in particular, hold an intrinsic emotional value, as they reflect a deep understanding of the recipient's preferences, interests, and sentiments. By customizing a gift, the giver demonstrates a genuine effort to create a unique and heartfelt experience, fostering a stronger emotional connection and leaving a lasting impression on the recipient.
With their ability to preferences, interests, or memorable moments, custom socks have the power to transcend their utilitarian purpose and evoke profound emotional responses. 
These socks are more than just a fashion accessory; they become tokens of cherished memories, shared experiences, and heartfelt sentiments, fostering a sense of belonging and nostalgia within the realm of gifting.
Creating Memorable and Meaningful Gifting Experiences:
Custom socks have the inherent potential to create memorable and meaningful gifting experiences in the following ways:
Personalized Messages and Images:

By incorporating personalized messages, quotes, or images with sentimental significance to the recipient, custom socks become a tangible reminder of shared memories and meaningful connections, evoking warmth, appreciation, and nostalgia.

Celebratory Occasions:

Custom socks tailored to commemorate special occasions, such as birthdays, anniversaries, or weddings, serve as thoughtful and enduring mementos that encapsulate the joy and significance of the celebrated event, thereby immortalizing the emotions and sentiments associated with the occasion.

Symbolic Representations:

Custom socks symbolizing shared interests, inside jokes, or mutual passions act as a tangible manifestation of the unique bond and understanding between the giver and the recipient, fostering camaraderie, mutual appreciation, and empathy.
Conclusion:
In a dynamic retail landscape driven by personalization and brand affinity, custom socks have emerged as a versatile and impactful merchandise option, seamlessly blending style, comfort, and emotional resonance. From their ability to represent unique individual expressions to their role in reinforcing brand identity, the winning traits of custom socks transcend their purpose, offering a profound and engaging experience for both wearers and recipients.
With a focus on uniqueness, brand representation, comfort, versatility, and emotional connection, custom socks have proven to be a powerful medium for self-expression and a potent tool for effective brand marketing and gifting.
Elevate your brand's merchandise game with EverLighten's premium custom socks. Experience 100% customization, from designs to materials, ensuring your socks reflect your brand's identity. Avail the benefits of design assistance, global delivery options, and round-the-clock customer support, guaranteeing a seamless and hassle-free experience.
Rest assured of top-notch quality with EverLighten's comprehensive 100% quality check process, ensuring that your custom socks meet the highest industry standards. 
With low Minimum Order Quantities (MOQs) to accommodate businesses of all sizes, now is the time to make your mark with custom socks that stand out.
Connect with EverLighten today and witness the transformative power of custom socks in elevating your brand presence and fostering meaningful connections with your audience.
FAQs: 
Why are socks the best gift?
Socks are a lovely gift for many reasons. 
They are a practical gift that everyone can use. 

They are a relatively affordable gift. 

You can personalize them with different colors, patterns, and designs to make them unique and special for the recipient.
In addition to these practical reasons, socks can be a thoughtful and heartwarming gift. Socks can be a symbol of love, care, and support. They can also be a way to show someone that you are thinking of them.
How do you give socks as a gift?
There are a few different ways to give socks as a gift. 
One way is to wrap them in a gift bag or box. Another way is to put them in a gift basket with other items, such as candy, snacks, or a gift certificate. You can also get creative and present the socks by putting them in a jar, a mug, or a pair of shoes.
No matter how you choose to give them, socks are a great gift that is sure to be appreciated by the recipient.