Best Custom Socks, Custom Design Socks, Custom Fuzzy socks, custom logo socks, Custom Made Socks, Custom Sock, Custom Socks, Custom Socks Bulk, Custom Socks Wholesale
Warmth and Style Combined: The Hottest Custom Fuzzy Sock Designs to Sell Now
|
Oct, 17 , 23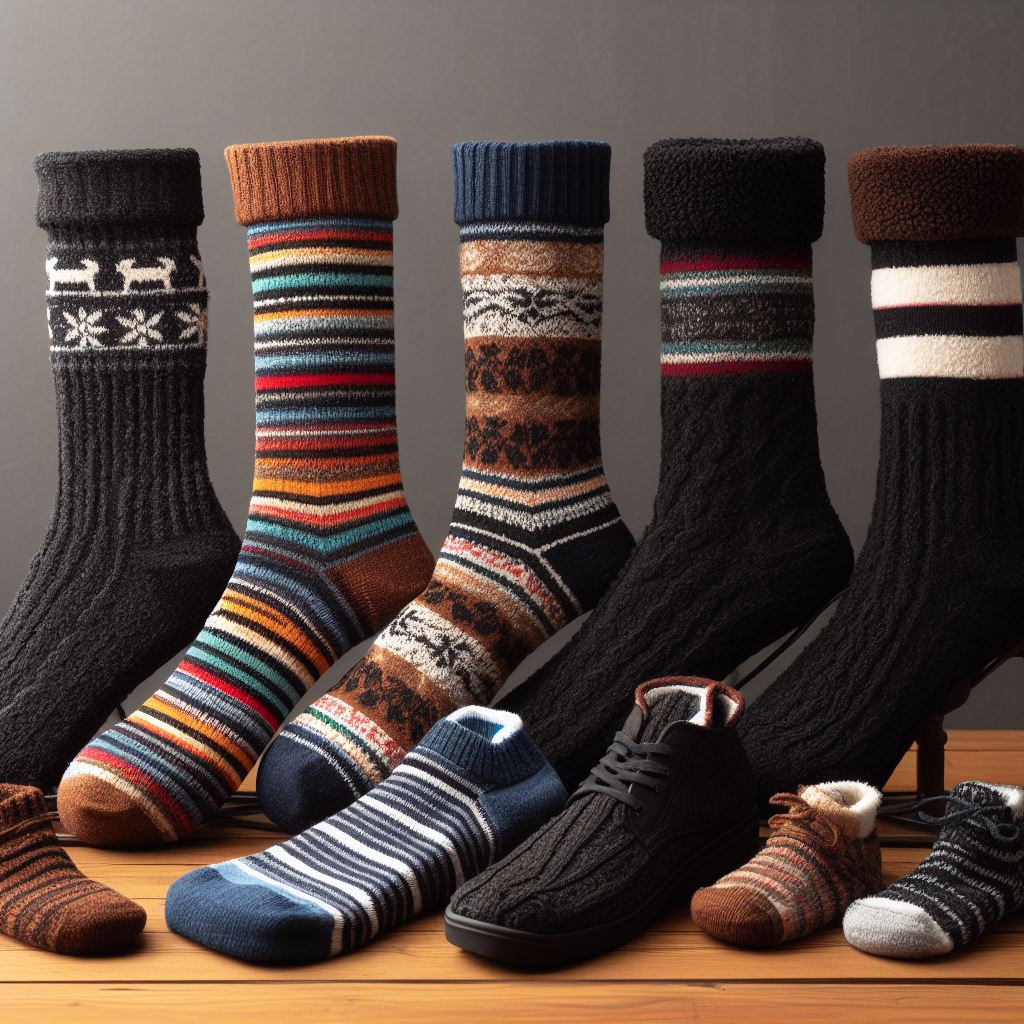 As the temperature drops and the chilly weather sets in, one item continues to gain significant traction in fashion and comfort: custom fuzzy socks. These snug and stylish essentials have rapidly become a must-have accessory for individuals seeking warmth and style during the colder months. Whether you're someone who perpetually battles icy feet or a devoted enthusiast of all things cozy, the allure of a meticulously crafted pair of indoor socks is undeniable. Picture yourself nestled on the couch for a late-night movie marathon or basking in the gentle glow of a crackling fireplace; the perfect pair of fuzzy socks elevates these cozy moments to new heights of comfort and relaxation.
Moreover, with the holiday season fast approaching, these customized fuzzy socks are increasingly finding their way into the limelight as ideal stocking stuffers or thoughtful presents for loved ones. Yet, navigating the sea of options available can often feel daunting, particularly when faced with a plethora of seemingly identical choices. That's precisely where our expertise and guidance come into play. We aim to unravel the world of custom fuzzy socks, spotlighting the trendiest designs and shedding light on the unique characteristics that set each pair apart. Join us on a journey of warmth, style, and personalization to discover the perfect custom fuzzy socks to make your winter season exceptionally cozy and profitable.
Why do you need to sell custom fuzzy socks?
The statistics and insights surrounding the sales and popularity of fuzzy socks during winter underscore the significant opportunity for businesses to capitalize on the burgeoning demand for custom fuzzy socks.
Lucrative Market Growth:

As evidenced by the data by Coherent Market Insights, the global fuzzy socks market is on a consistent upward trajectory, with anticipated growth from $1.5 billion in 2021 to $2.2 billion by 2028, representing a notable CAGR of 5.1%. This substantial expansion indicates a promising revenue potential for businesses venturing into the custom fuzzy socks market.

Winter Holiday Season Boost:

According to the National Retail Federation's survey, fuzzy socks rank among the top-selling gift items during the winter holidays. With an increased demand for these cozy accessories during the festive season, selling custom fuzzy socks presents an exceptional opportunity to cater to the seasonal gift-giving market, maximizing sales and profitability.

Seasonal Sales Surge:

The data suggests a significant spike in fuzzy socks sales, up to 50% during winter. This surge highlights the consumer preference for warm and comfortable footwear during colder seasons, emphasizing the potential for businesses to capitalize on the heightened demand for custom fuzzy socks.

Understanding Consumer Preferences:

Insights into popular fuzzy sock colors, such as black, red, green, and white, as well as trending designs like holiday themes, animal motifs, and food and drink patterns, provide valuable guidance for businesses looking to curate a diverse and appealing product portfolio that caters to a wide range of consumer preferences and tastes.

Targeting Diverse Demographics:

While fuzzy socks enjoy popularity across all age groups, they notably resonate with women and children. Acknowledging this demographic inclination allows businesses to tailor their marketing strategies and product offerings to target and engage these consumer segments.

Versatile Retail Channels:

You can sell fuzzy socks through various retail channels, including department stores, specialty stores, and online retailers. This diversity in distribution channels offers businesses the flexibility to explore multiple avenues for product placement and sales, thereby expanding their market reach and accessibility to a broader customer base.
Stats do not lie: Why create and sell fuzzy socks for men?
Rapidly Increasing Sales:

According to the NPD Group's survey, men's fuzzy socks have experienced a notable surge, boasting an impressive 20% growth in the past year. This substantial uptick signifies a burgeoning market for men's fuzzy socks, propelled by various factors such as the expanding allure of athleisure wear, the growing inclination towards comfortable dressing, and the rising trend of utilizing fuzzy socks as thoughtful gift items.

Versatile Styling Options:

Fuzzy socks allow men to infuse comfort and style seamlessly into their everyday ensembles. Whether paired with jeans, shorts, or sweatpants, these socks effortlessly elevate any outfit, making them a fitting choice for many occasions, ranging from casual gatherings to cozy evenings at home.

Preference for Home Comfort:

The survey conducted by the National Retail Federation underscores that a significant 70% of men prefer to wear fuzzy socks at home, surpassing the percentage of women who opt for the same, standing at 55%. This inclination highlights the growing acceptance of fuzzy socks as an essential element in men's loungewear, underscoring the importance of catering to this segment's specific comfort needs and preferences.

Color Preferences:

Men display a distinct inclination toward darker hues for fuzzy socks, with black, navy blue, and gray emerging as the most favored color choices. Recognizing and accommodating these preferences in product design and assortment is crucial to effectively appeal to the male consumer base and aligning product offerings with their distinct style sensibilities.

Gifting Trends:

Another significant revelation from the NPD Group's survey indicates that 60% of men have purchased fuzzy socks as gifts for other men, surpassing the percentage of women engaging in the same practice. It underscores the potential of men's fuzzy socks as a personal fashion accessory and a popular choice for thoughtful and practical gifting, further accentuating the importance of crafting tailored marketing strategies to capture this gift-centric market segment.
Top custom fuzzy socks to sell: 
Plush Socks: These use a luxuriously soft and plush fabric, like faux fur or fleece. These socks are the epitome of comfort and warmth. Ideal for lounging around the house or keeping toes toasty on chilly nights, they provide a cocoon-like experience for your feet, enveloping them in unparalleled softness and coziness.
Sherpa Socks: Thick and fluffy, Sherpa socks use a fabric Sherpa known for its exceptional warmth and snugness. These can combat even the chilliest of days. These socks are your go-to choice for bundling up in extreme cold, offering unparalleled comfort and insulation.
Cable Knit Socks: Exhibiting intricate raised cable patterns, cable knit socks blend style with warmth. Typically crafted from wool or other insulating materials, they provide exceptional warmth and elevate your fashion quotient, making them a stylish and cozy addition to your winter wardrobe.
Microfiber Fleece Socks: These socks shield against freezing temperatures by harnessing the exceptional warmth of microfiber fleece. Ideal for those struggling with persistently cold feet, these socks offer unmatched softness and durability, ensuring enduring comfort and warmth without compromising on stretch or shape.
Aloe-Infused Socks: These alleviate the discomfort of dry and rough feet. The aloe-infused socks combine warmth with therapeutic benefits. Perfect for cold evenings, they provide a soothing experience, catering to your foot's well-being while enveloping them in gentle warmth and comfort.
Anti-Slip Socks: Addressing the common concern of slippery fuzzy socks, anti-slip socks with grips on the soles offer the perfect indoor solution. Whether engaging in light physical activities like yoga or looking for secure footing around the house, these socks provide reliable traction and stability, making them a practical and safe choice for adults and children.
Neutral Fuzzy Socks: For those inclined towards a minimalist aesthetic, neutral fuzzy socks offer the perfect blend of warmth and understated elegance. Providing the same level of comfort and insulation without the distraction of vibrant colors or patterns, they are an excellent choice for individuals who prefer simplicity and subtle sophistication in their loungewear.
Chenille Socks: Elevating softness and fuzziness to the next level, chenille socks epitomize warmth and snuggly comfort. With irresistibly plush texture, they envelop your feet in a cloud of warmth, making every step a delightfully cozy experience.
Printed Fuzzy Socks: Bold and attention-grabbing, printed fuzzy socks cater to the fashion-forward individual seeking to make a statement. These socks provide warmth, comfort, and a stylish accessory to express your unique personality and flair. They offer a variety of thickness options to suit your specific needs.
Slipper Socks: They feature an ultra-low design and offer seamless slip-in convenience, making them the perfect companion for sports shoes and sneakers. Combining the benefits of both socks and slippers, they provide warmth and protection while maintaining a sleek and functional appearance.
Stocking-Style Socks: Ideal for individuals with poor leg circulation and susceptibility to the cold, stocking-style fuzzy socks come equipped with a thicker plush lining and sweater-like exterior. Offering enhanced insulation and comfort, they keep your legs and feet snug and well-protected, even in the harshest winter conditions.
Lace Cuff Socks: They embody a delicate touch. The lace cuff socks feature soft lace detailing around the cuffs, ensuring a secure fit without the worry of slippage. Combining style with functionality, they offer warmth and elegance, making them an essential addition to any wardrobe seeking a blend of comfort and sophistication.
Tips on selecting the material, fit, and colors for customizing fuzzy socks:  
Selecting the material, fit, and colors for customizing fuzzy socks is crucial to ensure comfort and aesthetic appeal. 
Material:
Consider Comfort and Warmth:

Opt for materials like soft fleece, wool, or microfiber for maximum comfort and warmth.

Evaluate Breathability:

Look for materials that offer breathability to prevent overheating and moisture build-up.

Assess Durability:

Choose high-quality, durable materials that can withstand regular use and washing without losing their softness or shape.
Fit:
Consider Sizing Options:

Offer a range of sizes to accommodate various foot shapes and lengths for a comfortable and customized fit.

Focus on Stretch:

Ensure the socks stretch to accommodate different foot sizes without feeling too tight or loose.

Prioritize Elasticity:

Look for socks with strong elastic bands that provide a secure and snug fit without constricting circulation.
Colors:
Know Your Audience:

Consider the preferences of your target demographic when selecting color options. Offer a diverse range of colors to cater to different tastes.

Reflect Seasonal Trends:

Incorporate seasonal colors and patterns to align with current fashion trends and create a sense of relevance.

Versatility Matters:

Include classic and neutral color options that can easily complement various outfits and styles for everyday wear.
Additional Tips:
Personalization Options:

Provide customization options for customers to add personalized touches such as monograms, names, or custom designs.

Test the Materials:

Before finalizing your materials, conduct thorough testing to ensure they meet quality standards of softness, durability, and colorfastness.

Customer Feedback:

Pay attention to customer feedback and preferences to continually refine your material, fit, and color options based on popular demand and suggestions.
Conclusion:
As you discover the perfect custom fuzzy socks, remember to prioritize warmth, comfort, style, and personalization. By selecting the materials, fit, and colors, you can create a unique pair of fuzzy socks that keep their feet snug and reflect their taste and preferences. 
For the ultimate experience in crafting custom fuzzy socks that embody your unique style and preferences, look no further than EverLighten. We provide a seamless and hassle-free customization process with our comprehensive range of services. Get our 100% customization guarantee, where we bring every specification and design detail to life. 
Rest assured that each pair undergoes a complete quality check to meet the highest standards of comfort and durability. With global delivery options, your perfect pair of custom fuzzy socks can reach you anywhere. Our dedicated 24*7 support team is always at your service, ready to address any queries or concerns you may have. Our free design assistance brings your creative visions to reality. Connect with EverLighten today and experience the joy of stepping into personalized comfort and style.
FAQs: 
What are most fuzzy socks made of?
Most fuzzy socks use a synthetic fiber called acrylic. 
Other materials include:
Why wear fuzzy socks?
There are many reasons to wear fuzzy socks. 
Warmth

Comfort

Style

Versatility
What is the warmest material for socks?
Wool is the warmest material for socks. Wool is a natural fiber that traps heat and keeps your feet warm. It is also a moisture-wicking fiber. It will help to keep your feet dry and comfortable.
How do you keep fuzzy socks soft?
Wash your fuzzy socks in cold water on a gentle cycle.

Use a mild detergent and avoid using fabric softener.

Air dry your fuzzy socks or tumble dry them on low heat.

Do not over-dry your fuzzy socks, as this can cause them to become stiff and scratchy.