custom keychains
Make an incredible impression with laser-cut custom keychains
|
Oct, 14 , 22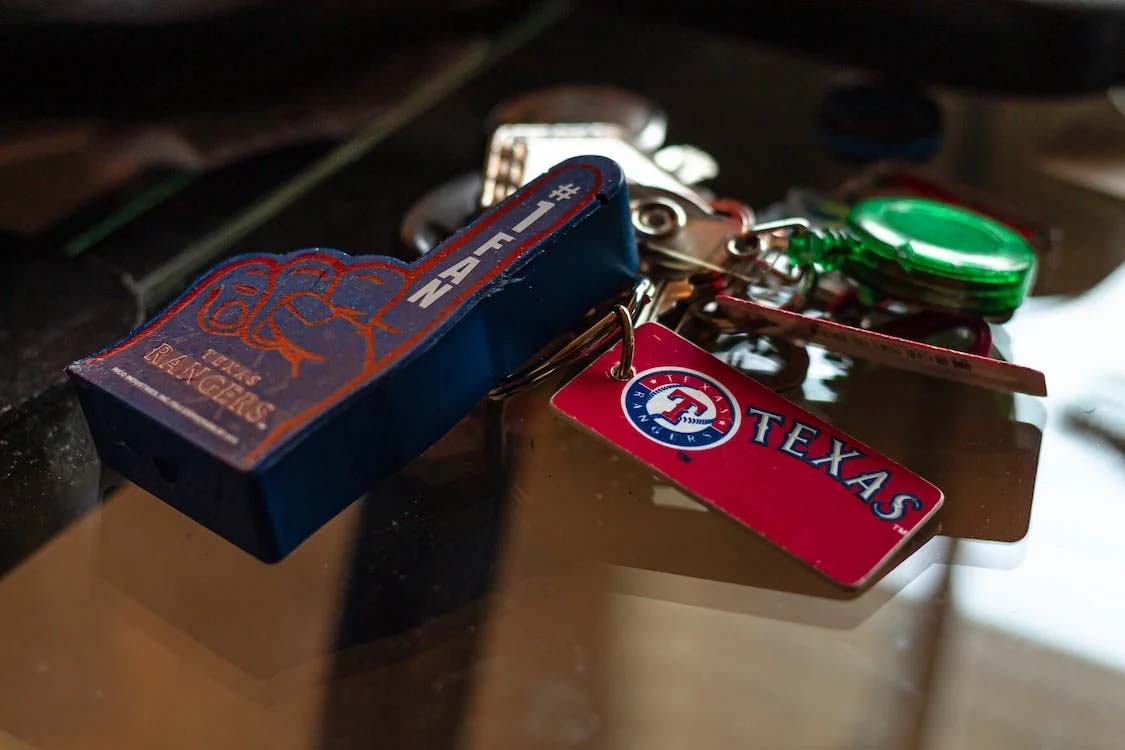 There are hundreds of thousands of promotional products, some better than others, and the trends change. However, an item that has stood the test of time is
custom keychains
. They are practical, classical, and give lovely ROIs; you might have got one from your loved ones or as a promotional item. You can choose from various materials like plastic, rubber, metal, wood, fabric, paper, etc. Each has its unique characteristics and production methods. If you are a marketer, you might have seen premium-quality promotional keychains with high-quality designs and edges - those might use lasers. We will provide you with all the information about laser-cut custom keychains. Let's start by answering the basics.
What is laser-cutting?
The process is a part of a thermal process that uses a focused laser beam to cut the materials. We can further divide the method into:
Fusion cutting uses an inert gas, like nitrogen, to expel the molten material.  
Flame cutting uses oxygen as the assist gas.
Remote-cutting uses a high-intensity laser beam without the assistance of gas.
The process is one of the most widely used techniques in various industries for making precision parts. It has become popular to make keychains - we can use different materials. They are cheaper alternatives in many cases. We use customization to produce keychains per our requirements - gifts, promotions, giveaways, etc. - laser-cutting is helpful for a series of variable sizes. You can adapt to aesthetics and budget.
Advantages of laser-cutting:
High precision and accuracy: We do not get the exact precision for every keychain during manufacturing with other methods. But, it differs from laser-cutting - with a focused beam of light, it delivers a precise cut from the batch start to the end. The tolerance level is between 0.003 to 0.006 mm - something impossible with other methods. For example, if you have a batch of 5,000 keychains, they will be the same.
Ultra flexible: The process can produce various designs from simple to ultra-complex with 100% accuracy. Many companies have complex logos that are challenging to create with other methods, but laser-cutting allows every type of design.
Quick setup:One of the advantages of laser-cutting is the ability to fast production. Often businesses/ individuals want custom keychains in small batches and fast turnaround time. Other processes are not as fast, but laser-cutting allows any order - small or large.
Versatile:They are helpful for various materials, including wood, cardboard, leather, methacrylates, etc. We will talk about materials in the latter part.
Less damage:Many people believe that because the process uses high heat, it damages the materials. However, it affects only a small area and does not affect tolerance. It does not affect the structural integrity, and the keychains will be durable.
Low-power consumption:Since the process does not involve movable parts, it reduces energy consumption and lowers production costs. Customers can get high-quality custom keychains without breaking the bank.
How does it work?
The process is simple and uses an adjustable power and focus point to cut or engrave materials. Some manufacturers can do them simultaneously. We get a variety of depths by adjusting the strength and focal length.
Types of materials:
Depending on the machine, you can cut various materials, including paper and metal. Some of the most popular materials for laser-cut keychains:
Wood is one of the most popular materials for custom keychains, and you can make a wide variety of designs, shapes, sizes, etc. Choose from various types of wood to suit the aesthetics of the keychains. They are resistant and robust - you can use fine wood for luxurious keychains. The wooden keychains look and feel premium. They convey a good feeling and will help make an instant impression.
Cardboard:Many people don't think of cardboard for customizing keychains, but it is one material that is becoming popular. They are a valuable option if you want them in immense quantities - over 1000 for trade shows, events, fundraisers, etc. - at a lower price. Contrary to popular belief, they are resistant and durable.  

Leather

 is one material that oozes class, luxury, and premium. They were a popular material for customizing keychains, but people nowadays do not use them because of ethical and animal rights issues. However, it led to the invention and use of faux leather; they look like genuine leather in feel and texture. They are easy to cut and are very inexpensive; you can get a large number at the same price as the leather. After the initial processing, they are resistant and last for years.
Methacrylate is one material that is becoming famous fast. Cut, engrave, and produce interesting effects with its high transparency. They are available in various sizes and colors; choose per your design and budget. 
Metalsare one of the best materials that you can use for laser cutting. They look premium and are suitable for high-value clients, souvenirs, and collectible keychains.
Other materials, like ceramics, glass, etc., are also helpful for customizing keychains. You can produce premium-quality keychains by combining them with other manufacturing techniques like machining.
Custom keychains designs:
Laser cutting is one the most precise methods for custom keychains - it allows every design imaginable in various sizes. You can design fine details, geometric patterns, and high-resolution images - with engraving. Other technologies do not produce the same level of sharp and well-defined lines and corners.   
Cost:
As mentioned earlier, the method is budget-friendly and costs less when compared to other technologies like machining. But, it is challenging to give a direct price because it depends on factors like size, design complexity, help needed, materials, etc.
Labor cost: Manufacturers change differently per order and depend upon the engraving area and the type and thickness of the material.
Line engraving is the simplest method for designs and texts on custom keychains. It is budget-friendly because it takes less time to create lines.
Surface engraving: this helps engrave a complex design and takes more time than the previous method. You can control the speed and power to engrave various color scales to produce a rasterized finish.
Order volume: The cost per keychain is higher for smaller orders because of the fixed personnel and miscellaneous expenses. The larger the order, the less the cost per keychain.
The risk involved is less for various small and medium sizes than the larger ones.
Conclusion:
Laser-cutting will help customize keychains with precision, low cost, and delivery. However, it requires a high level of expertise and experience. That's why there are a few manufacturers that use the method. EverLighten is one of the most experienced on-demand custom keychain manufacturers. Thanks to their eighteen years of experience, they can recommend the best materials and technology for your project. If you are thinking of creating key chains for business or personal reasons, EverLighten is the best option. They have helped startups, large companies, hotels, restaurants, realtors, comic cons, etc.
Michael Carney is a realtor from Columbus, NJ, who was looking to promote his services in the region. He contacted several suppliers to no avail; they were unwilling to accept the order because of the small batch and complex design. Fortunately, he went through reviews on social media and third-party websites and contacted EverLighten. Our team helped him customize premium-quality keychains.
Advantages of working with EverLighten:
Best pricing: EverLighten has a factory manufacturing custom keychains, so customers always get the best price.
Premium-quality: We use only high-quality materials and the latest production methods.
Fast delivery time: We produce every order in the least time possible.
Customer service: Customers can contact us anytime for their queries; we provide round-the-clock service.
Accept every order: We love to help and accept every order.  
100% customization: Customers can customize every aspect of their keychains.
Low MOQ: you can order as many keychains as you want; we have the lowest minimum limit in the industry.
Worldwide shipping: We deliver worldwide, and you can track orders with the online tool.