Make Your Book Characters Come Alive with Custom Plush Toys | EverLighten
|
Aug, 24 , 23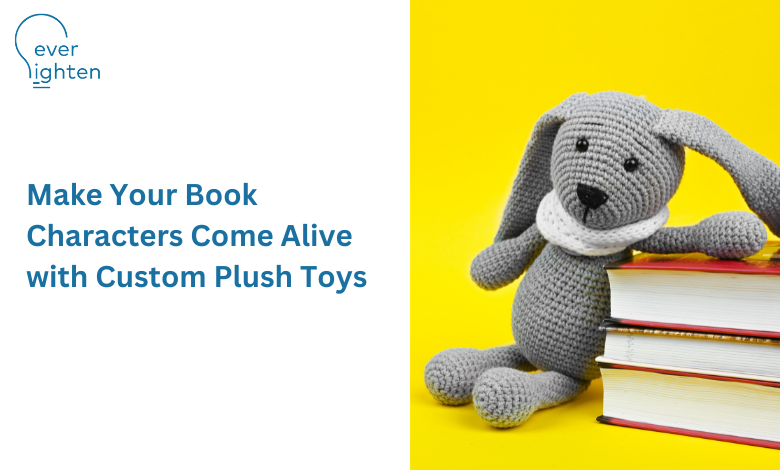 Learn about how custom plush toys help you promote your books
In the ever-evolving world of literature and storytelling, authors, writers, and bookstores constantly seek innovative ways to captivate readers and create lasting connections with their audience. One such approach that has been gaining popularity is the use of custom plush toys to bring storybook characters to life. 
Custom plush toys, meticulously crafted to resemble beloved characters from literary works. It holds the power to bridge the gap between fiction and reality.
The Benefits of Using Stuffed Animals From Books for Authors, Writers, and Bookstores


Emotional Connection: Books elicit emotions, and book plush characters take this connection to a new level. Authors and writers can forge a deeper emotional bond between readers and their beloved literary creations by transforming characters from pages into huggable companions.


Enhanced Reader Engagement: Book character plush serve as tangible representations of characters readers have grown to love and admire. Holding a plush toy depicting a cherished book character in their hands fosters a sense of ownership and involvement in the story, encouraging readers to engage more deeply with the narrative.


Brand Awareness and Loyalty: For authors and bookstores, custom plush toys offer a novel way to build brand recognition and loyalty. These adorable book plush characters are mobile advertisements, drawing attention to literary works and bookstores. It fosters a devoted fan base that proudly displays plush toys to showcase their literary preferences.


Unique Marketing Tool: Custom plush toys offer an imaginative marketing tool that sets authors, writers, and bookstores apart. Whether used as giveaway items, merchandise, or as part of interactive events, these stuffed animals from books leave a lasting impression on readers, creating buzz and excitement around literary creations.

Connecting with Readers through Custom book plush characters

Custom plush toys offer creative possibilities for authors, writers, and bookstores to engage with their readers deeper. These cuddly storybook characters can be utilized as powerful marketing tools, engaging promotional products and coveted prizes, enriching the experience and leaving a lasting impression.
Marketing Tools: Book character plushies are excellent marketing tools in the digital realm and at physical events.



Social Media Contests: Organize contests featuring book plush characters as prizes. Encourage readers to share their favorite book quotes or fan art, spreading the word about your literary work while generating buzz and engagement.


Book Cover Reveals: Build excitement for an upcoming book release by revealing the cover alongside custom plush toys of the book characters. This captivating visual presentation will pique interest and create anticipation for the book.


Book Bundles: Offer limited edition book bundles that include a signed copy of the book along with a custom plush toy. This exclusive package will promote book sales and become a cherished item for readers.



Promotional Items: Custom plush toys are delightful promotional items you can distribute at book signings, book fairs, and other literary events.

Swag Bags:

Surprise attendees with custom stuffed animals from books tucked into event

swag bags

. These cute additions will leave a lasting impression and encourage attendees to engage with your literary work.


An incentive for Pre-orders: Encourage readers to pre-order your book by offering a custom book character as an encouragement. This strategy boosts pre-order sales and creates a sense of urgency among fans.



Prizes: Running contests and giveaways garner attention and engage readers.

Reader Contests: Host reader contests where participants can win custom plush toys of their favorite book characters. It fosters excitement and encourages readers to immerse themselves further in your literary world.


School or Library Visits: When conducting school or library visits, surprise young readers with stuffed animals from books. These gifts will leave a positive and lasting impression, making them more likely to remember and recommend your work.

Emotional Connections

Custom plush toys have a unique ability to evoke emotions and strengthen the connection between readers and book characters:
Comfort and Familiarity: Holding a book character plushie resembling a beloved character brings comfort and familiarity. It allows them to physically interact with the storybook character they have grown to love, creating a deeper emotional bond.


Personalization: Custom plush toys can capture the details of appearance and personality. This personalization enhances the experience, making them feel like they have a one-of-a-kind connection with the character.


Nostalgia and Sentimentality: Stuffed animals from books often become cherished keepsakes, reminding readers of the magical moments they experienced while reading the book. This sentimental value strengthens the emotional connection and keeps the story alive in their hearts long after reading.


Building Brand Awareness and Loyalty

Custom plush toys help in brand awareness and loyalty for authors and bookstores.
Memorable Branding: When readers receive or purchase custom plush toys featuring storybook characters, the visual and tactile experience reinforces the brand in their minds. The association between the book character plush and the literary work creates a lasting memory, making it more likely for readers to remember and recognize the brand in the future.


Word-of-Mouth Marketing: Custom plush toys, especially those designed with attention to detail and high-quality materials, become conversation starters. Readers who receive these unique and adorable book plush characters share their excitement with friends and family, effectively engaging in word-of-mouth marketing that extends their reach.


Emotional Connection: The connection between readers and their favorite book characters deepens when they own custom plush toys. This tie extends to the brand and author, creating a sense of loyalty and affinity that drives readers to explore more works from the same author or visit the associated bookstore for future literary adventures.

The Long-term Impact of Loyal Readers Owning Tangible Merchandise Like Custom Plushies

Custom plush toys have a profound long-term impact on loyal readers who own tangible merchandise featuring their favorite book characters:


Brand Advocacy: Loyal readers become passionate advocates for the brand, promoting the book and its characters to their social circles. Their enthusiasm for the plush toys translates into genuine endorsements, attracting new readers and customers to the brand. 


Emotional Connection:

Owning a

custom plush toy

provides a tangible link to the fictional world readers adore. As time passes, these cherished keepsakes evoke fond memories and a sense of nostalgia, deepening the bond between readers and the brand.


Sustained Engagement: Custom plush toys encourage sustained engagement with the literary work. Readers often display their plush toys on shelves or use them as writing companions, reminding them of the impact and inspiring continued interest in future work.


How to Integrate Custom Plush Toys into Broader Branding Strategies

To leverage the potential of custom plush toys in broader branding strategies, authors and bookstores can consider the following tips:


Consistent Design: Ensure that the design of custom plush toys aligns seamlessly with the illustrations or cover art. Consistency in design reinforces brand identity and makes the plush toy instantly recognizable to readers.


Limited Edition Releases: Introduce limited edition plush toys or character sets at prominent milestones, such as book anniversaries or events. Limited availability creates a sense of exclusivity and urgency, enticing readers to add these collectibles to their possessions.


Interactive Events: Incorporate custom plush toys into interactive events, such as book signings, workshops, or virtual readings. This hands-on approach allows readers to experience the characters uniquely, strengthening their emotional connection with the brand.


Social Media Campaigns: Utilize social media platforms to showcase the custom plush toys, share behind-the-scenes glimpses of their creation, and engage with readers. Encourage user-generated content by asking readers to share photos of their plush toys with relevant hashtags.

Collaborating with Artists and Manufacturers for Book Plush Characters
Research and Recommendations: Research to identify artists and manufacturers with experience creating custom plush toys. Look for reviews, testimonials, and samples of their previous work. Seek recommendations from other authors or creative professionals who have collaborated with artists or manufacturers.


Portfolio Assessment: Review the portfolios of potential artists or manufacturers to ensure their style aligns with the aesthetic of your book characters. Look for versatility in their work, attention to detail, etc. Ensure they can accurately capture the essence of your storybook characters in plush form.


Communication and Collaboration: Prioritize clear and open communication with the selected artist or manufacturer. Share detailed character descriptions, illustrations, or concept art to help them understand your vision. Regularly collaborate and provide feedback throughout the design and production process to ensure the book plush characters meet your expectations.

Factors to Consider When Designing and Producing the Stuffed Animals From Books
Materials and Safety: Opt for high-quality materials safe for all age groups, more if your target audience includes children. Ensure the book character plushies comply with safety standards and regulations to avoid potential hazards.


Size and Proportions: Consider the appropriate size and proportions for the stuffed animals from books. Larger sizes may be more visually striking, but they could be costlier to produce. Balancing size and cost will be crucial in the design process.


Customization Options: Explore various customization options, such as movable parts or accessories, to make the storybook characters more interactive and appealing to readers. It can enhance the overall experience and value of the merchandise.


Packaging and Branding: Devise appealing packaging that complements the image and reflects the essence of the book characters. Well-designed packaging can make the book character plushies stand out on shelves and enhance their perceived value.


Maintaining Integrity in Book Plush Character


Character Authenticity: Ensure the book character plushie's design resembles the original appearance and personality. Collaborate closely with the artist or manufacturer to preserve every detail that defines the character, from distinctive features to iconic accessories.


Artistic Interpretation: While accuracy is essential, allow some artistic interpretation to bring the character to life in plush form. Emphasize the book's character traits and qualities, ensuring that the plush toy captures the spirit, even if minor adjustments are necessary for practicality.


Fan Recognition: Consider how fans perceive the storybook character and elements crucial to their identification. Staying faithful to these recognizable traits will resonate with existing fans and attract new ones.


Testimonials and Feedback: Request feedback from trusted readers or fans to gauge their response to the book character plushies design. Make adjustments if necessary to ensure the design meets their expectations.

Finding the Right Company for Custom Plush Toys

Creating custom plush toys requires collaboration with a reputable and reliable company. 


Experience and Expertise: Look for companies with a proven track record in designing and manufacturing custom plush toys. Check their portfolio and client testimonials to assess their expertise in the industry.


Quality Standards is paramount when it comes to custom plush toys. Ensure the company uses high-quality materials, adheres to safety standards, and maintains strict quality control measures throughout production.


Design Capabilities: Evaluate the company's design capabilities and expertise in capturing intricate details of book characters. Check if they can produce plush toys that closely resemble the original illustrations or descriptions of the book characters.


Customization Options: Consider whether the company offers various customization options, such as sizes, accessories, or movable parts. Unique and interactive book character plushies can enhance the overall appeal and engagement with readers.


Communication and Collaboration: Effective communication is vital during the collaboration process. Choose a company that is responsive, open to feedback, and willing to collaborate closely to ensure the custom stuffed plushie design aligns with your vision.


Turnaround Time: Inquire about the company's production timeline and delivery schedules. A company with a reasonable turnaround time will help you plan book launches and promotional events more effectively.


Samples and Prototypes: Request samples of their previous work. It will help assess the quality, design, and attention to detail. It will give you a tangible representation of what to expect from their services.


Budget Constraints: Set a budget for the custom plush toys and request quotes from different companies. Consider the cost of design, materials, production, and additional customization features. Strike a balance between quality and budget to ensure the best value for your investment. 


Customer Service: Assess the company's customer service and willingness to accommodate your needs. A company that values customer satisfaction and offers support throughout the process will make the collaboration smoother and more enjoyable.


Sustainability and Ethical Practices: Inquire about the company's commitment to sustainability and ethical manufacturing practices. Choosing a company that prioritizes environmental and social responsibility aligns with the values of many readers and consumers.


Case study of book promotion with custom plushies

Various organizations have promoted The Cat in the Hat by Dr. Seuss with custom plushies. In 2003, Kellogg's launched a line of adorable plush toys as part of a cereal promotion, distributing them as delightful surprises inside their cereal boxes with learning cards about the book.
Later, in 2010, Random House commemorated the 50th anniversary of The Cat in the Hat by releasing a line of plush toys that adorned bookstore shelves and retail stores. Each book character plushies came with a charming bookmark featuring a quote from the beloved book.
Further promoting the magic of The Cat in the Hat, a 2017 campaign at the Dr. Seuss Experience in Boston showcased various plush toys, including the iconic Cat in the Hat, Thing 1, and Thing 2. They distributed them at the event and amplified them through social media promotions, drawing more readers into the world of Dr. Seuss.
Beyond promotions and events, The Cat in the Hat plush toys were a part of contests and giveaways. They served as marketing tools for bookstores and retail outlets.
As a timeless classic cherished by generations, The Cat in the Hat's custom plush toys have played an essential role in preserving its legacy and introducing it to new readers. These heartwarming toys evoke fond memories of the story and continue to kindle excitement among its loyal fans.
The ingenious integration of custom plush toys has breathed new life into The Cat in the Hat, securing its place in the hearts of young and old alike.
Conclusion

Bringing your book characters to life through custom plush toys is an enchanting and powerful way to forge lasting connections with your readers and expand your brand's reach. It nurtures the emotional bond between readers and their favorite literary companions. It leaves an indelible mark on their hearts.
Collaborate with a reputable company that understands the intricacies of creating high-quality custom plush toys. One such partner that stands out for its expertise, commitment to excellence, and dedication to customer satisfaction is EverLighten.
With a wealth of experience designing and manufacturing custom plush toys, EverLighten has earned a reputation for delivering top-notch products that captivate hearts and delight audiences. Connect with EverLighten today to embark on an enchanting journey of transforming your book characters into lovable companions and witness the magic unfold as your readers embrace their favorite storybook characters in a new way.


FAQs


How much does it cost to make your own plush?

The cost of custom plush toys can vary depending on size, complexity, quantity, materials, etc., but generally ranges from a few dollars to tens of dollars per unit.



Why are custom plushies so expensive?

Custom plushies can be expensive due to the design process, material quality, manufacturing complexity, and limited production quantities. Each plush toy requires unique design work and attention to detail, which can increase costs.



What material is used for plushies?

Plushies use soft materials like polyester, fleece, or plush fabric. The material used affects the toy's texture, appearance, and cost.



What are the most profitable book characters to keep?

The profitability of book characters can vary based on their popularity, licensing opportunities, and merchandising potential. Iconic characters with a massive fan base often have higher profitability.



What is the demand for plush toys?

The demand for plush toys can be significant, especially for well-known and beloved characters. Plush toys are popular among children, collectors, and fans of various entertainment franchises.