Custom Socks
5-Top benefits of buying and selling custom socks for individuals and brands
|
Oct, 13 , 22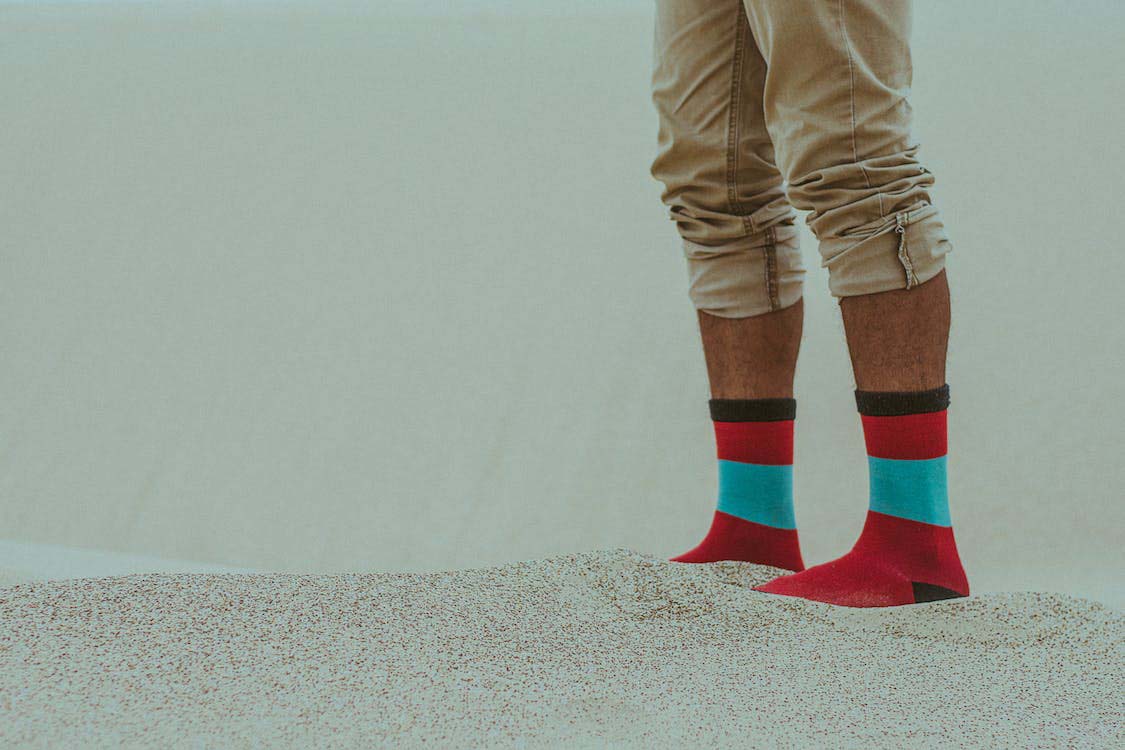 How many times have we walked into a shop or browsed online and thought - there are many people with the same socks? Everybody seems to buy generic ones; it is like, we don't have many choices with colors, materials, styles, etc. There are many options for almost everything. But for socks, we struggle to find many. Even the companies don't seem to try hard enough and provide us with options. With social media and the importance of individuality, many people want something different, including socks. The type of socks we wear reflects our personalities and gives a sneak peek into our style taste. For these people, having something similar to others can be frustrating. Here is an opportunity for businesses and entrepreneurs to cater to such people by providing something unique.
Custom socks
 are the answer to the above issue.
The socks reflect your personality and lifestyle, but it doesn't mean that you need to pay a lot more than generic ones. You can get the right piece for yourself with the right company. Even as an entrepreneur, it is helpful to offer custom socks to the generation that digs the idea of being distinct. The blog will provide the benefits of custom socks for individuals and businesses.
An opportunity for brands and retails:
Startups and small retail shops often struggle to compete against the big brands and conglomerates concerning prices and choices. They can undercut small businesses for years and drive them out of business with their massive funds. Socks is a lucrative business attracting thousands of entrepreneurs and organizations to try their luck. However, you have to be unique to carve a niche. Instead of offering regular socks, it would be much better to provide something different. Your business will have value to it. By inculcating custom socks in your business, your customers will be excited, and you can garner a better consumer base. Instead of the competition, they will prefer your business and help generate better revenue.
Benefits of custom socks:
Higher-quality:
Perfect fit and functioning:
Exact colors and unique designs:
Uniqueness and better brand value:
Better ROI:  
Let's elaborate on each point for consumers and businesses:
1.Higher-quality:
For consumers: When someone is looking for custom socks, they are looking for a way out from the cookie-cutter products. To attain expert quality mass-manufactured socks, a consumer would typically need to go to a high-end showroom/ brand and pay much higher prices. But imagine the benefits if they can get an option to choose all their specifications under one roof without breaking the bank. For example, something as unique as a bamboo sock will give them a feeling of being special every time they wear it.
For businesses: a business that offers
custom socks
 to match the consumers' tastes will surely get high-quality niche traffic from every side. They would not have to spend massive money on ads; word-of-the-mouth campaigns would be enough to increase their sales.
2.Perfect fit and functioning:
For consumers: One of the main benefits of custom socks for consumers is, of course, the perfect fit and functioning. These are two fundamental reasons people turn toward custom products - generic socks can not fulfill your particular needs. For example, many people sweat a lot, and no matter how much companies claim, it is hard to create something for a small niche. Large companies have a lot of fixed prices that drive the cost and bother little with such minor issues. In such situations, going with a smaller company makes sense for customers; they can get the products for their particular needs. It becomes helpful if the prices are not over the moon.
For businesses, custom socks mean offering the products that people want. Thus they sell themselves - demand and supply is the fundamental law of any business. When you provide choices for materials, styles, thread counts, colors, etc., per customers' choice, your business will be a hit with most people. It would fulfill their needs better than big businesses that do not offer such items.
3.Exact colors and unique designs:
For consumers:
Custom socks
 help you play with a variety of colors there in the same or different socks. Standard socks in big shops or eCommerce stores offer regular colors and designs. They also offer generic fabrics. The pieces you choose are bound to be generic since they are mass-produced. However, it is different for customized socks - they have plenty of choices for everything, including colors, designs, materials, and printing methods. For example, if you are in the mood for something fun and eco-friendly to wear, then tie-dye socks would be suitable. We doubt you would be able to find such products of high quality with big corporations.  
For businesses:
Through custom socks, you give life to people's desires and imagination. You are giving them the options and not shoving down products like big corporations. Even minor items like socks make them feel empowered.
4.Uniqueness and better brand value:
For consumers:
Uniqueness is a plus point with their socks. For many, socks are a necessity only, but for others, they are a big part of their identity, personality, and a way to express themselves. It shows effort, taste, and class. Often our socks are the same as our peers and acquaintances, and while it does not bother many, it can irk some. It is a perfect opportunity to show our uniqueness by keeping the same in mind. Going for custom socks makes sense.
For businesses:
With time it becomes easier for businesses to offer unique socks as most likely they have all the materials at their disposal. They do not have to look outside, from various colors to printing machines. The making charges for similar products are almost the same with a fixed quantity. They don't have to do it all at once; starting slow and building on previous success is the way to go. It gives a business identity and character, which is something lacking in many businesses.
5.Better ROIs:
For consumers: Most people equate custom products with premium prices; it is not the case for custom socks. You can choose the designer route if you want to, but many companies amalgamate affordability and quality. For example, EverLighten produces premium-quality socks at affordable prices. The basis point - custom does not mean having to be high priced.
For businesses:
They can make much better sales and profits with custom socks. A business is taking risks by creating products - they invest time and other resources. There is no guarantee of the products selling and giving back their investments. However, there is a higher probability of selling when they offer custom products after market research. It is less risky, thus, better ROIs.
Conclusion:
Companies selling custom socks have an advantage over their competitors with unique offerings. EverLighten is right here with premium quality at budget-friendly prices. All your custom socks will look the same as the design with the latest machines and processes and provide unlimited customization, including colors, materials, designs, styles, etc. We are a platform with eighteen years of experience helping many startups, brands, sports teams, and nonprofits.
Here is an example from many of the success stories. The Canadian Sock company makes colorful, fun, and crazy-looking socks that have become popular with the young audience. They can not find a reliable manufacturer because of their unique requirements regarding materials, colors, small batch, and fast turnaround time. Fortunately, they contacted us after going through many positive reviews on various ratings and social media sites. We helped them create different socks, like casual, athletic, athletic socks with terry, etc. They are enjoying lovely success with their business.
You also can enjoy success by partnering with EverLighten:
Best pricing: We are a factory producing custom socks, not intermediaries, ensuring customers always get the best prices.
Quality in every product: We use high-quality materials and the latest techniques to produce socks.
Fast turnaround time: We manufacture every order in the quickest time possible.
24*7 support: Customers can contact us 24*7 for their query resolution; we reply within half an hour.
Real people, fantastic service: EverLighten loves helping; we offer various options for every product.
Designs to impress: Your socks will look as you imagined with help from in-house designers.  
No minimum order requirement: You can order any number of items you need; we accept every order without a minimum limit.
Worldwide shipping: we deliver worldwide, and customers can track their orders online with an order tracking tool.