Custom Socks
10 most expensive socks in the world | EverLighten
|
Oct, 20 , 22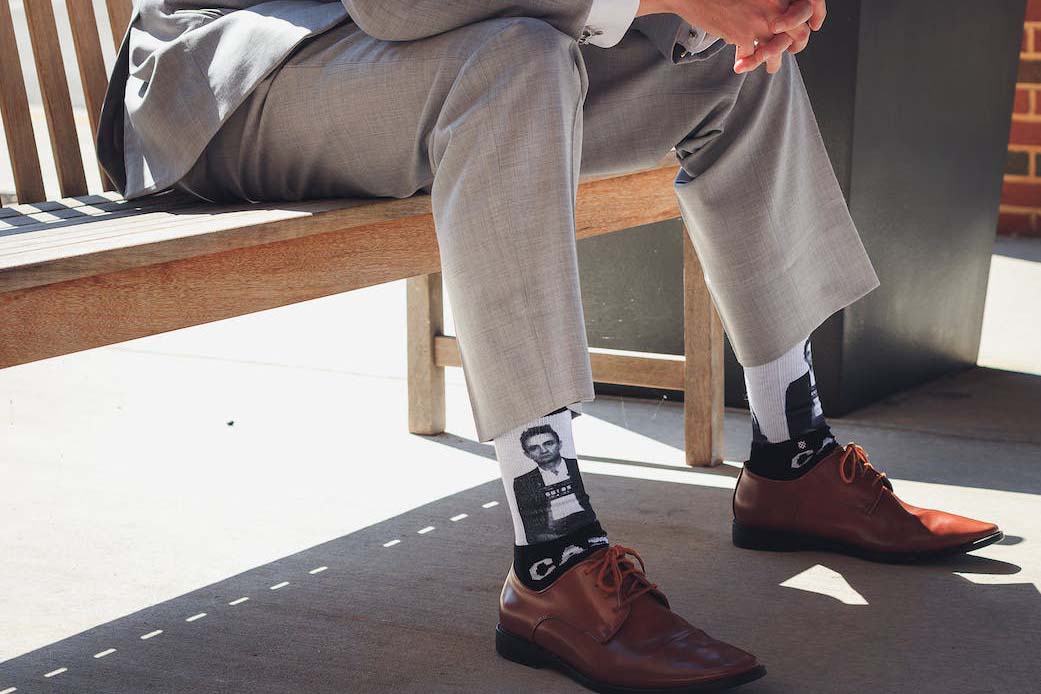 Socks are one of the most versatile pieces of clothing; people use them to keep their feet comfortable during various weather. For some, they are more than an accessory - they are a way to display their passion and position about different issues. They have evolved - people used animal skins as socks by tying them around their ankles. Ancient Greeks used matted animal hair for warmth, and Romans used leather or woven fabrics. By the 5th century AD, people from all over Europe were using different socks.
With time, socks were not only a piece of accessory, but a status symbol - by 1000 AD, rich and noble people used them to display their wealth with various fabrics like cashmere wool, etc. During the 16th century, ornamental designs were famous, and people decorated socks with many valuable stones. With the invention of the knitting machine, people started producing socks faster in large numbers; they manufactured six socks in the time taken to make one sock by a skilled worker. However, hand knitters and machines worked side by side until the 1900s; they helped socks to reach the masses. Now, they were not something only for the rich and noble; they were common once again. However, they were still expensive.  
Before 1938, the most common materials for socks were cotton, wool, and silk. But, it changed with the invention of nylon; people started blending it with other fabrics to make them durable and cheaper. The practice is still prevalent with technological advancements and the creation of new materials. Today, rayon, bamboo, Tencel, spandex, lycra, etc., dominate the world of socks.
Personalization also became famous for socks. Now, people and organizations use custom socks for gifts, promotions, fundraisers, events, selling, etc. There are various materials, styles, and printing methods.
However, there is another world of socks out there - luxurious socks. They make them from some rarest fabrics with premium or designer brands. The prices will astonish you.
Harry of London:

The company makes these from a soft and exotic fiber from Cervelt - a rare New Zealand red deer. They can collect only 20 gm of hair from one deer hence the high price. The prices can go up to $1500, depending upon the harvest; in some seasons, the hair length is short because of the temperature. It is becoming more challenging to collect the hair since the general temperature is increasing. These are versatile, and if you can afford them, you can enjoy them during skiing or business meetings; they are perfect for every occasion.  

The weaving, dying, and handwork for the fabric are unique and take years of experience, attention to detail, and craftsmanship. The fabric is light, elastic, and resistant to creases and pilling - it gives a timeless elegance, and the colors do not fade. The Cervelt fabric is known as the diamond of clothing fibers.

With only 13 microns in diameter, the smoothness surpasses even the ultra-rare Mongolian Cashmere; it is lighter and more durable. The socks are available in Charcoal grey and are the most expensive socks in the world.



Falke:

The price of these ultra-rare socks will make you wonder if they are made of gold. These socks sell for $1,188. Yes, you read it right. They make them from Vicuna - a Llama-like camelid - and are the most expensive fabric in the world. Falke, a luxury knitwear German brand, makes these socks from the ultra-fine hair of Peruvian Vicuna. The animal is an endangered species, so it is challenging to mass-produce clothes with its hair. That's why only ten pairs of socks are available for sale.
The brand made these Christmas socks along with twenty pullovers using the Vicuna fabric; the price of the pullovers is $3,300 and seems to be one of the world's most expensive socks. The wool from Vicuna is so delicate that it is impossible to dye, so these socks are only available in their natural golden brown color. Many have tried to dye the fabric, but the result has always been irreversible damage to the wool. The price is high because one Vicuna produces approximately one pound of wool.



Marwood:

With a starting price tag of $58, they may not be as expensive as the above socks, but they are pretty costly. They are made in the UK with premium-quality materials sourced from the country's most historic mills. They are created from a unique material of the same name - the fabric remains cool in summer while providing high insulation during winter. It is durable, moisture-wicking, naturally elastic, flame and crease-resistant, and does not pill. They shear the wool from Angora goats bred on family farms. The socks are handmade and blended with other fabrics like nylon to strengthen them.





Pantherella

socks start at $33 for a pair. They are super-soft, thin, and versatile; you can wear them with anything from brogues to boat shoes. At the start of the season, the team visits the Pitti Filati show in Florence, Italy, to see new sock trends. After deciding on the yarns for the season, they fabricate the latest designs in the studio at Hallaton Street, UK, and develop them with state-of-the-art CAD technology. The merino-wool dress socks are one of the most famous ones, lasting for years. They are naturally breathable and moisture-wicking.



NN07

starts at $29 and goes to $80 for a pair. These are single-colored socks that go beyond the call of duty. They make from a weighty wool blend - wool, Cashmere, polyamide, viscose - and are ribbed for extra comfort. They are moisture-wicking, durable, and odor-resistant. The NN07 stands for No Nationality, and it started in 2007 - the brand is from Copenhagen. Because of their thickness, they are more suitable for boots than spring shoes. 





Corgi

has been making socks since 1892 - they started making stockings for the local mining community and have developed a global reputation as a luxury sock brand from humble beginnings. In 1989, they were honored with a Royal Warrant from HRH, Prince of Wales. They continue to make socks for the Royal Family to this day. They continue to design the socks with handcrafted wool, mohair, and cotton. Its local Welsh heritage inspires Corgi, and you can see the same in its designs. The price of their socks starts at $29.99.



Ralph Lauren

The famous brand that makes many premium products also makes socks. The price ranges between $12- 25, and the designs are neutral.



Bresciani

was founded in 1970 and continues to make luxury socks. The price ranges from $25 - $115. Each pair of socks is hand-finished in a factory near Milan, Italy, with extra fine merino wool, pure Egyptian cotton, linen, mohair, and 100% silk.

 

Smartwool

is based in Colorado and uses the latest technologies to produce socks. They use thermal body mapping to create socks that offer the right amount of Merino for performance and comfort; more wool in the feet area where it chills and less where they are warm. They add other high-performance fabrics to make the socks smarter. The price of the socks starts at $40.



Nordstrom

is based in Colorado and uses the latest technologies to produce socks. They use thermal body mapping to create socks that offer the right amount of Merino for performance and comfort; more wool in the feet area where it chills and less where they are warm. They add other high-performance fabrics to make the socks smarter. The price of the socks starts at $40.



Conclusion


These were some of the world's most expensive socks brands. However, many other notable brands are making luxurious socks. Just because a sock is high-priced, it does not make it better for every purpose. For promotions or giveaways, custom socks work better.
EverLighten makes one of the best quality socks for every occasion using some of the finest raw materials. Choose from a wide variety of fabrics like wool, cotton, bamboo, polyester, blended fabrics, silk, etc. And, the best thing - you do not have to pay the prices like the mentioned socks. They offer the most competitive prices and customization. They even have fancy socks where you need to use them.


Why everlighten is the industry leader in custom socks manufacturing
 
Best pricing: We customize items in our factory, which helps customers to get the best prices.
Premium quality: Customers get custom products with the best materials, production, and packaging.
Fast delivery: our factory helps deliver orders in the quickest possible time.
Customer service: Customers can contact our support team anytime for their queries.
Customer-centric: We love helping every customer create their dream products.
100% customization: Customers can customize every aspect - materials, shape, sizes, colors, etc. - of their custom products.
Minimum order quantity: Customers can order as many as they need; EverLighten offers the lowest minimum limit in the industry.
Worldwide delivery: We deliver worldwide, and you can track the orders with an online tool.
For inquiries and other information, please visit:https://everlighten.com/collections/custom-socks 

Hummingbyrd is a digital store that offers a collection of comfortable products, including socks. Their niche market is women athletes and runners. They contacted EverLighten after reviews on independent rating sites and social media. After understanding their needs, the team made five mock-ups and several adjustments to better the quality. With intelligent manufacturing processes and creative designs, EverLighten created the perfect athletic socks.
Read the success story at https://everlighten.com/blogs/success-stories/startup-brand-hummingbird


FAQs


What is the expensive sock material?


The most exotic fiber for socks comes from Cervelt - a rare New Zealand red deer. They can collect only 20 gm of hair from one deer hence the prices are higher.


Why buy expensive socks?


Although the price of a product doesn't confirm its quality, mostly they are worth the price. Expensive socks also having premier quality will not pill and don't sweat your feet. The thinner socks will match your beautiful outfit and give you a style with your designer shoes.


Are expensive socks worth it?


Yes, expensive socks are worth your money. They are durable, and their color and look don't fade even after several washes. Expensive socks go in line with your status and your dress and shoes.


How much are Gucci socks worth?


Gucci socks prices start from $195 for shorter socks and go to $330 for tights.