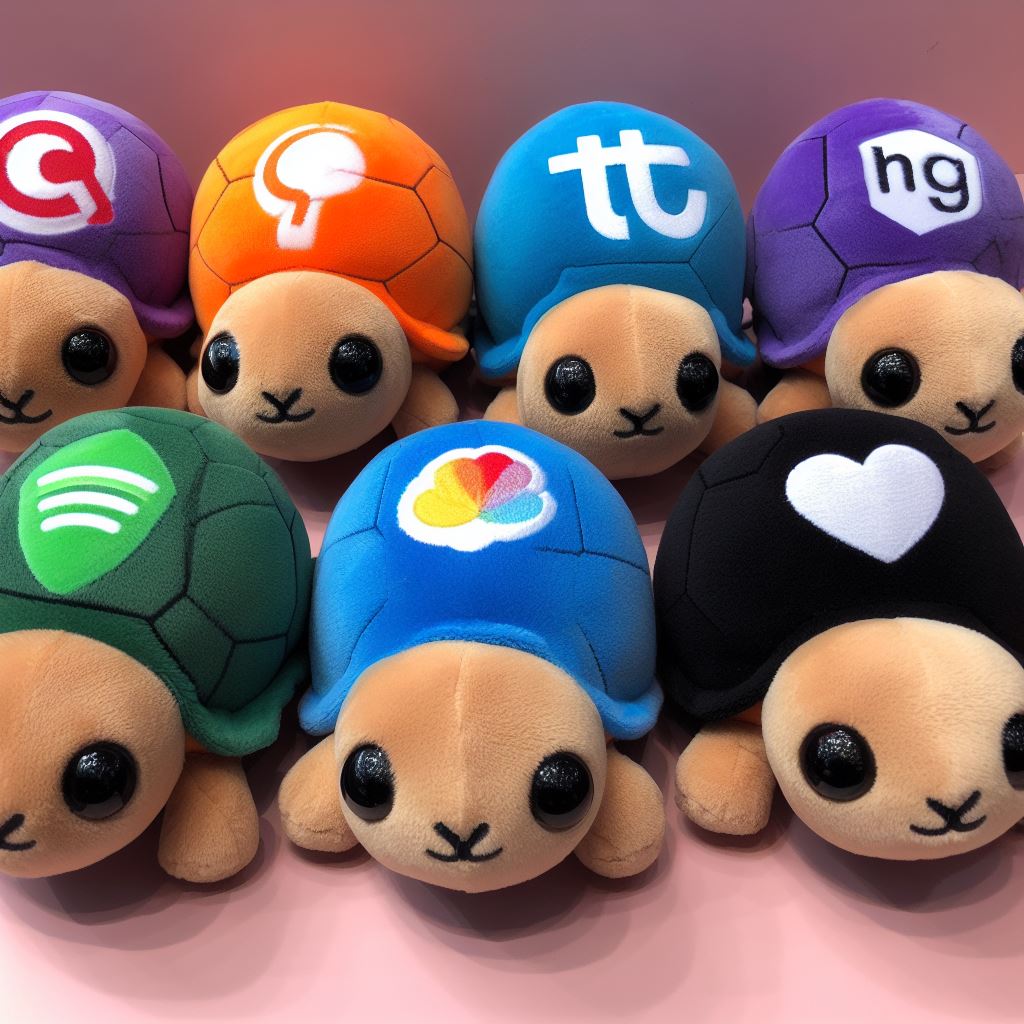 Use Custom Plush Toys to Promote Your Products or Services 
With the upcoming holiday season, businesses are gearing up to make a lasting impression on their customers. In this competitive marketplace, the key to success is making your brand memorable and fostering a genuine connection with your audience. But how can you ensure your brand stands out amidst advertisements and promotions?
Consider this: 72% of consumers say they are more likely to remember a brand that gives away promotional products. 63% of consumers are inclined to do business with a company that offers such incentives. These staggering statistics underscore the immense potential of promotional products in shaping consumer behavior.
Did you know that 52% of consumers hold onto promotional products for over a year? Additionally, 47% share these products with their loved ones, and 43% showcase them on social media. Imagine harnessing this power during the festive season, when the impact is more. According to Promotional Products Association International, 82% of consumers will retain promotional items received during the holidays.
It is where the allure of promotional plush toys comes into play. These adorable, customizable items have become a staple for holiday promotions, capturing the hearts of both young and old. Soft, cuddly, and tailored to evoke the season's spirit, you can customize them into festive figures like Santa Claus, snowmen, or reindeer, complete with your company's logo or special message embroidered on them.
If you're seeking an innovative and impactful way to promote your brand this holiday season, look no further than promotional plush toys. Not only do they make for delightful gifts, but they also serve as powerful brand amplifiers, fostering a positive and enduring association with your business. We'll explore the profound impact of utilizing these charming items to strengthen your brand identity during the holidays.
Importance of Brand Identity
Brand identity is the company's soul, encapsulating its values, mission, and personality. It goes beyond just a logo or a tagline, encompassing the entire experience and perception consumers have of a brand. It sets a business apart from its competitors and resonates with its target audience.
A strong brand identity guides customers toward a particular product or service in the crowded marketplace, where numerous businesses vie for consumer attention. It is the culmination of visual elements, such as logos, colors, and design, along with intangible aspects like the company's ethos, messaging, and the emotional resonance it creates.
Beyond aesthetics, brand identity is pivotal in establishing a company's market presence. It acts as a trust signal, assuring customers of the quality, reliability, and consistency of the products or services. A well-crafted brand identity communicates the brand's story, values, and promises, fostering a sense of familiarity and trust among consumers.
During the holiday season, when consumer spending is at its peak, brand identity takes on an even more significant role. In the flurry of promotions and marketing campaigns, a strong brand identity is an anchor, helping consumers navigate their choices. It serves as a reminder of past positive experiences, influencing consumer perception and driving brand loyalty.
Furthermore, a cohesive and compelling brand identity can evoke a sense of nostalgia and warmth, resonating deeply with consumers during the festive period. This emotional connection can foster a sense of belonging and community, making customers feel a part of something special when they engage with the brand during the holiday season.
The Power of Promotional Merchandise
The festive period represents a golden opportunity for businesses to capitalize on the power of promotional merchandise. During this time of heightened consumer engagement and increased spending, promotional items are crucial in driving brand awareness, fostering customer loyalty, and establishing a market presence.
One of the reasons why promotional products wield such influence during the holiday season is their ability to evoke a sense of goodwill and appreciation among customers. Whether a thoughtful gift or a token of gratitude, promotional merchandise resonates deeply with recipients, leaving a lasting impression beyond the transactional relationship. This emotional connection forms the cornerstone of brand-consumer engagement, facilitating a sense of reciprocity and building trust.
Moreover, the tangible nature of promotional items ensures prolonged exposure to the brand message. Unlike fleeting digital advertisements, these physical products have a lasting presence in customers' lives, serving as constant reminders of the brand and its offerings. The sustained visibility reinforces brand recognition, making it more likely for customers to turn to these familiar brands when making holiday purchases.
Furthermore, promotional merchandise is a cost-effective and versatile marketing tool, capable of reaching a broad audience without the constraints of digital algorithms or ad fatigue. From practical items like calendars, pens, and mugs to more creative offerings such as custom plush toys, these promotional products enable businesses to communicate their brand message in a manner that is both memorable and meaningful.
By aligning these promotional items with the spirit of the holiday season, businesses can tap into the festive cheer and create a positive association with their brand. It enhances brand visibility and cultivates a sense of goodwill and reciprocity, fostering a deeper connection between the brand and its consumers.
Custom Plush Toys: A Unique Promotional Strategy
In promotional strategies, custom plush toys emerge as a unique and impactful tool that can leave a lasting impression on customers. Unlike conventional promotional items, these soft and endearing companions possess an inherent charm that resonates with people of all ages, making them a creative and memorable choice for brand promotion.
The customizable nature of plush toys allows businesses to infuse their brand identity into these cuddly companions, creating a tangible representation of their ethos and offerings. Whether company logos, holiday-themed designs, or personalized messages, custom plush toys serve as a physical embodiment of the brand, forging an emotional connection with recipients that extends far beyond the holiday season.
One of the key advantages of leveraging plush toys for brand promotion during the holidays is their ability to evoke a sense of joy and nostalgia. These adorable creations serve as delightful gifts and powerful vehicles for storytelling, enabling brands to communicate their narrative and values through a medium that sparks positive emotions and memories.
Furthermore, the tactile nature of plush toys fosters a deeper engagement with the brand, encouraging recipients to form a personal attachment to the promotional item. As these plush toys find their way into homes and hearts, they become cherished mementos that serve as constant reminders of the brand, enhancing brand recall and recognition in the long run.
During the festive period, when consumers want meaningful and heartfelt experiences, custom plush toys offer a unique opportunity for businesses to connect with their target audience. By incorporating elements that capture the essence of the holiday spirit, these plush toys embody joy, warmth, and goodwill, reinforcing the brand's position as a source of comfort and delight during the holiday season.
Aligning Plush Toys with Your Brand Image
Aligning custom plush toys with your brand image involves a meticulous process that integrates your brand's values, mission, and aesthetics into the design of these endearing promotional items. By infusing these elements, businesses can ensure that the plush toys are an authentic extension of their brand identity, fostering a deeper connection with their target audience.
When designing plush toys, it is essential to consider how each element, from the color palette to the intricate details, aligns with your brand's values and messaging. Whether incorporating specific symbols, characters, or motifs or integrating elements that convey the essence of your brand's narrative, curate each element to reflect the ethos and personality of your business.
Furthermore, the design of these plush toys should manifest your brand's aesthetics, ensuring that they seamlessly blend with your existing marketing collateral and visual identity. From the choice of materials to the overall design language, every aspect should echo the unique style and tone that defines your brand, creating a cohesive and harmonious brand experience for your customers.
Maintaining brand consistency through customized plush toys is paramount to reinforcing brand recognition and fostering a sense of trust and reliability among your audience. Consistency in design, messaging, and overall brand experience ensures that customers can identify and associate the plush toys with your brand, strengthening the brand-consumer relationship and solidifying your market presence.
Moreover, consistent branding across all promotional materials, including plush toys, instills a sense of reliability and professionalism, positioning your business as a reputable and trustworthy entity in the eyes of your customers. This consistency enhances the brand and fosters a sense of familiarity, making customers more receptive to your brand's messaging and offerings.
Building Emotional Connections with Customers
During the holiday season, emotions run high, and plush toys are an exceptional medium for businesses to forge deep and lasting bonds with their customers. These cuddly companions have a unique ability to evoke feelings of warmth, joy, and nostalgia, triggering a sense of emotional resonance that transcends the realm of conventional marketing.
Custom plush toys have a remarkable emotional impact, eliciting a sense of delight and appreciation among recipients. Receiving a soft, lovable toy, especially during the holidays, can evoke a surge of positive emotions, creating a memorable experience associated with the brand. This emotional association forms the basis of a profound connection between the customer and the brand, fostering a sense of goodwill and gratitude long after the holiday season.
Moreover, the inherent sentimental value of plush toys cultivates a sense of attachment and companionship, positioning the brand as more than just a provider of goods or services. These plush toys become cherished companions, accompanying customers through various life stages and serving as tangible reminders of the positive experiences associated with the brand.
Building emotional connections through plush toys during the holiday season lays the foundation for cultivating long-term customer relationships and fostering brand loyalty. The joy and happiness associated with these promotional items create a positive brand perception, encouraging customers to develop a sense of trust and affinity towards the brand.
Over time, this emotional bond translates into sustained customer loyalty, as customers are more inclined to choose a brand that has contributed to their moments of happiness and warmth. By fostering a sense of emotional attachment and belonging, businesses can create a community of loyal customers who continue to engage with the brand and become advocates, spreading positive word-of-mouth and bolstering the brand's reputation and market presence.
Maximizing Brand Exposure through Plush Toy Distribution
Maximizing brand exposure through strategic plush toy distribution requires a thoughtful approach that leverages various channels to ensure widespread visibility and impact. By implementing targeted strategies, businesses can amplify their brand message and foster a memorable connection with their audience during the holiday season.
One key strategy is to incorporate custom plush toys as part of promotional giveaways or contests on social media platforms. Hosting engaging competitions or interactive campaigns that involve the distribution of these plush toys not only generates excitement among participants but also encourages social sharing, thereby expanding the reach to a broader audience.
Additionally, partnering with complementary businesses or influencers to co-brand and distribute these plush toys can significantly enhance brand exposure. Collaborative efforts that involve cross-promotions and joint marketing initiatives can tap into each partner's respective audience, facilitating outreach and maximizing the visibility of the brand and its offerings.
Integrating plush toys into holiday-themed events, both offline and online, presents another valuable opportunity for brand exposure. Organizing festive gatherings, pop-up shops, or virtual celebrations that feature these custom plush toys as exclusive giveaways or souvenirs can create a buzz around the brand, prompting attendees to engage with and share their experiences, thereby increasing the brand's visibility within their social circles.
Moreover, embedding plush toys within the packaging of holiday-specific products or as complimentary gifts with purchases can serve as a delightful surprise for customers, leaving a lasting impression and encouraging repeat business. This strategic placement enhances the value and reinforces the brand's commitment to delivering a memorable and delightful customer experience.
Furthermore, incorporating these plush toys into creative storytelling and multimedia content, such as engaging video campaigns or interactive digital advertisements, can captivate audiences and elevate brand exposure. By integrating these endearing characters into narratives that resonate with the holiday spirit, businesses can establish a genuine emotional connection with their customers, fostering a sense of loyalty and affinity towards the brand.
Return on investment and the long-term benefits of using custom plush toys
Analyzing the return on investment (ROI) and the long-term benefits of using custom plush toys as part of a promotional strategy during the holiday season is crucial for businesses. While the initial investment may entail costs to design, production, and distribution, the potential long-term benefits can outweigh these expenses, resulting in a significant ROI and a host of enduring advantages.
Brand Recognition and Recall:

Their unique designs and memorable characteristics can significantly enhance brand recognition and recall. As these plush toys resonate with customers long after the holiday season, they serve as constant reminders of the brand, fostering a lasting connection and increasing the likelihood of repeat business.

Customer Engagement and Loyalty:

The emotional connection fostered through the distribution of custom plush toys can lead to heightened customer engagement and loyalty. Customers develop an affinity for the brand through these endearing promotional items. They are more inclined to remain loyal, contributing to increased customer retention and sustained business growth.

Word-of-Mouth Marketing:

The impact of custom plush toys often transcends the initial recipients as they share these cherished items with friends, family, and even across social media platforms. This organic word-of-mouth marketing can exponentially expand brand visibility and attract new customers, amplifying the reach and impact of the promotional campaign.

Positive Brand Association:

The positive emotions evoked by these plush toys are intricately tied to the brand, resulting in a favorable brand association. This association cultivates a sense of trust and reliability, positioning the brand as a preferred choice among consumers, ultimately translating into increased sales and sustained market presence.

Enhanced Customer Experience:

Incorporating custom plush toys into the customer experience during the holiday season elevates the brand's perception. By providing customers with a tangible and memorable token of appreciation, businesses can create a unique and delightful experience that fosters customer satisfaction and encourages ongoing engagement with the brand.

Measurable Impact on Sales:

Tracking the impact of custom plush toy promotions on sales figures and customer acquisition can provide valuable insights into the direct correlation between the promotional strategy and business growth. By analyzing the sales data and customer feedback, businesses can understand the tangible impact of these promotional efforts on the bottom line.
Promote with custom plushies: 
Custom plush toys, as a part of your holiday promotional strategy, can yield remarkable benefits, fostering emotional connections, amplifying brand visibility, and cultivating long-term customer loyalty. The unique and endearing nature is a powerful catalyst for creating a memorable brand experience that resonates far beyond the festive season.
With EverLighten, you can take your brand promotion to the next level. Our services offer:
100% Customization:

Tailor your plush toys to reflect your brand's identity and message.

100% Quality Check:

Every plush toy undergoes rigorous quality checks to ensure premium standards.

Free Design Help:

Benefit from our expert design assistance to create captivating and unique plush toy designs.

Worldwide Shipping:

Reach your global audience seamlessly with our reliable worldwide shipping services.

24*7 Customer Service:

Our dedicated customer service team is available round the clock to address any inquiries or concerns you may have.
Elevate your brand's presence this holiday season and create lasting impressions with our personalized and high-quality custom plush toys. Connect with EverLighten today to unlock the potential of unforgettable brand promotion.
FAQs: 
What is the importance of a plush toy?
Plush toys are crucial for many reasons. They can provide comfort and support, help to reduce stress and anxiety, improve mood and promote relaxation, develop social skills and empathy, improve cognitive skills and creativity, and provide a sense of security and belonging.
Why do humans like plush toys?
Humans like plush toys for a variety of reasons. They are soft and cuddly, which can be calming. They can also represent different things, such as childhood memories, loved ones, or emotions. Additionally, plush toys can be simply fun to play with and collect.
Why do stuffed animals make you happy?
Stuffed animals can make you happy for some reason. They can trigger feelings of nostalgia and happiness from childhood. They can also provide comfort and security, especially during difficult times. Additionally, stuffed animals can be cute and heartwarming.