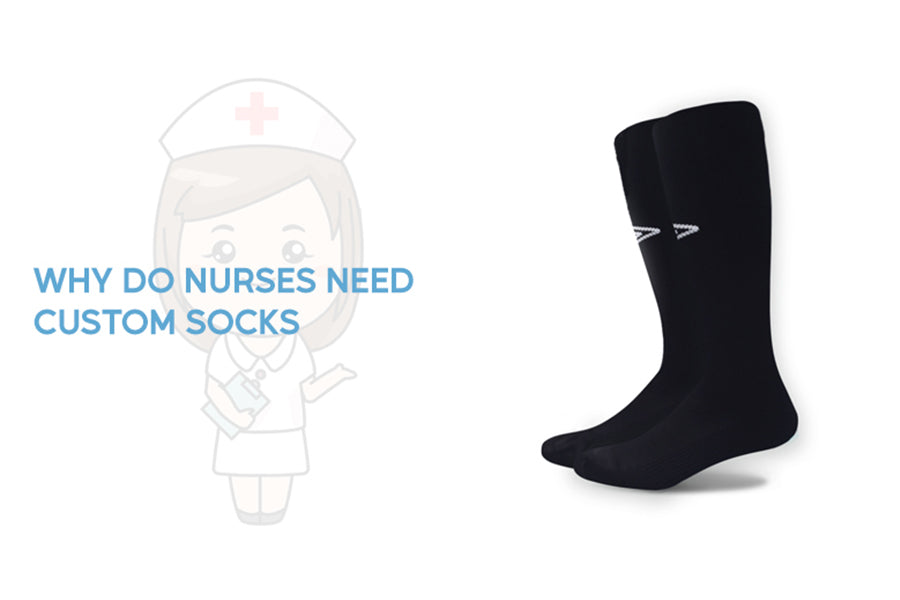 One of the noblest and most dynamic professions since the dawn of time is the nurse. It ranges from home health care to administration and management. They care for us when we need medical attention and are the front line of defense against emergencies. However, being a nurse is one of the most strenuous jobs. It was evident during the pandemic; nurses were working 16-18 hours. But, long shifts are not uncommon for nurses. Even on their regular work days, they work for 9-12 hours. Most of the time, they stand or move; it causes leg cramps, muscle fatigue, tiredness, and sore calves, ankles, and feet. They are also at high risk of developing varicose veins in their legs and calves - not to forget many other chronic issues. Fortunately, there is a solution - custom compression socks. They work on two levels: to improve blood circulation to reduce the problem and help to promote your brand. Let's start.
The importance of nurses in our lives:
Nurses are underappreciated heroes of our healthcare system. According to industry studies, they provide over 90% of the healthcare worldwide. But, we do not think about or thank them often.
Stressful work:As mentioned above, nurses work long hours; it is very stressful, especially during emergencies. They do tasks few can perform, including birth, taking care of newborns, etc., that require a lot of physical and mental effort. It is one thing to do for a day or two and another, day in and day out.
Emotionally draining: Nurses see people with different issues in their daily work, from accidents to operations and everything in between. It takes a lot of willpower and mental effort to help people deal with those issues; it can be mentally fatiguing.
Jack of all trades:Nurses need to have a bit of knowledge about everything. They need to learn as much as possible to help every patient coming through the door. It becomes challenging to perform the duty and learn about various issues.
Help people with their bodily functions:Nurses not only help people with their issues but also help them with bodily functions. It is a very challenging task.  
Taking care of people in their last minutes:They help deal with various issues, including death. It is one of the most gut-wrenching moments. They help patients and family members to deal with it.
They are there for us:Nurses work insanely long shifts, and they are always there for people. Often, doctors do not have time to interact with patients apart from reading charts and writing prescriptions. Nurses take care of treatment plans and assist people.
Unappreciated:Nurses are the heart and soul of the health care system, yet they are thankless. They have to deal with comments like it is their duty, they are just a nurse, etc.  
Now, you know their importance. Let us show some stats to help you understand the issues they face.
The country is facing a shortage of 1.1 million nurses.
85% of hospitals report that the demand for registered nurses is far greater than the supply.
5% of new nurses leave their job within the first year because of long hours and stress.
Shortage, long working hours, and stress cause errors, higher morbidity, and mortality rates.
Registered nurses experience more workplace injuries than construction workers because of fatigue.
How can custom compression socks help nurses?
As the name suggests, custom compression socks are unique socks that compress the legs. These socks help deal with medical conditions by improving proper blood circulation. You can create them to be a part of the uniform that will help with long-term health, fatigue, and branding.
Nurses are on their feet for long hours and risk developing blood circulation issues, sore feet, swollen ankles, etc. Custom compression socks help reduce the problems by helping with proper blood circulation. It can give them the boost they need to finish a long shift by reducing tiredness.
Custom compression socks massage the calves, ankles, and feet with optimal pressure to make them feel comfortable throughout the day. They help the tired muscles recover faster and reduce the aches they endure during work. Since they promote better circulation, they enhance the oxygen in the blood. It helps them have more stamina, energy, and alertness. It helps to reduce accidents.
Nurses stand for long periods and are more susceptible to varicose veins. Custom compression socks help prevent the issue by stopping the veins from enlarging.
It helps nurses whose legs swell after a long day of work. It reduces chronic issues like fatigue, aches, etc.
Wearing them can make a tremendous difference to their health.
Nurses will feel appreciated after receiving logo socks; they are helpful products that can make an enormous difference in their lives.
It is challenging to find socks matching the uniforms; customizing them solves the issue.
Tips for choosing custom compression socks for nurses:
Custom compression socks come in a variety of pressure levels. We measure the compression levels in millimeters of Mercury (mmHg) - the same as assessing blood pressure. The compression level range from 15 to 20 mmHg to 40-50 mmHg; some rare conditions require extra compression.
Light compression: The level of compression is 8-15 mmHg and is helpful for nurses who move often and do not have chronic issues.
Medium compression:The compression level is 15-30 mmHg and is helpful to improve circulation without feeling too tight.
Medical grade:They have high compression compared to the above types.
Class I firm compression: the compression level is 20-30 mmHg and is helpful for nurses with swollen legs and varicose veins.
Class II firm compression:has 30-40 mmHg and is for nurses with symptoms like edema, lymphedema, blood clots, severe varicose veins, etc.
| | | | | | |
| --- | --- | --- | --- | --- | --- |
| Compression level | 8-15 mmHg | 15-20 mmHg | 20-30 mmHg | 30-40 mmHg | 40-50 mmHg |
| Medical classification |   |   | Class I | Class II | Class III |
| Stocking class | Light | Medium | Firm | X-firm | XX-firm |
| Compression options | Uniform | Uniform or graduated | Uniform or graduated | Uniform or graduated | Uniform |
| Knitting Options | Flat knit or circular | Flat knit or circular | Flat knit or circular | Flat Knit | Flat Knit |
How to make the most of custom compression socks?
Make sure it is smooth: Ensure the socks are not cuffed or wrinkled to provide the proper compression. Cuffs can cause rubbing or chaffing against the skin and cut off circulation.
Proper size: To work effectively, they need to fit snuggly. Before customizing, ensure to get everyone's calves, ankles, and feet sizes.
Timing: To get the most out of them, you should wear them from morning until bedtime.
Creating the proper custom socks:
Wearing the right socks is necessary to prevent serious health issues and perform better at work without pain, stiffness, swelling, etc. The key is customizing the right socks with precise compression and materials. There are many manufacturers, but designing the perfect compression socks takes years of expertise and experience. They must be comfortable, lightweight, and soft so nurses can wear them the whole day. EverLighten has helped hospitals, nonprofits, nursing associations, etc., for over eighteen years.
Justine Arechiga, director of Nurses at Bundle Birth, South California, works in obstetrics. They are constantly working overtime to help deliver. They understand that nurses play a big part in making or breaking the birth experience and cannot allow fatigue to come in between their work. She wants to empower nurses and contacted several manufacturers to create
custom compression socks
with their logos. However, suppliers either turned them down or did not like the quality. Finally, they communicated with EverLighten after going through the positive reviews on Trustpilot and social media. Our team provided help and advice for the design, size, materials, compression levels, and packaging. After a few changes to the samples, we delivered high-quality socks. Justine was 100% satisfied and gave us five-star ratings thanking our hard work.
Appreciate nurses with EverLighten:
Best pricing: We are a factory producing custom socks, not intermediaries, ensuring customers always get the best prices.
Quality in every product: We use high-quality materials and the latest techniques to produce socks.
Fast turnaround time: We manufacture every order in the quickest time possible.
24*7 support: Customers can contact us 24*7 for their query resolution; we reply within half an hour.
Real people, fantastic service: EverLighten loves helping; we offer various options for every product.
Designs to impress: Your socks will look as you imagined with help from in-house designers.  
No minimum order requirement: You can order any number of items you need; we accept every order without a minimum limit.
Worldwide shipping: we deliver worldwide, and customers can track their orders online with an order tracking tool.