custom keychains
Marketing for architects_ Why custom keychains are perfect for elevating your small firm
|
Sep, 23 , 22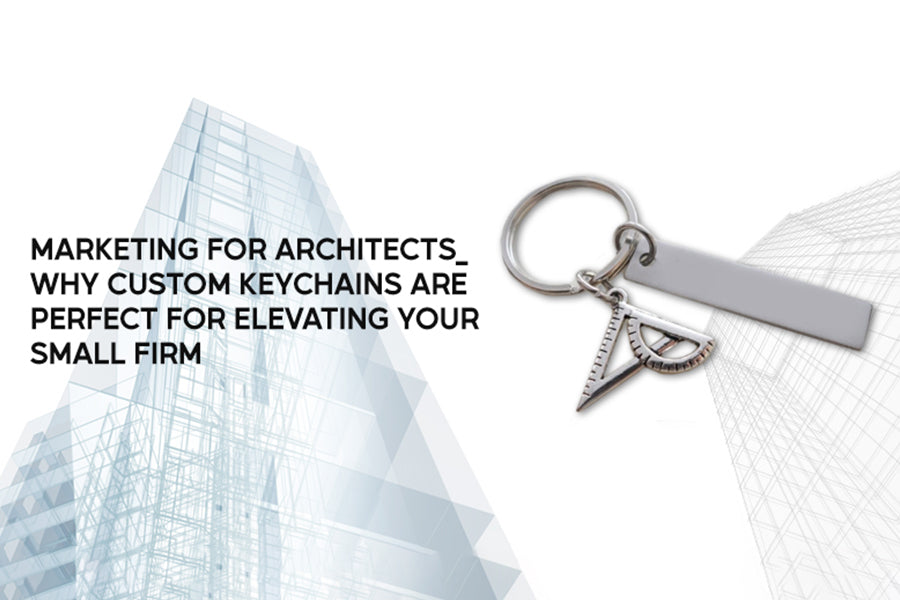 The overwhelming number of architecture firms in the US are small businesses, with over 60% having less than five employees. Most of these firms do not have a big budget or enough staff for marketing. They must be intelligent and strategic to spread the word and bring new gigs. The competition is stiff from new and large firms in the field. You need to take several things into account when marketing architectural services. The role of promotional products becomes vital. Without a relevant product, you won't be able to connect with prospects. How do you create the best products on a small budget? Consider custom keychains - they are suitable for promoting your firm. Let us find out.
According to the Promotional Product Association's survey,
custom keychains
 influence customers. The survey result will amaze you with the power to entice customers to a business.
76% of recipients of promotional keychains can recall the advertisers and their business. The result is surprising as other marketing means cannot get such incredible results.
The survey found that only 53.5% of customers could recall the business after receiving business cards. You can understand how crucial they are to marketers and organizations.
It found that giving out promotional keychains with a business card resulted in 500% more referrals.
The survey displayed that 76.3% of receivers had a favorable attitude toward the company.
People keep the promotional keychains for six months to four years. Distributing them one time can keep prospects engaged with your firm for a long time.
Reasons to use custom keychains:
Practical:custom keychains help keep keys safe and organized. They provide value to people's lives, unlike other products and ads.
Durable: Custom keychains are durable, and people keep them for a long-time. So, the chances of making your architect ingrained in people's subconscious are high.
Stylish:The manufacturing process of custom keychains has come a long way. Today, they are not plain and boring. You can find multifunctional and high-quality keychains at budget prices, like bottle openers, mobile stands, flashlights, etc. Thus you can create keychains to fit any occasion or niche.
Establishes identity:Custom keychains bring a lot of visibility and a sense of connection toward givers. Add your logo, message, or design to complement your architectural firm. Being a functional accessory, they also give them a chance to take your brand identity wherever they go.
Variety: Choose from various models that range from leather, metal, plastic, acrylic, etc., to take your branding to the next level.
Memorable:Create high-quality custom keychains with brand packaging to make the experience unique. They are lovely to connect with big clients and vendors in the industry.
Economical:Custom keychains are low-cost investments that will provide exponential ROIs. Besides, you can get better prices by ordering in bulk.
Tips:
Look at making a long-term relationship with prospects:Architect services are not something people need regularly. For example, designing the first retail store for an emerging clothing brand could provide a large account and repeat work. Understand and categorize the market according to its lifetime value.
Low repeatable volume, small account size:For example, residential homeowners and retail owners.
Low repeatable volume, large account size: For example, residential homeowners.
Repeatable volume, large account size:For example, residential developer, commercial office, education, etc.
Highly repeatable volume, large account size: For example, retail rollouts, commercial developers, etc.  
Your clients will fall under one of the above categories. Create the promotional keychains accordingly.
Leverage social media:It is a strategy that most architects are slow to adopt, thinking it is not for them. However, social media is not a fad; it can net real clients. People talk about their issues, and you should provide value to the conversation. Create a community and use custom keychains and other products to lure more people. You never know who can contact you for the next job.
Build trust in your brand: Invest your limited marketing budget in creating a high-quality website and promotional keychains. Ensure to design it with your clients in mind. Most of their websites look like they are for other architects but cannot connect to prospects. Provide the information to your website or use QR codes to send receivers to the site.
Sharpen your networking skills:marketing is about connecting with prospects and planting your firm's name in their minds. Visit trade shows, conferences, events, etc., and do not forget to give your business card along with the custom keychain. Use high-quality packaging or gift boxes. It will help to make an impression, and people will take you seriously. Relationships are the vehicle for all business endeavors; cultivate them.
Use newsletters to keep prospects in the loop:As mentioned, architectural business is not something people need regularly. The sales cycle can be long, and you want to keep people in the loop. Send out regular newsletters and promotional keychains to keep you top of mind. When someone needs an architect, they should be able to recall your name instantly.
Become involved in the community:online and other marketing mediums are well and good, but they do not come close to the returns you will receive by participating in community work. Reach out to local nonprofits, schools, etc., to find out if they need any architectural service. For example, to help with classrooms, playgrounds, or shelters for the homeless. Use custom keychains to raise funds for projecting goodwill.
Keep current clients happy:Getting new clients is five-seven times more expensive and challenging. The difficulty level increases manifolds for architect services. Keeping your existing clients satisfied is the best way to get additional work. Thank your clients with high-quality custom keychains for their work. A thoughtful small product goes a long way to maintain a relationship. Remember: word-of-the-mouth is the most powerful marketing tool for architects.
Final thoughts:
You now know everything about using promotional keychains for architects. Hopefully, you will use the information to put it into practice and get more jobs. All you need is to build high-quality custom keychains by connecting with a reliable and expert manufacturer like EverLigten. They have helped startups, large companies, restaurants, and realtors for eighteen years.
Michael Carney is a realtor in Columbus, NJ, and helps assist buyers and sellers in marketing and purchasing properties. He was looking to develop his brand name in the industry and contacted EverLighten. Our team helped him create custom keychains for clients and prospects. It helped him reach more people without spending much.
https://web.facebook.com/MichaelCarneyRealEstate/
The EverLighten difference: 
Best pricing: We are a factory producing custom keychains, not intermediaries, ensuring customers always get the best prices.
Quality in every product: We use high-quality materials and the latest techniques to produce keychains.
Fast turnaround time: We manufacture every order in the quickest time possible.
24*7 support: Customers can contact us 24*7 for their query resolution; we reply within half an hour.
Real people, fantastic service: EverLighten loves helping; we offer various options for every product.
Designs to impress: Your keychains will look as you imagined with help from in-house designers.  
No minimum order requirement: You can order any number of keychains you need; we accept every order without a minimum limit.
Worldwide shipping: we deliver worldwide, and customers can track their orders online with an order tracking tool.