Why custom socks can promote your business?
|
Mar, 28 , 21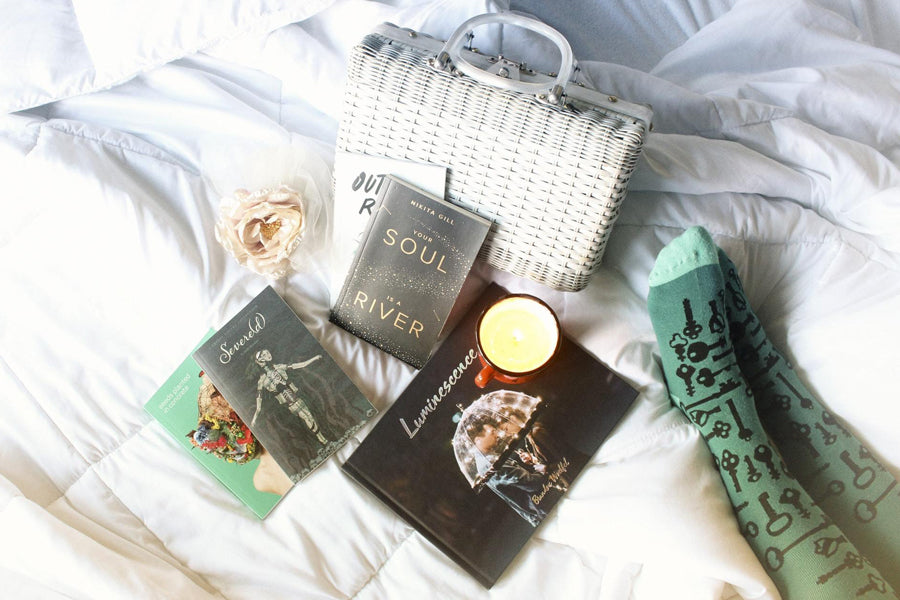 Not many brands have considered using custom socks to promote their brand. In this article, we will tell you why custom branded socks can help you promote your business and how you should utilize them to present your brand in a trendy, unique, and fun way. We adore custom printed socks. They are very cool promotional products, and they warm your feet and give you cozy feels. So, let's begin knowing more about custom socks and their trends.

Trends of custom socks
The socks have become a cool novelty over the last few years. Quirky, bold, and bright socks are replacing the old-school dark and plain ones. People are displaying their personality through their choices of custom branded socks. They are high-on-demand because you choose everything about those custom dress socks, and that satisfies people. Over the years, there have been several trends in the industry, and it constantly changes. So, today we will check out those popular trends which people loved and ordered.

Sporty Socks
Your customer is going out to see the baseball game and support his favorite by dressing up as a player. He has other promotional products offered by the team's merchandise but wants to purchase socks. Here, you come into the big picture. You can specially design custom socks with logos for all the passionate fans around the world. There are many sports and many teams. You can create plenty of custom athletics socks that will sell like a hot cake when a league game happens. You can also manufacture custom face socks by printing the most popular players from different sports, as fans would love to purchase custom printed socks which has their favorite player's face on them. If your product gets noticed on the ground, then other fans will get attracted to your products, and you may pull a new wave of customers.

Socks for special occasions
Valentine's Day is just around the corner, and you may want to surprise your partner uniquely. Your brand can design custom socks with logos and print special messages for the same. From birthdays to anniversaries, you can turn any event into a memorable one by gifting your loved ones custom printed socks that they will love to wear.

Socks for campaign merchandising
This generation likes to show support for noble causes and campaigns. They will show their support in any way they can. Sensitive matters such as mental health awareness and political activism have taken social media by storm, and this has led to the development of awareness merchandise. Custom socks can become a great medium for activism. You can design custom branded socks with messages and quotes that support the cause. It may help you build authenticity around your brand, and people may look at your brand as revolutionaries and not just usual business people.

Socks for a niche audience
Famous movie series like Star Trek, Star Wars, celebrated cartoon characters like Pokemon, Pikachu, Dexter, movies of Quentin Tarantino and Spielberg, what do they have in common? A niche fan following. For many years, anime characters and Sci-Fi films have been brought to life at different conventions around the world. Marvel, DC, and Comic-Con have an impressive fan following among all of them. As an online entrepreneur, you should not miss this opportunity to target these types of niche audiences. You better manufacture custom printed socks, custom socks with logos, custom face socks, custom dress socks, custom branded socks for this type of niche audience, who will allow you to reach various horizons. The endless possibilities can take you to places around the world.

Personality socks
You can wear happy socks on any day. It doesn't have to be a special occasion. Creative, colorful, bold socks will up the ante every day. You can wear custom printed socks with your favorite items or products or quotes printed on them. It just gives you a unique identity among other people.
So, which type of socks would you like to wear? Come on; let us check a few of the options with custom socks.

What are your options with custom socks?
The success of the promotional product lies in the usefulness of it. There are various designs and styles available for different types of people. You have to decide what kinds of custom socks you will like to sell. Long or short, custom athletics socks, custom compression socks, custom branded socks, custom dress socks, custom face socks, or any other types of socks.
 
It will make perfect sense if a sporting brand offers great custom athletics socks to their customers. Custom athletics socks usually consist of:
Extra length
Durable fabric, specially designed to bear all difficult physical activity
Comfortable material
People who have a white-collar job or those who work at corporate may need business socks which they can use on daily basis. Nowadays, you don't even have to match your
custom branded socks
with your clothes. It is cool if your socks catch more attention than your clothes. Business socks usually consist of:
Medium to long length
High-quality and very comfortable material
Light and stretchy
For regular people, there is another style of socks available, which is called casual socks. The majority of people use this kind of socks, and they are found to have:
Lengths from 'no-show' and ankle to crew style or tube socks
The balanced thickness and right fabric for day to day comfort and durability
 
Different people have different choices, and if you want to run a successful socks business, then you may have to keep track of which styles seem to be loved by your audience and follow the trends to keep on changing your products to attract new customers in the future.

How promotional socks are created?
You can quickly design a sock that is appealing to consumers and unique to your brand by using custom sock configurations.
Choose from the wide selection of types and styles of custom socks with logo. After picking a sock that meets your requirement, upload the brand image and then choose from the available placement and color options.
After designing the custom socks, you have to decide the quantity of your order. Take note that the more you order, the lesser you have to pay for the pair of socks.
Before placing an order, you will be provided a preview image of your design. Once you finalize the look of your custom socks, the replica of that design will arrive at your doorstep.
How custom promotional merchandising can increase customer sales?
Promotional products and merchandising of the socks increase customer sales due to the following reasons:
Product visibility
Customers can easily see your product through the plastic packaging. The customization option can allow them to make necessary changes as per their liking, which encourages them to purchase the product.
Product desirability
When customers see your promotional products and notice how beautifully placed, clean-cut your complementary products are, they get impressed. Therefore, their desirability to purchase your product also increases.
Customer engagement
Sample custom compression socks, custom printed socks as promotional products give your customers the look and feel they want. Shoppers can make assumptions about your products through them, which builds credibility. Therefore, your customer's confidence increases to make a purchase.

9 ways to use custom socks to promote your business
Here, we will learn the 9 innovative ways to promote your brand with custom socks.

Trade shows
You can distribute your range of custom socks like custom athletics socks, custom socks with logo, custom branded socks, custom dress socks, custom printed socks, custom face socks, or custom compression socks during trade shows. This is a direct way to promote your business as you are giving out samples to whoever meets you or visits your stall or booth as a guest.

Client meetings
When you meet a prospective customer, then giving them a thoughtful gift can be a good option. Customized product will be a good option for that, which promotes your service as well.

Giveaway as prizes for social media contests
Social media contests are a fun way to promote your brand, and you get a lot of customer engagement on that as everyone loves free things. You can take this as an opportunity and give away your custom socks with a logo, custom branded socks, or custom printed socks as prizes.

Event token
Whenever you organize a promotional event for your brand, you can hand out the custom socks as a token. They are the most useful promotional products. Therefore, giving them away will be a wise option. Whenever they use them, they will remember your brand or business.

Sponsored events
Another opportunity to promote your business using custom socks is when you sponsor an event. The attendees will see your logo at the event's collaterals, but it is always better to be present at the event, set up your brand's booth, and distribute a few custom branded socks, custom printed socks, or custom socks with a logo, so they can recall your brand and know more about your business.

Pair them with custom clothing or other freebies
You can pair custom socks with other customized clothing like a custom t-shirt or custom hoodie. You can also think of giving something else as a freebie like a keychain or a photo frame as people will more than appreciate your gesture of giving them more than two products for free and motivate as well to purchase from you.

Gift as per the market
You should give away promotional products keeping the market, event, or occasion in mind. When you are sponsoring a sports event, then handing out custom athletics socks will be a good option. If you are at the corporate event, then custom socks with logo or custom branded socks will be more impactful. This way, people will notice the effort, which will help to build credibility for your business.

Gift your customers
Gifting promotional products to your loyal customers is a good idea. It may help your business in customer retention. Rewarding your customer with your product is productive thinking. You can also try giving away your products to inactive customers to recapture their business. Send them free custom socks with a logo to renew their relationship with your business by showing how much you value them.

Give gifts to your employees
You should gift your staff a pair of custom socks as they are the biggest ambassadors of your brand, and they will wear them with pride and promote your business wherever they go.
Custom socks are the most versatile promotional products to market your brand. You should try the above-mentioned ways to promote your business with custom socks and let us know if you have other ideas as well. If you want to purchase a good pair of custom socks, then choose EverLighten as we have a vast collection of custom athletics socks, custom branded socks, custom dress socks, custom face socks, and custom compression socks. To check our products visit www.everlighten.com