Tips for choosing right options for custom embroidered patches
|
Mar, 30 , 21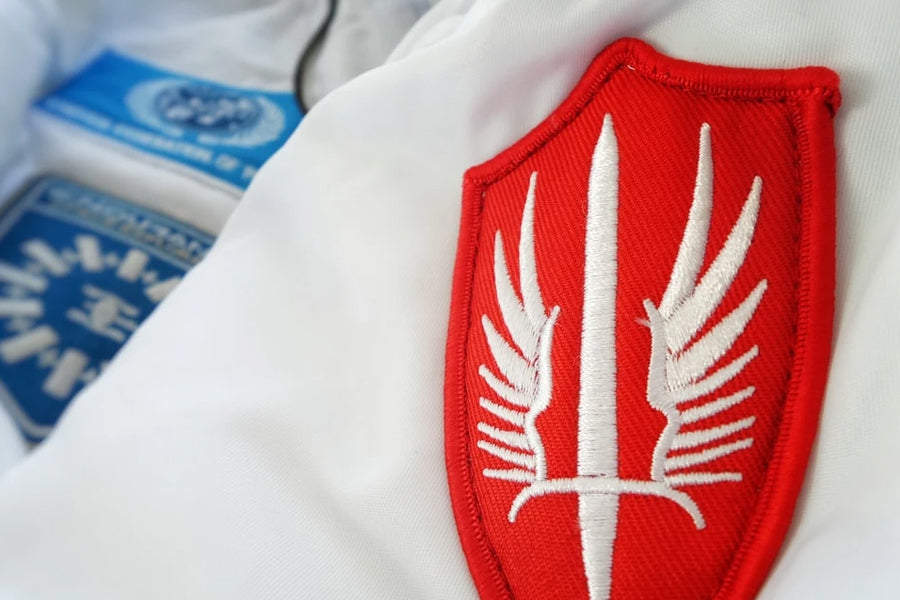 You may have noticed people wearing ripped jeans with custom embroidered patches. It catches your attention as it looks cool, trendy, and stylish. Seeing those people wearing garments with innovative custom patches, you may have wondered where you can find something like that. They are comfortably available on the internet, but a little research will not do any harm. Here are some tips that will help you choose the correct options for custom embroidered patches.

Choosing the right backing for your custom embroidered patches
Many brands have adopted a marketing strategy that involves promotion through custom patches. They are considered to be stylish fashion statements. From jackets to backpacks, every garment having custom embroidered name patches or custom patches stands out in the crowd. However, when you think about custom patches, you should choose the proper backing for them. With a few details or research, you can make an informed decision while picking the assistance for custom embroidered patches.

Paper backing
If you add paper backing to the twill, then it will provide you the strength and definition you are looking for in your custom embroidered patches iron-on garments. Paper backing gives the custom patches stability and the inability to adapt after sewing. It is used in service industries to provide something durable. It seals the entire back of custom embroidered patches, then gets sewn onto garments.

Iron-on
Iron-on backing allows simple attachment of custom embroidered patches. If you want a more reliable and long-lasting solution, then iron-on method is effective to hold patches while you sew them onto a garment. They are best for non-stretchable fabrics and garments.

Adhesive
The adhesive backing is more a temporary solution than an effective one. It is best suited for short-term use, like one-time events such as concerts or festivals. Adhesive backing provides a secure hold for custom embroidered name patches or custom patches and boosts your style quotient. Just peel and stick, and your fabric or garment is ready to rock any event.

Velcro
It is the best backing solution when you need your custom patches to be easily removed and reapplied. It allows you to remove custom embroidered patches before laundering garments, adding durability to the custom patches. It is popular with military units.

Choose the right borders for custom embroidered patches
The border is essential to custom embroidered patch designs. Most customers overlook them while designing. So, let's understand how they make your custom patches elegant and how to choose the right borders for custom embroidered patches.

Merrowed border
A merrowed border is a classic border applied to the edge of the border of the patch by a special merrowed border machine. To create such a border, merrow makes special overlockers, and therefore, they are named merrowed border. They look classy and beautiful, and there are no thin edges in a merrowed border.

Hot cut border
Hot cut borders are the most commonly used borders as they are simple to implement. This type of border looks amazing on custom patches. The custom patch gets cut by scissors or laser to create such a border. Hot cut borders provide different thicknesses. You can complicate borders a bit by using threads of the same colors used in custom embroidered patches. Few manufacturers and suppliers perform special heat treatment to prevent borders from becoming fluffy or unraveled while being used.

Embroidered border
Embroidered borders look beautiful with contemporary designs as it gives perfect finishing and elegant appearance. Embroidered borders will enhance the overall beauty of your custom patches. Several suppliers use these types of borders to create high-end custom embroidered patches.

Frayed edges
Have you ever seen the material outside of the border frays? They are frayed edges. Some manufacturers and suppliers use laser-cut machines to cut custom patches, and sometimes you still see some material on the edges. You won't see them on 100% custom embroidered patches. Several customers like this kind of look as it gives them a more vintage and rugged look.

Choose right thread for custom embroidered patches
Here, we take a closer look at the thread options to choose for custom embroidered patches. Let's check out the basics of selecting a thread to leave a lasting impression.

Metallic thread
Metallic threads achieve a vibrant effect that is similar to neon colors under the light. Gold and Silver metallic threads will glitter as if they are actual metal embedded in the design. It gives a rich look to your custom embroidered patch, and its glow will lighten up your garment.

Neon thread
Neon colors are loved by everyone, and therefore neon thread is the perfect option to make your custom patches' design shine in front of every other option available. The pink and yellow neon thread colors are especially good at making an impact.

Glow in the dark
You may have seen glowing green t-shirts at several parties. They gleam when the lights are out. Glow in the dark thread offers a similar kind of glow, but there are several options available for how they will look during the day. White and light green options deliver the best glow effect, and several glowing threads give you a pink or yellow glow during the daytime.

Puff embroidery
Puff embroidery is also known as 3D embroidery. You can achieve this effect by placing a piece of foam on a garment while doing embroidery. When you complete your embroidery, used foam remains expanded under stitching resulting in a 3D effect to the embroidered design. If you want to make your design pop from a garment or hat, then you can implement puff embroidery.

Button loop
Button loops are mostly seen on ready-to-wear tops and dresses in women's clothing. You can use soutache (pronounced as soo-tash) or elastic thread to make button loops. Some manufacturers also use fabric straps made with fabric strips or thin roulette fabric tubes created from bias tape.

Crystal thread
Just like its name, crystal thread shines like a crystal. So, if you any requirements to make your custom embroidered patch look like a crystal then you can try using crystal thread.