How to apply embroidered patches to hats or garments? | EverLighten
|
Mar, 23 , 21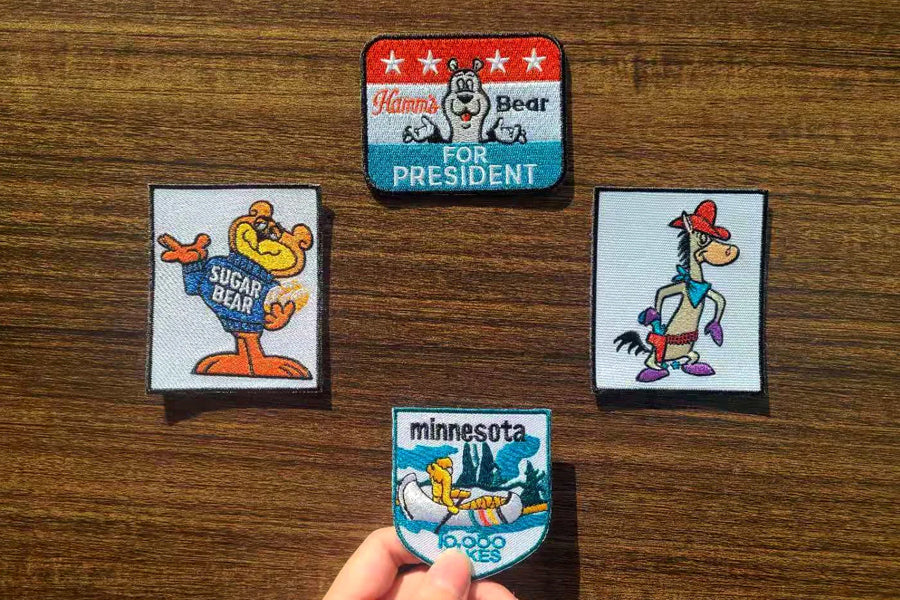 Custom embroidered patches on hats or garments serve various purposes. These custom patches or custom embroidered name patches provide uniqueness and effective brand placement. You may have seen custom embroidered patches on the sides of uniforms like military garments or sports teams. The process of applying custom patches is simple. Let's go through the different ways of applying custom embroidered patches to your garments or hats in detail below.


Heat seal backing

Many prefer patches with a 'heat seal' glue backing as it is a faster process. People who do not like to sew or do not know the process of sewing prefer heat seal glue backing as the knowledge of sewing is not required. Many choose to iron on

custom embroidered patches

and then sew them for better results. 
This method works well on firm fabric, but custom embroidered patches do not work on garments with high elasticity, and one should avoid applying custom patches to fabrics that can be damaged by heat. You should first test the material and then try a heat-sealing process to custom embroidered patches with no minimum restrictions.



Let's understand how to attach patches for hats or garments.





Preheat your garment to 325-400 degrees based on the type of your garment.
Place

custom embroidered patches

on the preheated garment and then heat-press the patch with medium pressure for 15 to 20 seconds. You can try flipping the garment over and do the same on the reverse side.

Do not let the custom patch move around the fabric before the glue hardens. If you let the custom embroidered patches move around, then the bond will not be as secure as it should be. After completing the process, put the garment or hat aside to cool it down.



Sewing

Sewing is still a well-known technique in the 21st century. It is also the most reliable way of attaching custom embroidered name patches, custom patches, custom patches for hats, or

custom embroidered patches

to any fabric. You can sew patches using your hands, an embroidery machine, or a sewing machine.





Sew patch by hand

Several people sew a patch by using their hands. It requires a lot of practice and patience to do that. You have to work hard to be good at hand sewing. If you want to apply custom embroidered patches to your hats or garment using this technique, then we recommend you hire an expert or trustworthy person who knows how to sew custom patches by hand.

Use a sewing machine


It is a little bit tricky when you attach a patch using a sewing machine. First, understand how to use a sewing machine and then apply a custom patch to a garment or hat. To do that effectively, you can pin the patch to the place where you want it to be attached and then operate the sewing machine at low speed to follow the edges of the patch precisely.



Use embroidery machine


Most embroidery machines work similarly. It is the most preferred technique to attach a patch to a garment or hat. These machines use special software to generate shapes, paths, and patterns. When you upload vectors via USB, embroidery machines process them and produce designs as per the uploaded vectors.



Glue

The effortless technique to apply custom embroidered name patches or custom patches is to squeeze a layer of glue on the backside of custom embroidered patches and then place it firmly on the custom hat or garment. Hold it for 30 seconds or more, and that's it. Your job is done.

But this easiness comes at a price. Gluing is a temporary solution as it may weaken your hat patches or garment's fabric and eventually rip them apart. It is not a permanent solution because it will not work on every material, especially slick ones.

Do not rely on this technique a lot, as glue may melt after a couple of washes. It is considered a quick-fix solution.



The best way: Heat seal and sew

It may become confusing to choose the right way to apply custom embroidered patches to your hats and garment if you are an amateur. It becomes complex when you are providing custom embroidered patches with no minimum orders as well. When you are unsure about sewing the patch or ironing custom patches, then the best you can do is to mix two methods. You can iron on custom embroidered patches and then fix them by sewing them into your hat or garment. This way, you will be making sure that your custom patches do not fall after multiple washes in the washing machine.

Experts recommend that you both heat seal and sew custom embroidered patches to the garment. The heat manages the shape and consistency whereas; sewing extends the life of your custom patch.



Applique embroidery sewing 

Firstly, let's understand the meaning of an applique.

Applique is a fabric design sewn with another fabric base. The word applique patches are used as a synonym for custom embroidered patches or woven patches. You can apply them by using an embroidery sewing machine. 

As per the Cambridge dictionary, 'applique' means a decorative work in which one piece of clothing is sewn or fixed with another. Therefore, the term also defines the technique of decorating fabric by sewing or embroidery directly over the garment. These can be used as a mere decorative element or as custom patches that help to hide stains, rips, scratches, stitches, and all sorts of other fabric damage. You can also apply a reverse applique patch. In that method, you sew a piece of fabric on the back side of your garment, which is reversed to the original applique embroidery sewing. After sewing, you cut the front side of your garment to display the pattern or design of the fabric sewn beneath. This way, a 'reverse applique patch' is created. People commonly use it to mask holes with a funky style. Over the years, youngsters have adopted this style and have flaunted it with pride.

You can also use this technique to apply custom embroidered patches to your hats and garments. Which method will you use to apply custom patches to your fabric and hats? Choose wisely!


Conclusion

Embroidered patches are in trend for both hats and garments. These are considered a symbol of fashion and style by the people, especially by the youth. We have explained several ways on how to attach a patch to a hat. Side patch-fitted hats and patches fitted on the pockets of garments are loved by people. 
For more ways to attach patches, and to design your own patches for your hats and garments, contact us. EverLighten is in the field of providing custom patches to customers for many years. Our team of experts brings forward fresh designs to cater to your specific needs in the least time and at competitive prices.


Learn why everlighten is the industry leader in Custom Embroidered Patches

Best pricing: We customize items in our factory, which helps customers to get the best prices.
Premium quality: Customers get custom products with the best materials, production, and packaging.
Fast delivery: our factory helps deliver orders in the quickest possible time.
Customer service: Customers can contact our support team anytime for their queries.
Customer-centric: We love helping every customer create their dream products.
100% customization: Customers can customize every aspect - materials, shape, sizes, colors, etc. - of their custom products.
Minimum order quantity: Customers can order as many as they need; EverLighten offers the lowest minimum limit in the industry.
Worldwide delivery:We deliver worldwide, and you can track the orders with an online tool.
For inquiries, ordering, and other information, please visit:
https://everlighten.com/products/custom-embroidered-patches


FAQs


What is the best fabric to embroider patches on?


Cotton fabric is the best to embroider the patches on. Cotton fabric gives a clean look to the patches and is easy to attach to your hats and garments.
What type of embroidery is used for hats?


Flat embroidery is considered to be one of the best types of hat embroidery. It gives space for variations and complex lettering in embroidery.
What is the best way to attach patches to clothes?


You can use glue or sew the patch to the garment. But the best way is to first paste it through glue and then sew it for durability.
What material do you use for hat patches?


Usually, 100% woven cotton is used for hat patches. But, if you need, any other material can also be used.
What is the best embroidery size for hats?


The best or standard size of embroidery for hats and beanies is 120.65 mm x 54.61 mm (4.75"x2. 15").