Custom Socks
What determine the quality of custom socks?
|
Jan, 27 , 21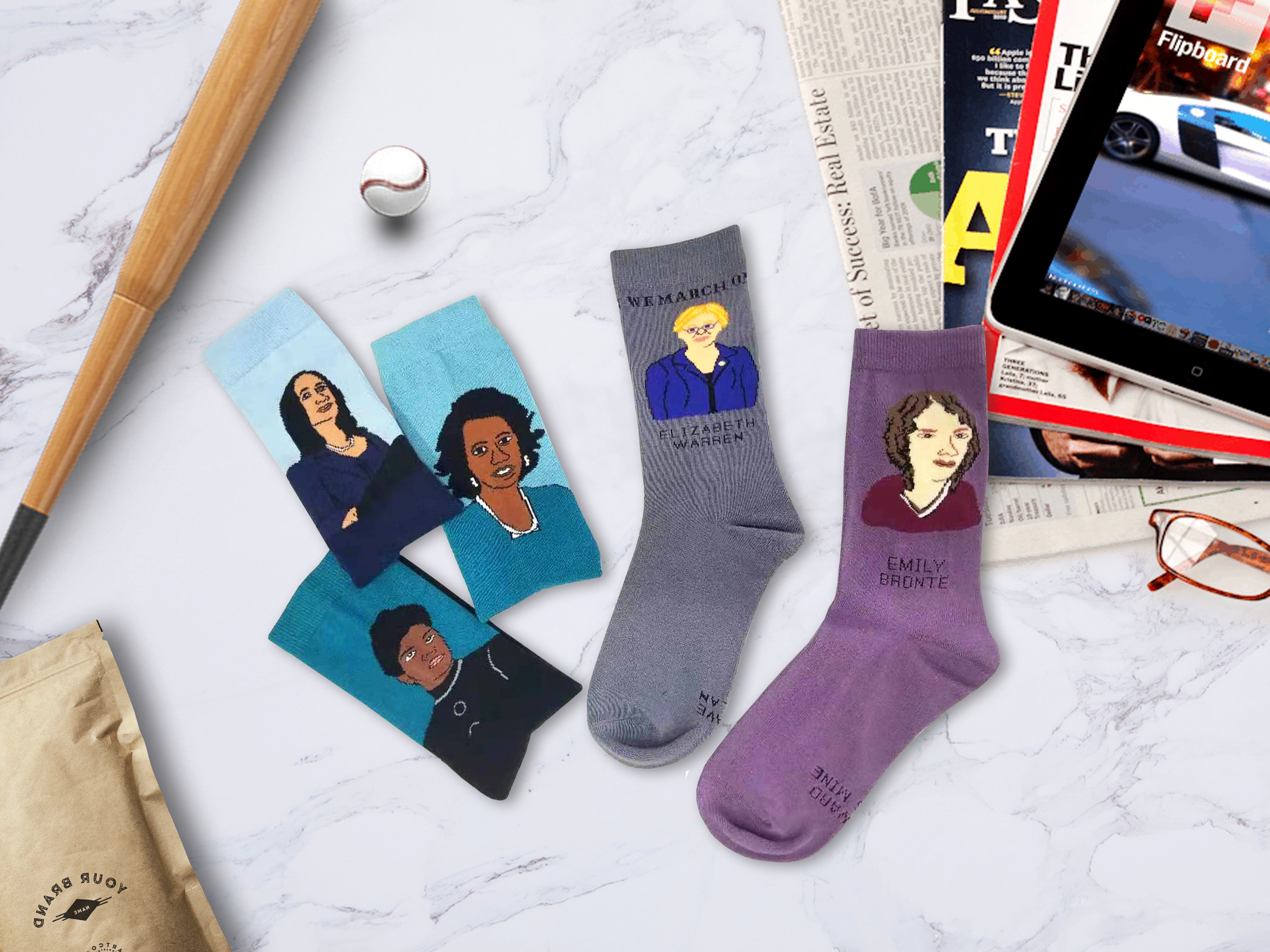 Socks have been transformed into a more evolved version from general practical need. Earlier, people used to wear clothes while their feet sweat heavily, or there was a need to cover their legs, hair or absorb sweat. The sweating sometimes damages the expensive outer footwear too. Thus, one can conclude that socks extend the life of our shoes as well.
The quality of socks is not determined only by their ability to absorb sweat but also through the process of wicking. This process allows socks to distribute moisture through the material toward the outer surface. It is a very salient process to keep your feet dry as sweat evaporates before smelly bacteria get the chance to start feeding on it.
The times have changed, so do the socks' needs. People wear socks to fit in with a contemporary, well-dressed look. However, this trend is mostly for business-appropriate levels-of-formality, but people are becoming more fashion-conscious and wearing socks to meet their fashion needs.

 
Some factors for high quality socks
Most of the time, socks are stuck between sweaty feet and shoes underneath All-day long, we pull them, chafe them, and continuously stretch them. They are our companions while we walk, run or jog and at the end of the day, we throw them in our washing machine to clean it thoroughly. The whole process begins again on another day, and another day, the cycle keeps going for months and years, so how can we still ensure high-quality socks?
The manufacturers and suppliers have to take care of it. To become the perfect sock maker, they have to take many factors into consideration so that their customers feel satisfied after wearing them. Here, we will discuss some of the factors for high-quality socks.



Fit
Custom Socks' fitting depends on proper sizing, which is related to actual stretching and recovery. If your sock does not fit exactly, then your attention will continuously divert to your feet to pull up your loose socks or stretch your extra fit socks. This is the sock's most important performance characteristic. Below par fit and stretch results in substandard quality and performance shortcomings. 
You must have noticed that whenever you purchase the latest custom branded socks, they fit much better than socks that have been worn before or washed and dried several times. After every usage and washing, your custom socks will lose their initial fitting and grip; they will lose their elasticity after every use. Better socks will maintain elastic integrity and hardly pill or de-thread after many washes.

 


Comfort
While discussing the quality of custom printed socks, you can't miss out on comfort. If your socks are offering comfort with their shape, construction, and specialized materials; then be assured that you are wearing high-quality custom branded socks. Well-made custom socks are typically shaped like a human foot with a designated toe, heel, and arch. You have to make sure that your socks don't cause uncomfortable wrinkles on your feet, which can lead to blood circulation problems.
 
The other disadvantage of having socks that are not shaped like your foot is that they can become overly stretched in areas like the heel, ball, and toes, which lessens the cushioning benefits and sometimes creates a tight, restrictive section of the sock that causes discomfort. So, when you are determining the quality of custom printed socks, keep comfort at the top of the list.
Pilling
The quality assurance team has a tester who is designated to determine whether a fabric sample has a propensity to form pills on the surface. Pills are a form of entangled fibers in small balls attached to the surface of a fabric by anchor fiber. Many custom logo socks are manufactured with large, low-twist yarns for softness, and because many custom logo socks use fibers, they are most likely candidates for pill formation. Synthetic and wool fibers' high strengths make them more likely to pill, and the fibers serve as anchors for pill formation.
Colorfastness
Have you ever experienced that after every wash, your custom socks lose some of their colors? When players are on the field, they sweat heavily due to the hard work they put on the ground, and socks bear that sweat as well, but its effect may show on their custom athletic socks, custom baseball socks, or custom printed socks, you may witness a certain degree of color change after multiple washes. If you do not take good care of your promotional products, this may happen to those custom socks with logos as well. Colorfastness to laundering is tested by an accelerated method of three to five home laundering with detergent. Colorfastness to light is vital for socks as it will examine how much color will fade when the sample is exposed to the standard light source. It determines the color change or staining after home laundering or exposure to a certain light source.

 
Abrasion resistance
Testing for abrasion resistance is normal among socks as it determines how quickly your socks will wear out. It is understandable that if you move around more in your boots, then you will need to replace your socks quickly. Usually and historically, abrasion testing has not been very reliable, with limited repeatability. If you want to achieve better results, then you have to perform it with abrasion testers. For testing abrasion resistance, a circular specimen is cut from the sock where the ball of the footrests. After that, the garment is placed under a steelhead weight for a straight line rubbing motion. The test ends when a hole appears in the cut from the sock. The socks which last more in the machine are considered tough and robust. The abrasion resistance is affected by several factors like fibers, the structure of yarns, the construction and dimensions of the fabrics, and the type and kind of material used for manufacturing.
Design
After all of the factors mentioned above, you can finally think about how you want your socks to look. The design of your socks is crucial as well because the first impression depends on it. Everyone will see how your socks look first, and then they will pay attention to the fabric and crafting of them. So, when you are picking custom dress socks for special purposes like attending a function or going out for fun. It's more important that they look good. Plus, with so many design styles available, you will surely find a pair that has both the quality and the design you need.
 
With all of these factors keeping in mind, you will say goodbye to sweaty, itchy, or uncomfortable socks for good, and believe me, your feet will appreciate that.

 
Some of the options to consider when you buy custom socks
Purpose
You should purchase socks according to the occasion. If you are giving away custom socks as promotional products, you may need custom printed socks in bulk. Remember; always decide the objective before purchasing custom socks with the logo or any type of custom branded socks. After finalizing the purpose, select styles, custom design, and packaging as per that.
Audience
We all know that everyone wears socks, but if you consider the lifestyle of your audience and think about its usage, it may help you determine the best style and materials. Materials used in sports socks and casual socks will be different. Therefore, decide whether you opt for custom athletics socks, custom baseball socks, or regular custom printed socks.
 

Audience style match
As we all know, there are many styles and designs for custom socks, but you have to consider socks that suit your style the most. There will be many options available, from traditional to fashionable and trendy, but you have to select the socks as per your usefulness.

 
Comfort
It is ideal if your socks look good, but it is mandatory to have socks that feel good and comfortable while you walk, run, or jog. You should consider an ideal material, a choice of yarn that matches your intended use. The options can be many, including cotton, nylon, and spandex. Choose your comfort wisely.

 
Budget
After finalizing the style, the packaging, the material, the custom design, and overall the look and feel of your socks, you should check the costs. You should keep track of the cost of personalization, printing method, and level of customization, as they will impact the price of your end product. With all of this information, you can now find the best custom socks that look as per your choice yet manage to fit in your budget.
There are many factors involved that determine the quality of the socks, and after knowing about some of them, we are sure that you will make an informed decision while picking the best custom socks for you. If we are missing out on something or you think there are other factors that determine the quality of socks, then you can mention them in the comment section given below. Till then, determine the quality of socks as per the parameters shown in this article.
 
Have a socksy day, all of you!