Custom Socks
How to choose custom socks suppliers?
|
Jan, 25 , 21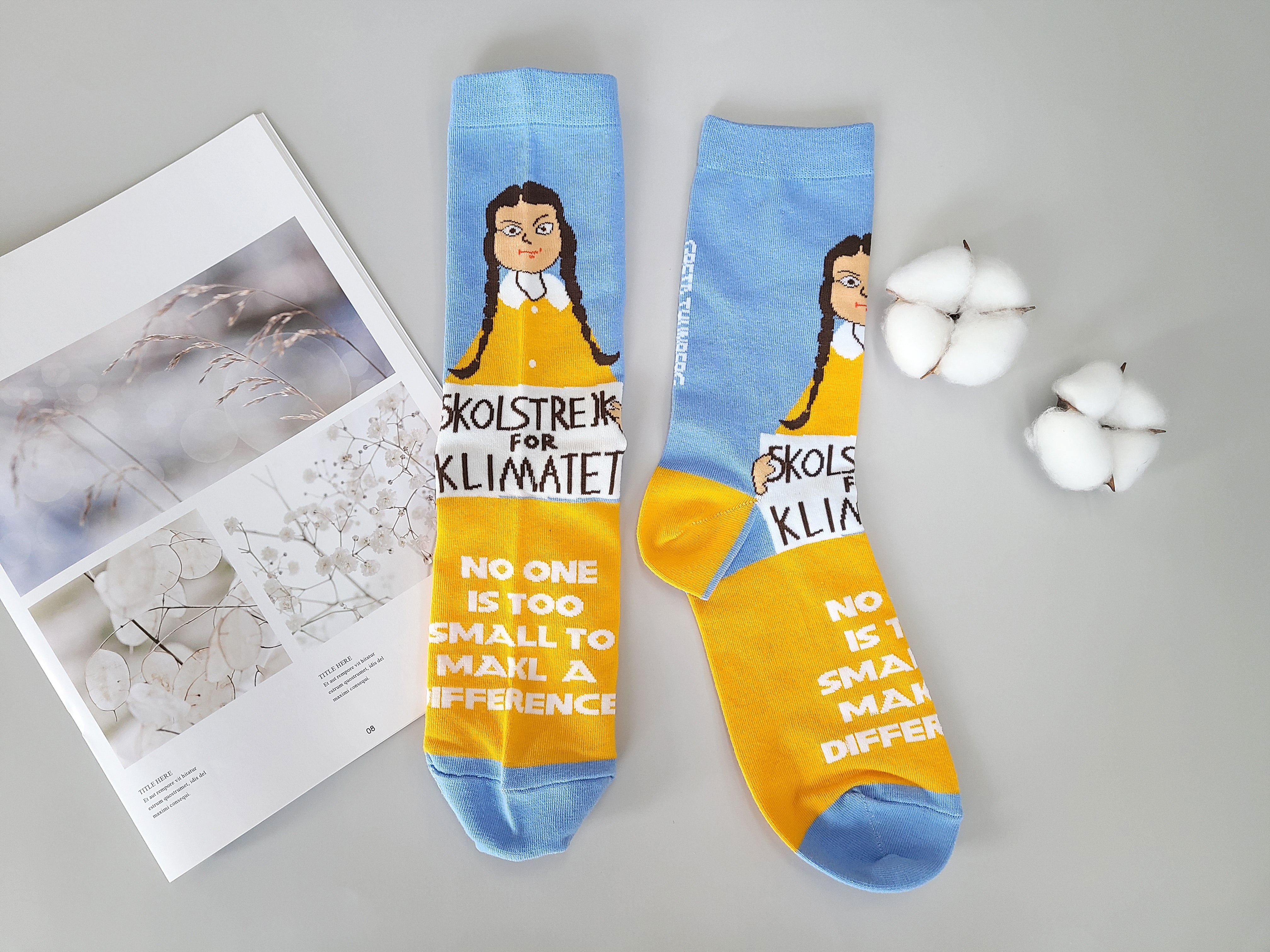 Custom socks have become a popular way to add colors to your outfit. They reflect pop culture references and give an edge to your promotional products which help customers in showcasing their personality. There are many websites available that offer custom branded socks, custom athletic socks, custom printed socks, and custom socks with logo. They also allow users and customers to put their favourite designs and patterns on a pair of socks or print any other elements they can think of.
 
These websites are prolific custom socks suppliers who consider many things while manufacturing custom socks. These custom branded socks can be a present for a friend or an option as a promotional product for branded companies. There are many options out there when it comes to creating custom socks. In this article, we will discuss the importance of custom socks suppliers and everything you should consider when choosing the best one.
 

Why do custom socks suppliers matter?
Everyone loves good design and the high quality of custom branded socks and custom printed socks. When custom socks combine all the essential elements of revered raw materials, provide decent production values, and give comfort and good looks, its credit goes to custom socks suppliers and manufacturers. We order from those custom socks suppliers who tick all the boxes to our satisfaction. You can always order from EverLighten, which gives you quality at a decent value and provides you with many options to choose from. So, if you are planning to order custom branded socks, you know where to order.
 
Custom socks suppliers have various options with outstanding design skills combined with a detailed understanding of the socks manufacturing process. Therefore, they focus on the highest quality and comfortable materials. These suppliers take necessary precautions to please their customers and provide them with satisfactory products. Such a filtration process is also beneficial for customers as they get what they desire without much hustle. These are the few reasons why custom socks suppliers matter.

 
What should you check when you look for custom socks suppliers?
Customization has always worked well when you decide to give something special to your loved ones. Even as promotional products, customization has worked wonders. Custom socks are also a great tool to increase customer satisfaction, build brand loyalty and increase brand awareness. But, like every other product, you should take care of a few things before ordering custom socks. So, let's discuss what you should check first before looking for custom socks suppliers. If you follow all of the instructions then we are sure that you will be 100% satisfied with custom branded socks that come from your selected custom socks supplier.



1. Free design
Free word has its separate fan base. While creating custom socks like custom athletic socks, custom baseball socks, custom logo socks, custom dress socks, custom printed socks, and all types of custom branded socks, the suppliers allow their customers to create a free design. Anyone can make their own design, and they can get as creative as they want. One can have branded graphics printed on the sock, a pattern, or a photo. You can put your company's logo as well that can match the colors of the socks. The customized design is completely free, but you have to give the cost for the production of it.
2. Competitive price
Once the look of your custom socks is finalized, the second most important thing is the price. Your consumer will take the costs into consideration while purchasing a product. So, one must keep competitive pricing as well. The costs of customization vary because of the garments used, packaging, different printing methods, and level of customization. When you are purchasing products from a specific custom socks supplier you should get all of this information and sort out the best deal for you which doesn't affect your budget drastically.

3. Material
When you are choosing the custom socks supplier, you should focus on the materials they use in manufacturing as they matter the most. Many brands knit their socks with at least some synthetic materials to provide elasticity, but they won't be a comfortable option as they won't be breathable or wicked moisture. You can prefer suppliers who use environmentally sustainable recycled and organic cotton as the basis for their socks since it makes for a soft, cozy material that breathes and wicks moisture.
4. Shipping fee
While ordering custom branded socks, you must keep track of the shipping fees. Different companies may have contrasting policies for shipping custom socks. Some may give free shipping on bulk orders, while others will charge you more. One must keep track that your shipping fee doesn't cost you more than your desired product. Therefore, you should look at shipping fees before selecting a custom socks supplier.
5. Customer service
Customer service should be of top priority to any consumer while selecting a custom socks supplier because when you are purchasing from the website, you are putting trust in it, and when something goes wrong, the website is responsible for providing adequate service to their customers and fulfilling their requests. When customers get good customer service, they will purchase from the website in the future as well. They will recommend the brand to others as well. On the flip side, if a business doesn't provide good customer service, the negative word-of-mouth can harm their business.
6. 100% customization
While ordering custom socks from the best custom socks suppliers, you have to check out whether those suppliers are giving you an option to customize the product completely or just allowing you to make minor modifications to their pre-designed themes. 100% customization is desirable as you can control colors, designs, and features to create truly unique custom socks.
7. Minimum order quantity
If you are ordering custom baseball socks, custom athletics socks, or promotional products for your baseball team, sports team, or employees, you may have to place bulk orders for your custom logo socks or custom branded socks. Still, you will not require bulk orders every time, and for that, you may need a custom socks supplier who allows minimum order quantity. The supplier who allows consumers to place minimum order quantity may get more response as not everyone likes to order in bulk.
8. Turnaround time
Customized products take a while to arrive, but who would not admire quick and fast delivery? Therefore, one must analyze all the custom socks suppliers' turnaround time and order products from the fastest suppliers, so you don't have to wait longer for your delivery.

 
Tips for choosing custom socks suppliers
We all want quality socks from custom socks suppliers, but there are many things to consider while choosing a good custom socks supplier. Here, we will discuss a few tips that will help you make a more informed decision.

One-stop solution
Another critical factor you need to consider is the administrations that the socks producer is eager to offer without accuses or of insignificant charges. A custom socks supplier that offers administration, for example, design, samples, and guidance about the products are good to go with. You ought to pick a supplier who offers after-deal benefits, the shipment of the sock transfer just as installments after creation.

Financial status
A decent supplier and manufacturer ought to have the monetary assets needed for them to maintain a successful business. This is valuable since it causes the organization to offer better evaluation. An organization that is battling monetarily will not convey the best quality custom socks. Monetary dependability bears the cost of an organization the simplicity of working together.
 
The manufacturing process of the socks does not complete the job fully. To get the socks consigned in the right condition is also very important. Anyone will want a company that has the right logistic resources. The manufacturer ought to have the option to store the socks in suitable warehouses. They should have the best trucks or other transport methods for shipping the socks to the airport or the port in perfect condition. All of this ought to be done in a way that guarantees your custom socks show up in the correct condition.
 
 
The distribution of custom socks suppliers around the world
The 1970s and 1980s were the decades when the tide shifted for the global hosiery industry. It transferred from the United States, Italy, and other countries to Japan, South Korea, and China. Gradually, it moved to developing countries of the world like China, India, Pakistan, and Turkey. The crucial advantage for production over there was lower costs, and therefore, these developing countries became the first choice for the manufacturers.
 
Europe, especially Italy focused on fully automatic production due to their expertise in advanced machinery and equipment. The developing countries were still manufacturing products with semi-automated machinery. Cotton socks and stockings are the most used products, and cotton is only grown in China, Pakistan, and little in Australia. Therefore, imports from these countries rose very quickly. In America, merino wool is used for the manufacturing process of socks, and in Europe, chemical fiber yarn is popular to weave stockings. This way, custom socks suppliers are distributed around the world.
 
So, keep these points in mind when you choose the best custom socks suppliers.