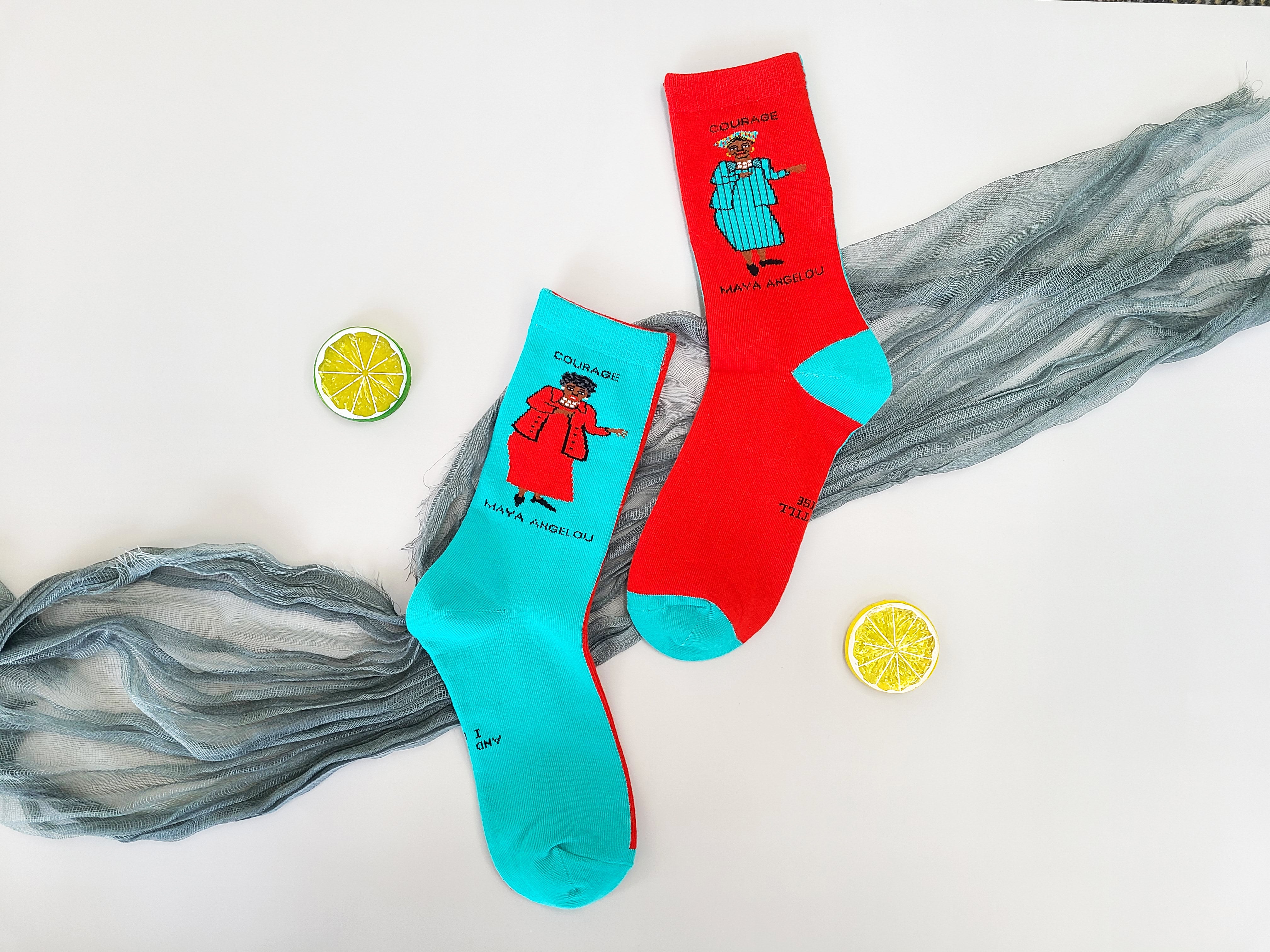 Have you ever thought of a marketing campaign revolving around custom socks? No? Is this too much to ask? Maybe, yes. Maybe, no. All of you may agree with me that the promotional marketing world has not explored custom branded socks or custom printed socks as an option for promotional products.
Marketing agencies have not truly understood the main aim to market a brand using promotional products. Do you think you know the main reason or aim? What is it? Hold your thought and read the following line very carefully.
The main aim for marketing agencies to promote a brand using promotional products is to increase brand awareness and generate conversation around the brand. You can provide a quality promotional product and create goodwill among your target audience. It also increases the recall value for your brand.
Did you consider this as your aim? If yes, then you are on the right track. There is a vast scope for big brands to use custom socks as effective promotional products. They are the most underrated and less-marketed promotional products. From the extensive range of promotional products available today, we genuinely feel that custom logo socks are the most operative products on the market.
Giving custom printed socks, custom branded socks, or custom socks with logos as promotional products may sound unorthodox, but if you think about it, then you will notice that this idea has great potential because your target audience will wear them.
People wear them regularly, so why not advertise your brand through custom logo socks? You can embroider your company's brand logo on them, using your trademark colors and brand name on these custom promotional socks. People have a sense of promotion nowadays and therefore consumers will adore products that are unexpected yet useful and functional. It is the reason why custom branded socks make the perfect promotional products to get your brand noticed.
Why custom promotional socks are booming?
Let's give credit where it's due. Custom printed socks, custom athletics socks, custom dress socks, and all types of custom socks have proven to be a boon for our feet as they are creative, comfortable, and unique. They are also available in all shapes and sizes. There are various options available to fulfill everyone's desire. These are several reasons why custom promotional socks are booming, and we will take a look at other important aspects to understand them thoroughly.

Rising socks
Socks are undoubtedly the most resilient and resourceful product. We use different socks for different purposes, such as office, casual, and custom athletics socks that will differ from each other. The materials used in these socks are also versatile. We use nylon, cotton, polyester socks in different weather. Some of us would have used the socks for decoration purposes as well. This kind of versatility has helped socks evolve rapidly from plain to promotional products. While extravagant vehicles and sumptuous houses won't ever lose their clout as a status barometer, we can consider socks to be their peers, yet with a far modest price range. More than anything, they are extraordinary methods for articulation.
As the enthusiasm for casual attire grew exponentially, the demand for stylish custom socks also increased, and slowly they became the wardrobe constant for every human being. The workplace also adapted with more business casual attire, and therefore custom printed socks became the new tie for the business guys. Funky custom socks are a new norm to show personality and have fun with it.
Within the promotional products industry, custom branded socks witnessed immense growth. The reason behind such a turnaround is the minimum order quantity and pricing. Before they came down, high minimum orders and equally extortionate cost-per-pair made custom socks production a test of one's patience.
Matching ambitions
What do you want to become? A trendsetter or a trend follower? Choose wisely because staying ahead of the trends will prove to be beneficial for you and your brand. Push socks to the forefront to seek valuable customer feedback and create opportunities for your brand. Innovators and customers have to match their ambitions for acuity. Custom socks like custom athletics socks, custom baseball socks, custom logo socks, and custom printed socks are different than most promotional products because if your client makes cool socks, they will wear them to work, home and everywhere they go. They won't stop showing them off, and your brand will get double, triple the exposure. It is a quick, fun, and economical way for a client to get into fashion again.
If you want to enter the world of promotional socks, this is the perfect time to join as there is a chance to grow. You can pitch your custom socks to your customers who purchase a custom t-shirt or any promotional products from your brand. There are many options available in terms of styling and sizing. It is still a fresh idea and relatively new promotional product, so it makes brands stand out as creative and unconventional.
There are many more reasons behind the booming industry of custom promotional socks.
Custom branded socks are an excellent way to make people notice and increase awareness of your brand.
Traditional advertising is not working anymore, so if you want to stand out from the competitors, then promotional socks will help you differentiate your brand from all of your competitors.
Socks are a necessity for humans, and if you give them as promotional products, customers will start appreciating your brand as they receive what they need.
Your customer can make as many changes as possible to their custom socks. They can decide the pattern, color, design, and material as well. The possibilities are endless, and customer satisfaction is guaranteed.
How to use custom socks as a promotional item?
A promotional product can help you boost your brand awareness, and having custom socks as the promotional product could be an excellent way to refine your marketing efforts and strategies. Custom printed socks or custom socks with the logo of your company can be a unique promotional product that fulfills their needs as well. Here are some of the ways to use custom branded socks as a promotional product for the company.

Conference and trade shows
A conference or trade show can work as a perfect venue to distribute promotional socks to your potential customers. When you take part in trade shows or open a booth over there, then bringing promotional custom socks will be a wise decision. This way, you will get your brand name out there, and if your product is adored by your visitors, then you may hit the jackpot with good word of mouth for your booth. It will help you leave a long-lasting impression as people will use that promotional product long after the conference or trade show gets over. Every time they wear your socks, they will recall their visit to your booth and remember your company forever.

Employee appreciation
Employees are the best representatives of your merchandise. You can give those socks and thank them personally for their services. This way, they will represent your company even outside of the office. Whenever they visit a park or a mall wearing those promotional socks, your company gets represented by people who understand the nature of your business.

Potential clients
If you are trying to turn a prospect into a regular client, an excellent way to build rapport with them is to give them a gift basket filled with promotional products. If the client is a sports lover, then you can provide them custom athletics socks. If they are fans of the baseball game, then custom baseball socks will do fine. This way, you are taking care of their choice and smartly plugging your brand with promotional custom socks.
This way, you can see that socks make a wonderful promotional product that you can use for your brand. Now, we will learn how to buy custom branded socks for the next big event.

How to buy custom branded socks for your next promotional event?
If you're in charge of coordinating your company's events, finding the right pair of custom branded socks can be a bit of a challenge. You have a budget to stay within, branding guidelines to stick to, and a deadline to meet. There are many different styles of socks to choose from. They come in every shape and size, different types of materials, and customization options. If you follow the following factors, then I am sure you won't face many difficulties.
Promotion purpose- Decide the objective for the promotion and then try to connect a message with your brand story.
Audience- To determine the best style and material for your custom socks, know your audience. Try to follow and learn the lifestyle of your audience and where they will use them.
Audience style match- When you are giving custom products to your potential audience, then you should work on comfort, finishing touches of your design, and budget of the same. They have to be in sync to please your audience. The pattern and design should be liked by the audience as well; only then audience's style will match with your products.
Design & Pattern - Once you determine the style and packaging, the next step is to create the best customization design.
If you want to add swag to your custom branded socks, then contact us as the best path to buy custom branded socks for your next promotional event connects over here.
FAQs: 
Q: Why should I choose custom socks over other promotional products?
A: Custom socks offer several advantages over traditional promotional items:
Uniqueness and Personalization:

 Custom socks allow you to create a unique and personalized product that resonates with your target audience. Unlike generic promotional items, custom socks can be tailored to your brand's identity and messaging.

Versatility and Adaptability:

 Custom socks can be adapted to various marketing campaigns and target audiences. You can create casual designs for everyday wear, sleek and professional designs for corporate events, or even themed designs for specific occasions.

Durability and Reusability:

 Custom socks are not just a one-time promotional item; they are durable and reusable, providing long-lasting exposure for your brand. People will wear your socks repeatedly, giving your brand continuous exposure.
Q: What makes custom socks a cost-effective promotional strategy?
A: People often overlook custom socks as a promotional tool due to misconceptions about their cost. However, custom socks can be an incredibly cost-effective way to promote your brand:
Economies of Scale:

 The cost per sock decreases as the order quantity increases, making custom socks more affordable for promotions.

Long-Term Value:

 Custom socks offer long-term value by providing repeated exposure for your brand, extending their promotional impact beyond the initial campaign.

Branded Gifts:

 Custom socks can be used as branded gifts for employees, customers, or event attendees, creating a positive brand association and generating goodwill.
Q: How can I maximize the ROI of my custom sock promotion?
A: To maximize the return on investment (ROI) of your custom sock promotion, consider these strategies:
Target Audience:

 Clearly define your target audience and tailor the sock design to their preferences and interests.

Design Alignment:

 Ensure the sock design aligns with your brand's overall messaging and visual identity.

Creative Engagement:

 Capture attention with creative and engaging sock designs that spark conversation and social media engagement.

Distribution Strategy:

 Choose an effective distribution strategy that reaches your target audience efficiently.
Q: Where can I get started with custom sock promotions?
A: There are many companies, like EverLighten, for custom socks for promotional purposes. You can find these companies online or through industry associations.