Unlock the Power of Custom Backer Cards and Hang Tags: Elevate Your Brand's Packaging Game | EverLighten
|
Jul, 18 , 23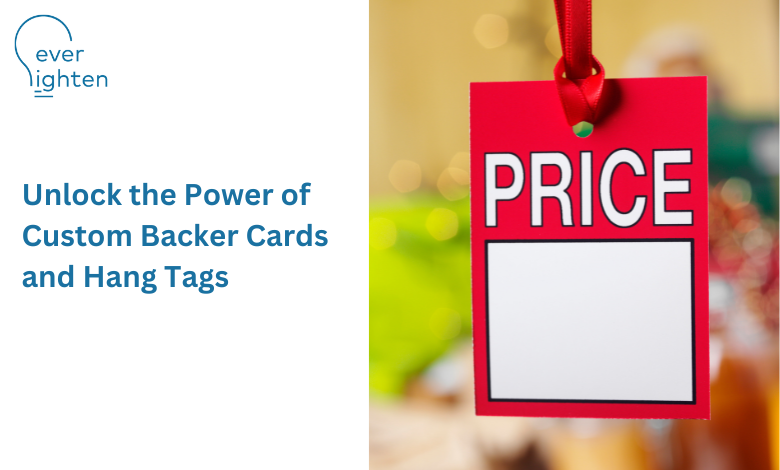 Welcome to our blog post exploring the significance and advantages of custom backer cards and hang tags for your brand. In today's competitive market, product packaging is crucial in capturing attention, creating a memorable unboxing experience, and boosting brand recognition. Custom backer cards and hang tags offer a unique opportunity to elevate your brand's packaging game and leave a lasting impression on your customers. 


The Power of Customization

In today's highly competitive market, customization has become a powerful tool for brands to differentiate themselves and connect with their target audience. Consumers seek unique and personalized experiences, and customization allows brands to fulfill those expectations. Custom backer cards and hang tags offer a fantastic opportunity for brands to showcase their individuality and stand out.


Reflecting Unique Identity: Custom backer cards and hang tags help brands express their identity. By incorporating your brand's logo, color scheme, typography, and imagery, you can create a cohesive visual representation that resonates with your target audience. This personalized touch allows your brand to establish a recognizable and memorable presence, reinforcing brand recognition and loyalty.


Tailoring the Message:

Customization empowers

brands

to tailor their messaging according to their specific products, target audience, and brand values. Backer cards can communicate essential information about the product, such as features, benefits, and instructions, while hang tags can provide additional details or evoke an emotional response. By crafting personalized messages, brands can connect with customers on a deeper level and build a sense of authenticity and trust.


Creating an Unforgettable Unboxing Experience:

Packaging is no longer just a means to protect and deliver products. It has become an opportunity for a remarkable unboxing experience that resonates with customers.

Custom backer cards

and hang tags are vital in enhancing this experience. The unique designs and thoughtful details evoke excitement, anticipation, and delight, leaving a lasting impression on customers and increasing the likelihood of positive word-of-mouth and repeat purchases.


Standing Out on Shelves and Online Marketplaces: In a crowded marketplace, grabbing the attention of potential customers is essential. Customized backer cards and hang tags can act as visual hooks, making your products appealing and standing out among competitors. Eye-catching packaging can attract customers, drive conversions, and elevate your brand's visibility on retail shelves or online marketplaces.


Strengthening Brand Equity: Customization fosters a sense of exclusivity and craftsmanship, elevating the perceived value of your brand. You demonstrate your commitment to quality and attention to detail, which can positively impact customer perception and loyalty by investing in unique backer cards and hang tags. Custom packaging materials build a strong brand identity and foster a sense of pride among customers who choose your products.


The Purpose of Backer Cards

Backer cards play a vital role in product packaging, serving multiple purposes for your product. 


Definition and Function: Backer cards are sturdy or cardstock materials positioned behind or attached to a product within its packaging. They serve as a visual backdrop that supports and presents the product effectively. People use backer cards in various industries, including fashion, cosmetics, electronics, toys, etc.


Conveying Product Information: Backer cards offer an excellent opportunity to send important information about the product. You can utilize the space on the backer card to showcase the product's features, benefits, usage instructions, care guidelines, or any other relevant details. Clear and concise messaging on the backer card helps customers understand the product's value proposition and functionality.


Reinforcing Brand Messaging: Backer cards provide a platform for your brand's messaging and values. By incorporating your brand's logo, tagline, and visual elements consistently on the backer card, you create a cohesive brand experience. It strengthens brand recognition and connects the product and your brand identity.


Creating a Memorable Unboxing Experience: The unboxing experience has become crucial for customer satisfaction and brand loyalty. Backer cards contribute to creating a memorable unboxing experience by adding a layer of excitement, aesthetics, and information. When designed thoughtfully, backer cards enhance the overall presentation, making the unboxing process engaging and enjoyable for customers.


Visual Appeal and Product Presentation:

Backer cards

can significantly enhance the visual appeal of your product packaging. With creative and visually appealing designs, they can make your products stand out on retail shelves or online marketplaces. Backer cards provide an opportunity to showcase high-quality product images, lifestyle shots, or visually appealing graphics captivating the attention.


Differentiation and Brand Identity: Custom backer cards allow you to differentiate your products from competitors. You create a distinct visual presence by leveraging unique designs, color schemes, and typography that align with your brand identity. It helps your products catch the eye of potential customers and reinforces your brand's image as a premium and reputable choice.



Designing Effective Backer Cards

Designing compelling backer cards is crucial for effectively conveying information, reinforcing brand identity, and creating a visually appealing packaging experience.


Choose the Right Colors, Typography, and Imagery:



Colors: Select colors that align with your brand's identity and evoke the desired emotions. Consider complementary colors to create visual interest and highlight crucial elements.


Typography: Use fonts that are legible and reflect your brand's personality. Consider hierarchy and contrast to ensure important information stands out.


Imagery: Incorporate high-quality product images or illustrations that showcase the product's key features and evoke a desirable lifestyle associated with your brand.



Incorporate Your Brand Logo and Tagline Effectively:



Place your brand logo prominently on the backer card to reinforce brand recognition. Ensure positioning in a way that doesn't overshadow the other elements but is still noticeable.




Include a concise and memorable tagline that encapsulates your brand's essence and resonates with your target audience. Position it strategically to catch the attention of customers.



 Ensure Clarity and Readability:



Use clear and concise language to communicate product information effectively. Avoid jargon or complex wording that may confuse customers.




Prioritize the hierarchy using headings, subheadings, bullet points, or numbering to make it easier for customers to skim and find key details.


Optimize font size and contrast to ensure readability. Pay attention to the legibility of text against the background color or imagery.



 Create a Cohesive Visual Identity:



Maintain consistency with your brand's visual identity throughout the backer card design. It includes a color palette, typography, graphic elements, and overall style.




Align the backer card design with your brand's values and personality. Incorporate lively colors and fun illustrations if your brand is playful and vibrant. Opt for a clean and refined design for a more elegant or minimalist brand.



Consider Shape and Layout:



Explore unique shapes or die-cut designs that can make your backer cards stand out. A distinct form can capture attention and add a touch of creativity.




Balance the layout by organizing elements in a visually pleasing manner. Use whitespace effectively to create breathing room and enhance overall aesthetics.



Unleashing the Potential of Hang Tags

Hang tags are versatile marketing tools that enhance your product packaging strategy.


Purpose and Benefits of Hang Tags:



Grab Attention: Hang tags are attached to the product packaging, making them highly visible and attention-grabbing. They serve as a point of interest for customers, enticing them to learn more about the product.


Enhance Brand Recognition: Hang tags provide a platform to prominently display your brand logo, name, or visual identity. It helps reinforce brand recognition and builds a consistent presence across different products.


Differentiate from Competitors: Unique and well-designed hang tags can make your products stand in the crowd. They create a memorable visual impression, signaling quality and professionalism.


Additional Information: They can convey product information that may not fit on the packaging. It can include details about materials, care instructions, sustainability initiatives, or certifications, providing customers with valuable knowledge.



Enhancing Brand Recognition and Marketing:



Branding Opportunities:

By incorporating your brand's visual elements, colors, and fonts, hang tags become an extension of your brand identity. They contribute to building brand recognition and fostering a cohesive brand experience.




Increased Perceived Value:

High-quality hang tags with well-executed designs can elevate the perceived value of your products. Customers associate attention to detail and premium packaging with superior quality, which can positively impact purchase decisions.




Word-of-Mouth Marketing: Hang tags can serve as conversation starters. Customers may be more inclined to share their positive experiences with others, generating valuable word-of-mouth marketing if your hang tag design stands out or includes a message or story.



Versatility in Conveying Information and Engagement:



Additional Product Details:

Hang tags provide space for displaying key product features, unique selling points, or product variations. It helps customers quickly understand what makes your product unique and make informed purchasing decisions.




Storytelling and Brand Narrative:

Hang tags can be used as storytelling tools, sharing the brand's mission, values, or product inspiration. It adds a layer of emotional connection between the customer and the brand, fostering loyalty and affinity.




Social Media Engagement:

Incorporating social media handles, hashtags, or QR codes on hang tags can encourage customers to engage with your brand online. It enables them to share their experience, provide feedback, or participate in contests or giveaways, thus expanding your brand's reach and creating a sense of community.
Making the Right Choices

Selecting the appropriate printing techniques, materials, and finishes and finding a reputable printing service or supplier are crucial steps in ensuring the quality and professional appearance of your backer cards and hang tags.


Printing Techniques:



Offset Printing: Ideal for large print runs, offset printing offers high-quality and cost-effective results. It works well for designs with intricate details, vibrant colors, and gradients.


Digital Printing: Suitable for smaller print runs or projects that require quick turnaround times, digital printing offers flexibility and affordability. It is well-suited for designs with variable data or personalized elements. 


Letterpress Printing: Known for its elegant and tactile results, they create debossed or embossed effects. It works best for minimalistic designs or when a vintage or luxury aesthetic.



Materials:



Cardstock:

Sturdy and versatile, cardstock is famous for backer cards and hanging tags. It is available in various thicknesses and finishes, such as matte, gloss, or textured, allowing you to choose the right look and feel for your brand.




Recycled Paper:

Using recycled paper sends a sustainability message for environmentally conscious brands. It can give your backer cards and hang tags a unique texture and appeal.




Specialty Materials: Consider specialty materials like fabric, leather, or wood for a distinctive and premium look. These materials can create a memorable tactile experience for customers.



Finishes:



Matte:

A sophisticated finish that reduces glare and provides a smooth, non-reflective surface. It works well for a sophisticated or minimalist brand aesthetic.




Gloss:

Offers a shiny and reflective finish that enhances color vibrancy and visual appeal. Gloss finishes are great for designs that require a vibrant and eye-catching look.




Embossing/Debossing: Adds a tactile element by raising or indenting specific design elements. Embossing creates a raised effect, while debossing creates a recessed effect, adding depth and texture to your backer cards and hang tags.


Foil Stamping: Incorporating metallic or holographic foil can add a luxurious and attention-grabbing touch to your designs. Foil stamping works well for logos, borders, or text elements.



Finding a Reputable Printing Service or Supplier:




Research:

Look for printing services or suppliers with positive customer reviews, a track record of delivering high-quality products, and experience working with similar projects or industries.




Samples:

Get

samples to assess the quality of their work. It allows you to evaluate if their capabilities align with your brand's standards.




Communication and Customer Service:

Openly communicate with the printing service or supplier. Ensure they understand your requirements, can provide guidance, and are responsive to your inquiries.


 
Printing Capabilities: Verify if the printing service or supplier has the equipment, expertise, and printing techniques to meet your needs.



Importance of Quality:




Brand Image:

Maintaining a professional and premium brand image requires high-quality backer cards and hang tags. The inferior print quality or materials can diminish the perceived value of your products and brand.




Customer Perception:

Customers associate quality packaging with a trustworthy and reputable brand. Investing in quality printing techniques, materials, and finishes helps create a positive and memorable customer experience.




Durability: Quality materials and finishes ensure that your backer cards and hang tags withstand handling, shipping, and storage without significant wear or damage. It helps preserve the overall presentation of your products.




Captivate and Engage

Designing custom backer cards and hang tags is a valuable opportunity to enhance your brand's packaging and create a memorable unboxing experience for your customers. By considering factors such as printing techniques, materials, and finishes and finding a reputable printing service, you can ensure the quality and professionalism of your marketing materials.

If you're looking for a reliable partner to create custom backer cards and hang tags that align with your brand's vision, EverLighten is here to help. With their expertise in printing and commitment to delivering high-quality products, EverLighten can bring your designs to life and help your brand stand out from the competition.


FAQs


What is the difference between a label and a hang tag?

A label is a small piece of material attached to a product that contains information like the brand name, size, care instructions, and other relevant details. A hang tag, on the other hand, is a larger piece of material that hangs from a product and typically includes branding, product information, pricing, and promotional messages.



How do you attach a hang tag?

Sellers attach a hang tag to products using strings, cords, ribbons, or plastic fasteners. The attachment method may vary depending on the design of the hang tag and the product.



What are the benefits of hang tags?

Hang tags can enhance the presentation of a product, provide additional information to the customer, convey branding and marketing messages, differentiate products, and attract attention to retail displays. They can also serve as a point-of-sale advertising tool.



What kind of paper is used for hang tags?

Hang tags are often made from thick, durable cardstock or paperboard. The specific type of paper used can vary based on design preferences, desired thickness, and printing requirements.



What are backer cards used for?

Backer cards are rigid materials used for supporting and stability products, particularly hung or displayed. They are common in packaging, retail displays, and product presentations.



What size is a backer card?

The size of a backing card can vary depending on the product it supports. It is to fit the product, ensuring proper support and presentation.



What does a double-backer card mean?

A double-backer card has a printed design or information on both sides. It allows additional branding, product information, or promotional messages on either side.



What is the standard size of Backer Cards?

The standard size of backer cards can vary depending on the industry and specific application. However, the most common backer cards are 3.5 inches by 2 inches. It is the same size as a standard business card.