Making a Purrfect Brand Name: Harnessing the Power of Custom Plush Toys on National Cat Day | EverLighten
|
Jul, 17 , 23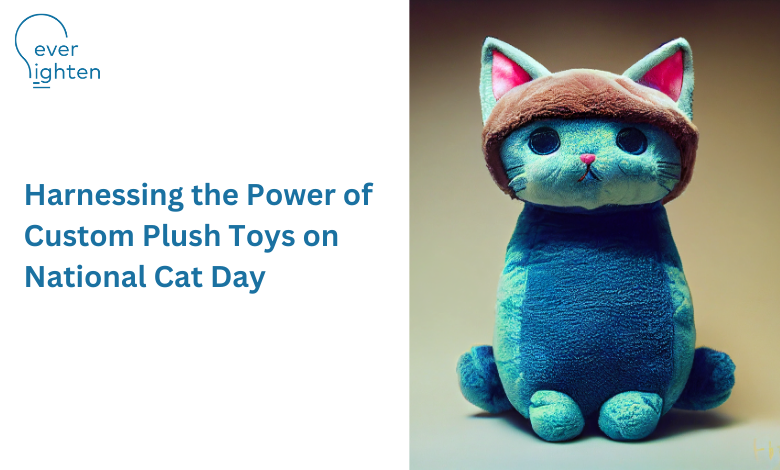 Cat lovers worldwide celebrate National Cat Day on the eighth of August. It is a day to raise awareness about cat adoption, honor our feline companions, and advocate for their well-being. With millions celebrating their love for cats, National Cat Day presents a unique opportunity for brands and organizations to connect with a passionate and engaged audience.


Importance of National Cat Day

Celebrating Cats and Brand Promotion: National Cat Day has gained immense popularity online and offline. Cat enthusiasts eagerly participate in various activities, share adorable cat pictures and stories, and express their love for these enchanting creatures. As a brand or organization, harnessing the power of National Cat Day can provide significant exposure and help establish a positive association with your target audience.


Tapping into the Cat-Loving Community: Cat lovers are known for their enthusiastic support of anything related to their furry friends. By aligning your brand with National Cat Day, you can tap into this passionate community and gain their attention and loyalty. It presents an excellent opportunity to showcase your brand values, products, or services to a receptive audience sharing a deep affection for cats.


Increased Social Media Engagement: National Cat Day is popular on social media platforms, where cat-related content dominates the feeds. By leveraging this day, you can participate in the conversation, create engaging content, and interact with the online cat-loving community. Social media engagement can amplify your brand visibility and reach new potential customers.


Aligning with a Purpose: National Cat Day is not just a random celebration; it promotes cat adoption and welfare. By associating your brand with this cause, you showcase your commitment to social responsibility and compassion. Consumers are attracted to brands that align with meaningful causes, and National Cat Day offers a perfect opportunity to demonstrate your brand's values and contribute to a worthwhile endeavor.

Building Emotional Connections: Cats hold a special place in the hearts of many people, often evoking strong emotions and affection. By leveraging National Cat Day, you can tap into these emotions and create a deep connection with your target audience. Custom plush toys, designed specifically for National Cat Day, can serve as lovely and tangible reminders of your brand, fostering long-lasting emotional connections with customers.


Why are custom plush toys perfect items for brand promotion for National Cat Day?

Custom plush toys offer a unique and enchanting approach. As National Cat Day approaches, there is no better time to explore the potential of these adorable companions as powerful branding tools. 


Custom Plush Toys as Branding Tools

Custom plush toys provide an innovative and captivating means to showcase your brand. You can create a mascot or merchandise that resonates with your target audience by designing plush toys to represent your brand or incorporating cat-themed elements. Custom plushies offer a tangible representation of your brand identity and serve as ambassadors that capture the mind, evoke emotions, and leave a lasting impression.


Benefits of Incorporating Custom Plush Toys


Increased Brand Visibility: Custom plush toys stand out in a sea of traditional promotional items. Their charm and uniqueness make them highly sought after because of increased visibility for your brand. Plush toys displayed or distributed on National Cat Day can attract attention from cat lovers and even gain traction on social media, amplifying your brand's reach.


Memorable Branding Experience:

Plush toys create a memorable and tactile brand experience. Their softness, huggable nature, and cute designs appeal to people of all ages. When customers receive or

purchase custom plush toys

, they develop a connection with your brand on a deeper emotional level, making a lasting impression that goes beyond typical marketing efforts.


Brand Loyalty and Engagement:

Custom plush toys foster brand loyalty and engagement. By offering them as promotional giveaways, rewards, or limited-edition merchandise, you can cultivate a sense of exclusivity and appreciation among your audience. It increases customer loyalty and encourages them to engage with your brand.
Emotional Connection and Lasting Impact

Plush toys have an extraordinary capacity to evoke emotions and forge connections. Cats evoke positive emotions in people, including joy, comfort, and nostalgia. By incorporating cat-themed custom plush toys into your marketing strategy, you tap into these emotions and create an emotional bond between your brand and customers.
The soft touch, cuddliness, and similar cat-like features of plush toys provide comfort and companionship. They become cherished keepsakes, reminding customers of your brand long after National Cat Day has passed. This lasting impact reinforces positive brand associations and increases the likelihood of repeat business and word-of-mouth recommendations.


Designing Custom Plush Toys for National Cat Day

Creating custom plush toys that align with your brand and target audience is crucial to maximizing their impact. Consider the following insights and factors during the design process:


Brand Alignment: Ensure that the design of your custom plush toy reflects your brand identity and values. Incorporate elements representing your brand's personality, such as specific colors, patterns, or symbols.


Target Audience Preferences: Understand your target audience's preferences and interests. If your brand caters to a specific demographic or age group, tailor the plush toy's design and features accordingly. Research popular cat-related trends and themes that resonate with your audience.


Color Scheme: Choose colors consistent with your brand's visual identity. Opt for a color palette that compliments your logo or overall branding. Vibrant and playful colors often work well for custom plush toys.


Logo Placement: Strategically position your brand logo on the plush toy, and ensure it is visible and doesn't compromise the overall design or cuddliness. Consider placing the logo on a tag, collar, or embroidered subtly on the toy's body.

Materials and Quality: Select high-quality materials that are soft, durable, and safe. Pay attention to details like stitching, embroidery, and overall craftsmanship. The quality of the plush toy reflects the quality of your brand.


Showcasing Your Brand on National Cat Day with Custom Plushies

National Cat Day presents a remarkable promotional opportunity to showcase your brand using custom plush toys. 


Social Media Campaigns: Launch a dedicated social media campaign around National Cat Day, and encourage your followers to share photos or stories with your custom plush toys, using specific hashtags and tagging your brand. Run contests or giveaways where participants can win limited-edition personalized toys.


Cat-Themed Collaborations: Partner with cat-related influencers or organizations and collaborate on National Cat Day-themed content, giveaways, or live events. This collaboration can help expand your reach and tap into the influencer's engaged audience.


Pop-Up Events: Organize pop-up events in cat-friendly locations, like cat cafes or pet stores. Create an immersive brand experience by offering custom plush toys as giveaways, hosting interactive activities, or partnering with local cat adoption centers for charitable initiatives.


Limited-Edition Collectibles: Introduce limited-edition plush toys exclusively for National Cat Day. Create a sense of urgency and exclusivity by highlighting their availability only for a limited time. This strategy can generate excitement and drive sales or brand engagement.


Extending the Lifespan of Your Brand with custom plushies

Custom plush toys have the potential to serve as long-term brand ambassadors. 


Retail Partnerships: Collaborate with retailers to feature your custom plush toys as merchandise. Explore opportunities to sell them in stores or through online platforms. By leveraging existing distribution channels, you can extend the lifespan of your plush toys and reach a broader customer base.


Loyalty Programs and Gift with Purchase: Offer custom plush toys as part of loyalty programs or as a gift with purchase. This strategy purchases and strengthens customer loyalty. Customers will associate your brand with the emotional connection they have formed with the plush toy.


Branded Gift Sets: Create gift sets that include your plush toy alongside other related products or merchandise. Include cat-themed accessories, books, or even cat care items. These gift sets can be sold as special editions or bundled with specific product promotions.

Charity Partnerships: Collaborate with cat-related charities or shelters. Donate a portion of plush toy sales or organize fundraising events to support their cause. It helps make a positive social impact, generates goodwill, and enhances your brand's reputation.
Conclusion

Incorporating custom plush toys into your branding strategy on National Cat Day or any other occasion can create a memorable and impactful brand experience. From designing plush toys that align with your brand to showcasing your brand on National Cat Day and extending the lifespan of your brand through various initiatives, the possibilities are endless.
To bring your vision to life and ensure high-quality custom plush toys that captivate your audience, EverLighten is your go-to partner. With their expertise in creating custom merchandise, including plush toys, they can help you design and produce unique and adorable companions that perfectly represent your brand.
Connect with EverLighten today to explore their wide range of options, exceptional craftsmanship, and competitive pricing. Whether you're a brand, seller, sports team, or an individual looking to make a lasting impression, EverLighten can provide the best quality custom plush toys that meet your needs.


FAQs


Why do we celebrate Cat Day?

We celebrate cat day to honor and appreciate our feline companions, promote cat welfare, and raise awareness about cat adoption and responsible ownership.



What is the benefit of a cat toy?

Cat toys provide mental and physical stimulation, promote exercise and agility, relieve boredom, and help prevent destructive behavior in cats.



How to choose cat toys?

Consider your cat's preferences, age, and activity level. Look for safe, durable, and appropriate for your cat. Interactive toys and those that mimic prey-like movements are often a hit with cats.



Why do cats like plushies?

Cats are naturally drawn to plushies because they resemble prey animals. They enjoy pouncing, batting, and cuddling with them, which satisfies their hunting instincts and provides comfort.



How long does it take to make a custom plush?

The time it takes to make a custom plush can vary depending on the complexity of the design, the manufacturer's production process, and their current workload. It can range from a few weeks to months.



What material is used for plushies?

Plushies use soft and cuddly fabrics like polyester, acrylic, or a blend of synthetic fibers. The filling is often polyester fiberfill or foam.