The Ultimate Guide to 3D Printing Custom Basketball | EverLighten
|
Jul, 19 , 23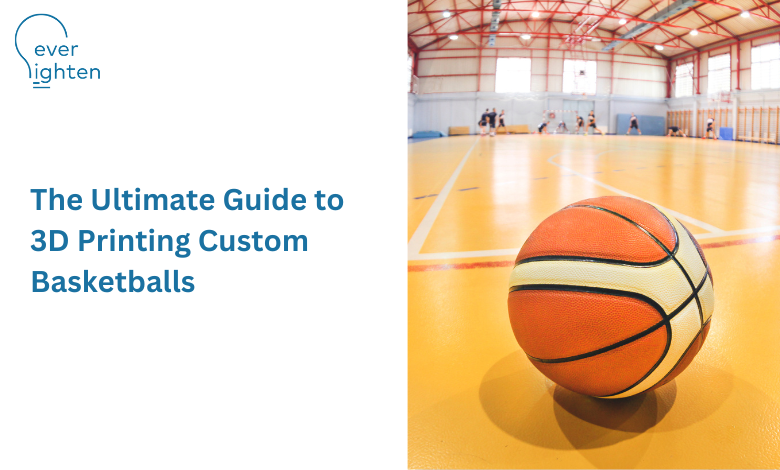 In recent years, 3D printing has emerged as a game-changer in various industries, enabling innovative solutions and personalized creations. And now, it has found its way into sports equipment, offering incredible possibilities for designing and manufacturing custom basketballs like never before.
3D printing, also known as additive manufacturing, is making three-dimensional objects by layering materials based on a digital design. It has gained significant traction across diverse sectors, including automotive, aerospace, healthcare, and fashion. The ability to produce complex geometries, rapid prototyping, and customization have made 3D printing a revolutionary technology.
When it comes to basketballs, customization plays a crucial role. Athletes, teams, and enthusiasts often seek unique designs and features that align with their preferences and performance requirements. Traditional manufacturing processes limit the scope for customization, but 3D printing changes the game entirely.
With 3D printing, you can unleash creativity and design custom basketballs matching your style, preferences, and performance characteristics. The possibilities are endless, from personalized graphics and textures to optimizing the ball's grip and bounce. The technology allows you to experiment, iterate, and bring your vision to life in a once unimaginable way.
Moreover, 3D printing offers unparalleled efficiency and cost-effectiveness compared to traditional manufacturing methods. It eliminates the need for expensive molds or tooling, reduces material waste, and speeds up production. Whether you're an athlete looking for the perfect basketball or a sports equipment manufacturer exploring new avenues, 3D printing can provide unmatched benefits.
What is 3D printing?

3D printing, also known as additive manufacturing, involves making three-dimensional objects by building them layer by layer. It differs from traditional subtractive manufacturing methods, such as cutting or drilling, where they remove the material to achieve the desired shape. Instead, 3D printing adds material layer by layer based on a digital design, resulting in precise and intricate structures.
The core principle of 3D printing involves the conversion of a digital 3D model into a physical object. The process typically starts with a 3D model using computer-aided design (CAD) software or scanning an existing object using 3D scanners. They slice the digital model into thin cross-sectional layers, which serve as instructions for the 3D printer.
Once the digital model is ready, the 3D printer follows these instructions to build the object layer by layer. The printer deposits or solidified material in each layer, and as the layers stack on top of each other, the object gradually takes shape. This layer-by-layer approach provides flexibility. It allows for complex geometries that would be challenging to achieve with traditional manufacturing methods.
Types of 3D Printing Technologies

Several 3D printing technologies are available, each with unique approaches and materials. 


Fused Deposition Modeling (FDM) or Fused Filament Fabrication (FFF):  FDM printers work by extruding a thermoplastic filament through a heated nozzle, which deposits the material layer by layer to create the object.


Stereolithography (SLA): SLA printers use a liquid photopolymer resin cured by a UV laser or light source. The resin hardens layer by layer to form the object. SLA is known for its high precision and ability to produce smooth, detailed prints.


Selective Laser Sintering (SLS): SLS printers utilize a laser to fuse powdered material, typically nylon or other thermoplastics. The laser scans the powdered bed, binding the particles together to create solid layers. SLS is known for its ability to produce durable and functional parts.


Digital Light Processing (DLP): DLP printers work similarly to SLA printers but use a digital light projector to cure each layer of liquid resin. The entire layer is exposed to light simultaneously, speeding up the printing process.

These are just a few examples, and there are other 3D printing technologies like Binder Jetting, Direct Metal Laser Sintering (DMLS), and more, each with its own advantages and applications.


Materials Used in 3D Printing

3D printing materials cover many options, including plastics, metals, ceramics, and organic materials. The choice of material depends on the specific application, desired properties, and the capabilities of the 3D printing technology. 
Thermoplastics: Materials like PLA (Polylactic Acid) and ABS (Acrylonitrile Butadiene Styrene) are common in FDM printers due to their ease of use, affordability, and availability in various colors. They are suitable for both prototyping and functional parts.
Photopolymer Resins: These liquid resins are helpful in SLA and DLP printers. They come in different formulations, including standard, flexible, transparent, and high-temperature resins, allowing many applications.
Nylon: Nylon is helpful in SLS printers. It offers excellent mechanical properties, durability, and resistance to impact and wear.


Advantages of 3D Printing for Custom Basketball


Design Flexibility and Customization Options

One of the advantages of 3D printing for custom basketballs is unparalleled design flexibility and customization options. With traditional manufacturing methods, producing custom-designed basketballs involves expensive molds or tooling, making it costly and time-consuming. However, 3D printing eliminates the need for such molds. Designers and athletes can create unique basketball designs with ease.
Through 3D modeling software, designers can create intricate and complex geometries that were once difficult to achieve. From personalized graphics and textures to optimizing grip patterns and bounce characteristics, 3D printing allows for a high level of customization. Athletes can tailor their basketballs to their preferences, ensuring a comfortable and personalized playing experience.


Cost-Effectiveness and Time Efficiency 

3D printing for custom basketballs can be highly cost-effective and time-efficient than traditional manufacturing methods. With standard manufacturing, creating custom basketballs requires producing molds or tooling, which can be expensive, especially for small production runs. In contrast, 3D printing eliminates the need for these molds, significantly reducing upfront costs.
Moreover, 3D printing allows for rapid prototyping and iteration. Designers and manufacturers can quickly produce prototypes to test and refine their custom basketball designs. This iterative process helps identify and address any issues or improvements before committing to large-scale production. By eliminating the need for complex tooling and molds, 3D printing reduces the overall production time, allowing for faster turnaround and quicker access to custom basketballs. 
Complexity and Lightweighting

3D printing enables the production of basketballs with complex internal structures that can enhance their performance. By leveraging lattice structures, internal cavities, or honeycomb patterns, designers can optimize weight distribution, improve durability, and achieve desired ball characteristics. These intricate structures can be difficult or impossible to replicate using traditional manufacturing methods, making 3D printing a game-changer for custom basketball design.
Additionally, 3D printing allows for lightweight, reducing the overall weight of the basketball without compromising its strength or performance. It can impact player experience, reducing fatigue during extended gameplay and enhancing maneuverability on the court.


Personalization and Branding

3D printing offers unparalleled opportunities for the personalization and branding of custom basketballs. Athletes, teams, or sports equipment manufacturers can incorporate logos, names, or personalized graphics into the design. This level of personalization adds a unique touch and allows individuals or teams to showcase their identity and brand.
Furthermore, 3D printing enables on-demand production, making it possible to create custom basketballs in small quantities or even as one-offs. This flexibility in production volume allows for niche customization, catering to specific market segments or individual preferences.
| | | |
| --- | --- | --- |
| Feature | Traditional Custom Basketballs | 3D Printed Custom Basketballs |
| Cost | Generally lower | Generally higher |
| Customization | Limited | Virtually limitless |
| Materials | Leather, composite, rubber | Varied, including carbon fiber, titanium, and other materials not typically used in basketball manufacturing |
| Durability | Good | Excellent |
| Weight | Varies | Varies, but is generally lighter than traditional basketballs |
| Availability | More widely available | Less widely available |
| Lead time | Shorter | Longer |
Conclusion

3D printing has revolutionized the world of custom basketballs, offering unparalleled design flexibility, customization options, and performance optimization. The technology has unlocked new possibilities for athletes, teams, and sports equipment manufacturers, allowing them to create basketballs that perfectly align with their unique style, preferences, and performance requirements. From personalized graphics and textures to intricate internal structures and lightweight, 3D printing has transformed how custom basketballs are designed and manufactured.
If you're looking for high-quality custom basketballs to your specific needs and preferences, look no further than EverLighten. With our expertise in 3D printing and commitment to excellence, we deliver custom basketballs of exceptional quality and performance. Our team of skilled designers and engineers works closely with you to bring your vision to life, ensuring that every aspect of the basketball is to your specifications.


FAQs


Can you 3D print a basketball?

It is technically possible to 3D print a basketball. However, it would be challenging to replicate the performance and durability of a traditional basketball because of the size and properties required for proper play. You can make them for promotional purposes, etc.



Does 3D printing result in waste?

3D printing can result in waste materials, such as support structures and failed prints. However, manufacturers can reduce waste by optimizing the printing process and recycling or reusing materials when possible.



What paint is best for 3D prints?

Acrylic paints are helpful for painting 3D prints. They offer good adhesion to various materials. They come in a wide range of colors. It is easy to apply with brushes or airbrushes.



How do you make 3D prints shiny?

To make 3D prints shiny, you can apply a glossy finish using clear varnishes or coatings specifically designed for 3D. These coatings can enhance the appearance and provide a smooth, reflective surface.



How do I make my 3D print super smooth?

To make a 3D print super smooth, you can use sandpaper or sanding tools with different grits to gradually smooth the surface. After sanding, applying a primer and doing it again can further improve the smoothness.