Create Special Awards and Wow Everyone with Personalized Custom Medals: How to Use Them Effectively | EverLighten
|
Jul, 24 , 23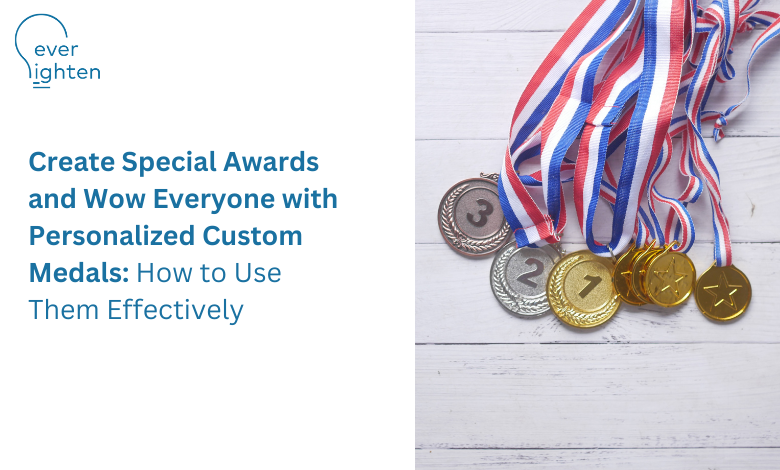 Did you know that custom medals can turn an ordinary award into an extraordinary symbol of achievement? In a world where recognition is crucial in motivating individuals and fostering a sense of accomplishment, custom medals have emerged as a game-changer. Gone are the days of generic trophies and plaques that fail to capture the essence of achievement. Today, creating special awards with personalized custom medals has become the go-to solution for organizations and individuals seeking to wow everyone.
Custom medals offer a unique opportunity to elevate the recognition experience. These medals go beyond a mere token of appreciation by infusing them with personalization and thoughtful design. They become tangible symbols that resonate with the recipients, representing their unique journeys and accomplishments.
Whether it's honoring athletes for their exceptional performance, recognizing employees' outstanding contributions, or celebrating academic milestones, custom medals add that extra touch of significance. In this blog, we will learn the art of creating special awards using personalized custom medals and explore how they can leave a lasting impression on the recipients.

Importance of Awards

Recognizing and appreciating achievements holds immense value in various aspects of life, whether in sports, academics, or professional settings. 


Motivating Individuals: Awards serve as powerful motivators. When individuals receive recognition for their accomplishments, it validates their efforts and provides a sense of pride and fulfillment. It ignites their passion to continue striving for excellence, pushing their boundaries, and achieving even greater heights.


Boosting Morale: Recognition is vital in boosting morale and creating a positive work or learning environment. When individuals feel acknowledged for their hard work and dedication, it fosters a sense of belonging, satisfaction, and loyalty. It encourages them to maintain enthusiasm, productivity, and commitment to their goals.


Celebrating Success: Awards provide a platform to celebrate success for the recipients and the entire community. They highlight exemplary achievements and inspire others to aim for greatness. By acknowledging and appreciating accomplishments, awards contribute to a culture of excellence, where individuals strive to outperform themselves and create a ripple effect of positive outcomes.


The Impact of Personalized Custom Medals



While awards hold significant value, you can enhance the impact through personalized custom medals.


Unique Design:

Custom medals allow unique designs that align with the purpose.

Custom medals

become highly personalized symbols of success by incorporating specific symbols, colors, and shapes that resonate with the achievement. This individualization enhances the emotional connection between the recipient and the award.


Tailored Recognition: Personalized custom medals provide an opportunity to tailor the recognition experience to the individual or organization. Engraving the recipient's name, date, or a special message on the medal adds a personal touch beyond a generic award. It shows that the recognition is meant for them, reinforcing their sense of accomplishment and value.


Lasting Impression: The ability to choose any artwork helps make an impression. The tangible representation of the recipient's hard work and dedication becomes a cherished keepsake, reminding them of their achievements and the recognition.


Conversation Starters:

Custom medals

become conversation starters and storytelling tools. When recipients proudly display their personalized awards, they invite curiosity and inquiries. It opens up opportunities for recipients to share their experiences, the challenges they overcame, and the significance of the recognition. It fosters a sense of pride and inspires others.




Understanding Custom Medals

Custom medals offer a distinct and personalized approach to recognizing achievements. 


Materials: Custom medals can be crafted from various materials, each with unique characteristics.


Metal: Metals like brass, zinc alloy, or iron are popular for custom medals due to their durability and aesthetic appeal.


Medallion Inserts:

Some

custom medal

s feature a metal medallion insert embedded in a large one, adding an extra level of customization.


Ribbons: Custom medals often include ribbons for wearing or displaying purposes. It can be satin, grosgrain, or other materials.


Designs: Custom medals provide endless design possibilities, allowing you to create visually appealing and meaningful awards.


Shapes: Custom medals can have various forms, such as circles, rectangles, stars, or custom shapes that represent the theme or purpose of the award.


Artwork and Logos: Incorporating artwork, logos, or symbols relevant to the organization adds a personalized touch to the medal.


Text: Engraving or printing recipient names, event details, dates, or unique messages on the medals helps to customize and commemorate the occasion.


Customization Options: The beauty of custom medals lies in their design ability for your specific needs. 


Finishes: Custom medals can be finished with various plating options, including gold, silver, bronze, or antique finishes, to enhance their visual appeal.


Colors: Incorporating enamel or paint fills allows for the addition of vibrant colors that complement the design and make the medals visually striking.


Attachments:

Custom medals can go with ribbons, neckbands, or other accessories that suit the intended use and presentation style.
Benefits of Opting for Custom Medals

Choosing custom medals over generic ones offers several significant advantages:


Uniqueness: Custom medals allow you to create one-of-a-kind awards. You ensure the award stands out and carries a distinct identity by incorporating specific designs, colors, and personalized elements.


Personalization:

Custom medals

provide an opportunity to personalize the recognition experience. You make the award feel unique and tailored to the individual or occasion by engraving recipient names, event details, or messages. 


Enhanced Branding: Custom medals can include your organization's logo or artwork, reinforcing your brand identity and creating a cohesive recognition program. It helps promote your organization's values and mission while showcasing your commitment to excellence.


Meaningful Representation: Custom medals allow visual representation of the achievement or theme. It becomes a substantial and tangible representation of the recipient's success by incorporating symbols or designs relevant to the accomplishment.


Lasting Impression: The attention to detail, personalized elements, and quality craftsmanship make the medal a cherished keepsake that recipients can proudly display or wear, keeping the memory of their achievement alive. 




Creating Special Awards with Personalized Custom Medals

Follow the steps to make personalized custom medals that stand out and align with the purpose of the award 


Define the Purpose and Criteria


Determine the purpose and the specific achievements or criteria that warrant recognition.

Understand the significance and values associated with the award to ensure the design elements align accordingly.


Choose a Medal Manufacturer or Supplier


Research and select a reputable medal manufacturer or supplier specializing in custom designs.

Consider factors such as their experience, quality of materials, customization options, and customer reviews.


Material Selection


Consult with the manufacturer or supplier to choose the appropriate material for your custom medals, such as brass, zinc alloy, or iron.

Consider durability, aesthetic appeal, and budget when making material decisions.



 
Design Elements and Customization Options
Engraving:Determine if you want to engrave recipient names, event details, dates, or unique messages on the medals. Engraving adds a personal touch and enhances the customizability of the award.

Logos or Artwork:Incorporate your organization's logo, relevant artwork, or symbols representing the achievement or theme. It reinforces branding and adds a visually appealing element to the medals.

Unique Shapes: Consider unique shapes or cutouts relevant to the award or organization. Custom shapes can add creativity and make the medals visually distinctive.

Colors: Explore options to incorporate colors through enamel or paint fills. Choose colors that complement the design and evoke the desired emotions or associations.

Finishes: Select the appropriate finish, such as gold, silver, bronze, or antique finishes, to enhance the overall aesthetics of the medals.



 
Collaboration with the Manufacturer


Work closely with the manufacturer or supplier to communicate your design preferences, customization options, and specific requirements.

Provide clear instructions and reference materials, including artwork files or design mockups, to ensure the manufacturer understands your vision.


Review and Approval Process


Request a design proof or sample from the manufacturer before production to ensure the final product matches your expectations.

Review the design, size, materials, colors, and other details to ensure they align with your intended vision for the special award.

Offer feedback and collaborate with the manufacturer to make necessary adjustments or refinements.


Production and Delivery 
Once the design is finalized and approved, the manufacturer will proceed with the custom medals.

Discuss the timeline and delivery options to ensure the medals are ready for the award ceremony or event.

When selecting design elements for your custom medals, consider the purpose and significance of the award.
Symbolism:

Incorporate symbols, imagery, or designs relevant to the achievement or theme. These elements should resonate with the recipient and convey the essence of their accomplishment.

Branding:

If the award is associated with an organization or

company

, include the logo or branding elements to reinforce the connection between the prize and the organization.

Aesthetic Appeal:

Choose design elements that are visually appealing and harmonize with each other. Consider color schemes, proportions, and balance to create an attractive design.

Readability: Ensure that any text or engraving on the medal is legible. Select appropriate font sizes and placements to make the information clear and readable.




Effective Use of Custom Medals

Properly using them will maximize their impact and create memorable recognition experiences.


Importance of Strategic Planning 

Strategic planning ensures that custom medals are utilized purposefully and align with organizational objectives or the event's goals.

It helps determine the criteria for receiving the awards, the significance of each award, and the desired impact on recipients and the broader community.

Strategic planning also considers budgetary constraints, timelines, and the recognition program's objectives.


Different Contexts for Effective Use


Sports Events:Custom medals are popular to recognize athletes' achievements, such as winning a tournament, setting records, or displaying exceptional sportsmanship.

Academic Achievements:Custom medals help recognize achievements like graduation ceremonies, excellence awards, or unique accomplishments in specific subjects or fields.

Corporate Recognition Programs: Custom medals can be incorporated into corporate recognition programs to honor employees' outstanding performance, milestones, or contributions.

Nonprofit Organizations:Custom medals are valuable in recognizing volunteers, donors, or individuals who have made a significant impact in supporting the organization's mission.


Tips for Maximizing Impact 


Thoughtful Presentation: Consider the presentation of custom medals. Present them in a way that adds to the overall recognition experience, such as in a special ceremony or event that builds anticipation and excitement.

Customize Packaging: Enhance the presentation by customizing the packaging of the medals. Consider elegant display boxes, personalized medal cases, or themed packaging to add an extra touch of sophistication and value.

Personalize Award Certificates: Accompany the custom medals with personalized award certificates that provide details of the achievement and further commemorate the recognition.

Engage with Recipients:Create an interactive and engaging experience for recipients. Offer opportunities to share their achievements, stories, or insights with others, fostering community and celebration.

Share Success Stories:Share success stories of recipients who have received the custom medals. Highlight their accomplishments, the impact of the award on their journey, and how it has motivated them to excel further.

Involve Stakeholders:Engage stakeholders such as leaders, mentors, or peers in the recognition process. Motivate them to express their appreciation or share testimonials about the recipients, further reinforcing the significance of the awards.


Over to you

Custom medals have the incredible ability to transform ordinary awards into symbols of achievement. You can create special awards that wow everyone by incorporating personalization, thoughtful design, and strategic planning. The impact of custom medals extends beyond the recognition ceremony, leaving a lasting impression on recipients and inspiring others to strive for greatness.
To embark on this journey of creating remarkable recognition experiences, partner with a trusted and experienced provider of high-quality custom medals. That's where EverLighten comes in. With our expertise in crafting custom medals, commitment to exceptional craftsmanship, and dedication to customer satisfaction, EverLighten is the perfect partner to bring your vision to life.
Whether you're organizing a sports event, academic ceremony, corporate recognition program, or any other occasion that calls for special awards, EverLighten can help you create custom medals that exceed expectations. Our wide range of customization options, attention to detail, and premium materials ensure that everyone is a unique masterpiece that reflects the significance of the achievement.
Remember, extraordinary achievements deserve unique recognition. Choose EverLighten for your custom medal needs and elevate your success. 


FAQs


How do you design a medal?

Designing a medal involves creating a concept, selecting appropriate symbols or images, and incorporating text. People use graphic design software or by working with a professional designer.



What are the parts of a medal?

A medal typically consists of a central design or emblem, a border or rim, a suspension loop or ring for attaching a ribbon, and sometimes additional elements such as text or decorative motifs.



What materials are used to make a medal?

You can make medals from various materials such as bronze, silver, gold, or other metals. They may also incorporate enamel, gemstones, or other decorative elements.



What's a type of medal?

There are different medals, like commemorative, military, sports, and academic achievement.



What are the sizes of the medals?

Medal sizes can vary depending on their purpose and design. The sizes range from around 1 inch (2.5 cm) to 3 inches (7.6 cm) in diameter.