15 Top Materials For Custom Sweaters: Elevate Your Brand with High-Quality, Branded Apparel
|
Aug, 24 , 23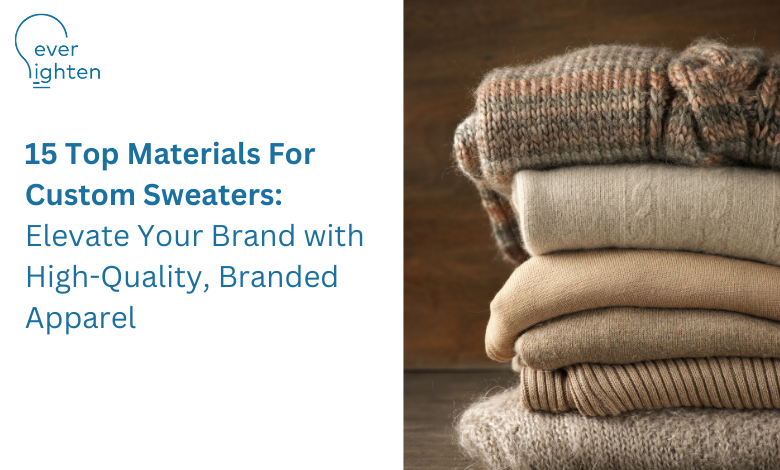 Stay Warm, Stylish, And Stand Out From The Crowd
Custom Sweaters have become a trend, captivating consumers with unique designs and personalized touch. In a world where individuality and self-expression are highly valued, custom sweaters offer a perfect opportunity for entrepreneurs to tap into this market and build a successful business.
The appeal of custom sweaters lies in their ability to reflect the wearer's personality, interests, and style. Whether it's a favorite quote, a beloved pet, or a creative pattern, customers crave garments that showcase their individuality and allow them to stand out. This demand for customization presents a lucrative business opportunity for those looking to start their venture in the industry.
The potential in selling custom sweaters goes beyond just fashion enthusiasts. The market is vast and diverse for individuals and businesses looking for unique gifts for sports teams and seeking branded merchandise. You can establish a profitable business selling custom sweaters by understanding the market, honing your design skills, and implementing effective marketing strategies.
We will walk you through the step-by-step process of selling custom sweaters. From designing captivating patterns to setting up an online store and ensuring excellent customer service, we will cover all the essential aspects necessary for your success in this exciting industry.
Custom V Regular Sweaters
| | | |
| --- | --- | --- |
| | Regular Sweaters | Custom Sweaters |
| Design | Pre-designed | Customizable |
| Personalization | Limited options | Endless options |
| Uniqueness | Mass-produced | One-of-a-kind |
| Market Appeal | Broad customer base | Niche customer base |
| Branding | Manufacturer's brand | Custom brand/logo |
| Price | Standard pricing | Potentially higher pricing |
| Emotional Connection | Limited emotional attachment | Emotional attachment due to personalization |
| Gift Potential | Generic gift option | Unique and thoughtful gift option |
| Flexibility | Limited customization | High level of customization |
| Competitive Advantage | None or limited | Unique selling proposition |
| Customer Engagement | Minimal engagement | High customer involvement |
Since custom sweaters are expensive, what makes them better for branding than other cheap items?

While custom sweaters may come at a higher cost compared to cheaper promotional items, they offer several advantages that make them better for branding:


Perceived Value: Custom sweaters are high-quality and premium items. Their durability, superior craftsmanship, and comfortable materials convey a sense of value and luxury. This perception positively reflects on the brand, associating it with quality and attention to detail.


Longevity and Visibility: Unlike many inexpensive promotional items that may be quickly discarded or forgotten, custom sweaters are practical, and people can wear them repeatedly. They have a longer lifespan, ensuring brand visibility and exposure in various settings.


Brand Association: Custom sweaters allow for a more meaningful and personal connection between the wearer and the brand. When individuals proudly wear branded sweaters, they become walking ambassadors, showcasing their affiliation and loyalty. This association builds brand recognition and fosters a sense of community.


Customization and Personalization: Custom sweaters help with customization and personalization, allowing individuals to add their names, numbers, or unique design elements. This level of personalization enhances the emotional connection and makes the sweater more cherished and valued by the wearer.


Targeted Audience: Custom sweaters are particularly effective for reaching a specific target audience. Organizations, sports teams, or businesses can distribute custom sweaters to employees, loyal customers, or dedicated fans who will appreciate and utilize the item. This targeted approach ensures that the branding message reaches those who have a genuine interest in the brand.


Brand Perception: By investing in higher-quality custom sweaters, a brand signals its commitment to excellence, quality, and attention to detail. It positively impacts the brand perception, positioning it as premium and trustworthy. Customers, employees, or fans will align with a brand that values quality and invests in superior merchandise.


Differentiation: Custom sweaters are distinctive and unique in a sea of cheaper promotional items. They offer sophistication and exclusivity that sets them apart from more common giveaways. This differentiation allows the brand to make a memorable impression and leave a lasting impact on recipients.


Popular materials for custom sweaters


Wool: Wool is a popular material for custom sweaters known for its warmth, breathability, and durability. It provides excellent insulation and moisture-wicking properties, making it suitable for various climates and activities.


Cotton: Cotton is a versatile and widely used material for custom sweaters. We know it for its breathability, soft texture, and hypoallergenic properties. Cotton sweaters offer comfort, and people can wear them throughout the year in many places.


Cashmere: Cashmere is a luxurious and soft material often used for high-end custom sweaters. It is derived from the fine hairs of cashmere goats and provides exceptional warmth and insulation. Cashmere sweaters are known for their elegance and lightweight feel.


Acrylic: Acrylic is a synthetic material commonly used for custom sweaters. It is lightweight, affordable, and offers good color retention. Acrylic sweaters are easy to care for. They can mimic the look of natural fibers.


Polyester: Polyester is a durable and wrinkle-resistant synthetic material in custom sweaters. It offers excellent shape retention and colorfastness. Polyester sweaters are often blended with other fibers to enhance their properties.


Mohair: Mohair is a luxurious material derived from the hair of Angora goats. It is known for its softness, luster, and insulating properties. Mohair sweaters are lightweight and provide excellent warmth.


Angora: Angora is a material sourced from the fur of Angora rabbits. People like it for its exceptional softness and warmth. Angora sweaters have a fluffy texture and a luxurious feel.


Alpaca: People regard alpaca wool for its softness and thermal properties. It offers warmth without the weight, making alpaca custom sweaters cozy and comfortable. Alpaca fibers are also hypoallergenic.


Silk: Silk is a natural fiber renowned for its smoothness, lustrous appearance, and breathability. Silk custom sweaters have a luxurious feel and provide lightweight warmth. Manufacturers blend it with other materials for added durability.


Linen: Linen is a lightweight and breathable fabric derived from flax plants. Linen custom sweaters are ideal for warmer climates. They offer excellent airflow and moisture-wicking properties. They have a textured and crisp look.


Bamboo: Bamboo is a sustainable and eco-friendly material used in custom sweaters. It is known for its softness, moisture-wicking capabilities, and hypoallergenic properties. Bamboo sweaters have a silky feel and are suitable for sensitive skin.


Viscose: Viscose, or rayon, is a semi-synthetic fiber from regenerated cellulose. It is soft, breathable, and drapes well. Viscose custom sweaters offer comfort and versatility.


Nylon: Nylon is a synthetic material with excellent durability and strength. It is often blended with other fibers to enhance the resilience and stretch of custom sweaters. Nylon adds durability and quick-drying properties. 


Rayon: Rayon is a versatile semi-synthetic material made from regenerated cellulose fibers. It has a soft and smooth texture, making rayon custom sweaters comfortable. It appears similar to natural fibers.


Blends: Blended materials, such as wool/cotton or cashmere/silk, combine the unique properties of different fibers. These custom sweaters offer a balance of comfort, warmth, and style, combining the best features of each material.

How to make custom sweaters?

Creating custom sweaters involves several key steps, from designing the pattern to contacting manufacturers and bringing your vision to life.
Designing the Pattern:


Start by brainstorming ideas for your custom sweater design. Consider themes, colors, patterns, and any personalized elements you want to incorporate.
Use design software or sketch your ideas on paper to visually represent the design.
Pay attention to sizing and measurements to ensure a proper fit for your customers.



Sourcing Materials:



Determine the material you want for your sweaters based on warmth, comfort, and durability. Consider options like wool, cotton, cashmere, or blends.
Research and connect with suppliers or fabric manufacturers offering the materials you require. Request fabric samples to assess quality.



Research and identify manufacturers who specialize in sweater production or knitwear.
Reach multiple manufacturers to request quotes, discuss your design, and inquire about their capabilities, minimum order quantities (MOQs), production timelines, and pricing.
Consider factors such as production capacity, quality control, and ethical practices when selecting a manufacturer.



Sample Production:


Once you have chosen a manufacturer, request a sample production of your custom sweater design. This step helps ensure that the manufacturer understands your requirements and can deliver the desired outcome.
Review the sample thoroughly, paying attention to details like fabric quality, stitch work, color accuracy, and overall fit. Make any necessary adjustments or communicate changes to the manufacturer.



Production and Manufacturing:


After finalizing the design and sample, order with the manufacturer based on their MOQ and agreed-upon terms.
Provide the manufacturer with detailed specifications, including design files, measurements, colors, and additional customization instructions.
Regularly communicate with the manufacturer to track the production progress, resolve issues, and ensure the timeline.



Request the manufacturer to conduct quality control inspections throughout the production process. It ensures that the finished products meet your standards and expectations.
Inspect the final products before shipping or distribution to ensure they meet your quality requirements, including design accuracy, stitch work, fabric quality, and proper sizing.



Decide on branding elements for your custom sweaters, such as labels, tags, or personalized packaging.

Work with a graphic designer or a professional printing company to create custom labels or tags that reflect your brand identity.

Attach the labels or tags to your sweaters before shipping or distributing them.



Decide on branding elements for your custom sweaters, such as labels, tags, or personalized packaging.

Work with a graphic designer or a professional printing company to create custom labels or tags that reflect your brand identity.

Attach the labels or tags to your sweaters before shipping or distributing them.



Marketing and Selling:

Set up an online store or utilize existing e-commerce platforms to showcase and sell your custom sweaters.

Develop a marketing strategy to create awareness and generate sales. Utilize social media, influencer collaborations, email marketing, and other channels to reach your target audience.

Provide clear product descriptions, high-quality product images, and pricing information.



Customer Service and Feedback:

Offer excellent customer service by promptly responding to inquiries, providing sizing guidance, and addressing any issues or concerns.

Encourage customers to provide feedback on their purchasing experience and the product itself. Use this feedback to improve your offerings and enhance customer satisfaction.


How to market custom sweaters?

To effectively market your custom sweaters and differentiate yourself from the competition, consider the following strategies:

Identify Your Unique Selling Points:

Determine what sets your custom sweaters apart from others in the market. Is it your design expertise, high-quality materials, exceptional craftsmanship, or personalized customer experience?

Highlight these unique selling points in your marketing efforts to convey the value customers will receive by choosing your custom sweaters.



Define Your Target Audience:

Identify the specific demographic or niche market that aligns with your custom sweaters. It could be age, interests, lifestyle, or specific design themes.

Tailor your marketing messages and visuals to resonate with your target audience's preferences and aspirations.



Develop a Strong Brand Identity:


Create a compelling brand story that showcases your passion, values, and the inspiration behind your custom sweater business.

Design a unique and memorable brand logo, website, and packaging that reflect your brand identity and resonate with your target audience.



Professional Product Photography:


Invest in high-quality product photography to showcase your custom sweaters. Clear and visually appealing images will help your products stand out and attract potential customers.

Display different angles, close-ups of unique design elements, and lifestyle shots to demonstrate how your custom sweaters can enhance a customer's style.



Engage in Social Media Marketing:


Utilize social media platforms like Instagram, Facebook, and Pinterest to showcase your custom sweaters, share behind-the-scenes content, and engage with your audience.

Use relevant hashtags and collaborate with influencers or micro-influencers who align with your brand values to expand your reach and credibility.



Provide Personalization Options:


Emphasize the importance of customization and personalization in your marketing messaging. Highlight the ability of your customers to create unique designs or add personalized elements to sweaters.

Showcase examples of past customized orders to inspire potential customers and demonstrate the possibilities.



Offer Exceptional Customer Service:


Go above and beyond to meet the needs of your customers.

Respond promptly to inquiries, address concerns, and ensure smooth communication throughout the ordering and fulfillment. This personal touch will help build customer loyalty and positive word-of-mouth.



Leverage User-Generated Content and Testimonials:


Encourage your customers to share their experiences and showcase their custom sweaters on social media. Use user-generated content to create a sense of community and authenticity.

Display customer testimonials or reviews on your website and social media platforms to build trust and credibility with potential customers.



Participate in Events and Collaborations:


Participate in local fashion events, craft fairs, or pop-up shops to showcase your custom sweaters to a targeted audience.

Collaborate with other local businesses, influencers, or charities to cross-promote and expand your reach.



Focus on Sustainability and Ethical Practices:


Highlight your commitment to sustainability and ethical practices in your marketing messaging. Educate customers about the materials you use, your manufacturing processes, and any environmentally friendly initiatives you undertake.


How organizations and sports teams can promote their brands with custom sweaters?

Custom sweaters provide excellent opportunities for organizations and sports teams to promote their brands and create a sense of unity and loyalty among their members or fans.

Branding and Logos:

Incorporate the organization's or team's logo, colors, and branding elements into the design of the custom sweaters. It creates a visual connection with the brand and helps build brand recognition.

Ensure the logo is prominently displayed on the sweaters, the front, back, or sleeves, to maximize visibility.



Customization and Personalization:

Offer customization options to individuals within the organization or fanbase. Allow them to add their names, numbers, or other personalized elements to the sweaters.

This personalization creates a stronger sense of belonging and ownership, as individuals proudly wear a garment representing their affiliation with the organization or team.



Team Uniforms and Merchandise:

Utilize custom sweaters as team uniforms during games or events. The uniformity of the sweaters showcases a strong team identity and boosts team spirit.

Offer custom sweaters as merchandise for fans to purchase. It enables them to support the team while showcasing their loyalty and affiliation.



Sponsorship Opportunities:

Use custom sweaters as a platform to display sponsor logos or brand partnerships. It provides exposure for sponsors and creates mutually beneficial relationships.

Consider offering sponsor-specific custom sweaters or limited-edition collaborations, providing additional marketing opportunities.



Fan Engagement and Giveaways:

Organize contests or giveaways where fans have the chance to win custom sweaters. It fosters engagement, excitement, and a sense of exclusivity among the fanbase.

Encourage fans to share photos or testimonials of themselves wearing the custom sweaters on social media. Repost or feature this user-generated content to increase brand visibility and fan interaction.



Events and Community Outreach:

Use custom sweaters as promotional items during events, fundraisers, or community outreach programs. It helps the organization or team to showcase its brand while connecting with the community.

Consider donating custom sweaters to local schools, youth programs, or charity organizations. It helps build goodwill and strengthens the brand's reputation.



Social Media and Digital Marketing:

Feature the custom sweaters in social media posts, videos, or live streams. Highlight their design, quality, and the sense of pride they represent.

Run targeted digital marketing campaigns, utilizing platforms like Facebook and Instagram, to reach a broader audience and promote the custom sweaters.



Collaborations and Partnerships:

Explore collaborations with local designers, artists, or influencers to create unique limited-edition custom sweaters. It can attract new audiences and generate buzz around the brand.

Partner with sports apparel retailers or online marketplaces to expand the distribution of custom sweaters and reach a broad customer base.


How Google uses Custom Sweaters?

Google has masterfully leveraged custom sweaters across diverse avenues, showcasing creativity and camaraderie. 
Employee Engagement: At Google, custom sweaters have become emblematic of team spirit and unity. Adorned with the Google logo and other branding elements, these sweaters instill a sense of pride, fostering a collaborative and energetic work environment.
Promotional Campaigns: Google's custom sweaters have also proven ingenious promotional giveaways. These stylish garments, featuring the iconic Google logo, serve as sought-after prizes at events, captivating customers and partners while amplifying brand visibility and excitement for Google products and services.
Philanthropic Initiatives: Making a difference beyond the digital realm, Google has ingeniously employed custom sweaters in charity auctions. By auctioning these exclusive pieces, Google has contributed to vital causes and demonstrated its commitment to community welfare and social responsibility.
Tokens of Appreciation: Thoughtful and heartfelt gestures go a long way in building lasting relationships. Google has recognized this by presenting custom sweaters as corporate gifts to employees, clients, and partners. This gesture exemplifies gratitude and helps strengthen connections, reinforcing Google's reputation as a caring and considerate organization.


Create a Custom Sweater That Tells Your Story

Custom sweaters offer a powerful branding opportunity, allowing organizations, sports teams, and businesses to showcase their identity, foster loyalty, and create a lasting impression. While they may come at a higher cost than cheaper promotional items, the value in perceived quality, longevity, customization, and brand association is unparalleled.
If you want to make customized sweaters at the best price without compromising quality, EverLighten is here to help. With our expertise in custom apparel manufacturing and commitment to delivering exceptional products, we ensure that your vision comes to life with precision and care. Our team of skilled professionals will work closely with you, from design to production, ensuring that every detail of your custom sweaters is perfect.
Take advantage of EverLighten's competitive pricing, extensive fabric options, and commitment to customer satisfaction. Whether you're representing an organization, sports team, or business, our custom sweaters will help you stand out, build brand recognition, and leave a lasting impression.


FAQs


How do I promote the custom sweaters brand on social media?

There are a few things you can do to promote your custom sweaters brand on social media:

Create high-quality images and videos of your products.

Use relevant hashtags to reach your target audience.

Run social media contests and giveaways.

Collaborate with influencers who have a following in your target market.

Promote your brand on your website and other online channels.

 

How do you make a good quality clothing brand?

There are a few things you need to do to make a good quality clothing brand:

Use high-quality materials.

Hire skilled and experienced designers and manufacturers.

Pay attention to detail.

Test your products thoroughly.

Offer a good warranty or return policy.

Build a strong brand identity.

 

What are the benefits of branded custom sweaters?

There are a few benefits to having branded custom sweaters:

They can help you build brand awareness.

They can make your brand more memorable.

They can help you stand out from the competition.

They can be a great way to show your customers that you appreciate their business

 

How does brand awareness affect consumer behavior?

Brand awareness can affect consumer behavior in a number of ways. For example, people more aware of a brand are more likely to consider buying that brand's products. They are also more likely to be loyal to that brand and to recommend it to others.



How can social media increase sales?

Social media can increase sales in a number of ways. 

Increase brand awareness.

Generate leads.

Drive traffic to your website.

Promote your products or services.

Build relationships with customers.

 

How can organically increase brand awareness?

Create high-quality content

Use relevant hashtags

Run social media contests and giveaways 

Collaborate with influencers

Attend industry events

Get involved in your community