custom products
Tencel-The Sustainable Fabric of Choice for Custom Products
|
Mar, 25 , 23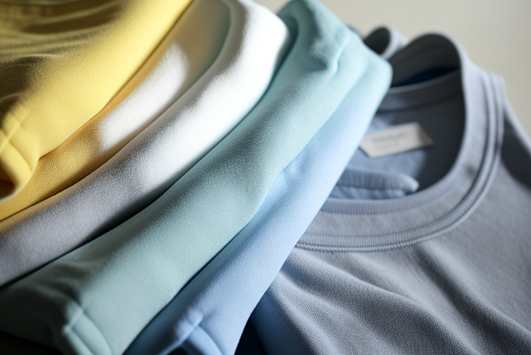 With the increasing demand for sustainable and ethical products, many businesses are now exploring new materials in their product lines. One of those is Tencel or Lyocell. Custom products made from Tencel offer a unique and high-quality alternative to traditional materials. It also promotes sustainability and reduces the impact on the environment. From clothing and accessories to home goods and
promotional items
, the versatility of Tencel makes it an attractive choice for businesses looking to offer custom products that are both stylish and environmentally responsible. In this context, custom products made from Tencel are fashionable and contribute to a more sustainable future for our planet.
What is Tencel?
Tencel is a brand name for a type of lyocell fabric that they create from the cellulose fibers found in wood pulp. The process involves dissolving the wood pulp in a non-toxic solvent and then extruding the resulting solution through fine holes to create strands. They then spin into yarn and are woven into fabric.
Tencel is known for its softness, durability, and absorbency. We use them in clothing, bedding, and other textile products. Tencel is an eco-friendly fabric, as the production process is relatively low in energy and water consumption, and the solvent used in the process can be recycled.
Tencel is a "regenerated cellulose" fiber because we make it from natural materials and process it to create a new material. It is also sometimes compared to other fabrics like cotton and silk, but its unique properties and production process make it stand out as a high-quality and sustainable option.
What are some of the properties of Tencel for custom products?
Tencel is a versatile and sustainable fabric that offers a range of properties for custom products.
Softness: Tencel is known for its softness and silky texture, which makes it a popular choice for clothing and other products that come into contact with the skin.
Strength: Despite its softness, Tencel is rugged and durable. It can withstand many washing cycles and wear.
Moisture absorption: Tencel is highly absorbent and can retain up to 50% more moisture than cotton, making it a popular choice for several products.
Breathability: Tencel is a breathable fabric that allows air to circulate, which helps regulate body temperature and reduce sweating.
Eco-friendliness: Tencel is a sustainable and eco-friendly fabric we make from wood pulp sourced from responsibly managed forests. The process is a closed-loop process that minimizes waste and environmental impact.
Customizability: Tencel can be easily dyed and printed, making it a superb choice for custom products that require specific colors, designs, or branding.
Is Tencel print-friendly for branding?
Yes, Tencel is a print-friendly fabric we can customize with branding, logos, and other designs. We can screen print or digitally print, or embroider to create
custom apparel
 and other products.
Tencel's smooth and soft surface is especially conducive to high-quality printing and embroidery, as the fibers can hold vibrant colors and intricate designs without losing shape or texture. Tencel is also a versatile fabric that can be dyed to match specific color palettes, which makes it an excellent choice for creating custom products with unique branding.
In addition, Tencel's eco-friendliness and sustainable sourcing make it an attractive option for businesses that prioritize sustainability and ethical manufacturing practices. With Tencel, you can create high-quality, environmentally friendly, and sustainable custom products.
What is the process of making yarn from Tencel?
The process involves several steps, including the dissolution of the wood pulp, extrusion of fibers, spinning it into yarn, and finishing.
Dissolution: The first step in making Tencel yarn is to dissolve the wood pulp using a non-toxic solvent. This process breaks down the pulp into its cellulose fibers.
Extrusion: They extrude the resulting solution through fine holes to create fibers. The fibers are then washed and dried to remove residual solvent and additional impurities.
Spinning: The fibers are then spun into yarn using a spinning machine. This process involves twisting the strands together to create a continuous strand of yarn.
Finishing is the final step to improving its quality and appearance. It may involve applying heat or chemicals to enhance the softness, strength, and sheen.
What is the process of making custom products from Tencel?
Making custom products from Tencel involves several steps, including design, material sourcing, production, and finishing.
Design: The first step in making custom products is to create artwork. It involves deciding on the product type, size, shape, color, and branding or customization requirements.
Material sourcing: After choosing the design, the next step is to source Tencel fabric from a reputable supplier. Tencel fabric is available in several weights and textures; the selection will depend on the product type and design.
Production: The Tencel fabric is then cut and sewn according to the design specifications. It may involve working with a manufacturer or a production team to ensure the product has the highest quality standards.
Finishing: Once the custom product is ready, it is inspected and finished to ensure that it meets the desired quality and specifications. It may involve adding details such as branding or custom labels or applying any necessary coatings or treatments to protect the fabric.
What custom products can we make from Tencel?
Thanks to its versatility and range of properties, we can create many custom products from Tencel. Here are some examples:
Clothing:
 Tencel is a popular choice for clothing, as it is soft, breathable, and durable. Custom clothing from Tencel can include
t-shirts, hoodies,
etc.
Home textiles: Tencel is a superb choice for home textiles, including bedding, towels, and curtains. These products can be custom designed to fit any décor or branding requirements.
Promotional products:
We can also use it to create a range of promotional products, such as
custom tote bags
, custom caps, and other items with branding or messaging.
What are a few of the disadvantages of using Tencel for custom apparel?
While Tencel is a versatile and sustainable fabric, there are a few potential disadvantages of using it for custom apparel, including:
Cost: Tencel is generally more expensive than some other fabrics, which can impact the overall cost of custom apparel made from Tencel.
Shrinkage: Tencel can shrink if exposed to high temperatures during washing or drying. It can be mitigated by following care instructions and avoiding high heat.
Wrinkling: Tencel can wrinkle easily, which may require additional ironing or steaming to maintain a smooth appearance.
Color bleeding: Tencel can be prone to color bleeding, particularly with darker or saturated colors. We can address this through proper dyeing and washing processes.
Limited availability: Tencel may not be as widely available as other fabrics making it more challenging to source for custom apparel production.
How to make people aware of the custom products of Tencel?
Businesses can use a variety of marketing and promotional strategies to make people aware and promote their brand.
Social media: One of the most effective ways to reach potential customers is through social media. Businesses can use platforms like Instagram, Facebook, and Twitter to showcase their Tencel products, share photos and videos, and engage with customers.
Influencer marketing: Partnering with influencers who align with the brand's values and target market can help increase awareness of Tencel products. Influencers can share product reviews, unboxing videos, and other content on their social media channels.
Events and trade shows:
Participating in events and
trade shows
 can help businesses showcase their Tencel products to a broad audience. These events can also provide opportunities to network with potential customers, suppliers, and partners.
Email marketing: Businesses can use email marketing campaigns to promote their Tencel products to existing customers and subscribers. It can include product launches, discounts, and other promotions.
Sustainable and ethical messaging: Emphasizing the sustainability and eco-friendliness of Tencel products can help attract customers who are looking for more ethical and environmentally responsible options.
Collaborations and partnerships: Collaborating with other businesses and organizations with similar values and target markets can help increase awareness of Tencel products. For example, partnering with sustainable fashion brands or eco-friendly organizations can help reach new audiences.
Over to you:
Tencel is a versatile, sustainable, and high-quality fabric that offers numerous advantages for businesses looking to create custom products. Whether you're producing clothing, accessories, home textiles, personal care products, or other custom items, Tencel's softness, strength, moisture absorption, breathability, and eco-friendliness make it an excellent choice for a wide range of applications.
With Tencel's custom products, businesses can create high-quality, customized items that stand out in a crowded market while promoting sustainable manufacturing practices. With Tencel's ability to be easily dyed and printed, businesses can also create custom products with unique branding and design elements that reflect their brand identity.
While there may be some potential drawbacks to using Tencel for custom apparel, such as higher cost or likeliness of shrinkage or wrinkling, we can mitigate them with proper care and handling. Overall, the advantages of Tencel as a sustainable and versatile fabric make it an excellent choice for businesses looking to create custom products that are both high-quality and eco-friendly.
There are many manufacturers of custom products, but not many use Tencel or other sustainable materials. EverLighten is a company that follows all fair practices, sustainability, and eco-friendly manufacturing. They collaborated with clients, such as startups, established companies, athletic organizations, academic institutions, charitable organizations, the military, public figures, individuals, etc.
The Midwest Food Bank, Peoria, IL, alleviates hunger with the help of over 25,000 volunteers in various locations in many countries. They wanted custom socks to raise funds for the noble deeds but could not find a manufacturer because of budget constraints and a short deadline. Fortunately, they contacted EverLighten. Knowing their mission, we readily accepted the project. To contribute to the cause, we gave them a heavy discount. Our team provided help from material to design and delivered on time. The fundraiser was a success.
EverLighten - The Industry Leader in Custom Products
Best price: We make custom items in our factory, which helps customers get the best cost in the industry.
Premium-quality: The customers receive high-end custom products made with premium materials, fair practices, eco-friendly manufacturing, and packaging to ensure the highest level of quality.
Fast turnaround: At EverLighten, we provide prompt turnaround to guarantee that every project is on time.
24*7 support: The customer service team is available to assist you with your needs at any time.
Customer satisfaction: We enjoy helping and are pleased to create your dream products.
100% customization: Customers can customize every aspect -colors, materials, artwork, accessories, process, etc.
Lowest quantity requirement: We have a low MOQ. It gives customers increased flexibility.
Worldwide delivery: We deliver to every part of the world, and our clients can conveniently track their orders through an online tracking system.