Custom Toe Bags
Go Green with Custom Tote Bags- An Effective Way to Boost Brand Awareness
|
Mar, 25 , 23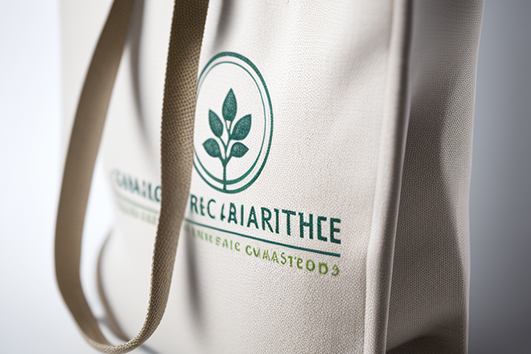 In a world where sustainability and eco-friendliness are becoming increasingly important,
custom tote bags
have become popular. Tote bags are a practical and eco-friendly way for companies to promote their products or services. They also help showcase their commitment to environmental sustainability. These bags can be customized with a company's logo, messaging, or design, providing an effective and low-cost way to increase brand visibility and recognition. In this way, custom tote bags have become a popular marketing tool for businesses of all sizes, helping to promote their brand and message.
What are custom tote bags?
Custom tote bags are a type of reusable bag that you can personalize with a custom design, logo, or message. They have durable materials like cotton, canvas, or polyester. People can carry them in their hands or over the shoulder.
Custom tote bags are popular as promotional items for businesses because they promote a brand or message while providing a use for customers. As unique and functional keepsakes, they can also use them for personal events like weddings, parties, reunions, etc.
Some custom tote bags may be designed with specific features, such as pockets, zippers, or adjustable straps, to increase their functionality and appeal to particular audiences. They come in various sizes, colors, and styles, making them a versatile and customizable option for many needs.
What makes custom tote bags a perfect item for brand awareness?
Custom tote bags are an excellent item for brand awareness for several reasons:
Practicality:Tote bags are practical items for many settings, from shopping trips to daily commutes. Companies can increase brand visibility in various contexts by providing customers with helpful products.
Customizability:Custom tote bags can be designed with a company logo, message, or other design elements, making them highly customizable items to the needs and preferences of the company and its target audience.
Visibility:Tote bags have a large surface area, which offers ample space for company branding and messaging. It makes them noticeable products that can help to increase brand recognition and awareness.
Sustainability: As more consumers become environmentally conscious, eco-friendly products like custom tote bags are becoming increasingly popular. By providing customers with a sustainable and reusable item, companies can build a positive reputation and increase their appeal to environmentally conscious consumers.
How to design custom tote bags for brand awareness?
When designing custom tote bags for brand awareness, it's crucial to keep the following tips in mind:
Minimalism:A clean and simple design is often the most effective for brand awareness. Use your company's logo and a concise message or tagline to make the bag memorable and recognizable.
Choose the right colors: Colors can impact the effectiveness of a tote bag design. Choose colors consistent with your brand identity, and consider using bold, eye-catching hues to help the bag stand out.
Consider the bag material: You can customize tote bags from various materials, including cotton, canvas, and polyester. Choose a high-quality and durable material, and consider selecting a color that complements your design.
Use high-quality printing: The printing quality of your design can make a significant difference in the final product. Use a high-quality printing process to ensure your logo and name are clear and vibrant.
Think about the target audience:Consider who your target audience is and what will appeal to them. For example, if your audience is young and trendy, consider using a design that reflects this demographic.
Make it unique:The more unique and creative your design, the more likely people can recognize it. Consider adding design elements or a clever tagline to make the bag stand out.
What are some of the best materials for custom tote bags?
You can use several materials for custom tote bags. The best material for a particular bag will depend on its intended use and the company's needs. Here are some of the most popular materials used for custom tote bags:
Cotton is a durable and breathable material perfect for custom tote bags. It is also a sustainable and eco-friendly material making it a popular choice for companies focused on environmental sustainability.
Canvas is a heavy-duty material often used for custom tote bags. It is a durable and rugged material that can withstand wear and tear, making it ideal for frequent use.
Polyester is lightweight and water resistant, perfect for custom tote bags in wet environments. It is also a simple material to clean and maintain.
Jute is natural, eco-friendly, and biodegradable. It has a distinct, rustic look that can give custom tote bags a unique and attractive appearance.
Non-Woven Polypropylene is a synthetic material often used for custom tote bags. It is lightweight, strong, and easy to clean, making it a popular choice for reusable shopping bags.
How to use custom tote bags for brand awareness? 
You can use them to increase brand awareness and promote a company's products or services. Here are some ways to effectively use custom tote bags for brand awareness:
Give them away as promotional items:Distribute custom tote bags as promotional items at trade shows, conferences, or other events. People can see your brand and message and help to generate positive associations with your company.
Offer them as a gift with purchase:Providing custom tote bags as a gift with purchase is an effective way to incentivize customers to buy from your company. It can encourage customers to purchase while also increasing brand awareness and visibility.
Use them as employee gifts:Custom tote bags can be a great way to appreciate employees and help to build a positive workplace culture. Providing custom tote bags to employees will increase the visibility of the company logo and messaging inside and outside the workplace.
Sell them as merchandise: Companies can sell custom tote bags as merchandise to customers, providing a practical and eco-friendly way for customers to represent the brand. It will generate revenue and increases brand visibility when customers use the bags in public.
Partner with other companies for cross-promotion:Collaborate with other organizations to create custom tote bags featuring companies' logos and messaging. It can be an effective way to reach new audiences while also building brand awareness and generating positive associations.
Tote Your Brand
Custom tote bags have become an increasingly popular and effective marketing tool for companies looking to increase their brand awareness and promote their commitment to environmental sustainability. With a wide range of materials, designs, and customizations, you can create custom tote bags that effectively showcase your brand and messaging in a practical and eco-friendly way. By utilizing custom tote bags as promotional items, gifts with purchase, employee gifts, merchandise, or cross-promotional items, companies can increase their visibility and generate positive associations with their brand cost-effectively and sustainably. Ultimately, custom tote bags offer a win-win solution for companies looking to promote their brand while demonstrating their commitment to environmental responsibility.
EverLighten - The Industry Leader In Sustainability:
Partner with EverLighten to achieve success while maintaining sustainability. We have provided branding and marketing services to numerous clients, including startups, corporations, sports teams, universities, nonprofits, celebrities, and individuals.
Best price: We make custom tote bags in our factory, which helps customers get the best cost in the industry.
Premium-quality: The customers receive high-end custom bags made with premium materials, fair practices, eco-friendly manufacturing, and packaging to ensure the highest level of quality.
Fast turnaround: At EverLighten, we provide rapid turnaround to guarantee that every project is on time.
24*7 support: The customer service team is available to assist you with your needs at any time.
Customer satisfaction: We enjoy helping and are pleased to create your dream products.
100% customization: Customers can customize every aspect -colors, materials, artwork, accessories, process, etc.
Lowest quantity requirement: We have a low MOQ. It gives customers increased flexibility.
International delivery: EverLighten ships to every part of the world, and our clients can conveniently track their orders through our online tracking system.