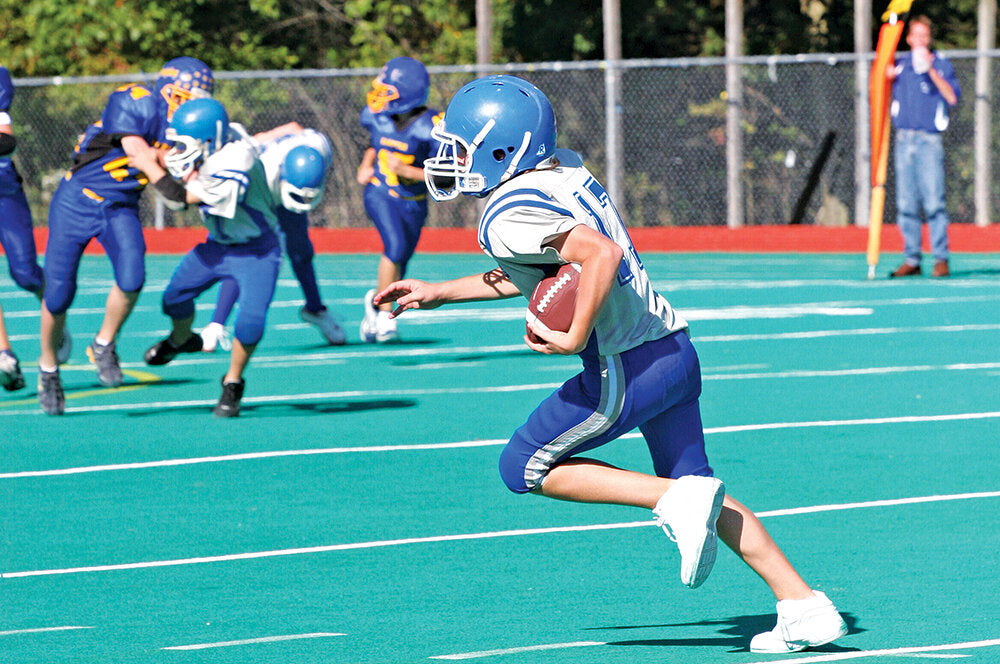 2020 may well not be remembered at all, but the world has seen some sports throughout this year. Indian Premier League, a prime cricket league in India, did a terrific job at spreading positivity. Many football premiere leagues did the same, and currently, an Australian cricket league is trying to revive the enthusiasm among the audiences around the world. Sports bring people together, and the collective joy of experiencing sports can't be explained in some words. But, we are not going to talk about sports in general, but we will discuss the need for product customization in sports. We see a lot of innovation in sports uniforms, be it football, cricket, basketball or baseball, the uniforms are the identity of any sports team; it unites them with their fans. Fans love to wear their favorite team's custom jersey, custom socks, and they use other custom products such as custom tumbles and custom bags. Some of the fans even like to collect custom basketballs, custom athletic socks, or custom baseball socks, which consist of the image of their favorite team's players or logo.
People like using customized products. In earlier days, people who could afford an exceptional product would go straight to an artisan to make a unique piece of clothing as per their choice or requirement. It was a niche idea, but when the industrial revolution happened, the plan of mass production swooped in, and the easy availability of products enticed more and more consumers. Increasing consumer interest even surged the demand for customized products.
Sports helped the market to grow even further. Different leagues mean different custom uniforms, various merchandising opportunities, and a boost in the revenue for that particular sport. The math was simple, more teams lead to more custom merchandising, and that leads to more opportunities. People who watch matches from the stadium like to wear custom jerseys of the team they are supporting. Custom products give them a sense of belonging; fans feel that they are also part of their favorite team's group. Even products like the custom bag, custom socks, custom tumbles are effective, as they are useful, and it has given an edge to their fan's personality. All of this helps in the growth of sports. So today, we will be discussing the needs for custom products in sports.



Benefits of product customization in sports
Today, clients anticipate that organizations should tailor their items or services explicitly for everybody. In the online world, internet business sites will adjust their proposals as per what you've just purchased.
Brands are very mindful that personalization makes an incentive for clients; however, it's not easily enormous names that are creating income from product customization. It's simpler than for anyone in recent times to begin a business since online stores eliminate overheads related to the conventional retail model.
Since days of yore, sports fan have perceived their #1 player dependent on the shirt name. It is something that assists players with hanging out in relentless games, for example, soccer or baseball. Following a kindred line, product customization in games is tied in with causing a game's devotee to feel very near to the game they like. These items can go from custom jerseys to custom athletic socks made for a specific purchaser. The thought is to totally get into the mind of your client base and make them an offer; they fundamentally cannot refuse.
As a sports brand, the idea of product customization is to provide fans with products that multiply their identity factor as fans and also helping drive merchandise sales through exclusivity. A brand will surely pitch custom basketballs, custom socks, custom bags, custom baseball socks, custom tumbles to their brand's fans to get more sales.
The preferences that clients will get from the customized products are self-evident. They desire distinctive products that will have that uncommon inclination appended to them. Something which their companions, family members, or neighbors don't have. Also, the groundbreaking organizations that might act both convenient and astutely will be the ones who might give their purchasers that peculiar product they generally needed to have.
But what benefits can you have from introducing customized products from the business perspective? Here we will be discussing some of the product customizations every brand can consider.

The attention of the mass media
By introducing customized merchandising products, companies will automatically give local or international media and agencies to write something about them. It will help you to create brand awareness and reach a wider audience. They have to make sure that your sports brand looks fun, relevant, and attractive.

An opportunity to implement a price surge
Customized products are often considered to be unique, which means they are rare and exclusive. In business, it is a common practice that exclusive products will be costlier than any usual product. Also, customers will pay extra for the opportunity to own something rare. Therefore, your favorite team's custom basketball, custom socks, custom baseball socks, custom jersey, or custom bag will cost more than a usual product.
By introducing this kind of merchandising range, a sports brand can enjoy a higher percentage of revenues from selling exclusive products of popular sports teams.
Sales-driven data
By launching customized products, the company will comfortably get data about customer's preferences and desires. Your brand will be able to sell things your customers want to buy. Businesses will get timely and relevant information about their target audience's tastes and needs at no additional cost. Therefore, when brands introduce product customization, they will receive accurate information about the products their consumers are likely to buy and hence have a clear comprehension of the business direction they should swift to in the future.

Dominance in the gift market
People like to get unique gifts on a special occasion, and customized sports products may become a great option to gift. It would be hard to resist the temptation of owning custom jerseys, custom athletic socks, custom bags, or custom tumbles from your favorite team's customized merchandise. The brand will get an opportunity to earn additional profits through this idea and will venture into a different market.
Better customer loyalty
A sports brand providing customized products will have better customer loyalty, as it will engage consumers in a better product selection process. Your business will make sure that your consumers get exactly what they want to buy, which leads to a feeling of overwhelming satisfaction. It will help your brand increase the number of repeat purchases and customer loyalty.

Changing trends
Previously, the process of selling sports merchandise to ecommerce merchants was simple, but after a point of time, it faced some challenges due to rising competition and changing preferences. The idea of customization, be it custom basketballs, custom athletic socks, custom tumbles, or custom bags, is still a niche to us. But, it is evident that customization impacts your customers' shopping decisions. So, let's make the most of it and improve the customization business significantly.

The challenges
For dealers creating countless merchandise, the expenses of separation can be a concern. Notwithstanding, if you have the assets and designs set up, all you require is a quick cycle intending to benefit as much as possible. Your clients can literally lose interest if they see the same patterns every time, with products they consistently use. Be that as it may, the concern actually stays operation shortcoming and the dread of disappointment on the facilitated site. Many times you won't see the orders flooding for custom basketball, custom athletic socks, custom bag, custom socks, and custom jersey as they are designed for a specific set of group, so definitely small companies may not afford to set up such niche production segments, and it may not seem wise to produce a large set of numbers without getting orders.
You may set everything straight. You may be inclined to spend a hefty amount on your advertising system. Your clients are also ready; however, your portal doesn't appear to agree. The customization of red tone is indicating a revolting shade of green, and your discouragement starts to arrive at an untouched high. These are plausible situations that are pretty conceivable from the viewpoint of an e-commerce merchant. But, with the correct accomplice, there is nothing that can prevent you from giving the edge to your buyers.

Customize to maximize product experience
Imagine a scenario where we let you know that all you require is to get your assembling measures set up. Whenever this is done at that point regardless of the size of your business; your end purchaser would have the option to customize his product. This, while the retailer or the shipper can offer the uniqueness of the item and the brand can drive higher income just as passionate interface from the clients.
You can select certain portions for customization. Like this, you can give unique customers a chance to feel unique. Plus, your sales will go higher, and revenue will see quite a leap.
It's not just about 'how you play' being novel to you any longer yet also about 'what you play with' getting similarly restrictive to you! So play your e-commerce strategy for your online store to maximize your product experience with customization, and we guarantee together we can tweak your objectives and items!