Merch for Church_ Wear your faith and spread the word
|
Jul, 27 , 22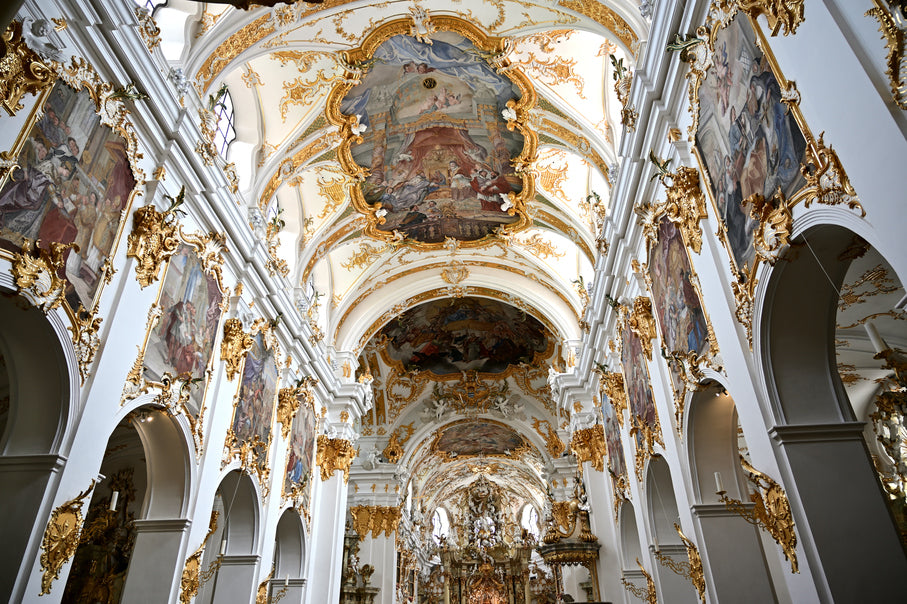 For a long time, religious organizations have been the guiding light of humans. They have kept us moral and built structures to practice sacred rights, commune with each other, and make a strong community. In the Western world, when people question their faith, churches play a particular role in embedding a belief in a greater good, keeping us grounded and not indulging in unlawful deeds. However, people are growing apart and are not interested in visiting a church or participating in community work. Churches also have to modernize themselves with changing times to spread the word. But, where can they get money when they are struggling to survive? Believe it or not, there is a solution: promotional products. 
Before dismissing the idea, please read the points we are trying to make. It will provide you with vital information, and you can once again put some faith back in the community.
Reasons to use custom merch for a church
In 2021, 47% of surveyed Americans said they belonged to a church, down from 50% three years ago. The numbers are decreasing fast, and it's high time you use promotional merch for your church. 
It helps with branding:
"Branding" has become both a buzz and a negative word. When someone hears the word, they often relate it to the business world, making it off-putting. We perceive a brand as glitz and glamor, making a profit and driven by material concerns. How can people engage in the service of God and community use branding? It feels shallow and sales-like. 
However, according to the American Retail Association, branding means a name, design, term, symbol, or any other feature distinguishing one organization's goods or services identifiable from others. Before you point out the terms sellers, goods, etc., please stop and think for a second. Aren't you providing a service to your fellow humans? You and we both know the answer is yes. By helping people live a purposeful life, getting close to God, and making the community peaceful, you are serving. It would be better to think of branding as the image you are presenting to the world. It is the face you are displaying to your fellow congregation members and non-members, helping them to embrace faith more. 
Custom items break the ice:
Introducing yourself to a potential church member can feel intimidating to most people. Custom merch can help break the ice; people can identify members when they see them wearing the merch outside. Whether wearing a custom t-shirt or using a custom key chain, they provide a common ground for people to have a conversation, and it could be the start of a lifelong friendship. And, the best part: they don't have to try. By giveaway and let nature run its course. It will also build goodwill in the community; no other organization needs it more than churches. 
Members can engage more:
Sunday service was the most common way for the community to gather. Apart from preaching religion, it was also a time for churches to discuss community welfare programs, etc. But, the gatherings are decreasing, and the situation for additional services like Wednesday night sermons, Bible study groups, etc., is even worse. 
Giving away custom merch instills the law of reciprocity. People feel the urge to do something for the organization when they receive free stuff. With church-branded products, you will improve people's participation in those events. 
Help attract new members
:

How will they come to your church if people don't know you exist or your location? Promotional products, even small ones such as custom keychains, will tell and remind people of your existence. Often churches feel disingenuous about using custom promotional items. However, like branding, it is also a misconception. Please consider the items as an informational medium to tell people where they can find religious help. 
You don't know who needs help, and these products can guide or urge them to seek help. By putting your symbol out into the world, you are spreading love. But, ensure you use helpful items to add value to people's lives and not use products for branding. It will feel disingenuous, and people might throw them away quickly. E.g., custom compression socks with your church logo for people suffering from foot problems are incredible to help them. You can distribute them at the local hospitals or old age centers. 
Offer information:
Custom products are fabulous for upcoming events information. Often people restrict themselves by thinking these products are only for displaying logos and addresses. But, there is no rule stating using these products to make the event successful. 
You can print whatever information you want on the promotional t-shirts, socks, keychains, tambourines, etc., including the date, time, and place of the large or regular events. It will ensure members and seekers are informed and participate in the grand contest. Whenever people look at those items, they would feel inspired to visit the church; perhaps for the time, the product is with them or maybe for the rest of their lives. Anyway, you will do an exemplary service creating the products; think of it as marketing to their souls. 
Positively impact the community events:
People have used gifts to fuel the holidays or social service spirits for millennia. It increases the positivity within the community. Churches and community service go hand in hand; you can use the community events to raise awareness about important social welfare issues by sponsoring events or distributing products. It is a remarkable way to build goodwill, especially with families and children. 
Raise funds:
Churches need constant money flow for their welfare works. But, it is challenging to raise funds in the digital age; most churches are not present online. They can use custom items to
raise funds
. It acts on two levels:
When people get something in return for their money, they are likely to give more. 
When they use the product proudly, they will talk with their family, friends, and co-workers. They will also want to join the good work, increasing the possibility of getting more funds. 
Promote eco-friendliness:
one decree of any religion is safeguarding our planet; people, trees, and animals. Conscientious church leaders can use eco-friendly custom products to promote the message of saving the Earth. It will also attract new-age thinkers, modern people, and gen-z to participate in church activities in the name of environmental work. 
We hope to have convinced you to create custom merch for the church. But, how will you design promotional products? Don't worry! The following section will provide you with the information. 
Ways to create custom merch for the church
Doing it yourself:
If you have some design knowledge, it's not too challenging to try it yourself. But, it depends upon your level of expertise and how much time you have at your disposal. The church people are busy, and it's challenging to find free time. You would also need to come up with strategies on how to use the custom items. 
Hire a designer:
If you know nothing about designs, colors, materials, etc., and if you have some budget at your disposal, you can take the help of a professional designer. They will help to create the best design to make a positive impression. There are plenty of resources both online and offline. You can also hire specialists to create powerful catchphrases encouraging people to participate more. 
Involve the community:
one of the most effective ways to make custom merch successful is by involving members and the community. Every community has various types of people; you can find an artist or a writer to create the designs and write slogans. You can ask people to send in their entries and vote for their favorite ones; choose the one getting the maximum votes. 
Contact a manufacturer for help:
there are manufacturers like EverLighten who provide complete support to design the products with help from their in-house designers for free. They will also give numerous options for every product. If you want custom socks, you can choose from dress socks, ankle-length, over-the-calf, knee-high, etc. Similarly, they provide materials like cotton, polyester, wool, bamboo, silk, etc. You can create every product according to your needs. 
Custom products you can use
Custom t-shirts
are the most popular merch, and the reasons are apparent. It has lots of room for printing your logo and message; they are helpful and easy to customize. You can use it for many things, including spreading awareness and fundraisers. 
Custom socks:
Some people are religious but not comfortable displaying their faith in public; custom socks come in handy for those people. They can flaunt their faith subtly. You have plenty of options like mentioned above. 
Custom hats
are another incredible to spread the word. They are always visible and come in varieties like baseball style, dad hat, truckers hats, etc. You can also create beanies for cold and colder regions. 
Custom embroidered patches
:
you can attach the patches to various items like caps, backpacks, jackets, etc. You can make them for an event with temporary backings like iron-on, glue-on, velcro, etc., and sew them for a permanent application. 
Custom keychains
are valuable items every household needs. They are small, budget-friendly, customizable, and durable; your church will get an impression for a long time. 
Custom lapel pins
are lovely for showing support for the church. Members and volunteers can use and distribute them. 
Custom tambourines:
Musical activities are part of churches; tambourines fit the setting perfectly. You can distribute these among members and children.
Custom tote bags:
People need these to carry their stuff; the church will gain visibility. You will spread the message of saving the environment. 
Conclusion
Custom merch is an absolute necessity for churches in these times. However, you want a high-quality and reliable manufacturer. EverLighten has been helping nonprofits, hospitals, and churches create the best products at the most affordable rates. When you contact us, a member of our friendly team will help with every step and make the best custom items. 
Women run the Let It Be Foundation taking care of children and families affected by cancer. They were looking for a reliable and dedicated manufacturer to design custom socks and neck gaiters for their fundraiser and to generate awareness. When they contacted us, their motivation moved us and provided all the help to manufacture the best custom products. To help their fundraiser, we gave a flat 15% on their order. The fundraiser and the promotional campaign went well, and we are hopeful to partner with them again. 
Benefits of working with EverLighten 
By partnering with EverLighten, you are preparing promotional products to make an impression. 
Best pricing
:

they are a dedicated factory for producing custom products and not intermediaries; customers always get the best price. 
Quality with a compromise:
they use premium-quality materials and the latest processes. 
Fast turnaround time:
they provide the quickest delivery for every order. 
24*7 support:
you can contact us anytime; they provide round-the-clock support. 
Real people, phenomenal service:
EverLighten loves helping; they offer various options for every product. 
Free design help and unlimited customization:
the products will look as you imagined; they also provide endless customization. 
No MOQ requirement:
you can order as many products as you need; they accept orders without a minimum limit. 
Worldwide shipping:
they deliver worldwide; customers can track their orders anytime with an order tracking tool.