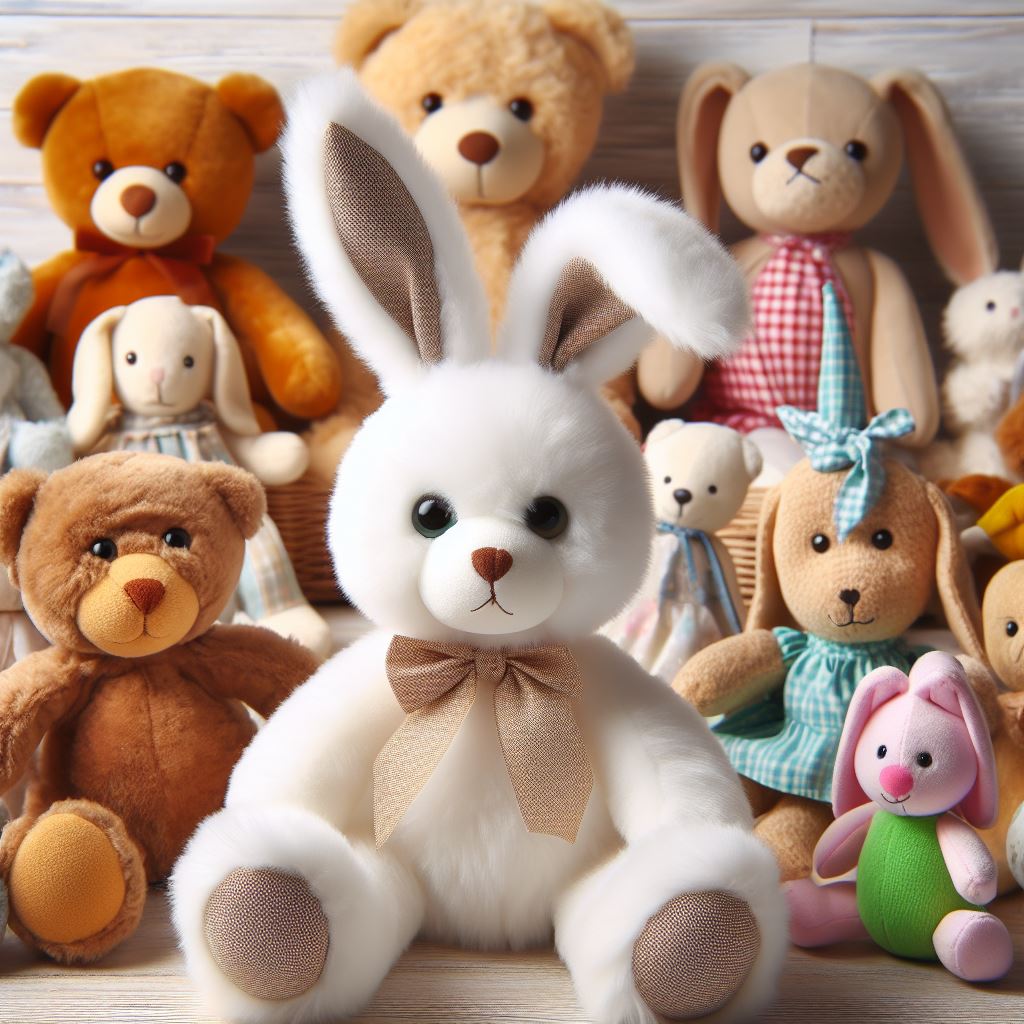 In a world where the global plush toy market is likely to grow to an astounding $41.7 billion by 2027, the opportunities for entrepreneurs in the custom plush toy business have never been more promising. The driving forces behind this remarkable growth are as diverse as the plush toys themselves, encompassing the increasing trend of personalized gifts, a surging demand for high-quality plush creations, and the escalating disposable incomes of consumers in emerging markets.
Are you ready to unlock the secrets of this flourishing industry and master the art of importing custom plush toys? If so, you're diving into a market teeming with potential. With creativity and dedication, you can craft custom plush toys that stand out for their uniqueness and resonate with a broad spectrum of customers.
Custom Plush Toys Categories 
Traditional Stuffed Animals:

Classic teddy bears, bunnies, and other familiar animals continue to capture the hearts of all age groups. Explore unique designs and features to add a modern twist to these timeless favorites.

Character-Based Plush Toys:

From beloved animated characters to iconic figures from pop culture, the world of character-based plush toys offers an expansive canvas. Licensing agreements and collaborations can elevate your offerings and tap into existing fan bases.

Custom Pet Replicas:

Pet lovers seek ways to immortalize their furry friends. Crafting custom plush replicas of pets, complete with personalized details, presents a heartfelt and lucrative niche within the market.

Themed Collections:

Designing plush toys around specific themes such as seasons, holidays, or cultural events allows for versatile product lines. Limited-edition releases tied to special occasions can create a sense of exclusivity and drive demand.
Lucrative Opportunities within Custom Plush Toys
Personalization and Customization:

The demand for personalized products is on the rise. Offering customization options, such as adding names, dates, or unique features to plush toys, provides a unique selling proposition and enhances the emotional connection with their purchases.

Educational Plush Toys:

Combining entertainment with education is a powerful strategy. Developing plush toys that assist in learning, whether through interactive features, storytelling elements, or educational themes, opens up opportunities in the children's market.

Collaborations with Influencers and Brands:

Partnering with influencers or well-known brands can significantly boost your visibility and credibility. Collaborative plush toy collections can leverage existing fan bases and expand your reach to new audiences.

Sustainable Plush Toys:

With an increasing focus on eco-friendly products, there's a growing demand for plush toys made from sustainable materials. Creating environmentally conscious plush toys can attract aware consumers and set your brand apart.

Interactive Plush Toys:

Incorporating technology, such as sensors or Bluetooth connectivity, into plush toys can create a unique and interactive experience. This innovation appeals to tech-savvy consumers and opens doors to new markets.
Navigating Trends and Innovation
Stay Informed on Pop Culture:

Keeping an eye on current trends and pop culture phenomena enables you to anticipate what characters or themes might resonate with consumers. Being nimble in adapting to these trends can give

your business

a competitive edge.

Embrace Sustainability:

Consumers want sustainable and ethically produced products. Consider incorporating eco-friendly materials and practices into your plush toy manufacturing.

Tech Integration:

Explore opportunities to integrate technology seamlessly into your plush toys. It could include features like sound effects, lights, or even augmented reality components, enhancing the overall appeal and value.
Ways to Customize Plush Toys
Embroidery and Personalization:
Names and Messages:

Adding embroidered names, dates, or messages enhances the sentimental value of the plush toy.

Custom Embroidered Designs:

Incorporating unique patterns or designs through embroidery allows for creative expression and personalization.
Color and Fabric Options:
Custom Colors:

Offering a range of color options allows customers to choose plush toys that align with their preferences or match specific themes.

Varied Fabrics:

Experimenting with different fabrics, textures, and finishes provides tactile and visual diversity in your product line.
Adjustable Features:
Modular Design:

Creating plush toys with detachable or interchangeable parts allows customers to modify the appearance according to their preferences.

Adjustable Limbs:

Plush toys with modifiable limbs or positions can add an element of playfulness and interaction.
Accessories and Outfits:
Custom Outfits:

Designing custom clothing or accessories for plush toys allows for seasonal or themed variations.

Add-On Accessories:

Offering additional accessories, such as hats, scarves, or miniature props, allows customers to personalize the plush toy further.
Voice and Sound Features:
Recordable Voices:

Incorporating a voice recording module enables customers to record personalized messages for a truly unique touch.

Sound Effects:

Adding built-in sound effects or music enhances the interactive experience and adds a playful element to the plush toy.
Domestic vs. International Manufacturers
Cost Considerations:
Lower Production Costs:

One of the primary reasons to consider importing custom plush toys is the potential for lower production costs. International manufacturers, particularly in countries with lower labor and overhead costs, can offer competitive pricing.

Economies of Scale:

Partnering with international manufacturers often allows for larger production runs, enabling you to benefit from economies of scale and reduce the per-unit cost of each plush toy.
Specialized Expertise:
Industry Specialization:

Some countries have a long-standing tradition and expertise in plush toy manufacturing. Turning to international manufacturers in regions known for their specialization in the industry can result in higher quality and craftsmanship.

Access to Advanced Technology:

International manufacturers may have access to advanced manufacturing technologies that can enhance the design, production, and customization capabilities.
Scalability and Capacity:
Scalability:

International manufacturers often have larger production facilities, allowing you to scale your operations more effectively to meet growing demand.

Flexibility in Production Capacity:

The ability of international manufacturers to handle large orders and diverse product lines provides flexibility in meeting varying market demands.
Tips for Importing Custom Plush Toys
Navigating the process of importing custom plush toys involves careful planning, attention to detail, and effective communication. 
Thorough Research and Due Diligence:
Understand Import Regulations:

Familiarize yourself with the import regulations and requirements of the country you are importing from. It includes customs procedures, labeling requirements, and any restrictions on specific materials or designs.

Vet Suppliers:

Conduct thorough due diligence when selecting suppliers. Verify their reputation, production capabilities, and adherence to quality standards. Consider visiting their facilities or requesting samples to assess the quality of their work.
Legal Compliance and Documentation:
Intellectual Property Protection:

Protect your designs through patents, trademarks, or copyrights. Be aware of intellectual property laws in your home and the manufacturing country.

Accurate Documentation:

Maintain accurate and complete documentation, including invoices, packing lists, and certificates of origin. Proper documentation is crucial for customs clearance and compliance with import regulations.
Establish Clear Communication:
Effective Communication with Suppliers:

Establish open and transparent communication channels with your suppliers. Communicate your design requirements, quality standards, and specific instructions to avoid misunderstandings.

Language Considerations:

Consider hiring a translator or using professional translation services to ensure clear and accurate communication if there is a language barrier.
Quality Control Measures:
Prototyping and Sampling:

Request prototypes and samples before mass production to evaluate the quality and adherence to your specifications.

Quality Control Inspections:

Implement a robust quality control process, including inspections during and after production. Consider hiring third-party inspection services to ensure the plush toys meet your standards.
Budget for Unforeseen Costs:
Account for Customs Duties and Taxes:

Understand the customs duties and taxes applicable to your imported plush toys. Include these costs in your budget to avoid surprises during the importing process.

Shipping and Logistics Costs:

Consider shipping and logistics costs, including transportation, insurance, and additional fees.
Build Strong Relationships with Suppliers:
Long-Term Partnerships:

Choose long-term relationships with reliable suppliers. Building trust and understanding with your manufacturing partners can lead to smoother collaboration and better production outcomes.

Regular Communication:

Stay in regular contact with your suppliers to address issues and to stay informed about the production progress.
Step-by-Step Guide to Importing Custom Plush Toys
Research and Find a Reputable Manufacturer:
Identify potential manufacturers with expertise in plush toy production.

Conduct thorough research on their reputation, quality standards, and production capabilities.

Request samples and prototypes to evaluate the craftsmanship and adherence to your specifications.
Negotiate Terms and Place an Order:
Negotiate pricing, production timelines, and agreement terms with the chosen manufacturer.

Clearly outline design specifications, quality standards, and any customization requirements.

Draft a comprehensive manufacturing agreement to formalize the terms.
Ensure Intellectual Property Protection:
Secure patents, trademarks, or copyrights for your plush toy designs to protect them from infringement.

Communicate and enforce intellectual property rights with the manufacturer.
Coordinate Prototyping and Sample Approval:
Request prototypes and samples before mass production to ensure the quality and alignment with your design expectations.

Provide feedback and iterate if necessary until you are satisfied with the prototypes.
Finalize Production and Monitor Progress:
Confirm production details, including quantity, colors, and customizations, before mass production begins.

Maintain regular communication with the manufacturer to monitor progress and address any issues promptly.
Arrange Shipping and Logistics:
Research and choose a reliable freight forwarder or shipping company with experience transporting delicate goods.

Obtain quotes for different shipping methods, considering cost, speed, and reliability.

Coordinate with the manufacturer to arrange the transportation of the plush toys from the production facility to the port of departure.
Elevate Your Plush Toy Business with EverLighten
Custom plush toys can be a thrilling adventure filled with opportunities for creativity, growth, and success. As you navigate the complexities of this dynamic industry, aligning with a reliable and customer-focused partner is paramount to your triumph.
EverLighten stands as a beacon in the realm of custom plush toy manufacturing, offering a suite of unparalleled services tailored to elevate your business to new heights. 
100% Customization:

Transform your visions into reality with EverLighten's commitment to bringing your unique ideas to life, ensuring each plush toy is a masterpiece of individuality.

100% Quality Check:

Experience peace of mind as each plush toy undergoes rigorous quality checks, guaranteeing the highest standards of craftsmanship and durability.

Free Design Help:

Unleash your creativity with EverLighten's design experts, who provide invaluable guidance to refine and enhance your plush toy concepts.

Worldwide Delivery:

Reach global markets effortlessly, as EverLighten's efficient logistics network ensures swift and reliable worldwide delivery.

24*7 Support:

Enjoy continuous support and assistance with EverLighten's round-the-clock customer service. 

Unlimited Revisions:

Fine-tune your plush toy designs to perfection with EverLighten's commitment to unlimited revisions, ensuring complete satisfaction.

Low MOQ (Minimum Order Quantity):

Whether you're a seasoned entrepreneur or just starting, EverLighten accommodates businesses of all sizes with low MOQ, making custom plush toy dreams accessible to all.
Seize the opportunity to revolutionize your plush toy business. Connect with EverLighten today.
FAQs: 
How to make a custom plush toy?
Conceptualization and Design

Find a Manufacturer

Negotiate and Finalize

Create Prototypes

Production Planning

Shipping and Logistics
How do you sell custom plushies?
There are several ways to sell custom plushies. 
Online marketplaces

Craft fairs and markets

Consignment shops

Social media

Your website
What makes a good plush toy?
A high-quality plush toy has high-quality materials and construction. It should be soft and cuddly, and it should be able to withstand repeated use. It should also be visually appealing and have a unique design.
Softness

Durability

Visual appeal

Uniqueness