Best Custom Socks, Brand, custom casual knit socks, Custom Fuzzy socks, custom logo socks, Custom Made Socks, custom printed socks, Custom Sock, Custom Socks, Custom Socks Bulk, Design Your Own Socks, Personalized Socks
Time's Ticking: Secure Your Bulk Custom Socks Order For Christmas
|
Nov, 10 , 23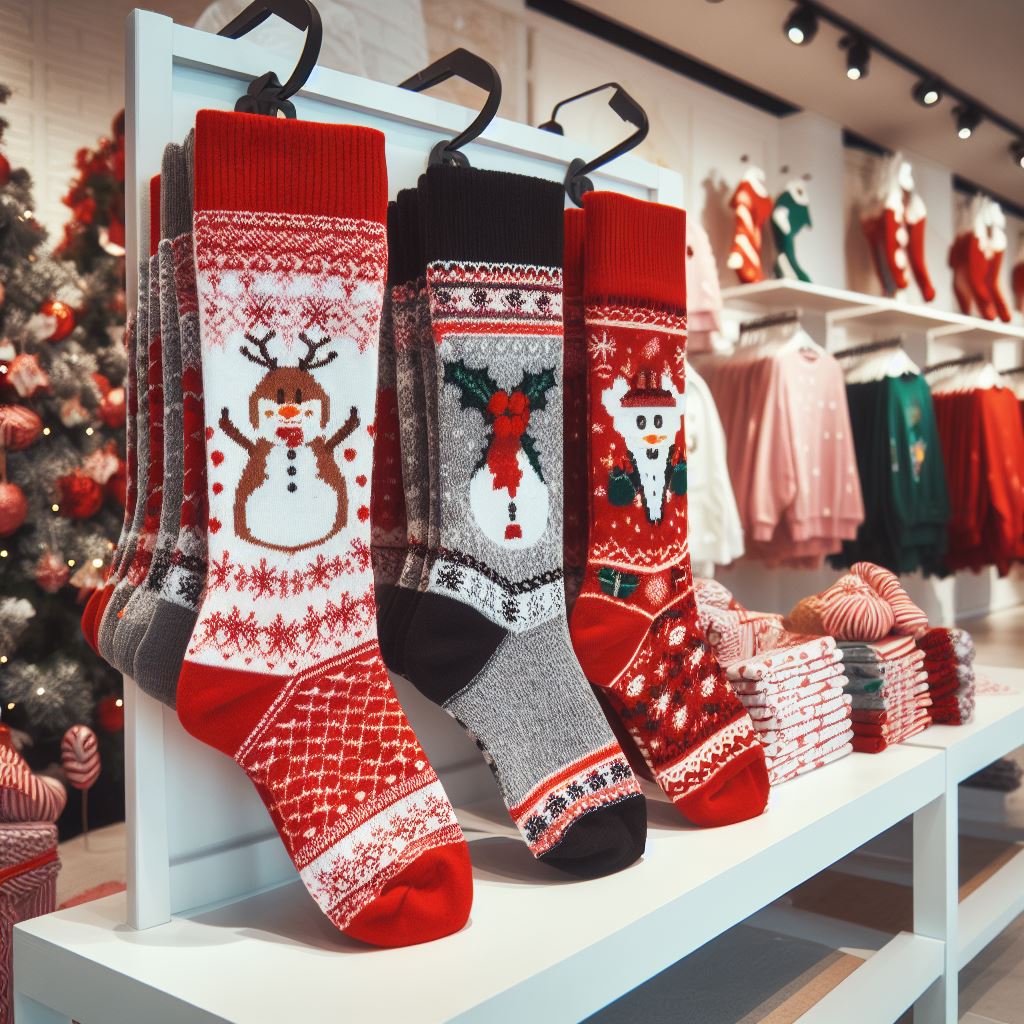 Tick-tock, tick-tock! With over 10 million pairs of custom Christmas socks flying off the shelves each year, it's no secret that these festive foot warmers have become an integral part of the holiday season. The demand for these personalized pieces of holiday joy is soaring, with a staggering 20% annual sales increase, making them the hottest holiday gift trend to watch out for. If that wasn't convincing enough, a recent survey revealed that 82% of individuals would prefer receiving custom socks over any other type of Christmas present. With these staggering statistics in mind, it's clear that custom Christmas socks have been woven into the fabric of our seasonal celebrations, adding a touch of warmth and personalization that no other gift can match.
The Importance of Personalized Christmas Socks
The holiday season is synonymous with warmth, joy, and heartfelt gestures, making personalized items all the more meaningful during this time of the year. Custom Christmas socks, in particular, are more than just cozy foot coverings; they represent a personal touch that can elevate any festive occasion to new heights of merriment and togetherness. By adding a unique touch to the celebrations, these customized socks become more than just gifts – they become cherished symbols of shared experiences and laughter.
In the spirit of giving, thoughtful gifts like custom Christmas socks profoundly impact a sense of belonging and unity among colleagues, friends, and family members. They are tangible reminders of our shared bonds, sparking conversations and laughter while bringing everyone closer together. 
Whether it's matching socks for a group of coworkers, personalized pairs for a family gathering, or specially designed socks for a charitable event, these small tokens of affection go a long way in creating lasting memories and strengthening the fabric of relationships during the festive season.
With December just around the corner, securing your bulk custom Christmas socks is more pressing than ever. Considering the logistics involved in the production and delivery process, place your orders as soon as possible, ideally within the next few days. 
Production Time:

Crafting personalized Christmas socks requires meticulous attention to detail, from materials to intricate customization. Allowing ample time for production ensures that every pair meets your specific requirements, guaranteeing a flawless end product.

Shipping Delays:

With the holiday season's influx of shipments and logistical constraints, shipping times can often be unpredictable. Planning well in advance allows for buffer time to account for any potential shipping delays, ensuring that your custom Christmas socks arrive in your hands well before the festive celebrations kick off.

Quality Assurance:

Rushing can compromise the quality. By ordering early, you give manufacturers and suppliers sufficient time to maintain their high standards, reducing the risk of errors or subpar craftsmanship that could otherwise tarnish the joyous spirit of the holiday season.

Avoiding Last-Minute Stress:

Last-minute rushes can lead to unnecessary stress and panic, potentially resulting in hasty decisions and compromised choices. By placing your order now, you can alleviate the stress associated with tight deadlines and enjoy peace of mind knowing that your custom Christmas socks will be ready and delivered on time.
Rush orders often come with additional costs due to the need for expedited production and shipping processes, which require extra resources and labor to meet the accelerated timeline. 
Priority Production:

To accommodate a rush order, manufacturers and suppliers may need to prioritize your request over other ongoing projects. It leads to a disruption in their regular production schedule. This prioritization typically incurs additional labor costs, as workers may need to put in overtime or work during off-peak hours to meet the urgent deadline.

Expedited Shipping:

Rush orders often necessitate expedited shipping methods to ensure timely delivery, which can significantly increase transportation costs. Whether it involves using express delivery services or air freight instead of standard ground shipping, these premium shipping options come with a heftier price tag, reflecting the urgency and speed required to meet the tight deadline.

Resource Allocation:

Meeting an urgent order may require reallocating resources from other projects or investments in additional raw materials and supplies to expedite the production process. These adjustments often incur extra costs, which are passed on to the customer to compensate for the sudden and unplanned surge in resource utilization.

Operational Adjustments:

Rush orders may require operational adjustments, such as rescheduling or rearranging the production line, which can lead to inefficiencies and increased overhead costs. These shifts are often necessary to ensure the rush order doesn't disrupt the workflow. They can contribute to additional expenses reflected in the final pricing of the product.
The Benefits of Ordering in Bulk
Ordering custom Christmas socks in bulk presents a multitude of advantages that go beyond just cost savings. 
Cost-Effectiveness and Streamlined Production:
You can leverage economies of scale, leading to significant cost savings per unit. Manufacturers and suppliers often offer discounts for bulk purchases, allowing you to maximize your budget and invest in more custom Christmas socks without stretching your resources. Moreover, bulk orders enable suppliers to streamline their production processes. It results in increased efficiency and reduced per-unit production costs. You get the benefits passed on to you as savings.
Consistency and Uniformity in Design and Quality:
Ordering in bulk ensures consistency and uniformity in design and quality across all custom Christmas socks. Manufacturers can maintain a standardized production process, guaranteeing that each pair adheres to the specifications, design elements, and quality standards. This uniformity not only enhances the professional appearance of the socks but also reflects a cohesive and well-thought-out gifting strategy, making them ideal for corporate events, family gatherings, or any other festive occasion where uniformity is vital.
Convenience for Various Events and Gifting Purposes: 
With a surplus supply of personalized Christmas socks, you can effortlessly cater to many events and gifting purposes throughout the holiday season. Whether for a large corporate celebration, a community charity drive, or individual gift-giving to friends and family, having ample custom Christmas socks ensures you're well-prepared to spread the festive cheer without running out of gifts. This convenience helps you to focus on the joy of the season and the spirit of giving, knowing that you have a ready supply of personalized socks for all your festive endeavors.
Choosing the Right Design and Material
When choosing the design and material for your custom Christmas socks, it's essential to consider factors that align with the occasion or theme while reflecting the holiday spirit. 
Selecting the Appropriate Design:
Consider the occasion or theme. Whether it's a corporate event, a family gathering, or a charitable initiative, ensure that the design resonates with the spirit. Incorporate festive elements such as snowflakes, Christmas trees, or reindeer to evoke a sense of holiday cheer. Consider incorporating customizable things, like company logos, personalized messages, or individual names. It adds a special touch that resonates with the recipient.
Exploring Various Materials and Suitability:
Evaluate the different materials available for custom Christmas socks, such as cotton, wool, or a blend of synthetic fibers. Consider the preferences and comfort levels of your target audience. Opt for cozy and breathable materials that provide warmth without sacrificing comfort. For corporate settings, choose high-quality materials that exude professionalism, while for family gatherings, opt for softer and more playful textures that evoke a sense of warmth and coziness.
Tips for Visually Appealing Designs:
Create visually appealing designs by incorporating vibrant and complementary colors that capture the festive essence of the holiday season. Experiment with bold patterns, intricate knits, or subtle embellishments that add depth and character to the socks. Balance intricate designs with simplicity to ensure the aesthetics are visually appealing and not overly cluttered. Consider incorporating elements of joy, togetherness, and nostalgia, such as classic holiday motifs or cheerful seasonal messages, to evoke a sense of warmth and nostalgia in the design.
Ensuring Timely Delivery
Ensuring timely delivery of your bulk custom Christmas socks is crucial for a seamless holiday celebration. 
Importance of Planning and Setting Realistic Deadlines:

Initiate the planning process well in advance to account for the production and delivery timeline. Set realistic deadlines that consider the intricacies of the

customization process

, including design approval, production lead time, and shipping duration. Factor in buffer time to accommodate unforeseen delays, ensuring you receive your order well before your scheduled festive events.

Step-by-Step Guide for Timely Communication with the Manufacturer or Supplier

: Maintain open and proactive communication with the manufacturer or supplier from the outset. Clearly articulate your requirements, including design specifications, quantity, and delivery deadlines. Regularly follow up on the progress of your order, addressing any concerns or modifications promptly. Provide timely feedback on design proofs or samples to avoid unnecessary delays in the production process.

Significance of Tracking and Monitoring the Delivery Process:

Utilize tracking tools provided by the shipping company to monitor the progress of your shipment in real time. Keep a close eye on the shipping updates to anticipate potential delays or issues during transit. Stay in contact with the shipping provider to address any delivery concerns promptly and ensure that the custom Christmas socks reach you or your designated recipients within the expected timeframe.
Spreading the Festive Cheer
Spreading the festive cheer with custom Christmas socks can be a delightful and heartwarming experience. 
Creative Distribution and Presentation Ideas:
Host a festive sock exchange event where participants can swap their custom Christmas socks, fostering a sense of camaraderie and fun.

Bundle the socks with other small holiday-themed goodies, like candy canes or miniature ornaments, to create charming and thoughtful gift packages.

Create personalized gift tags or notes to accompany each pair of socks, conveying heartfelt messages of joy, gratitude, and goodwill.
Conclusion:
As the holiday season draws near, it's time to infuse your celebrations with the magic of custom Christmas socks. Make every moment count with EverLighten, your trusted partner in delivering personalized festive essentials that embody the spirit of giving and togetherness. Choose EverLighten for:
100% customization:

It ensures

your custom Christmas socks reflect your unique vision and style.

100% quality check:

It guarantees that every pair meets the highest standards of craftsmanship and durability.

Free design help:

We assist you in bringing your creative ideas to life and socks that resonate with the essence.

Worldwide delivery:

You can

share the joy of custom Christmas socks with loved ones.

24*7 support:

We provide round-the-clock assistance and guidance at every step of the ordering and delivery process.

Unlimited revisions:

It allows you to fine-tune your designs and ensure every detail is to your satisfaction.

Low MOQ (Minimum Order Quantity):

You can order the desired quantity of custom Christmas socks without any unnecessary constraints.
Connect with EverLighten today and make this festive season unforgettable for everyone you hold dear.
FAQs: 
What are the socks for Christmas?
Christmas socks, also known as Christmas stockings, are a traditional part of the Christmas holiday. People hang them by the fireplace on Christmas. 
How do you stuff Christmas socks?
There are a few different ways to stuff Christmas socks. One way is to fill them with candy and other treats. Another is to roll up small gifts, such as toys or trinkets, and place them inside the socks. You can also use crumpled-up tissue paper or newspaper to fill the socks and make them look more plump.
How do you label Christmas stockings?
There are a few different ways to label Christmas stockings. One is to attach a name tag to each stocking. You can also use fabric markers or paint to write names directly onto the stockings. If you give stockings to children, you can also use personalized name tags with pictures of their favorite characters.
Is Christmas socks a good gift?
Christmas socks are a great gift for people of all ages. They are a fun and festive way to show someone that you care. You can fill them with treats that the recipient will enjoy.
What do socks symbolize as a gift?
Socks can symbolize many things, including warmth, comfort, and care. They are practical gifts people will use and appreciate. 
Tags:
Best Custom Socks
,
Brand
,
custom casual knit socks
,
Custom Fuzzy socks
,
custom logo socks
,
Custom Made Socks
,
custom printed socks
,
Custom Sock
,
Custom Socks
,
Custom Socks Bulk
,
Design Your Own Socks
,
Personalized Socks