Custom Design Socks, custom logo socks, Custom Made Socks, custom printed socks, Custom Sock, Custom Socks, Custom Socks Bulk, Custom Socks Wholesale, Customized Socks, Design Your Own Socks, Personalization Socks, Personalized Socks, Premier Sock
How to win customers and influence people with custom socks
|
Nov, 14 , 23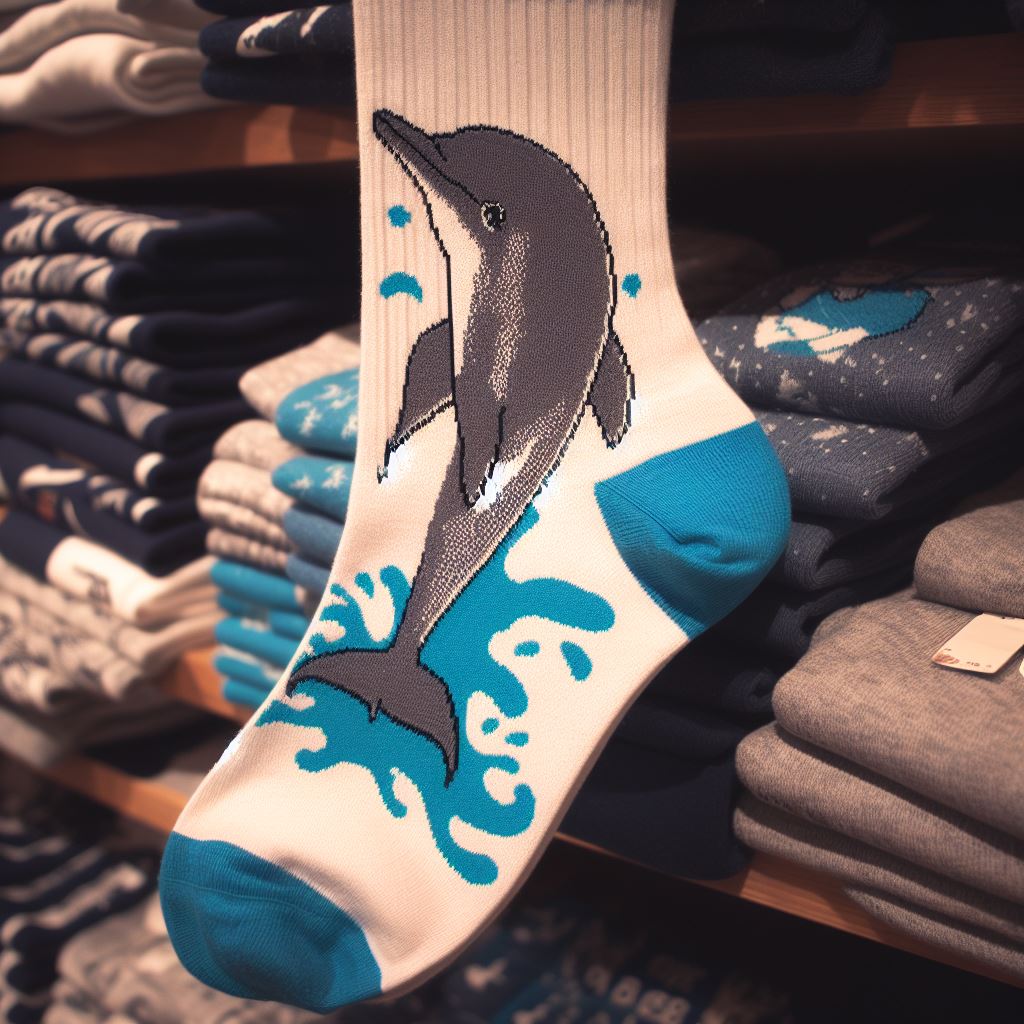 A Guide on Winning Customers and Influencing People with Custom Socks
Customer loyalty is precious in a world of fleeting trends and ever-changing consumer preferences. A study by Bain & Company found that increasing customer retention by just 5% can boost profits by up to 95%. In the relentless pursuit of customer satisfaction, businesses are exploring innovative ways to leave a lasting impression on their audience.
So, how do you go about winning over the hearts and minds of your customers, fostering unwavering loyalty that keeps them coming back for more? The answer may surprise you: it could lie in a pair of custom socks.
Custom socks, often overlooked, hold the potential to transform the customer experience, creating a unique connection that resonates with your target audience. They're not just about putting your logo on a pair of socks; they're about creating a tangible expression of your brand's personality, values, and commitment.
Custom socks are a distinctive and unexpected choice in a marketplace with generic promotional items. They offer a canvas for creativity, enabling you to craft a wearable piece of art that showcases your brand and becomes a conversation starter. Imagine your logo on a vibrant pattern or a slogan playfully adorning the ankle – each step becomes a promotional stride, leaving an imprint on the minds of those who wear and those who notice.
Beyond mere aesthetics, custom socks delve into the realm of sensory marketing. The touch and feel of a well-crafted pair of socks can evoke emotions and memories, creating a sensory bond between your brand and your customers. This tactile connection goes beyond the transactional nature of traditional advertising, forging a more intimate relationship that extends beyond the initial point of sale.
The growing emphasis on individuality and the yearning for distinct, customized experiences have reshaped consumer demands. Customization is no longer a luxury; it's an expectation. Custom socks offer a novel way to meet this demand, allowing your customers to wear a product that is functional and uniquely tailored to their preferences.
As we explore leveraging custom socks to win customers and influence people, we'll delve into the intricacies of design, the psychology behind color choices, the impact of material quality, and the role of storytelling in creating a lasting brand impression. Let's start. 
The Psychology of Customer Behavior
In the complex landscape of consumer decision-making, understanding the psychology of customer behavior is crucial for any successful marketing strategy. Customers are not solely rational beings; emotional, experiential, and perceptual factors guide their choices.
Emotions as Drivers of Customer Behavior:
Emotions significantly impact consumer decisions. Emotions can influence how customers perceive and interact with a brand, from joy and excitement to nostalgia and trust. Custom socks, with their creative designs and personalized touch, have the potential to evoke positive emotions. The vibrant colors, playful patterns, or a cleverly integrated brand logo can trigger feelings of happiness, satisfaction, and exclusivity. By tapping into these emotional responses, custom socks become more than just a product; they become a vehicle for emotional connection.
Experiences that Resonate:

Customer interactions, pleasant or unpleasant, leave lasting impressions that shape their brand perceptions. The journey of receiving and wearing custom socks can turn a mundane transaction into a memorable experience. Envision the delight of opening a box to reveal a pair of socks designed just for you, the anticipation of stepping into their soft embrace, and the joy of showcasing your personalized style. These experiences, extending beyond the product, forge a positive brand narrative that elevates the customer journey. Consequently, custom socks transform from mere clothing items to tangible representations of a brand's success in crafting memorable and enjoyable customer interactions.
Perceptions and Personalization:
Customers form perceptions of brands based on various elements, including visual identity, messaging, and overall presentation. Custom socks offer a distinctive way to shape these perceptions by allowing businesses to showcase their brand identity in a tangible, wearable form. Integrating logos, color schemes, and brand messaging on custom socks communicates authenticity and attention to detail. 
Customers, in turn, perceive the brand as one that goes beyond generic marketing approaches, recognizing the effort to create a unique, personalized connection.
Creating Positive Emotional Connections with Custom Socks:

Businesses can strategically design custom socks that resonate with the target audience's emotions, experiences, and perceptions. By understanding the emotional triggers relevant to the brand and its audience, custom socks become a powerful tool for fostering a sense of belonging and affinity. Whether nostalgia-inducing designs, trend-setting patterns, or a subtle nod to shared values, custom socks provide a canvas for building emotional connections beyond the immediate transaction.
Custom Socks as a Marketing Tool
Innovation is vital to capturing the attention of a diverse and discerning audience. Custom socks have emerged as a distinctive and effective marketing tool. It presents businesses with an opportunity to promote their brand and products but also to craft a unique and memorable customer experience.
Brand Promotion through Custom Socks:
Custom socks serve as a dynamic canvas for brand promotion. By incorporating logos, color schemes, and distinctive patterns, businesses can turn a functional accessory into a walking billboard for their brand. The brand visibility on custom socks extends beyond traditional advertising channels, as individuals showcase their unique and personalized socks in various settings – from casual outings to social media posts. This increased visibility contributes to brand recognition, serving as a subtle yet impactful reminder of a company's presence in the minds of both wearers and those who notice.
Product Promotion and Storytelling:
Beyond the overt display of logos, custom socks offer an opportunity to promote specific products and tell a compelling brand story. Every design feature adorning the sock serves as a message communicator, emphasizing a standout product, commemorating a pivotal milestone, or depicting the brand's progression. The wearable nature of custom socks turns them into mobile storytelling devices, sparking curiosity and conversation. Conversely, it nurtures a stronger connection between the customer and the brand, creating a narrative beyond the mere exchange of goods and services.
Creating a Unique and Memorable Customer Experience:
The true power of custom socks as a marketing tool lies in their ability to transcend the traditional boundaries of promotional merchandise. Custom socks are not just products; they are experiences waiting to unfold. From the moment a customer receives a thoughtfully designed pair of custom socks to putting them on and stepping into the world, each phase becomes an integral part of a unique and memorable customer journey.
Unboxing:

Receiving custom socks can be transformed into an exciting and memorable event. Thoughtfully crafted packaging, personalized messages, and a keen eye for detail transform the unboxing experience into a moment that leaves a lasting impression on the customer.

Wearing Experience:

Wearing custom socks becomes a personal and intimate experience for the customer. The tactile sensation of high-quality materials and the well-designed pattern contribute to a positive and memorable wearing experience.

Social Sharing:

Custom socks encourage customers to become brand ambassadors. The shareability of unique and personalized designs on social media platforms extends the customer experience beyond the individual wearer, creating a ripple effect of visibility and engagement.
Custom Socks as a Way to Show Appreciation
In a business landscape where customer relationships are paramount, expressing genuine appreciation for your customers can be a game-changer. Custom socks offer a creative and thoughtful avenue for showing gratitude, going beyond mere transactions to build a connection based on appreciation and acknowledgment.
Expressing Gratitude through Personalization:
Custom socks enable businesses to go above and beyond in expressing gratitude by adding a personalized touch. Personalized socks, whether they feature a customer's name, highlight a specific purchase, or resonate with their preferences, convey a sense of care that makes the customer feel valued. This level of attention to detail demonstrates that a customer is not just a number but a valued individual.
Enhancing Customer Loyalty:
Fostering customer loyalty is a continual process, and custom socks can play a pivotal role in building and strengthening these long-term relationships. Customers who feel appreciated are more inclined to become loyal champions of your brand. Receiving custom socks as a token of appreciation can create a positive emotional connection, reinforcing the customer's decision to choose your brand over competitors. 
Creating Exclusive Customer Experiences:
Custom socks can create exclusive customer experiences, further solidifying the bond. Consider designing limited-edition socks for loyal customers with exclusive patterns, color combinations, or messages. This exclusivity makes customers feel valued and encourages them to stay engaged with your brand, anticipating future unique offerings.
Turning Transactions into Relationships:
While transactions are the foundation of business, building lasting relationships is the key to sustainability. Custom socks extend beyond their function as plain products and transform into bridges that connect fleeting transactions to enduring relationships. By acknowledging and appreciating customers through personalized socks, businesses elevate the customer experience, turning one-time buyers into repeat customers and brand advocates.
Encouraging Repeat Business:
Demonstrating appreciation through custom socks fosters customer contentment. It is the cornerstone of repeat business. Satisfied customers are more likely to return for future purchases, and custom socks are a continual reminder of the positive association with your brand. Whether it's a repeat purchase or a referral to friends and family, the ripple effect of appreciation extends beyond the initial recipient, influencing the broader customer network.
Incorporating Custom Socks into Loyalty Programs:
Consider integrating custom socks into loyalty programs as a reward for ongoing customer support. It adds a tangible and exciting element to loyalty incentives and reinforces the idea that loyalty is a two-way street. The prospect of receiving exclusive, personalized socks can motivate customers to continue choosing your brand.
Custom Socks as a Way to Stand Out from the Competition
In a crowded marketplace where differentiation is the key to success, custom socks emerge as a unique and impactful tool for businesses to set themselves apart. They can capture and foster a sense of exclusivity and excitement that distinguishes them by leveraging the creative potential of custom sock design.
Differentiating Through Unique Design:

Custom socks provide businesses with an extraordinary canvas to showcase their creativity. While competitors may rely on conventional promotional items, a well-designed pair of custom socks is a memorable and unexpected choice. The uniqueness of the design becomes a visual representation of a brand's commitment to innovation and originality, setting it apart in a sea of homogeneity.

Building a Distinct Brand Identity:

The customization options offered by custom socks go beyond mere logos and colors, encompassing a spectrum of creative designs, personalized messages, and unique patterns. Businesses can use custom socks to tell a visual story that reflects their brand identity, values, and personality. Whether through intricate patterns, clever slogans, or themed designs that align with the brand's ethos, custom socks become a canvas for expressing what makes a business stand out. This distinct visual identity creates a memorable brand image that resonates with customers and helps carve a niche in the market.

Creating a Sense of Exclusivity:

Exclusivity has a magnetic appeal for customers. Custom socks, especially when designed as limited editions or exclusive releases, can generate a sense of scarcity and exclusivity. Customers appreciate being part of a select group with access to unique products. By strategically incorporating exclusivity into custom sock campaigns, businesses create a sense of value, encouraging customers to choose their brand over competitors.

Driving Customer Excitement:

Custom socks have an inherent capability to generate excitement among customers. This emotional connection goes beyond the transactional nature of business, creating an experience that customers remember and share. Such excitement serves as word-of-mouth marketing, extending a brand's reach.
Leveraging Custom Socks in Marketing Campaigns:

Integrating custom socks into marketing campaigns adds a layer of novelty and memorability. Consider using custom socks as promotional giveaways, rewards for customer engagement, or as part of limited-time offers. These campaigns capture attention and opportunity for businesses to showcase their commitment to customer satisfaction and creativity.
Nurturing Customer Relationships Through Uniqueness:

The uniqueness of custom socks extends beyond initial impressions; it becomes a consistent thread woven through the fabric of customer relationships. As customers continue to embrace and wear custom socks, the perception of exclusivity and distinctiveness strengthens their bond with the brand. It, in turn, contributes to long-term loyalty and a sustained competitive advantage.
Soxieco's Custom Sock Triumph with EverLighten
Natalie Morrow of Soxieco needed intricate custom-printed socks – a challenge for many manufacturers due to small orders and unique designs. EverLighten embraced the challenge, producing 200 pairs per design across three orders. Our dedication to quality and customer satisfaction never wavered. Soxieco received top-notch custom socks that exceeded expectations. EverLighten's dedication solidified us as Soxieco's trusted partner for unique and challenging orders.
Step into the Custom Sock Revolution with EverLighten
As we unravel the endless possibilities that custom socks bring to the forefront of marketing, customer appreciation, and standing out from the competition, it's clear that these humble accessories carry the potential to transform your business's trajectory. They offer a unique and impactful solution, whether you're aiming to win customers, foster loyalty, or leave a lasting impression.
EverLighten understands the personalization power, quality importance, and the nuances of customer satisfaction. When you choose EverLighten for your custom sock needs, you're stepping into a realm of limitless creativity and unwavering support.
Why Choose EverLighten?
100% Customization:

Tailor your socks to perfectly align with your brand, incorporating logos, colors, and designs that make a statement.

100% Quality Check:

Our commitment to excellence ensures that every pair of custom socks undergoes a rigorous quality check, guaranteeing satisfaction with every step.

Free Design Help:

Bring your vision to life with our design experts to help you create the perfect custom sock.

Worldwide Delivery:

No matter where you are, EverLighten ensures that your custom socks reach you, extending the reach.

24*7 Support:

Have questions or need assistance? Our support team is available around the clock to ensure a seamless and enjoyable experience.

Unlimited Revisions:

We believe in perfection. With EverLighten, you have the flexibility for unlimited revisions until your custom socks are as you envision them.

Low MOQ (Minimum Order Quantity):

Whether you're a small business or a large enterprise, our low MOQ allows you to harness the power of custom socks without excessive commitments.
Embark on a journey of creativity, uniqueness, and brand elevation with EverLighten. Connect with us today. 
FAQs: 
Is selling socks a good business?
Yes, selling socks can be a good business. Socks are an essential item people need. They are relatively inexpensive to produce. They command high profit margins, making them a financially rewarding business pursuit. In contrast to the volatility of other industries, the sock market enjoys a degree of stability and resilience, unaffected by passing trends and fads.
Why custom socks?
Custom socks offer many advantages over traditional socks. You can use them to promote your brand, show your personality, or create a unique gift for someone special. Custom socks are also a great way to stand out from the competition and attract new customers.
How to start an online socks business?
Choose a niche

Find a supplier

Create a website

Market your business

Provide excellent customer service
Can you make money selling socks?
Yes, you can make money selling socks. However, the amount of money you make will depend on several factors, such as the quality, your marketing efforts, and your pricing strategy.
Are socks in high demand?
Yes, socks are in high demand. Everyone needs socks. They are relatively inexpensive to produce. They are a popular purchase for people of all ages and income levels.
Offer a variety of styles and colors

Use high-quality photos

Offer free shipping

Run promotions

Provide excellent customer service 
Tags:
Custom Design Socks
,
custom logo socks
,
Custom Made Socks
,
custom printed socks
,
Custom Sock
,
Custom Socks
,
Custom Socks Bulk
,
Custom Socks Wholesale
,
Customized Socks
,
Design Your Own Socks
,
Personalization Socks
,
Personalized Socks
,
Premier Sock