Make your wedding memorable and your close ones happy with custom groomsmen socks
|
Dec, 14 , 21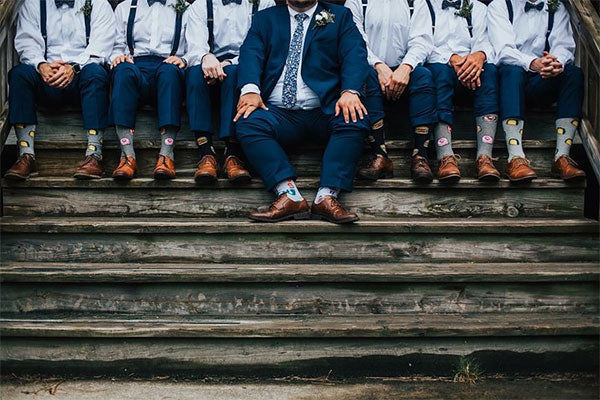 Your complete guide to buying personalized groomsmen socks
Getting married is one of the monumental occasions of one's life, and it is the start of a new chapter that deserves a celebration with your family and friends. Important people in your life will join the marriage ceremony celebrations. 
You need to choose your best man and groomsmen from your beloved people. Perhaps your best man is your childhood friend or a college buddy. Maybe you have known each other for as long as you can remember. It makes it challenging to choose a suitable gift for your best man and groomsmen to show your appreciation and create a long-lasting memory. 
Most people are doing the same old things. But, what are the options? For lasting memories, you need to do something unique. One of the unique ways to create a lasting memory is custom socks for groomsmen with personalized messages, and it is a meaningful way to thank the close people in your life. 
Before you go ahead and start ordering custom wedding socks, please go through the blog for everything you need to know about them. 

What are custom groomsmen socks? 
Socks manufactured on demand for groomsmen weddings and receptions are custom groomsmen socks. The socks complete the attire, decoration theme, and you can also use these after the wedding ceremony and reception. It also acts as a memorable keepsake to show your gratitude to the people that helped make the event unforgettable.
Even though bridesmaids don't wear socks at the wedding, custom bridesmaid socks are an excellent parting gift, and it shows your appreciation towards them.
Custom socks help create well-heeled groomsmen look
For a wedding where the groomsmen will also be in the limelight, you need to consider every little detail to make them look dashing. It is crucial to think about its theme, colors, and style. 
Are you going for a classic black tuxedo or a happy-go-lucky tweed suit? Should you go casual and go open collar or a bow-tie or necktie? It becomes difficult to find high-quality socks that will go well with the entire theme. You can't just walk into a mall and pick up discount pair of socks for a few dollars. 
Custom wedding socks solve this issue; they help provide the finishing touches to the entire theme. Many options are available, from bold stripes and bright colors to personalized messages to fun patterns. 

Factors to look at when choosing custom socks for groomsmen
The right custom socks create consistency in the groomsmen's attire, and it lifts the overall vibe that translates into wonderful wedding pictures. Everyone wants lifetime memorable pictures. 
Take a look at these factors when choosing socks for groomsmen: 
1. Styles
Crew socks are the most popular style; they are shorter, thicker, and ribbed at the top. There are several other styles available, but choose the one that goes well past ankles. Avoid using no-show socks, anklets, or quarters. You don't want to ruin wedding photographs with a random patch of the leg.
2. Colors
The theme of the wedding guides the colors of the groomsmen's socks. Winter weddings are more formal and dressy, while summers allow lighter shade outfits and playful pastel colors. 
If you are an old-school type, plain groomsmen socks like dark gray, classic navy, or solid black are your go-to colors. One of the classical colors is white; choose if the theme suits it. Try to match the color of the socks with trousers rather than shoes.
3. Material
You have many options to choose from, like polycotton, polyester, nylon, spandex, and other elastic materials. You can choose from materials like bamboo, combed cotton, and more for premium socks. These are a bit expensive, but they provide a unique flair to your groomsmen.
4. Thickness
Custom groomsmen socks manufacturers like Everlighten provide various thickness options. It depends upon the gauge level or the number of stitches per inch of the socks. You can choose according to your requirements from these: 
Standard: These are 40-45 gauge without extra cushion, suitable for summer or spring ceremonies. 
Thick: These are 50-55 gauge with heavier cushions ideal for fall or winter ceremonies. 
Extra-thick: These 70-85 gauge socks have additional thickness and comfort for frigid conditions. 
5. Quality
You don't want to give inferior quality socks to groomsmen. High-quality socks feel not only comfortable but also look beautiful. Can you truly put a price on photogenic socks that will make your wedding pictures impressive? Like most people, if the answer is a no, then choose top-quality socks only.
6. Cost
Weddings are once-in-a-lifetime events - splurge a little. Don't go buying cheap socks for your special people. A specially woven groomsmen sock will cost a bit more but, they are worth every dime. However, don't go all out on spending only on socks. There are many things you need to spend money on for weddings. 
Now that you know about things to look out for when ordering wedding socks. Check out these ideas for creating beautiful socks: 
Personal message
Nothing makes a gift more special than a personal message from the heart. You can choose to sew the words on socks or send them with a gift card. Pen down an inside note close to your group to make it extra special. 



Monogram socks
These socks are marvelous if you want something formal and less noticeable. Get a pair for everyone, including yourself, so that all can have matching socks on the big day. 
Go with these socks if you guys are into superheroes and video games. You can choose your favorite superhero and write the groomsmen's name to make it extra memorable.
These socks are for you if you and your guys are funny and don't mind a little quirk. You can use witty messages like good old beer jokes or funny images, making the event memorable and fabulous wedding pictures. 
Polka dotted socks
The polka-dotted socks look classic at weddings and afterward. Use over the calf length that holds up the entire day. They are pretty comfortable to wear, which the groom and groomsmen need that day. Depending on the theme, you can choose from various colored dots like orange, yellow, or red.
When you think of wedding socks, argyle socks are likely to pop up in your mind first. These are traditional and modern at the same time, and they suit people of all ages. You can use various colors to suit the wedding theme. 
Striped socks 
Simple yet offbeat, colorful yet modest - striped socks are perfect for every theme and occasion. You can easily find one that matches the theme with multiple colors to choose from, and these go well with most of the looks.
Bold patterns
If you are one of those guys who always want to stand out from the crowd, bold pattern socks with bright colors will suit you the best. These are fun and fashionable to unleash a fresh breath of life to traditional weddings. 
Now that you have chosen a style to go with the wedding theme, you are ready to order. But, with many options available, it can be perplexing. 

Everlighten: The best place to order custom groomsmen socks
They are a reliable manufacturer consistently delivering on time with a wide range of custom products like socks, beanies, patches, and more. The company provides customer satisfaction with no minimum order limit, fast turnaround, attention to detail, and a 100% quality check. 
The ordering process is simple; you can upload your design sketch or picture. The expert designers will help to refine the design. You get the industry's best quality products at the most competitive price, along with 24*7 customer support. 
Create your design and check out other custom products at Everlighten.com.