13- occasions to use Custom Face Socks to spread joy, build goodwill and brand awareness
|
Dec, 07 , 21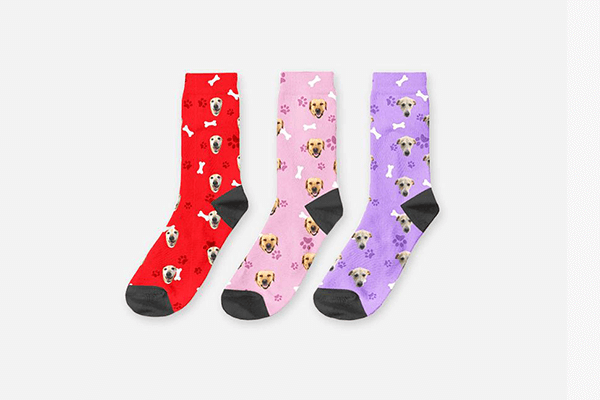 Got a particular company milestone or a big countrywide celebration coming up? If you're a business, an NGO, or an individual looking for a promotional gift or searching for products to build goodwill and brand awareness, this blog will provide you with ideas. Let's face it - choosing the same generic gift for every occasion can be pretty dull and unimaginative.
You will spend money, and the item will end up in a dustbin because no one is happy receiving them. It's a fact that people don't use the items they don't like even when it is pretty helpful. But, what if we told you there are budget-friendly, creative ways to put a smile on people's faces?  Whether you are looking for a gift, a promotional item, or an item to reward employees - A custom face sock is the answer. It will knock the socks off your friends, family, associates, and others receiving it.
Now, you would be curious to know:
 
What are custom face socks?
Custom face socks are socks that have a face printed on them. It can be of people or animals. There are companies like Everlighten that manufacture on-demand socks. You can upload the image/ sketch you want, and designers will help refine the final image. These socks are fun and creative items that you can give to others on any occasion. Everyone receiving them will feel ecstatic, and you will build stronger relationships with them.They are highly memorable and eye-catching, so you will also get quick publicity. People are more likely to buy from you if it elicits happy feelings. Custom face socks are an excellent product for any time of the year. But, they are even better when you design them to celebrate special occasions.
Top 13- occasions to use custom face socks
Birthday and work anniversary
Birthday and other celebrations at work are a fantastic way to boost the morale and productivity of employees. It makes people feel appreciated bringing staff closer to each other and the organization. If possible - depending on the size of your organization - try finding more about people at work. What's essential in their lives? Whether they are an animal lover? Who is their favorite person/ celebrity? Use the occasion to gift them custom face socks with their favorite person/ animal printed on them. It will show thoughtfulness and awareness for a year's hard work.
Achieving sales target
Sales are like oxygen to any organization; the entire revenue is dependent on successful sales. And, there is also no denying that it is one of the most challenging work out there. When you celebrate sales targets, you recognize employees' hard work.Celebrating their success with personalized awards makes them feel special. You can give them socks printed with their face; it will motivate them to work harder than before.
Celebrating company milestone
Whether it's an employee's year completion at work or your organization got its 1,000th customer. It's an achievement that needs a celebration. If you're are not valuing these milestones, you are missing out on opportunities to bring your team closer. Various studies show that appreciation and recognition are the biggest motivators in the workplace. Milestones give you a reason to appreciate employees. You can celebrate an employee's year completion by appreciating them in front of everyone and giving them personalized gifts. Create a gift box centered around them like a custom face sock with their face printed on them. It will put a smile on their face while making them loyal to your organization.。
Welcoming New Employee
Starting a new job is both exciting and scary at the same time. New employees might feel proud and share their talents, or they might feel inhibited and overwhelmed depending upon the work environment. One of the simplest ways to ease their early jitters is to give them a welcome gift. When you reach out to new employees with thoughtful gifts, it relaxes them. It also helps them become familiar with the work culture. Along with your mission statement, handbook, etc., you can include custom face socks with their face. It will show how much you value your employees, instantly creating a long-lasting bond.
Farewell and Retirement
Retirement and farewell is a massive milestone in our life. It marks the end of an old chapter and a new endeavor. Of all life's transitions, retirement is arguably the most significant change. It is an opportunity to be thankful for employee service to your organization, a time for celebration. One of the best ways to be thankful to them is by giving personalized gifts to show appreciation. You can get their face printed on socks, t-shirts, mugs and plan a party centered on them. It will make them happy, and they will talk to everyone about your organization, creating a positive image. Other employees will also be moved by such gestures creating a stronger relationship.

 
Sports events
Sports events often call coaches and administrations to look out for custom uniforms for their teams. They also buy merch for attendees to spread goodwill and support for the team. You can choose custom face socks with your team mascot as a part of the sign-up kit to boost support.
Graduation
Graduation is a tremendous achievement in life. It's worth taking time to celebrate years of hard work; start of a new journey. Celebrating graduation leaves a permanent mark in the memory, encouraging hard work in the future. Plan a party around a college theme with a face printed on every item, including socks. Distribute it to every attendee, building goodwill inside and outside the community. It will also encourage other students to join your college/school.
Campaigns
If you're looking to start a new campaign for any critical issue, you need support for it to become successful. Apart from the cause to be close to people's hearts, you need to be distinct for them to remember you. One of the easiest methods of spreading awareness and getting support for your campaign is distributing printed items like t-shirts. Distribute the products with your logo and message to volunteers and people. If you are running a political campaign or student council, you can put the candidate's face running for the post on merch. If the budget is tight, you can giveaway custom face socks to gather support for your movement.
Social gifts
Let your family and friends know how much you value them with personalized social gifts. Make the star of your life; let them bathe in the glory with custom face socks. Upload their nice selfie, add bright colors, upload to the Everlighten website, and spread the joy with personalized gifts.
Festivals
Festivals have been a part of human lives for thousands of years. It is a way to celebrate culture, heritage, and tradition. It is a chance for us to connect with our family and friends, take some time to relax from our daily routine. Giving gifs at festivals is a display of our appreciation and love. However, most forget, some days after receiving them. But, people will never forget you when you give anything personalized like a custom face sock. They will get a smile on their face every time thinking about that beautiful gift.
 
 
Product/ store launch day
You are about to launch a new store, company, or product and create hype among the public. Print custom face socks with your company logo, give them away to people before the big launch. It will not only promote your brand but will create goodwill among receivers.
 
 
Awards
Awards are a recognition of the hard work and achievements of a person. Use custom face socks along with your company logo to award employees. It will make them ecstatic and create a stronger bond with your organization. Giving personalized items boosts morale and improves motivation to work harder.
 
 
Fundraisers 
Fundraisers are not only about raising money, but they are also vital for raising awareness. It helps bring more volunteers to the cause that is crucial for success. Print custom socks with your NGO logo and freely give them to the public. It will spread your message whenever someone uses or sees them. Now that you know about how to use custom face socks for building goodwill and brand, it's time to understand:
Top features to look out for when ordering from a manufacturer
Several manufacturers are available, claiming to make the best custom face socks.

Ask them some questions before ordering:
Do they take orders any time of the day?
Are there any minimum order limitations?
Can they design from any sketch or picture?
Do they have a wide range of colors, styles, and sizes?
What are their shipping and cancellation policies?
After identifying your needs, you are ready to:  
 
Order custom face socks
Ordering needs to be a simple process; we at Everlighten understand this completely. We provide 100% satisfactory solutions to all the questions mentioned above. You can order custom face socks and other custom products without worrying about quality and minimum order limit. Check out the industry's best quality custom items at Everlighten.com.