Custom athleisure socks: Tips for growing your business using the latest sportswear trend
|
Dec, 17 , 21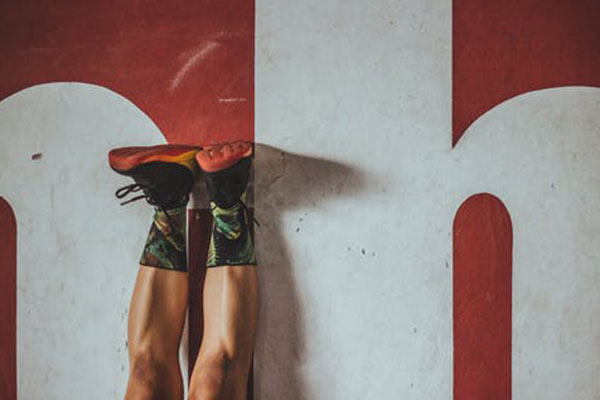 Custom fashionable sportswear is becoming more and more popular with people who want to show their uniqueness, make a statement, and stand out from the crowd. Even if you only spend a little time on social media, you must have seen the rise of athleisure products. Young people between the age of 16-35 years wearing stylish custom clothes are common nowadays. If you're a store, a clothing brand, or a business, you can take advantage of this trend, and one of the easiest ways to get started is custom athleisure socks. You can promote your business, support a cause, spread awareness messages, and much more using them.
The athleisure industry is rising by leaps and bounds. With new trends regularly coming into the market, it is fast becoming people's favorite. It has a huge market potential from fashion to fitness lovers. One regular item amongst all is custom athleisure socks - people are using them from casual coffee outings to hardcore gym sessions and workouts.
There is a dressing code that you can't deny; people stepping out of their homes wear socks, assuming you are not some person who has sworn not to wear them. Athleisure socks are versatile and are a perfect fit for any footwear, whether you are wearing sports shoes, sneakers or, casual shoes.
What are custom athleisure socks?
Custom athleisure socks are a part of a global trend that refers to a wide variety of socks people use for athletic and leisure activities. These socks are made with the latest fabrics and modern manufacturing technology. They are incredibly fashionable, enhance your looks, and help you perform in the gym and sports. 
The material and design help regulate air, support ankles, and reduce muscle strains during long periods. These help to optimize movement by optimizing wearers' physiology. They became part of the fashion trend with the rise of social media.
Instagram transformed custom socks into the athleisure category. You can find millions of search results with many celebrities and influencers promoting athleisure clothing with one search. Many of these influencers have their custom athleisure socks; these are functional and give a modern vibe.
 
What do custom athleisure socks offer?
Custom athleisure socks are taking over the market share fast because they offer:
Best of both the worlds
The fitness and sports world are different from our daily routine life; however, people now recognize its importance in their everyday lives. It is causing demand for athleisure socks, unlike a regular sock you can wear outside the gym, like going to grab a quick bite with your friends. It makes them perfect for the best of both worlds. Additionally, you don't have to compromise with your comfort for having an active lifestyle with these.

An innovative way to promote fashion and a healthy lifestyle
Who doesn't want to stay stylish even during workouts? You can enjoy every sporting activity while looking good with extreme comfort wearing athleisure socks. Whether you are in your shorts or gym lower, they complement every look, every attire. They are unisex products so you can buy them without hesitation.
Minimalistic way to combine sleek design and functionality
Consumers today have become intelligent and minimalistic and, to connect with them as a company, you also need thoughtful approaches. With the rise of tech companies and millennials, more and more people are buying garments suitable for work and leisure environments. People are moving away from formal attires and towards functionality; athleisure socks fulfill that need of looking good and feeling comfortable.
Enhance your look and spread your message
In this day of selfies, social media, and likes, people want to distinguish themselves from the crowd experimenting with custom garments. Custom socks are an inexpensive way to stand apart from the crowd, and you can even use these socks to promote your store and business with pictures on social media. 
If you are still not convinced, look at some market studies.
Custom Athleisure socks: A combination of fashion and lifestyle
According to global athleisure market studies, the complete athleisure category is rising. Athleisure socks, in particular, are growing at a rate of 4.5% per year, with revenue to reach 12.4 Billion dollars by the year 2031. The National safety council reports exercise as the leading cause of injury in 2019; consumers today are more concerned about safety during leisure and sports activities. It will drive the demands of custom athletic socks by 3.3% each year in the US market because they offer better comfort and protection during sporting activities.
 
Trends boosting the market
1. Premiumization trends
One of the most defining factors boosting the custom socks market is premiumization. Demand for high-quality premium socks like anti-grip, crew socks, etc., is rising rapidly. Custom athleisure socks have a market share of 26.1% in Europe. People are looking for anti-bacterial, anti-blister, smell resistance and, optimal comfort socks.
2. Growing interests of millennials in sports and recreational activities
Millennials are ahead of everyone in hopping on to the latest social media trends; they are also quite conscious of functionality and health. Despite their busy lifestyle, they are interested in outdoor activities like jogging, hiking, cycling, etc. It creates a demand for athleisure socks, which will rise by 5.3% each year in South America and other markets.  
3. Worldwide easy-shipping
Online custom shop manufacturers like Everlighten are making it easy to design your athleisure socks and get them anywhere in the world, boosting the growth in this sector. 
Now that you understand the reasons to join this movement driving sales for your store. It's time to know how to use athleisure socks to reach your target audience:
Make use of Social Media
Social media rules the world; if you are not on social media, you are decreasing your chances of success. People rely on them for news, product recommendations, reviews, and everything else in between. If you are trying to build your business, you have to create a social media presence.  
 
Promote your business with pictures, polls, facts about athleisure socks. Show them how people can use them. Create a hashtag and let people post photos of themselves with the socks. Interacting with customers is necessary for building valuable relationships. When people feel appreciated, they are more likely to spend their money on your business.
Use the power of influencers
A superb way to reach your audience fast is connecting with influencers whom people admire. You can give them your custom socks and ask them to promote your business to their followers, and it ensures that your brand reaches more people than it can reach on its own.
Run promotions and discounts
When trying to get your store off the ground, you need to set up the right price. While it is a tempting idea to lower the cost of your products, it is not the right strategy to implement in the long run. It also sets up an image of lower quality in the consumers' minds. It is better to keep the price correct and run promos and discounts from time to time; it makes your products accessible to more people.
 
Now that you know ways to use custom athleisure socks, it's time to learn:
Where to shop for custom athleisure socks?
Growing your store business is not easy, but it becomes slightly easy with the right manufacturing partner. EverLighten makes it easy for every company, organization, and individuals to get the best custom athleisure socks worldwide. They put their heart and soul into making every sock.



No minimum order limitation
It is difficult to find a manufacturer when you have a small order; most manufacturers don't take such orders. If they do accept that order, they don't deliver on time. EverLighten takes every order without asking questions and always delivers on time.
Fast-turnaround
With the direct ownership of factories, it becomes possible to finish every order in the least time possible.
100%-quality check
Experts check every sock with stringent quality standards, ensuring that only the best-quality items reach the customers.
Free shipping 
The company provides free worldwide shipping.
Best-quality at the most reasonable price
You get only the highest-quality socks at the industry's most competitive price.
If you want to grow your offline or online store and business, check out high-quality custom items at EverLighten.com.