7 Reasons Why Custom Plush Toys Make a Great Present and Help Brand Awareness | EverLighten
|
Jul, 07 , 23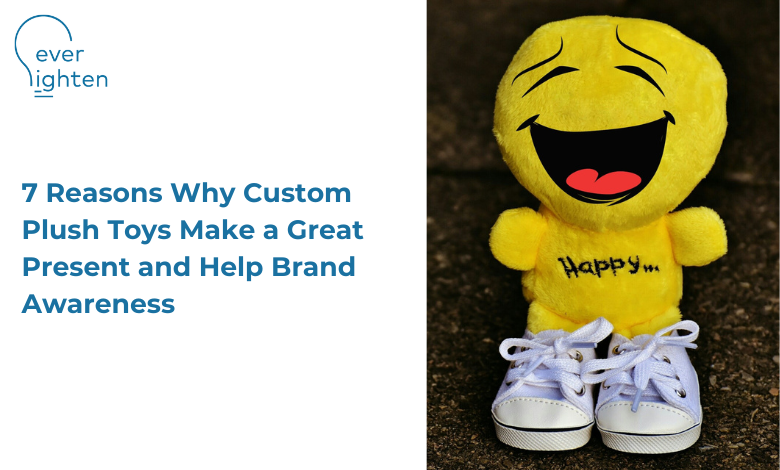 10 Ways to use custom plushies to Make the Most for Gifts, marketing, giveaways, and brand promotions
Finding something unique and meaningful can be challenging in a world with endless gift options. Whether you're a brand looking to make a lasting impression, a seller searching for an exceptional product, or an individual seeking a heartfelt gift, custom plush toys offer a solution. These adorable companions possess a magical ability to evoke emotions and create lasting memories. In this blog post, we will explore seven compelling reasons why custom plush toys should be at the top of your list when considering the perfect present that not only brings joy but also helps enhance brand awareness.


They Show a Feeling of Personal Touch:

Custom plush toys go beyond a generic gift by adding a personal touch. You can customize each plushie to reflect the recipient's personality and interests or even resemble their beloved pet. This level of customization demonstrates thoughtfulness and care, making the gift one-of-a-kind.


Memorable for a Lifetime: Unlike many other presents that may lose appeal over time, custom plush toys have an everlasting charm. They hold sentimental value and can become cherished keepsakes, reminding the recipient of a special occasion or the bond they share with the giver.


Best for Any Occasion: Custom plush toys are versatile gifts suitable for various occasions. Whether it's a birthday, anniversary, graduation, or corporate event, you can design these lovable companions to match the theme or purpose, making them the perfect choice to celebrate any milestone or achievement.


They Help in Building Solid Personal Relationships: The inherent warmth and charm of custom plush toys foster emotional connections. You offer a physical gift and send a message of love, friendship, or appreciation. These delightful creations deepen personal relationships and create lasting memories.




Stand Out in the Crowd: Custom plush toys are unique and attention-grabbing. They capture the imagination, drawing smiles and admiration from both the recipient and those who see them. With their distinct design and personalized features, custom plush toys become conversation starters, leaving a lasting impression on anyone who encounters them.


Give Memories to Last a Lifetime: A custom plush toy is not a gift but a vessel for precious memories. Every time the recipient looks at or holds their plush companion, it will remind them of the special moment or thoughtfulness of the giver. These cherished memories become woven into the fabric of their lives, creating an enduring emotional connection.


It's the Thought That Counts: Above all, custom plush toys embody the essence of the famous saying, "It's the thought that counts." They showcase the effort and consideration in choosing a gift that reflects the recipient's personality and interests. Custom plush toys demonstrate sincerity, leaving a lasting impression beyond the physical object.


How to best use custom plushies for gifts, marketing, giveaways, brand awareness., etc.?

To make the best use of custom plushies for gifts, marketing, giveaways, brand awareness, and more, consider the following strategies:


Identify Your Audience and Purpose: Before utilizing custom plushies, define your target audience and the specific purpose you want to achieve. Whether it's engaging customers, rewarding employees, or promoting your brand, understanding your audience's preferences and interests will help you tailor the design and message of the plushies effectively.


Customization is Key: Take full advantage of the customization options offered by custom plushies. Incorporate elements that resonate with your audience, such as colors, logos, slogans, or specific features that reflect their personalities or interests. The more personalized the plushies are, the more impactful they will be as gifts or promotional items.


Create a Consistent Brand Image: Custom plushies can serve as brand ambassadors. Ensure the design aligns with your brand's visual identity, including colors, logos, and other elements. Consistency will help reinforce brand recognition and make the plushies instantly identifiable with your company or organization.




Incorporate Them into Your Marketing Campaigns: Integrate custom plushies into your marketing campaigns to maximize their impact. Use them as incentives for customer referrals, contest prizes, or social media giveaways. Leverage their appeal to create buzz, generate user-generated content, and increase brand visibility across various channels.


Utilize Them at Events and Trade Shows: Custom plushies can be excellent conversation starters and promotional tools at events and trade shows. Use them as booth decorations, giveaways, or rewards for participating in activities or completing surveys. The cute and captivating nature will attract attention, draw people to your booth, and leave a lasting impression.


Collaborate with Influencers or Partners: Consider partnering with influencers or relevant brands to leverage the popularity and reach of their audience. Create limited-edition custom plushies featuring your brand and the influencer's or partner's branding. This collaboration can help expand your brand's exposure to new audiences and increase brand awareness.


Encourage User Engagement and Social Sharing: Custom plushies have a strong potential for user engagement and social sharing. Encourage recipients to share photos or stories with their plushies on social media using specific hashtags or tagging your brand. Offer incentives or contests to encourage participation, driving organic brand exposure and user-generated content.


Gift Them as a Token of Appreciation: Custom plushies make thoughtful gifts for customers, clients, or employees. Present them as tokens of appreciation for their loyalty, support, or hard work. The personalized touch of a custom plushie will make the recipient feel valued, fostering positive sentiments towards your brand and strengthening relationships.


Support Charitable Causes: Consider using custom plushies to support charitable causes aligned with your brand's values. Create special editions or limited-edition plushies, with a portion of the proceeds going to the chosen charity. This approach demonstrates corporate social responsibility and attracts socially conscious customers who want to contribute to a cause.


Measure and Analyze Results: Lastly, track and analyze the impact of your custom plushie initiatives. Monitor engagement, social media reach, customer feedback, and sales to assess their effectiveness. Use this data to refine your strategies and improve future campaigns involving custom plushies.



Conclusion:

Whether you are a brand looking to make a lasting impression, a seller seeking a unique product, or an individual hoping to give a memorable gift, custom plush toys offer an outstanding solution. From showcasing a personal touch to fostering emotional connections, these lovable companions have the power to bring joy and create lasting memories. Moreover, by incorporating custom plush toys into your brand's marketing efforts, you can enhance brand awareness and leave a lasting impression on your target audience. 
So, when considering your next gift or promotional strategy, contemplate the enchanting world of custom plush toys and EverLighten. We are the industry leader in customizing plushies for businesses, organizations, nonprofits, schools, colleges, sports teams, celebrities, influencers, etc.


FAQs


What is the importance of plush toys?

The importance of plush toys lies in their ability to provide comfort, companionship, and a sense of security to children and adults alike.



What are the benefits of toys?

The benefits of toys include cognitive development, encouraging creativity and imagination. They help with motor skills and provide opportunities for social interaction and learning.



How do plush toys affect the environment?

Plush toys can harm the environment due to the materials used in their production, such as synthetic fibers and plastics. However, manufacturers are trying to create more eco-friendly plush toys using sustainable materials.



How do toys impact emotional development?

Toys, including plush toys, can positively impact emotional development by providing comfort, promoting self-expression, and helping children learn to manage and understand their emotions.

 

How do toys help social development?

Toys, including plush toys, facilitate social development by encouraging cooperative play, fostering communication and language skills, teaching empathy and sharing, and promoting social interactions and relationships.



What is the market for plushies?

The market for plushies is substantial and continues to grow. Plush toys are popular among children, collectors, and individuals seeking comfort or decorative items.