custom products
How to use Pantone's color of the year to build a brand
|
Feb, 01 , 23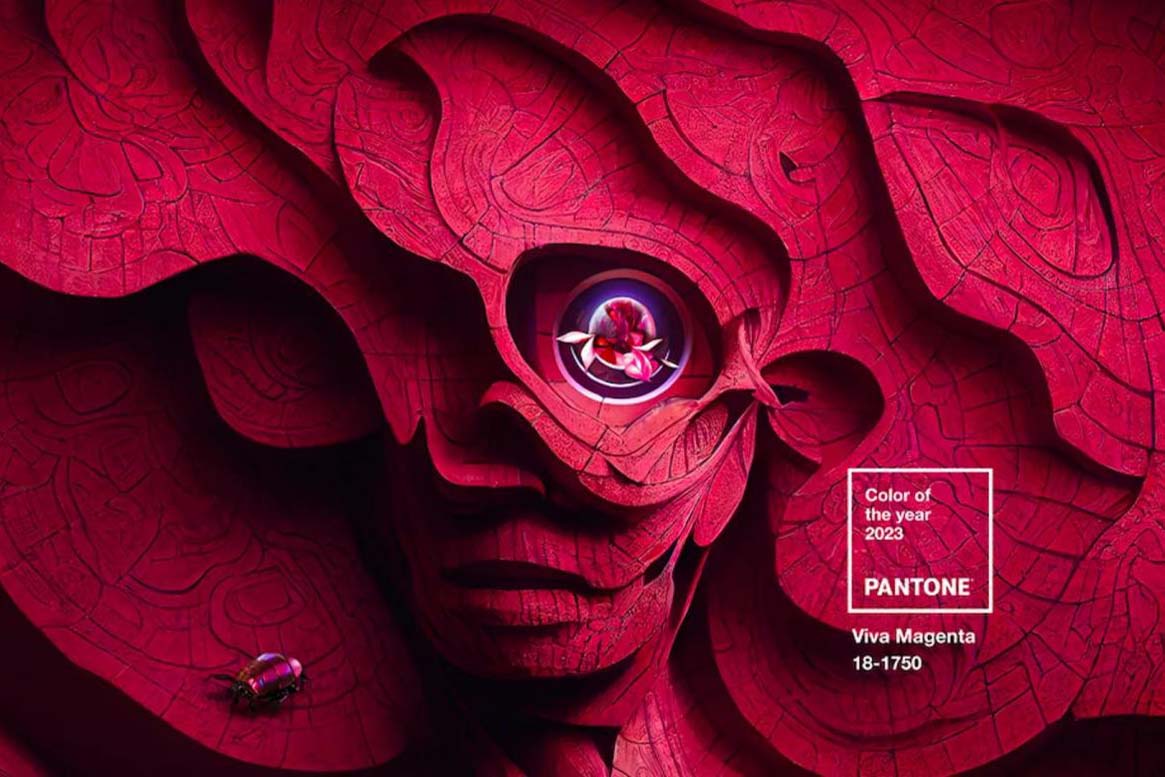 If you are an entrepreneur, apparel seller, or brand manager, you must have encountered the buzz in the last month about Pantone's color of the year. But, if you have not, you must have been living under a rock. Every December, Pantone announces with glitz and a gala. But why is it such a big deal that it attracts so much attention from various industries, including apparel, interior designing, printing, etc.? And what is in it for you? Well, if you are a startup or a business that wants to make a name, you must leverage it. It will help with custom promotional items, branding, selling products, etc. Even individuals looking to customize gifts can use it to create notable items. Without further ado, let us start.
Viva Magenta: Color of the year 2023
The color of the year Viva Magenta 18-1750 is from the red family. It vibrates with vigor and vim and expresses a new signal of strength. The bold pulsating color promotes joy and optimism with exuberance.
The new animated red revels in joy and is powerful and empowering. It encourages self-expression and experimentation without restraint. Viva Magenta welcomes everyone.
According to Pantone, the color draws inspiration from nature and what is real. It descends from the red family - cochineal. It belongs to the natural dye and is one of the most precious, strongest, and brightest. Viva Magenta invokes the forces of nature and reconnects to the original matter.
What is Pantone?
They founded the company in 1950 and manufactured color cards for cosmetic companies. A young chemist, Lawrence Herbert, saw that the company could solve a widespread issue, i.e., the lack of color standardization. Since there was no language to communicate and reproduce colors, there was no printing consistency. It also involved massive rework and reprinting. Herbert bought the company in 1962 and revolutionized it. They created the first color system, which we know as Pantone Matching System (PMS). It started with 10, and today it comprises over 10,000 colors.
The company produced color chips in fan book format. It empowered designers and printers by giving them a tool to communicate about colors. However, the company did not stop there. It created color standards for various industries, including fashion.
How Pantone Color of the year became such a massive deal?
It started in 1999 when Pantone picked cerulean as the first color of the year for 2000. Soon, the color made its way into one of the most famous films of modern times - The Devil Wears Prada. The primary antagonist asks the protagonist about their lumpy blue sweater. But it was not only blue; it was cerulean. Designers worldwide started producing and department stores sold in numbers.
If you have doubted its impact on brands, look at the iPhone. It launched in the Pantone color of the year in 2020. So, if they are doing it, there must be something about it.
How do Pantone colors work for custom products? 

 
Before the standardization of colors for printing, there was no consistency. The guarantee to produce the same was not there. Customers might have chosen one only to find that it is not the same after seeing it in real life. Now there are over 3,000 colors that cover the entire spectrum. They divided them into a swatch and assigned a unique name and number. These act as spot colors, i.e., manufacturers set them up separately to CMYK or RGB. The system allows you to produce various unique colors like metallics, fluorescents, etc.  
They have bridged the gap between printers with a subset of colors that manufacturers can reproduce with CMYK printing. But use them as spot colors to ensure effectiveness.
Pantone is intrinsic to the design and manufacturing industry, like apparel, accessories, plastic, ceramic, etc., because it enables consistency across locations, equipment, suppliers, etc. For example, imagine you requested custom socks using a specific violet swatch, but there was no guarantee that the manufacturer could produce the same. If you changed the supplier, then the colors could alter more. And, there was less possibility of working with a distant manufacturer. It was not practical to order custom socks and then visit them to ensure color accuracy.
Manufacturers use the Pantone Matching System to maintain consistency. Customers can identify their desired colors and use the number and name as the reference. There is no need to visit and streamline the entire process.    
How to use the knowledge in your business? 
Pantone releases its color of the year after extensive market research, including fashion, films, big brands, books, art, popular travel spots, technologies, lifestyle, sporting events, politics, etc. It means you can leverage and save many hours/ days researching the market to find inspirations and what consumers want. For example, imagine you sell apparel like t-shirts, hoodies, socks, hats, etc. You do not have to put in the effort to create designs with different colors; you can use them to customize the products. The same goes for companies that want to establish themselves as recognizable name or HRs searching for swags for their employees. There are endless possibilities.
Tips for incorporating Viva Magenta:
The Pantone color of the year is for consumer products and creatives. But you do not have to rebrand your business every year. It will confuse consumers, and consistency is vital for brand building. You can leverage it effectively by incorporating it into products, promotional items, social media posts, or advertisements. For inspiration, check out a few tips from EverLighten; these will help your business.  
Launch a new collection: If you are a seller, use the Pantone color of the year to customize a few products. It will amplify sales by getting more eyeballs on your brand.
Custom apparel: Create a few items like t-shirts, hoodies, jerseys, scarves, etc., using Viva Magenta. It will give your brand a boost because people will search for it.
Custom socks are another item that you can customize with it. It will set your brand as a market leader because most brands take more time to create new products. See how the color looks on cotton, polyester, nylon, etc.
Custom drinkware is a lovely item for Pantone color of the year because they release it after considering plastic, steel, ceramics, etc. Customize a few promotional items like mugs, tumblers, koozies, etc.
Custom keychains are ideal for promoting your brand and selling using Viva Magenta. They are budget-friendly and easy to customize. Go with PVC or printed keychains to fully utilize them.
Custom patches and stickers with Pantone color will bring awareness to your brand. Use them for promotions and packaging. They are also helpful for individuals who want to look trending.
Custom tote bags in Viva Magenta will bring attention. People will talk about your brand whenever they see them.   
Display social responsibility by customizing products in Viva Magenta and using them for fundraisers, charity giveaways, etc. The idea of corporate social responsibility (CSR) has been around for a long time, but its importance has increased in recent years. Consumers have become more conscious of various issues, including social, environmental, animal, etc. According to a CSR report from Atlac Inc., 77% of consumers are likely to buy from a company committed to improving the world. Highlight how you give back to the community using trending colors to build a positive reputation. For example, The Let It Be Foundation works for children with cancer and other deadly diseases. They organize fundraisers with custom items, like socks and face masks. You can take inspiration from them and customize a few in Viva Magenta.
Link your brand to the color: If your budget does not allow you to launch a new collection or set up fundraisers, do not be disheartened. You can still use it to post content on your social media business page to create a buzz. For example, use it to feature all your products in Viva Magenta.
Incorporate it in your marketing: Introduce the Pantone color in all your marketing channels to create a positive association and improve brand awareness. For example, in website colors, posts, logo, font colors, etc., to show excitement.
Wrapping it up:
Every color sends a message and is one of the most effective ways to make a brand impression since it works subconsciously. Pantone chooses the color of the year after analyzing trends. Use the tips to incorporate them into your branding and customize products to reach more customers. Knowing the color is one thing, but creating high-quality custom items is different. It takes years of experience and expertise. EverLighten has helped startups, corporations, sports teams, nonprofits, universities, celebrities, and individuals for nineteen years.
The Canadian sock company has become famous among young people for its colorful, fun, and crazy socks. They wanted a reliable manufacturer to produce high-quality custom socks in vivid colors. But, they struggled to find one because of the small batch and fast turnaround time. Fortunately, they found EverLighten after some research, and the partnership has grown strong because of quality products and service.
Customize high-quality custom products with EverLighten:
Best value: We manufacture custom products in our factory, which helps you to get the best cost in the industry.
Top quality: Customers get items with the best materials, processes, and packaging.
Fast turnaround time: EverLighten delivers every order in the least time.
Comprehensive support: You can contact the customer help team anytime.
Customer-first: We love helping people and accept every order.
100% customization: Customers can customize every aspect - materials, colors, size, artwork, shape, etc.
Low minimum order quantity: We offer the lowest MOQ in the industry.
Worldwide delivery: EverLighten delivers to every part of the globe, and customers can track their orders with an online tool.