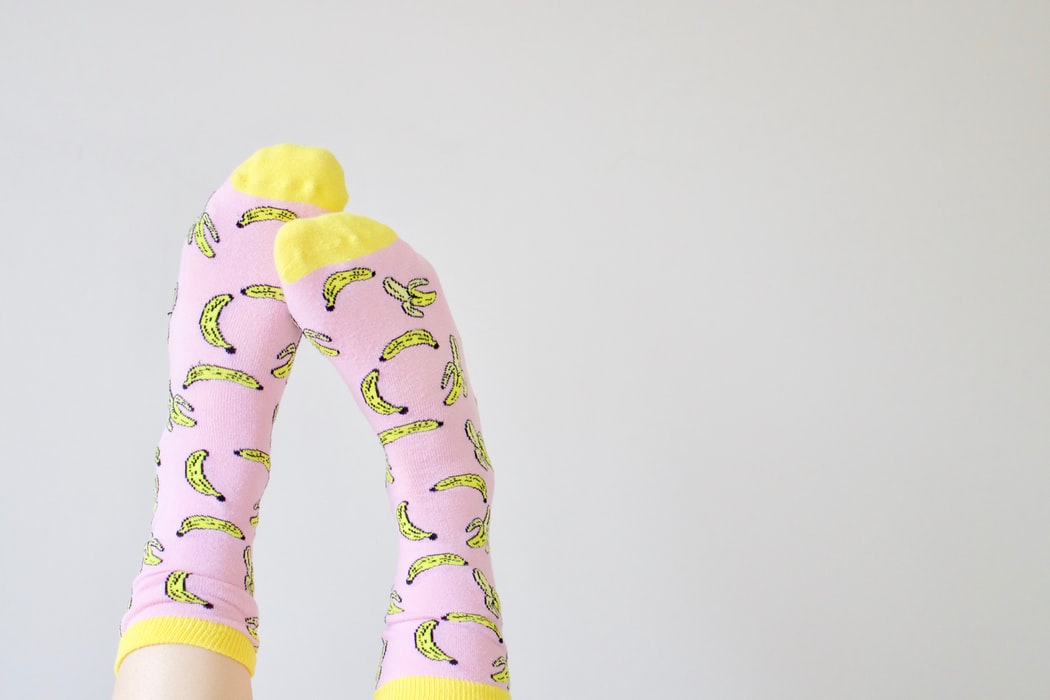 Socks are like a window into your soul. It reflects your distinctiveness from others. What are you? A kid at heart? A Stoic? A Professional? Full-of-passion? Or simply Fun?
Custom socks reveal people's personalities. It tells everything about you. When it comes to a decent style, every guy knows the devil is in details. Your custom socks should complement your overall intentional style. If you roam in winter then, you must wear thick knit casual wool winter socks, a player may wear custom-design athletic socks, you can promote a sports league with custom logo athletic socks too. You can always have different socks for different seasons - from thick to thin, tall to short, there's something for every purpose. Getting your socks wrong pulls the whole house down on your outfit.
Everyone usually dresses the way they do to either express their personality or fit in with their surroundings. Socks keep our feet on the ground. They keep our extremities warm and snug - they punctuate our style alongside our shoes. Custom socks are a personal item of clothing, something we always put on at the start of the day and take off at the end. For this reason, custom socks can say a lot about you. There are so many choices these days, so much room for sock individualism! That's what socks enable us to do. They enable us to smuggle some personalization into any outfit. Sneaky, and on occasion naughty, socks can remain well hidden, only to be revealed in more intimate settings.
Custom socks can enhance the look of a person and act as an accessory. Their ability to pull an outfit together and make a statement is unquestionable. They keep your feet warm and dry. On the flip side, socks get holes sooner than later as it protects your feet for the most period of a day. People usually tend to grasp the habit of losing socks in the dryer, and it's frustrating to keep losing track of your socks.
So, it's a perfect idea to start a business of custom socks because there's unending demand for custom socks, whether they're custom baseball socks, elite socks, or socks with numbers. So, today we'll get to know how to start a business of custom socks online? Are you ready folks to become a highly successful entrepreneur?
If yes, then let's start by knowing the reason to start the business of custom socks. Why should you give it a chance? Here are the top reasons:
1. Practicality & Necessity
It is glaringly evident, and a valid justification to consider purchasing a sock is that we need them. Most of the year, we wear closed shoes, and we put on several socks; a large portion of which are monochromatic and quite bland, let's be honest. Therefore, it is not impractical to try to attempt to commit part of our shopping afternoon to the quest for unique custom socks. They will upgrade every one of our looks and not make socks a dull piece of clothing.
2. Perfect Gifts
Do you have a wonderful family that loves to get gifts for you at festivals? Custom socks certainly can be an original gift. In the digital age of Instagram and Facebook, flaunting your custom socks will get you more likes, and it will reflect your creative side as well.
3. Marketing Strategy
In recent years, many companies have started to use custom logo socks as part of their merchandising. It is common to see players wearing custom baseball socks with numbers or custom-design athletic socks that match the design of the brand. You may want to give special thick knit casual wool winter socks during winter.
Without a doubt, if players or fans wear original and eye-catching custom elite socks with the brand's slogan, it will attract the attention of many customers. This simple strategy will bring strength to our brand, making it much more popular and easy to remember among customers.


Where should you sell custom socks?
1. Etsy
Etsy is a powerhouse, and the good news is that it offers integration with Etsy (and eBay, WooCommerce, Shopify, Bigcommerce, Prestashop, and WIX), allowing you to seamlessly add your products to Etsy directly.
2. eBay
eBay is also an extraordinary platform, however, you have many retailers there who have the budget to promote and plan their listings, pushing you down the auction feed. You should still consider eBay as it is the world's largest marketplace.
3. Own Website
You can also sell custom socks directly on your own website. It is the best option for long-term planning because on your website you control the content and avoid paying any additional fees to platforms.
4. Social Media
Another great way to boost your sales is to use social media, content creators, and social media influencers. Use your own network of family and friends and start building your business on Facebook and Instagram profiles to attract decent followers.
If you are planning to sell custom socks online then do take care of the above-mentioned things to take your business to new heights. I am sure you all will think of becoming something after reading this.

How do you market custom socks online?
The internet is a deep well, and you will find many communities in it. If you're running an online business, then you should take advantage of it. You get many potential customers online; it is an easy way to bring exposure to your brand to users who may love to follow you. You can always communicate with your followers; promote products, and offers to your users online. Remember you wouldn't want to get the reputation of a spammy profile.
You can try promoting a discount on your profile; a free product will get the maximum attraction from customers. You can also consider offering a BOGO deal, which is a buy-one-get-one offer. You can increase your followers by giving free takeaways like a free pair of custom socks in exchange for a follow or a like on a social media post. It will help your brand in generating leads and create good brand awareness among your target audience. You can also encourage customer brand loyalty by giving them rewards while they promote your brand on social media or purchase products from your website. For example - a discount to the customers who post pictures of your socks, make sure that you tag brand-profile in your post.