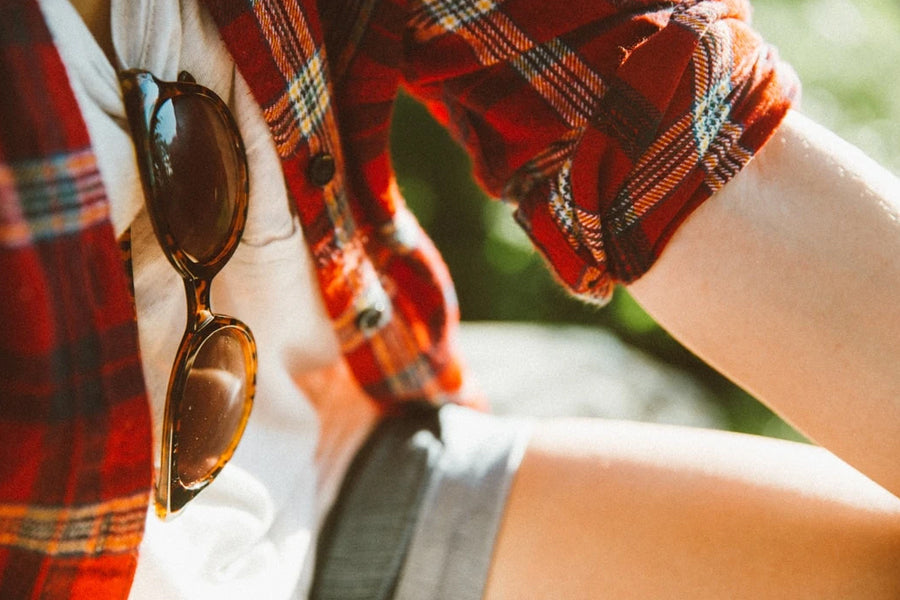 Many of us worked very hard in this pandemic, work from home became the work culture for many companies. We all were briefed to wear proper clothes while working from home. HR policies were made to instruct the employees to wear proper work from home attire. Zoom calls only reveal the upper half, so we focused largely on shirts. The common theme around was comfort and what was better than custom plaid flannel shirts. The custom-fit flannel shirts were the perfect choice for everyone to reflect style as well as comfort.
The custom plaid flannel shirts perfectly balance your appearance with proper style elements and comfort. You feel like you are wearing your favorite pajamas, flannel shirts are that cozy. It also sorts out all your problems if you're having a conference call as well because it looks professional and formal also. In reality, it may be the perfect choice for work from home uniform. The solace you feel while wearing this amazing clothing is incomparable. So, today we are going to understand more about this all-rounder shirt. It's a chameleon of clothes that hides your average fashion sense and gives you moments to shine. Here, we will be discussing a brief history of flannel shirts and in order to do that, we first must know about the history of Flannel. So, let's begin the amazing lecture of history.
Today, we will deep dive into the history of Flannel, which is more than just plaid. It's a versatile fabric with a deep history. Flannel first emerged in the 17th century, created by the Wales as a replacement to their plain wool garb.
The story of flannel begins with sheep. It's speculated that one day - a Wales shepherd was fed up with a scratchy woolen undershirt, annoying him every night while coming back at home. He had a vision for a new kind of material that may solve his problem. The result of that vision was flannel, a soft fabric made of wool. This fabric was perfect for the protection against the Wales' notoriously wet and windy winters - it was also meant for the sole purpose of providing warmth.
Flannel is the most loved fabrics for fall and winter. From Wales, flannel made its way to France and Germany and finally showed up in the United States during the Industrial Revolution of 1869. Flannel shirts proved to be made of a worthy fabric for the harsh working conditions and long hours of labor work.
Flannel fabric's use is not limited to laborers; it has also transitioned to high fashion. Big brands picked it up and crossed the gender divide as well. They started using it for women's shoes, bags, dresses, and many things. Through popular shows like Mad Men, flannel suits became highly popular as well.
In spite of the clothing's notoriety among working-class laborers, explorers, and war veterans, the American everyman didn't really possess a trusty wool shirt, a flannel shirt, until the piece of clothing was advocated as a non-conventionalist style piece during the 90's grit movement. This repurposing came from the graciousness of grit performers, most prominently Kurt Cobain of Nirvana, wearing free, messy woolen clothes in front of an audience. Youngsters and youthful grown-ups started dressing in flannel to support the music and culture they related to, which moved the fabric's motivation from unadulterated utility to style and self-articulation.
Before sufficiently long, menswear buffs during the early 2000s would embrace the flannel shirt, tidied up and custom-made, as a major aspect of a History of the U.S. driven closet close by solid crude denim, calfskin trim up boots, and thick fleece cardigans. It was from this style specialty that the relationship between the flannel shirt and hipster culture started to emerge, similarly as enlivened by customary American work wear as they were by the counter conventionalist 90's rock culture.
Nowadays, the flannel shirt keeps up its universal presence as both an advanced style basic and a vintage callback to American history, because of both little cluster, detail-fixated legacy makers who consolidate old-world sewing methods with refreshed examples and cuts, and enormous scope material makers who make it feasible for customary folks wherever to have a couple of attractive wool alternatives to browse when the mercury drops. What's more, regardless of whether you're closing one up to part a heap of kindling or just to stroll down the square for some espresso, you're joining a custom that stretches back several years. That is pretty cool, regardless of what sort of fellow you are.


Why do we still love this trend?

Since you've perused the set of experiences behind flannel and plaid flannel shirts, here are a couple of reasons to keep them in your closet rotation this season
1. They are warm
It appears to be straightforward, however, this quality is probably the best thing that flannel shirts have going for them. We've perceived that it is so hard to dress well for cold or potentially frosty climate, and the flannel shirt could be your crisp season design lifeline. A rough option in contrast to an exemplary cardigan, layer it on over your regular outfits to remain hot and in vogue.
2. They're easy to wear
If your schedule is jam-packed, and you're always rushing to somewhere - whether you're heading for a meeting or a class, or a quick date at a coffee shop, flannel shirts will take care of your fashion game. It can make you look awesome in every situation. This trustworthy clothing material will be just as functional for your busy working days as it is on your chilled weekend days, and you'll always be redefining your fashion game.
3. They are available in various colors
The best part about flannel shirts is that they are available in various colors. You can pick your favorite flannel in your favorite color. It always speaks for your style and defines your personality as a fashion influencer. So, be sure about one thing, if you're wearing flannel, your style will speak louder than your words of wisdom.
Flannels can go with practically anything, however claiming diverse cool flannel tops in an assortment of shades makes styling totally foolproof. The traditional unique flannel is astounding when layered on top of turtlenecks and tees.