How to order custom keychains for your events and company?
|
May, 27 , 21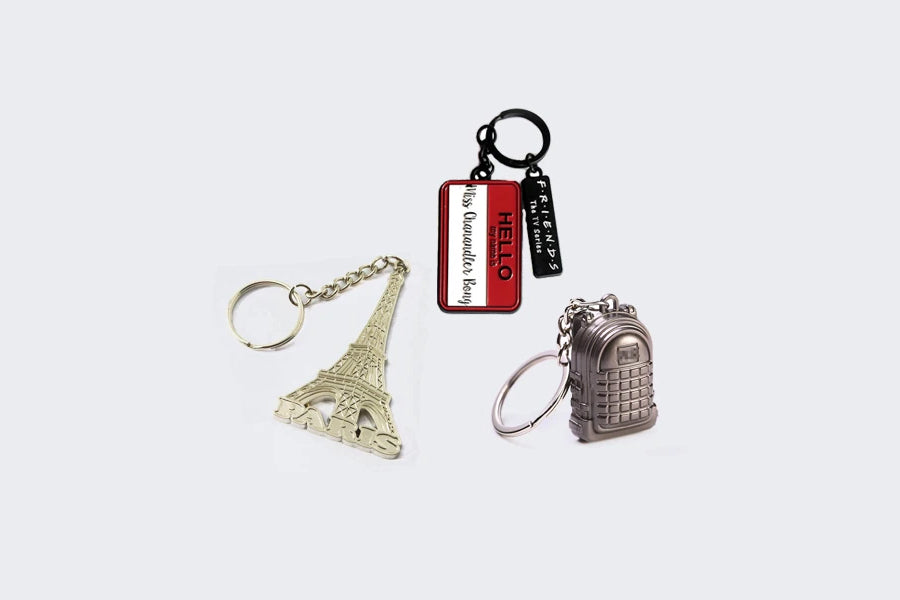 People find custom keychains very rewarding and admire using them. Thus, custom logo keychains, custom name keychains, or any other custom keychains are popular among companies and startups to use as promotional products. They are considered to be favorites due to their affordability and durability. It is the best option to improve your marketing strategy as people like to use them for a long period that will improve your brand visibility. Here, we will check the nine favorite promotional keychains. Let's have a look at those.

Keychain with flashlight
Anyone would love to have a keychain with a flashlight as it has other functionality of providing light when needed. It is an additional benefit because it has a functional LED flashlight. It is simply one of the best promotional keychains available.

Phone stand and screen cleaner combo custom keychain
Clients will fall in love with your product if they have multiple usages. So, this type of custom keychains is perfect as your clients will get a dual-use product that they can carry anywhere. If your custom photo keychains, custom leather keychains, custom embroidered keychains, or custom 3D keychains serve two purposes as a phone stand and screen cleaner, then people will like them very much. Brands like this as it gives clear imprinting area and clean logo display.

Carabiner keychain
This type of keychain is popular due to its versatility of carabiners. The aluminum metal keyring used for the keychain is available in eight metallic colors. It includes a nylon strap to make it easier to carry. Your brand name will be visible on the metal split key ring.

Custom bottle opener keychain
You can carry this keychain anywhere you go and use it to open various kinds of bottles. Customers will love the different choices of colors available.

Customized color play key ring
There are many custom keychains like custom photo keychains, custom acrylic keychains, custom leather keychains, custom engraved keychains, custom wood keychains, or custom embroidered keychains available for decorative purposes. The color play keyring is also one of those. Promotional product with your choice of leatherette color and engraved chrome plating looks stylish and has an ability to catch everyone's attention. If you associate your brand with such a promotional product, then customers may consider your brand as trendy and stylish.

Aluminum torch keychain
You can also give an aluminum torch keychain as a promotional product because of its unique style and slick appearance of metal with a bright LED light.

Branded brushed plate key
It is also used for decorative purposes. With its elegant nickel plating material and usage of leather, this custom keychain gives you a professional look. You can give it as custom logo keychains, custom leather keychains, or custom engraved keychains with your brand's logo printed on the plate.

Custom Astro key-light
This type of custom keychain is an ideal combination of functionality, convenience, and safety. This all-in-one keychain has three white LED lights that can be activated by pushing an on or off button. The metal split key ring attached to the keychain makes it useful for your house keys, car keys, and more.

Survival whistle key-light keychain
People who care for safety love this type of keychain. You can carry it while visit nightclubs or businesses that host outdoor services. You can give this keychain to customers you care about.

How to order different custom keychains?
There are three types of different keychain types to choose from. You can decide which type you want to distribute. Here we are sharing the customization characteristics to consider while ordering metal, PVC, and custom embroidered keychains.

Metal Keychains
People who like to reflect their personality through the products they acquire like to have metal keychains as its shining keyring gives it unique finishing and enhances your design. You have to choose from the following characteristics while ordering a metal keychain.

The characteristics include
Keychain style
You can choose a keychain style from the following options.
Soft enamel
Hard enamel
3D mold
Glitter enamel
Glow in the dark enamel
Color option
Many manufacturers provide different color options. You can choose one-sided color, double-sided color, or no color at all.

Ring and chain style
You can choose from the following options of ring and chain styles to customize your keychain as per your expectations.

Split ring
A key ring, directly connected to the design of your keychain.

Curb chain
Chain attachment having flat links with your custom keychains like custom photo keychains, custom acrylic keychains, custom logo keychains, custom leather keychains, custom name keychains, custom engraved keychains, custom embroidered keychains, custom wood keychains, or custom 3D keychains.

Swivel 8 link
An attachment ring that allows your keychain to rotate free from the key ring.

Cable chain
Regular chain attachment.
C-Link
A link that connects key ring with design.

Finishing options
You can choose your key ring to have a standard nickel or brass finishing. You can also upgrade your finishing to match the keychain, this kind of custom finishing will cost you more. You can also apply the complementary layer to its surface that gives it a shining look.
 
PVC Keychains
PVC material has the ability to resist any conditions without much trouble. You can also create flexible, vibrant, and unique designs with many color options available. You can create them in any shape or form that suits your brand. While ordering them from any supplier or manufacturer, you can choose the following characteristics.
Keychain style
You can select your keychain style from three options. They can be one-sided, double-sided, or 3D designs. It will depend on your design and requirement.
Color options
You can pick up to 12 different colors for your custom PVC keychain. Simple designs look good in 1 to 3 or 4 to 6 color options. If you have a detailed design, then we recommend you to choose 7 to 9 or 10 to 12 colors keeping the details and complications of design in mind.

Ring and chain style
There are five options to select for your custom keychains' ring and chain style. They are:
Split ring with curb chain: Split key ring connected via the chain.
Split ring with link chain: Split key ring connected by classic jewelry chain.
Split ring with metal jump link: Standard keychain ring connected by single chain link
Split ring with swivel 8 link: A keychain connected by a swivel link
Cell phone string: A nylon string attached to your PVC design.
Embroidered keychains
You can add personality to your keychains with timeless embroidered keychains. Many characteristics are similar to the other two types. But, you can additionally choose unlimited thread colors, shape, and size options before ordering or designing a custom keychain as per your preference.
If you want to order unique custom keychains in bulk, then you can contact EverLighten. Wholesale custom keychains and attractive designs.