How to motivate your employee in 2021?
|
Aug, 18 , 21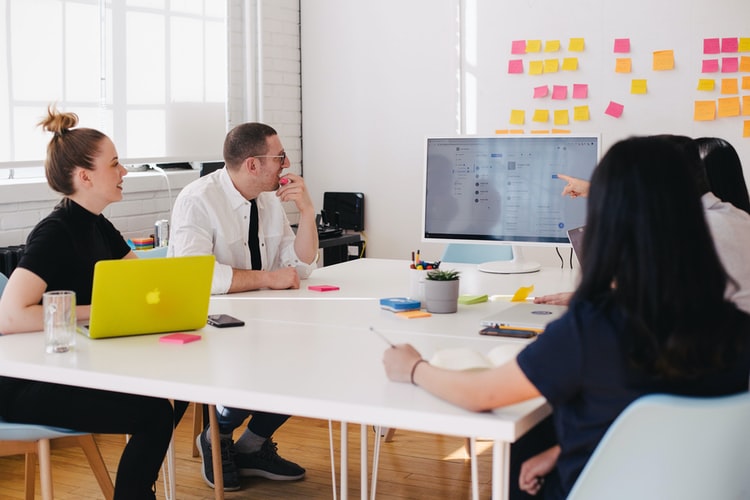 If employees are happy at the workplace, then the growth of the company will be significantly impacted. To keep your employees happy and motivated, companies try different ideas to push them and increase productivity.

What is employee motivation?
Employee motivation is very important to any business. If your employees are motivated, then they will work hard for your company's growth and success. They will be more dedicated to achieving the goals of the organization. Employee productivity will increase, and the quality of work will improve. The definition of employee motivation goes like this. It is the level of energy, dedication, persistence, and creativity that workers bring with them. Motivated employees will lead to better engagement and productivity. Thus, organization keeps employee motivation on top of their priority list.
There are multiple ways to motivate your employees. Many companies choose to give customized products as gifts to please their workers. Products like a custom notebook, custom socks, custom t-shirts, custom patches, custom phone cases, custom keychains, custom medals, custom hoodies, custom sweaters, custom plush toys, custom hats, custom tote bags, etc. are given to company's employees to simplify their life.
No business can sustain for long if their employees are not motivated enough to work for the organization. Be it small or large companies, they need energized workers to achieve their goals. Without motivated employees, the company can derail from its achievements and face significant losses. Employees with less motivation will not perform well, and they would not want to give their best for the success of their organizations. Thus, Employee motivations are crucial as they help businesses in achieving goals and also improve the overall productivity of the company.

Why does employee motivation matter?
Several research papers have shown that employee motivation is indirectly linked with employee performance and engagement. The result showcases that motivated employees perform better and leads to higher productivity. Thus, businesses and organizations always look for ways to continuously motivate their employees. Many use traditional methods of giving customized gifts at various events. Companies give away custom products like a custom notebook, custom socks, custom t-shirts, custom patches, custom phone cases, custom keychains, custom medals, custom hoodies, custom sweaters, custom plush toys, custom hats, custom tote bags, etc. to celebrate the hard-working nature of the employee. As per Gallup's survey on employee engagement, it is found that 70% of American employees do not work to their full potential. You may wonder why they perform like this.
Let's look at this in detail. Less motivated employees tend to be less emotionally connected to their organizations. They do not feel proud of their working organization. They do not give something extra for the success of the company. They do not act as brand ambassadors, and they do not usually share the company's vision and values. When employees are unhappy at work, they may not push themselves or bring new ideas and innovation to the table. They only follow the instructions and complete the tasks. They do not take a proactive approach to the growth of a company. But if you want to take your business to the next level then you must get everyone on board for better results.

Benefits of high employee motivation
Employee motivation is the biggest concern among organizations across the world. Every small and big company's employer's priority is to motivate their employees. It is not easy to achieve it, though. You have to develop a good company culture to achieve high employee motivation. Millennials are becoming the biggest part of today's workforce, and the world is aware of their demanding behavior. Most employers are aware of their latest requests, expectations, and needs. However, employers must adjust because the benefits of employee motivation are humongous. In this section, we will understand the benefits of having highly motivated employees compared to unmotivated employees.

Handle uncertainty better
Motivated employees handle uncertainty better at a workplace. They are more engaged. They remain self-confident in their work. They also know how to react to difficult situations. Thus, they can tackle any difficult situations.

Better problem solvers
They have the best problem-solving skills. Most employers look for this important attribute in their employees. Motivated workers will give their 110% to solve any problems and challenges.

Innovative and creative
When employees are more involved, they think about creative ideas to improve business scenarios. Innovative ideas are helpful to optimize your business performance.

Proactive
Motivated employees look for new ideas and solutions to eliminate challenges and achieve goals. They evaluate the outcomes by themselves and do not wait for feedback for their work.

They are more productive
Motivated and engaged employees are more productive. Companies that have motivated employees tend to be more successful than others. A survey on employee motivation proved that offices with motivated employees are 43% more productive.

They understand the company's goals better
Employees who are motivated enough know how their work contributes to the success of the organization. They always want to understand what the objectives of the company are and how they work as per the company's mission and vision.

Work towards achieving own goals
Motivated employees who understand the company's vision and goals often have a better understanding of their own goals, and they plan to achieve them brilliantly.

Achieve company's goals
While following their own passion and goals, motivated employees care about achieving the company and team goals for better results.

Customer-centric
Businesses mostly care about their customers, and motivated employees always have ways to satisfy their customers and fulfill their needs.

Longevity
Many people fall into the trap of career shifting. They constantly change jobs which leads to uncertainty and lack of vision and growth. Fluctuation is a huge workforce problem, and organizations with motivated employees have a higher employee retention rate.

Become brand ambassadors
Loyal and motivated employees are emotionally connected to their organizations. Those employees who care about the company promote their business and become brand ambassadors. By turning your employees into brand ambassadors, you can help increase awareness for the company, which leads to sales boosts and better talent acquisition for your organization.

How to motivate employees?
In this section of the article, we will discuss the ways of motivating an employee. We have mentioned some of the employee motivation factors.

Offices like homes
We do not consider offices as homes. When we picture offices, they are usually covered in white paints, have cubicles, and are filled with computers. It may feel mundane, lifeless, and tedious. Employees may not want to stay for long at such places. Therefore, you can add something which will give employees the feeling of being at home. Put comfortable couches, paintings, plants, etc. You can design your office like you would design your home.

Reward and recognize your employees
Every employee will love to be appreciated. When you start rewarding your employees with simple gestures or by giving customized gifts like a custom notebook, custom socks, custom t-shirts, custom patches, custom phone case, custom keychains, custom medals, custom hoodies, custom sweaters, custom plush toys, custom hats, and custom tote bags, everyone will feel motivated.

Peer-to-peer motivation
It is the most effective form of employee motivation. When peers support employees and appreciate their efforts, they feel encouraged and become more involved by going the extra mile for the company's success. From time to time, you must check that employees are comfortable in your company culture or not. It will help them speak up their mind and become more transparent.

Money and other benefits
You can give timely incentives and appraisals to motivate your employees. You can also provide additional benefits to them. Non-monetary benefits are equally important; some of the examples of them are retirement plans, tuition reimbursement, and more.

Give employees a purpose
Sometimes, the employee may feel clueless and unsure about their objectives and goals. At that time, you must solve their doubts and encourage them to perform better. It will help them understand their purpose and how they fit in your company's culture.

Motivate individuals first and then teams
You must take care of your employees equally. The organization is as notable as its people. Thus, you must make sure that you appreciate every individual. When you do so, your employees will feel valued. Everyone craves appreciation and recognition for their hard work. Organizations must make sure to motivate individuals first and then encourage their team to perform better.

Make work challenging
In this world, change is the only constant. To keep your employees motivated, you can try to keep them interested in work. An organization should try to change the job pattern of an employee and keep adding new challenges and objectives for them to be active and achieve great results. When you engage employees with new challenges and problems, they may come up with the latest ways to tackle that issue. It will improve them as people and make them more efficient. They will develop a new skill-set, which will turn them into dynamic personalities.
You may reach new heights, but to sustain over there, you need a positive work environment. A positive workplace will increase employee motivation, keep them focused and dedicated. In short, motivated employees ensure efficient work ethics and improve the overall productivity of the company.