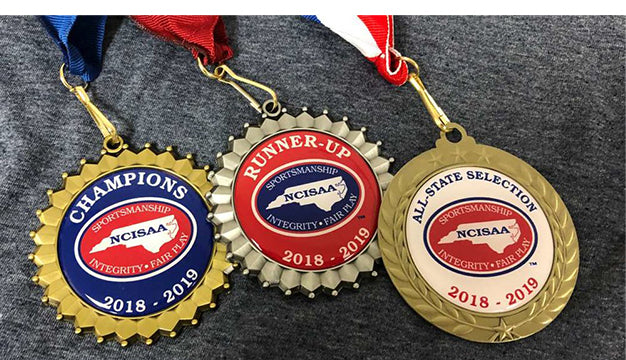 How to Make Custom Medals: Four Things
You Have to Know
When you organize a sport meet, school competition, annual conference or any other competitive activities, the best prize for the winner must be custom medals with a logo, powerful words or the name. Also, custom medals can build up your brand acknowledgment.
If you've never made custom medals before, here are FOUR things you have to know to choose reputable designs and reliable manufacturing partners.
Ways to Use Custom Medals
Custom medals are regarded as the perfect way to award individuals or groups. On the one hand, custom medals are the representation of honor which affirm the prize-winner. On the other hand, custom medals give others mental stimulation. Here are some of the most popular reasons for creating these special custom medals.
Sports:
Sports play a crucial part in our society, communities, and countries. It gives life a goal and purpose to those taking part and pleasure to those who are spectating. Custom medals are the symbol of honor for athletics, which can encourage all competitors to work harder and make progress in the future. There are many kinds of occasions, such as the Olympics, local and regional tournaments, marathon, basketball, etc.
Schools:
Custom medals receive a lot of popularity among students. In the list of awards for schools, custom medals rank in the top 3. Custom medals are not only meaningful for the prize-winners but also cheap for schools. Besides, Students' names and other words can be engraved in custom medals. There are some occasions for your selection, such as speech contests, debate contests, sports meet, student recognition achievements, etc.
Corporate/small business:
Custom medals are always used for end-of-year performance and other sales achievements. These peculiar custom medals can inspire the whole company to work harder.Whatever occasion you involve in, you cannot miss custom medals to award group, representatives, customers, and colleagues.
5 Design Tips for Custom Medals
The beauty of custom medals is that you can have whatever you want, including shapes, patterns, belts or any part of this unique medal. There are 5 design tips for you to make the award designs matching the accomplishment.
1) Jazz up your circles, ovals and squares.  
The design of these distinctive medals must use circle or oval as a starting place. Adding something that extends outside the circle is a better choice to break up the shape and give the medal a more dynamic feel. This medal below is a good example. The pattern extends off the edge, giving people a dynamic feel.
2) Pick enamel colors that work in bronze, nickel or gold.
Most medals do not have any paint at all and rely on electroplate. Sometimes enamel is an important part of designs. And the key to medals is that they are made at least in three finishes, respectively gold, silver and bronze. But bronze is the electroplate color which creates issues and dark enamels will get lost. If you want to use enamel colors, you need to ask clearly whether the color choice works on all three finishes. The medals below is a great example of using two transparent enamel colors.
3) In most cases, text should either be raised or recessed metal.
There are no hard rules about what forms of text are better. But if you know the secret of it, you can make the medal better. It is helpful to work with an established supplier who has designed lots of medals to make medals more popular. One thing you need to know is that a medal is not a brochure, which means the sentences in it may not easily read. We can learn from the medal above that uppercase letters are a lot more legible than lowercase. The shiny letters and the dull background also receive a lot of popularity.
4) Use the ribbon for some of your text
If you have to engrave sentences or text on your medal, it's better to add them to the ribbon. You could consider adding the date or minor details to the ribbon.
5) Embrace Antique Electroplating
Regular bronze, nickel and gold are too bright for most people. Many factories will add an extra step in electroplating named "antiquing" to give the medal a sense of contrast. Although this step will add extra cost, most people like this design better. The example below shows us that the bright gold medal causes a reflection while the antique gold medal looks better.
How to Choose a Reliable Manufacturing Partner?
There are some good manufactures to create custom medals. But today I want to introduce you to a reliable company named EverLighten. Here are 4 advantages of this company:
▸Various kinds of medals
EverLighten is the main retailer of custom medals. We are offering a wide range of medals. We are also offering the service to make custom medals according to your design or imagination. A large number of our custom medals can be customized with great embossed design to entirely address the requirement of your occasion or presentation.
▸Professional team
At EverLighten, the staff is expertly trained to assist you through each progression of the procedure regardless of how much your budget might be.
▸Perfect service
Here at EverLighten, we are glad to offer the biggest accessible determination of custom medals anyplace! We will work legitimately with you to build up your customized products all through the entire procedure beginning from its first phases to the final product. Our custom medals make certain to be unique. We can reproduce your current design/logo or make new fine art at no obligation.
▸Satisfying products
As a leading product manufacturer, EverLighten's custom medals make certain to accommodate your gift-giving needs with years of experience. We are here to furnish our clients with the most excellent items at affordable prices.
At EverLighten, we offer custom medal configuration services that fit any occasion or event. Our custom medals administration permits you to design bespoke medals embellished with your logo or structure and accessible in an immense scope of sizes and materials.
Easy Steps to Design Your Custom Medals
We are using these steps to deliver medals with the best quality.
Step 1: Send us an idea/sketch for your custom medals or you can send your logo.
Step 2: Our professional designers will design your medals.
Step 3: Make the payment.
Step 4: We will send you a sample for approval.
Step 5: If you want changes then you can give advice. We will modify it for you.
Step 6: After completing all steps, we will process the production.
Step 7: After the production stage, we will deliver your order to your door as soon as possible.
Normally, the sample time is about 2 days. We require 5 days for production and delivery time is about 3 days. So you can get your order within 10-12 days and it is the maximum time.
If you want to make custom medals with high quality, EverLighten is a best choice for you. The price for the custom medals can vary according to the medals style, coin size, quantity, and other options you select. Please visit our website to request a quote.
For more info, please visit our website www.everlighten.com.